Playing tight end in some offensive systems isn't an easy thing to do.
In some systems, the position is used as an extension of the offensive line and tight ends are rarely used in the passing game.
Beaver Dam senior Zach Schoenberger and Cambria-Friesland senior Mason Owen didn't suffer such a fate, and for their exceptional 2019 seasons they were chosen as co-first team all-area at the position.
For both, the path to success at tight end this fall was somewhat rocky. Owen had to recover from offseason shoulder surgery and Schoenberger wasn't even a tight end last year — he had to learn the position before this year after playing offensive tackle in 2018.
"It just felt really good to go out for one more year and give my best with all the guys we've been grinding with since we were little kids," Schoenberger said.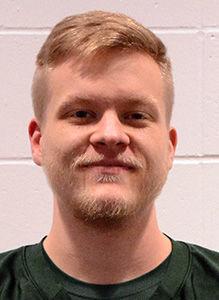 Schoenberger got the nod to switch positions because right before the season began he ran a time of 4.72 seconds in the 40-yard dash. The coaches took notice and felt they couldn't waste that kind of speed in the trenches. 
"It was something I was interested in my junior year, but with my size and strength last year, it just wasn't where I fit on the team," Schoenberger said. "Going forward throughout the whole offseason, I was working towards that goal in mind. I was trying to get big and strong to catch the ball and do what I can to get yards for the team."
Schoenberger was second on Beaver Dam with 25 catches for 380 yards and one touchdown. He averaged 15.2 yards a reception, ultimately being picked as second team all-Badger North Conference. 
His biggest game of the year was in a 35-14 win over Baraboo in Week 4 when he caught six passes for 172 yards, which was a single game record for most receiving yards.
"I didn't know until after the game," Schoenberger said. "I just went out there and did my best on a really good night. They just told me after."
Schoenberger also helped quarterback Carter Riesen throw for 345 yards and four touchdowns, which was a school record for most passing yards. He also threw a critical block that allowed senior Broden Boschert to go for an 83-yard touchdown on a screen play, which broke a school record for longest passing touchdown.
"It helped a lot," Schoenberger said of the chemistry between the three Golden Beavers. "Just being able to depend on each other … just being able to know they're going to go out there to do their best and do their job. I had a lot of faith in my guys."
Schoenberger helped Beaver Dam run for 1,108 yards and nine touchdowns this season as a blocking tight end as well.
"That's my roots, blocking on the line since I've been a little kid," Schoenberger said. "It's one of my favorite parts of the game – just get up into somebody's face and move another person."
While Schoenberger had more passes thrown his way, Owen did everything he could with what was given to him. Owen finished the season with a team-high 13 catches for 314 yards and three touchdowns. His 24.2 yards per catch was also impressive, and all of his stats coupled with his blocking skills helped him get picked as first team all-Trailways Small Conference.
"I thought at the beginning of the year, I was hoping to get a lot more catches than I did," Owen said. "I just didn't get that many. Coach finally realized when I get the ball in my hands I would get yards and do pretty good. He finally started getting me the ball and at the end of the season that's when I started getting the catches and yards up."
Owen was able to overcome the shoulder injury all the while, too. He said he hit someone against Dodgeland his sophomore season and it popped his left shoulder out. At the time he didn't think it was a big deal and played through the pain until as a junior when the Hilltoppers played Johnson Creek at the end of the season.
In that game, someone grabbed his left arm and yanked it and twisted it. After the season, he learned he had torn his labrum and chipped off some cartilage, which would need surgery and six months of recovery.
"I went the whole junior year and I honestly don't know how I did it," said Owen, who finished his junior campaign with five catches for 146 yards and a team-high three touchdowns. "The doctors said that I shouldn't have been able to even lift my arm. It was so bad."
Owen said he had the surgery after his junior year of high school, but he sped through the recovery process and was able to return to play football in just four months, allowing him to be on the field for his senior season.
The only time he said he was worried about the injury was when the Hilltoppers played Pardeeville at the beginning of the season.
"I was worried that if I popped it out again I would lose my whole senior year and have to go through surgery again, and not play any sports my senior year," Owen said. "Other than that I wasn't that worried about it."
Follow Mark McMullen on Twitter @mmcmull2 or contact him at 920-356-6754.
Get in the game with our Prep Sports Newsletter
Sent weekly directly to your inbox!