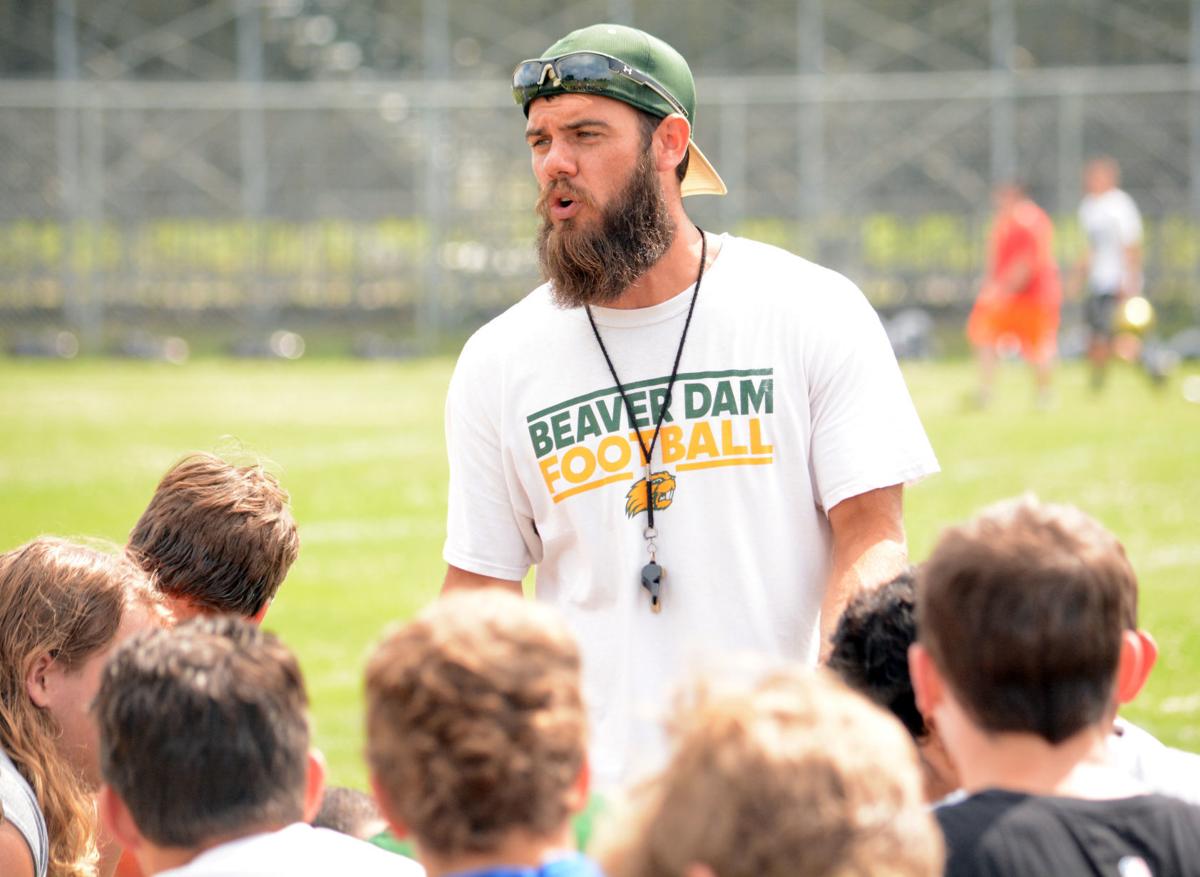 Late last week Beaver Dam High School named Brock Linde as the interim head football coach for the Golden Beavers.
Linde graduated from Beaver Dam in 2004, and for five years was an assistant coach at Monroe High School before joining Beaver Dam the last six seasons. The last 4½ seasons he's been the offensive coordinator for the Golden Beavers.
"This place has always been really special to me," Linde said. "The people have made it that way. I had it in my mind that it was a place that I wanted to get back to just because of the relationships I have with the people that are still here. My journey took me elsewhere and brought me back. Once I got back into the program six years ago, I realized it still had the same impact on me. I saw all those players as younger versions of me. I want to try to make their futures as successful as possible and using football as an avenue to make that happen."
Linde was chosen as interim coach for 2020 among a field of 17 applicants, and Beaver Dam Athletic Director Melissa Gehring said the school will make a decision on removing the interim tag following the season.
The only comment she provided, via email, when asked why he's been hired in an interim role for 2020 is the following:
"We are fortunate to be in a respected, yet highly competitive football conference with high expectations for student-athletes on and off the field. Coach Linde has an opportunity to demonstrate his capacity as a head coach and actualize his plan of continued program growth and improvement. With his unsurpassed pride and commitment in the Beaver Dam community, we believe Coach Linde can make positive gains for our football program."
Since Linde returned in 2014, Beaver Dam has gone 16-39 overall.
The Golden Beavers finished near the bottom half of the now-defunct Wisconsin Little Ten Conference from 2014 to 2016. But in the first year as a member of the Badger North in 2017, they finished fourth at 4-3 and made the WIAA Division 2 playoffs for the first time since back-to-back postseason berths in 2010 and 2011. However, Beaver Dam drew powerhouse Waunakee in the first round and suffered a 57-0 loss to the eventual state champions.
Beaver Dam missed the playoffs both of the last two seasons.
"In sports, it's you're record. That's what people see. That's what we're trying to get," Linde said. "We're trying to become annual playoff contenders. We're trying to win conference championships. We're trying to win a state championship. That's the goal everyone is chasing. If that's the measurable mark of a successful program, then that's the mark we need to try to attain.
"There's a lot of ways we can go about making that happen and there's a lot of things we can continue doing and a lot of things we'll need to change. I think tallying up the wins and making sure our kids are disciplined, conveying good sportsmanship and ethical kids are being led by ethical adults, I think those are the things we need to continue to work on to reach the tangibles."
Linde said his first order of business is to achieve greater dedication in the weight room.
"We've got to find a way to compete," Linde said. "We've got to find a way to be disciplined. We've got to find ways tally up those wins over the next couple of seasons. I think our commitment needs to be into the weight room to get that dedication and camaraderie that's going to come with weight room commitment and just putting a grind in the offseason. I think that can get us started."
Beaver Dam finished 2-7 overall and 2-5 in the Badger North in 2019 but did have modest success on offense, averaging 17.6 points a game with 1,451 yards passing yards, 14 passing touchdowns, 1,108 rushing yards and nine rushing TDs.
Linde said depending on who is brought in and who remains on the coaching staff, "it's still up in the air" as to whether he will continue call plays next season. However, he then said it will be hard not to stay involved in some capacity of the offense.
"I can't see myself not having a hand in the offensive play calling and the offensive schemes," he said. "It's a system that we created. Three years ago we implemented a new system, trickled it down to our middle school kids and are having tremendous success in our seventh and eighth grade programs over the last couple of years. I don't think there's any reason to get too far away from what we've created."
Linde said the primary focus will be working on the defense. Last season, the defense allowed teams to complete 62.5% of its passes for 734 yards and 10 TDs while also giving up 1,868 rushing yards and 10 rushing TDs.
"I feel like we need to embrace the defensive side of the ball and getting stops. I feel like when we've been successful … it's because our defense has given us a chance to win. Getting back to our roots of being tough and fundamental and disciplined, I think those are some of our key components of tradition to celebrate and carry on."
Follow Mark McMullen on Twitter @mmcmull2 or contact him at 920-356-6754.
Get in the game with our Prep Sports Newsletter
Sent weekly directly to your inbox!