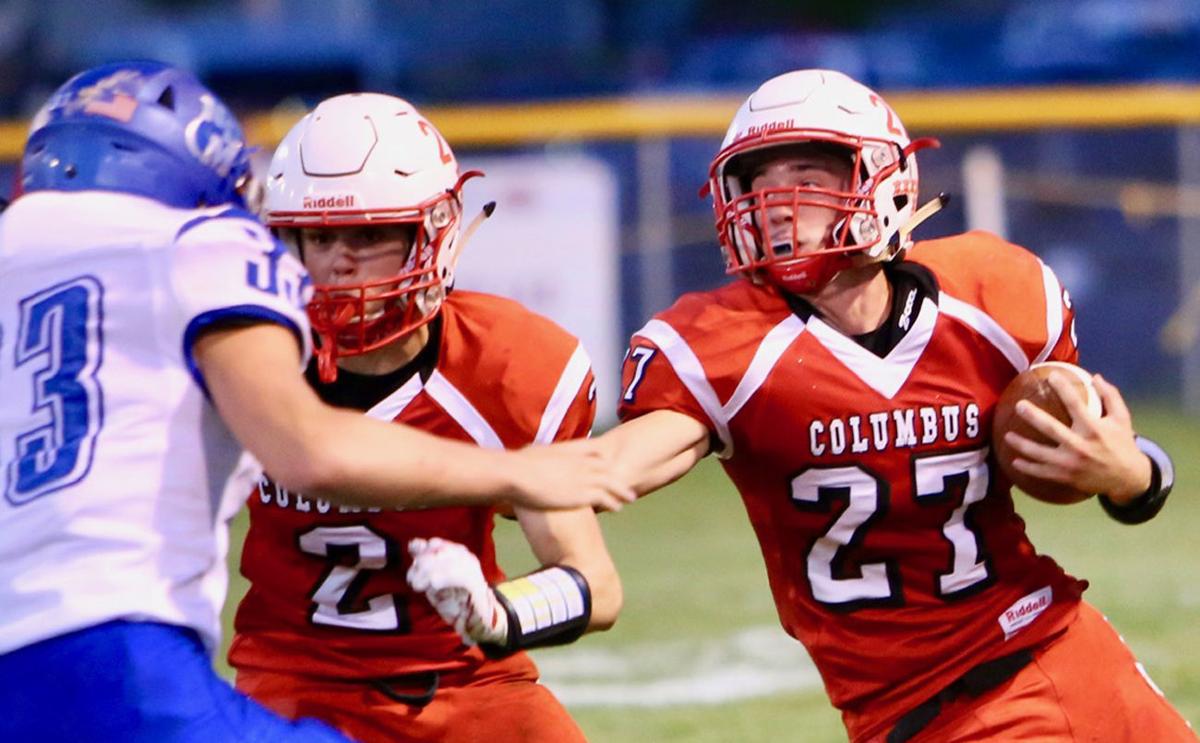 COLUMBUS — Columbus' tandem of Caden Brunell and Will Cotter proved to be way too much for New Glarus/Monticello on Friday night.
The Cardinals duo accounted for seven rushing touchdowns — four for Brunell and three for Cotter — to power Columbus to a 46-17 non-conference victory over the Pony Knights.
Brunell had three first-half scores to help lead Columbus to a 25-10 halftime lead. Cotter, who put the Cardinals on the board first with a 23-yard first quarter run, came up big in the third quarter as he steadied the Cardinals after the Pony Knights made things interesting.
On their first possession of the second half, New Glarus/Monticello got to within one score when quarterback Darris Schuett hit Mason Martinson with a 16-yard touchdown pass to get within one score, 25-17.
Cotter provided the Cardinals with breathing room when he found pay dirt on Columbus' next two possessions, scoring on runs of 16 and 20 yards to give the Cardinals a 39-17 lead heading into the fourth quarter.
Brunell capped the scoring for Columbus with a 4-yard run with 1:48 to play in the game.
"Will played his best game, especially running the ball," said Columbus coach Calvin Zenz. "The O-line as a whole played well and we obviously ran the ball really well."
The Cardinals ran for 401 yards on the night, with 194 coming from Brunell and 121 from Cotter.
Brunell's first three touchdowns came on runs of 1 and 5 yards in the first quarter and another from 5 yards out in the second quarter. That made it nine touchdowns he has tallied in the first three games and the victory gave the Cardinals their best start to the season since 2016.
The Cardinals defense also rose to the occasion as Teagan Herschleb, Kendall Minick and Alexander Campbell all intercepted Schuett.
"We'll find out who we are next week," said Zenz, whose Cardinals host Division 5 powerhouse Stratford next Friday.
COLUMBUS 46, NEW GLARUS/MONTICELLO 17
New Glarus/Monticello;7;3;7;0;—;17
Columbus;19;6;21;0;—;46
Col — Cotter 23 run (kick good), 11:05, 1st.
You have free articles remaining.
Col — Brunell 2 run (kick failed), 5:25, 1st.
Col — Brunell 4 (run failed), 1:45, 1st.
NGM — Weiser 16 pass from Schuett (kick good), :13, 1st.
Col — Brunell 4 run (kick failed), 7:30, 2nd.
NGM — Sigenthaler 27 field goal, 3:14, 2nd.
NGM — Martinson 17 pass from Schuett (kick good), 9:33, 3rd.
Col — Cotter 16 run (kick good) 5:51, 3rd.
Col — Cotter 20 run (kick good), 2:56, 3rd.
Col — Brunell 4 run (kick good), 1:48, 3rd.
First Downs — NGM 19, Col 29. Rushing (Att.-Yds.) — NGM 19-22, Col 60-401. Passing yards — NGM 211, Col 51. Passes (Comp.-Att.-Int.) — NGM 20-47-3, Col 7-14-0. Fumbles-lost — NGM 1-1, Col 1-0. Penalties-yards — NGM 6-35, Col 8-90.
Rushing: NGM, Sigenthaler 8-29. Col, Brunell 32-194, Cotter 15-121.
Passing: NGM, Schuett 20-47-3, 211. Col, Cotter 7-14-0, 51.
Receiving: NGM, Sigenthaler 9-88. Col, Mobry 1-23, Morris 2-16.