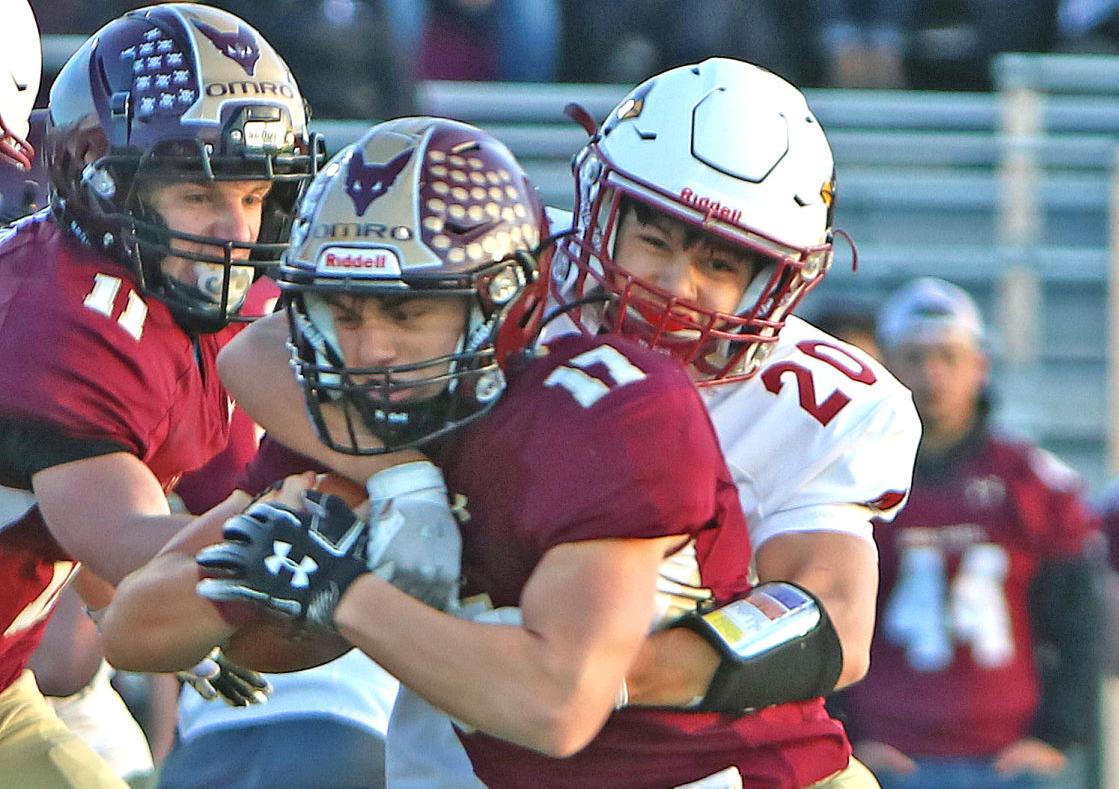 Mayville's prep football team flinched first.
But the Cardinals didn't falter the rest of the way, and thanks to a blocked extra point they were able to eventually take the lead on Blake Schraufnagel's 27-yard interception return for a touchdown with 1 minute, 41 seconds left before halftime and ultimately held on to claim a 7-6, Flyway Conference victory in a game played at Kewaskum High School.
Mayville (4-1) churned out next to nothing on offense, gaining 59 rushing yards on 35 carries (1.7 yards per carry) while completing only one pass for 6 yards.
But the Cardinals didn't turn the ball over at all on the night and their defense was equally as stingy, getting the pick-six while holding the Ledgers (2-3) 119 rushing yards and 85 passing yards.
In addition to the interception, the Ledgers also lost a fumble.
Schraufnagel rushed for 53 yards on 10 carries to lead Mayville's offense as the Cardinals were able to rebound from last week's 35-6 loss to conference-leading Omro.
Isaac Hyland, who ran for 50 yards on the night, scampered 20 yards to paydirt with 52 seconds left in the first quarter to give Springs the early 6-0 lead before the point after attempt was blocked.
Mayville heads to Campbellsport next week before closing out the alternate fall season on May 7 at Lomira.
Warriors can't catch Foxes
Waupun had no answer for Omro on Friday as the Warriors failed to cage the Foxes, suffering a 49-15 loss in a Flyway Conference game.
Waupun combined for 225 total yards, including 169 yards rushing, but had four turnovers and couldn't halt the Foxes ground game as Omro ran for 382 yards and six scores.
The Foxes (5-0) fired out of the gates, hanging three touchdowns in each of the first two quarters for a commanding 42-0 lead at halftime. The duo of Ben Wellhoefer and Kyle Dietzen did most of the work as they accounted for five of the six scores, including three from Dietzen, who rushed for 126 yards on nine carries.
Wellhoefer had a game-high 159 yards on 10 touches and two scores, while Kyle Besaw finished things off with a 32-yard interception return TD to cap off the first-half scoring. With a running clock to start the second half, Besaw plowed in from three yards out with 3 minutes, 41 seconds left to play in the third to cap the Foxes' scoring.
Waupun (0-5) eventually got things going in the fourth quarter behind the legs of Kellen Hacht. The senior halfback notched touchdown runs of 31 and 40 yards in the quarter, with his coming with 4:06 left to play.
Hacht finished with 89 yards on four carries, while Carson Bresser completed 3-of-10 passes for 56 yards and three picks. The Warriors will try to pick up their first win next Saturday when they take on Laconia at Lomira, before hosting North Fond du Lac to end the alternate fall season on May 7.