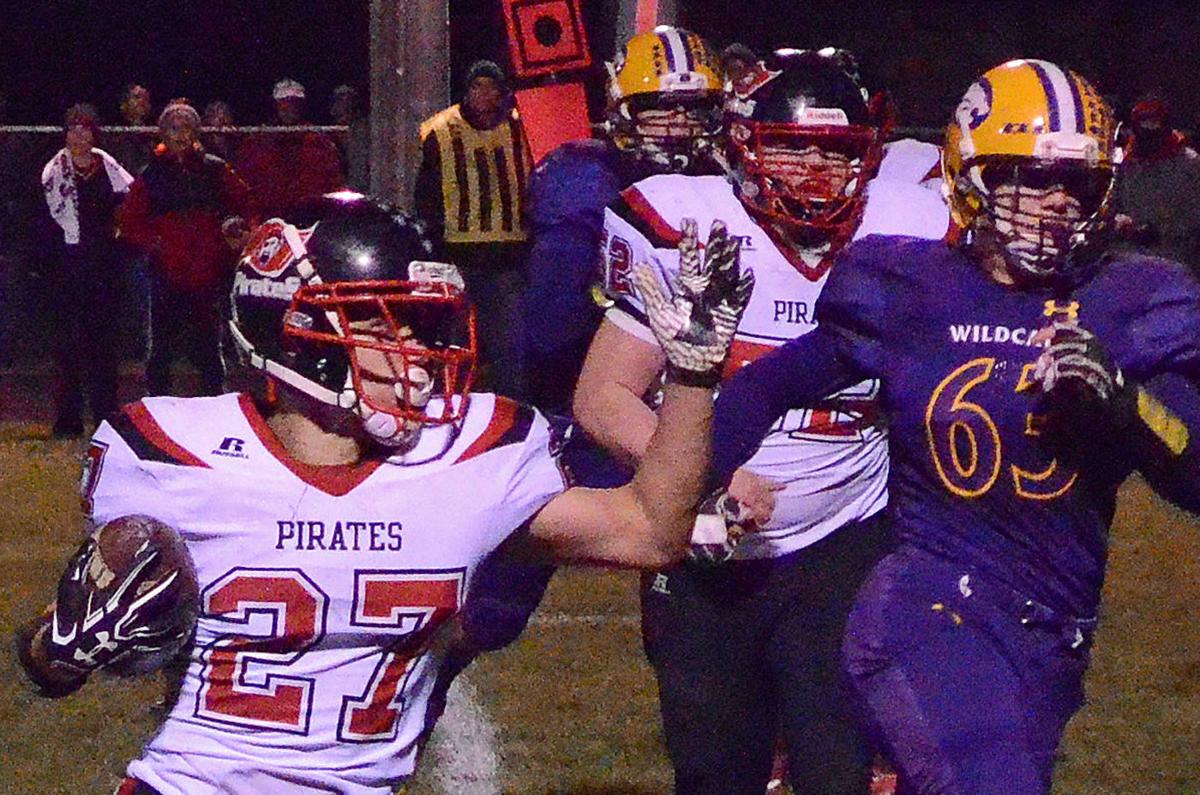 Last week, the Trailways Conference approved a plan for the Fall River and Rio prep football teams to operate as a co-op beginning with the 2019 season — finalizing a proposal that came together after the 2018 season ended and was first reported in late November.
Now, the new co-op has its coach: Cody Schultz, who is also the Fall River athletic director.
"I've been lucky enough to get the job that I have here and I actually built a house, so now I live .3 miles from school," Schultz said of the life he's built since being hired as AD before the 2017-18 school year. "I almost live at the school. There is truly no place I'd rather be. This is a great community. Rio is a great community. We have great kids. Rio has great kids. And they always say in life, 'Follow your passion.'
"There's very few things in life that's going to catch your heart. Obviously, with the amount of things we have in social media and amount of stories we hear in the news, a lot of things are going to catch your eye. (Only) a few things are going to catch your heart. Coaching and coaching football are those things for me."
Schultz was selected by a committee made up of Rio District Administrator Craig Vetter, Rio Athletic Director Jared Napralla, Fall River District Administrator Mike Garrow, Fall River Principal Brian Zacho and Fall River Police Chief Brent Van Gysel.
The position was very attractive, drawing more than 45 applicants. And Napralla said that the fact Schultz was already entrenched as the AD at Fall River didn't play any role in his landing the coaching gig.
"Everybody had equal opportunity and it happened to be that Cody Schultz was the best candidate by far," Napralla said. "We like his charisma and enthusiasm. It seems like he's oriented in getting the best out of students and having the best players on the team. He doesn't really care if the student comes from another school district. He just wants to put the best players and students out there to win the game."
The committee did discuss the possibility of having co-head coaches lead the new co-op, which will carry the nickname Rebels as past Rio/Fall River co-ops have, but ultimately felt it's best to have "one person who is going to oversee the entire program," Garrow said.
"If we're truly going to have that positive relationship where we're working together, working as one unit if you will, we felt that was the best way to go moving forward," Garrow said.
Schultz was an assistant coach for Fall River the last two seasons, helping the Pirates win back-to-back Trailways Small Conference titles while also advancing to the WIAA Division 7 state quarterfinals in 2017. Both feats were program firsts, with the Pirates' deepest postseason run before 2017 coming when they advanced to the second round in 2013.
Fall River's head coach from 2014-2017 was Joe Zander, who resigned after the season in order to spend more time with his young family. Meanwhile, Rio's head coach the last two seasons was Brian Brewer, who according to Zacho wasn't interested in staying on as head coach.
"He didn't want to do it, I think because of the co-op," Zacho said. "I don't know the reasoning, but he did not have interest in being the head coach of a co-op team. He may be an assistant, I'm guessing, but he was not interested in being the head coach of the co-op program."
You have free articles remaining.
Brewer did not respond to a voicemail left by the Daily Citizen on Monday inquiring if he was interested in applying for one of the four open assistant coaching positions, but Garrow and Napralla both said he is qualified for the role.
"I have encouraged him to apply," Napralla said.
Brewer led Rio to a 7-19 record during his two-year reign. The Vikings' best season in that time came this past season, when they went 3-6 overall and 2-5 in league play.
Schultz played college football at Carroll University from 2008-2012 before moving on to coach linebackers and long snappers while also serving as the strength and conditioning coach in 2013 at Mayville State University, an NAIA school in Mayville, North Dakota. The next season he coached running backs, the defensive line and special teams at Beloit College.
In 2015, he was the defensive line coach and co-special teams coordinator at Allegheny College, an NCAA Division III school in Meadville, Pennsylvania. Then in 2016, he was the linebackers coach and defensive coordinator at Milton High School.
He has been at Fall River the past two seasons, where he has had a role in the middle school football program.
"He brings a great knowledge of the sport of football," Garrow said. "He had some of those other intangibles that I really liked. He's highly involved with kids. He's engaging with kids.
"He helped restart our strength and speed program just a couple of years ago. Cody was a big spark in getting our strength and conditioning program off the ground. The support and level of connection with our kids he has in the community is great, as well as the feel that even the Rio community got from meeting with him."
Now Schultz's job turns to filling out his staff, which includes four paid assistant positions. The Fall River School District will pay for two of those assistants while Rio will pay for the other two. There also will be two paid middle school coaching positions, with the cost of those jobs also split between the two districts.
All of those positions were posted last week, and according to the committee, there is no stipulation that a certain number of them need to be filled by individuals from either district — the jobs are open to anyone.
"We're going to hire the best candidates," Napralla said. "It would be perfect if two of them were from Rio and two of them were from Fall River, but we're not going to limit ourselves to that. We just want the best available people to be on the coaching staff, no matter where they come from."
"I really think that when you co-op with somebody, you want to get to know all the stakeholders," he said. "I met with the board from Rio. I met with the kids from Rio. I also wanted to get Mr. Brewer's take on it. So, him and I have been in communication throughout the process. I think he's going to throw in an application (for an assistant coach position), but I'm not certain.
"We'll just have to see where everything shakes out."
Follow Mark McMullen on Twitter @mmcmull2 or contact him at 920-356-6754.