RANDOLPH ― Senior Ben Schmucki is a 6-foot-2, 200 pound defensive lineman that doesn't need to say much. Whether it's in the weight room, classroom or out on the football field, all he does is put his head down and go to work.
His hard work finally earned some recognition Friday night against Cambridge as his 48-yard fumble recovery for a touchdown put the nail in the coffin to help the Randolph prep football team defeat the Blue Jays, 34-22.
"It's huge because you've got a kid like Ben Schmucki that just relentlessly works and works in the weight room," Randolph coach Tom Chase said. "He's a really smart kid. He's the anchor of our offensive and defensive line. He never gets a lot of credit.
"I think part of the reason the crowd went wild is because they were so happy for Ben. He's that kind of kid. He doesn't say much. He just does what he has to do. He's an amazing man."
Schmucki knew he should've just landed on the ball at the point, but greediness got the better of him as he saw wide open grass when teammate Zach Paul jarred loose the ball from Cambridge's Jacob Moody near midfield. Schmucki saw no one near him, picked it up and did the rest.
"I just knew I needed to get the ball," Schmucki said. "I should've focused on grabbing the ball and going down, but I got a little greedy. I really wanted to score."
It gave Randolph, the fourth ranked team in Division 7 according to the WIsSports.net Coaches Poll, a 14-point lead with 10 seconds left.
"We haven't really been down this whole year," Schumcki said. "Going into this game, and going into next week against (Oshkosh Lourdes), I didn't know how our team would perform once when we were down. I'm really happy with how we performed tonight."
Paul, who led the Rockets with 87 yards rushing, had a costly fumble inside the Cambridge 5 yard-line with 4:39 left didn't dwell on the mistake, but he instead used it as motivation on defense.
"Zach is a champion," Chase said. "I would not trade him for anything. He's going to get the ball and get hit on every play. He's a tough, tough football player. One little bad thing happened there, but on the other side of the ball when we're playing defense, he was one of the big catalysts that was making plays to get it back. He's not a kid that's going to rest on his morals and feel bad. He's going to go out and try to win the game."
Schmucki said the fumble initially scared him.
"But I had faith," he said. "We had gotten a couple stops before and I knew we could do it again."
The Blue Jays were trying to answer Randolph's 4-yard touchdown run by quarterback Brayden Haffele which put the Rockets up 27-22 with 1:01 left to play.
"I was feeling a little bit better about myself," Haffele said. "The confidence went up."
That play was set up by a 52-yard pass from Haffele to receiver Sam Grieger. Haffele, who completed 5-of-10 passes for 114 yards, had two interceptions in the red zone during the first half.
"I just forgot about (the two interceptions in the first half)," Haffele said. "I came into the second half. … I was disappointed. I had to forget about them and keep playing."
Chase said he and Haffele had talked before halftime to get his confidence back up.
"He had to get his composure back because he got a little angry there," Chase said. "We didn't mention the picks at halftime. That's all done, we can't change that.
"Brayden Haffele is a gamer," Chase added. "He is a gamer. I noticed something this week. There was a little more spark in his eye. He knew this was going to be a big test for us. He came out ready to play. He got a little frustrated, obviously, because of the pick. He's a great competitor. When the Friday Night Lights come on, Brayden plays. He did tonight."
Cambridge initially took a 22-21 lead off of kicker Ezra Stein's 27-yard field goal with 8:27 left.
Stein, the Blue Jays' starting quarterback, also found holes in the Randolph defense — running for 73 yards and throwing for 82 more. His field goal was a response to Randolph's Jordan Tietz's 78-yard touchdown pass to Matt Dykstra with 4:03 to go in the third quarter to put Randolph up 21-19.
Dykstra led the Rockets with 92 receiving yards on two receptions.
Just 15 seconds before Dykstra's score, Moody had given the Blue Jays a 19-14 lead on a 23-yard run. Randolph's Traiton Lininger had a 25-yard interception return for a score to give Randolph a 14-13 lead with 7 minutes left in the third quarter.
Cambridge only needed three plays to begin the second half as it scored on a 25-yard touchdown run by Trey Colts just 1:30 in the third quarter to give the Blue Jays a 13-6 lead.
The Blue Jays tied the game at 6 just 1:05 into the second quarter when Ezra scored on a 1-yard quarterback sneak. Haffele gave Randolph the first lead of the game on a 3-yard run with 6:51 left in the first quarter.
The win for Randolph also meant they had to overcome adversity against a very good Cambridge team.
"I talked to the kids about this a couple weeks ago," Chase said. "I said, 'What's going to happen when you get behind once? It happened yet. So how are we going to act? We have to be ready for that situation.
"I think they showed that tonight. Every time we got down, we made a big play."
RANDOLPH 34, CAMBRIDGE 22
R – Brayden Haffele 3 run (run failed), 6:51.
C – Ezra Stein 1 run (pass failed), 10:55.
C – Trey Colts 25 run (Ezra Stein kick good), 10:30.
R – Traiton Lininger 25 interception for TD (pass good), 7:00.
C – Jacob Moody 23 run (pass failed), 4:18.
R – Matt Dykstra 78 pass from Jordan Tietz (Jonathon Alva kick good), 4:03.
C – Ezra Stein 27 field goal, 8:27.
R – Brayden Haffele 4 run (pass failed), 1:01.
R – Ben Schmucki 48 fumble recovery for TD (Jonathon Alva kick good), 10.
First downs — C 14, R 16. Rushing (Att.-Yds.) — C 36-193, R 37-200. Passing yards — C 82, R 192. Passes (Comp.-Att.-Int.) — C 8-14-1, R 6-11-2. Fumbles-lost — C 3-1, R 3-1. Penalties-yards — C 4-32, R 6-50.
Rushing: C, Trey Colts 17-78, Ezra Stein 12-73. R, Zach Paul 12-87, Brayden Haffele 13-68.
Passing: C, Ezra Stein 8-14-1, 82. R, Brayden Haffele 5-10-2, 114, Jordan Teitz 1-1-0, 78.
Receiving: C, Trey Colts 3-43. R, Matt Dykstra 2-92, Sam Grieger 1-52.
Prep football photo: Cambridge quarterback Ezra Stein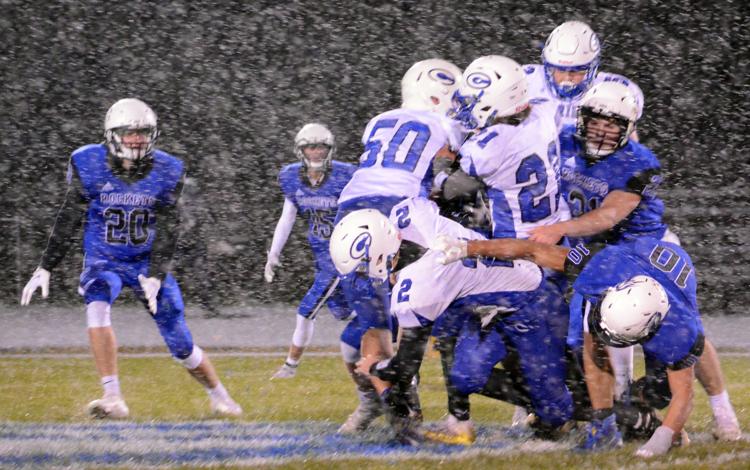 Randolph celebration.jpg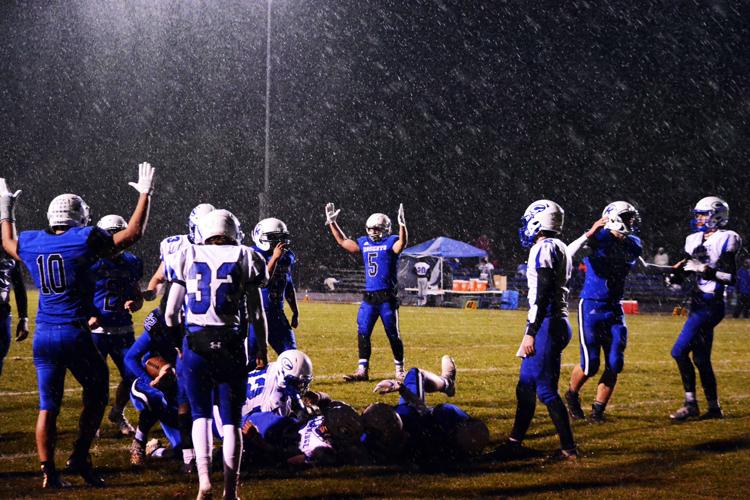 Ben Schmucki.jpg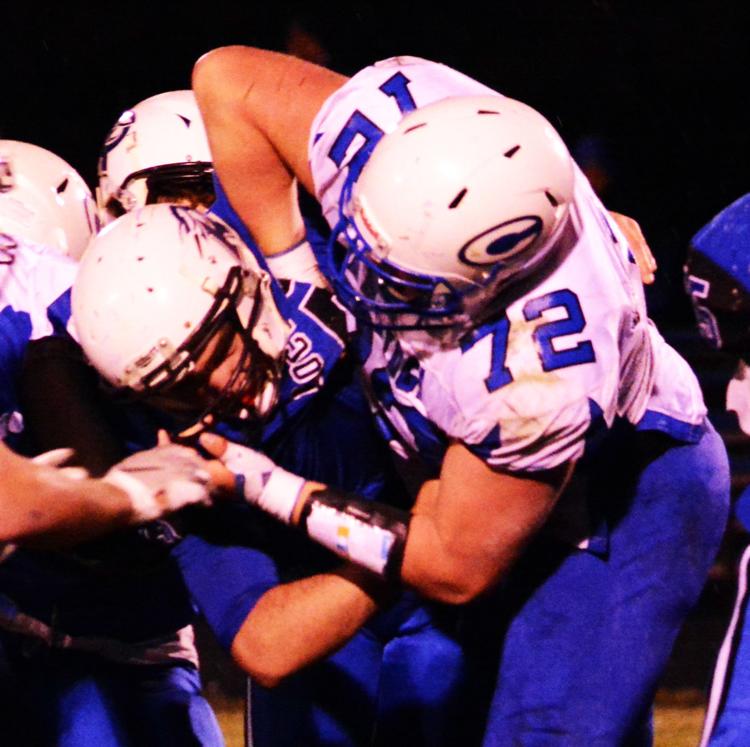 Brayden Haffele 2.jpg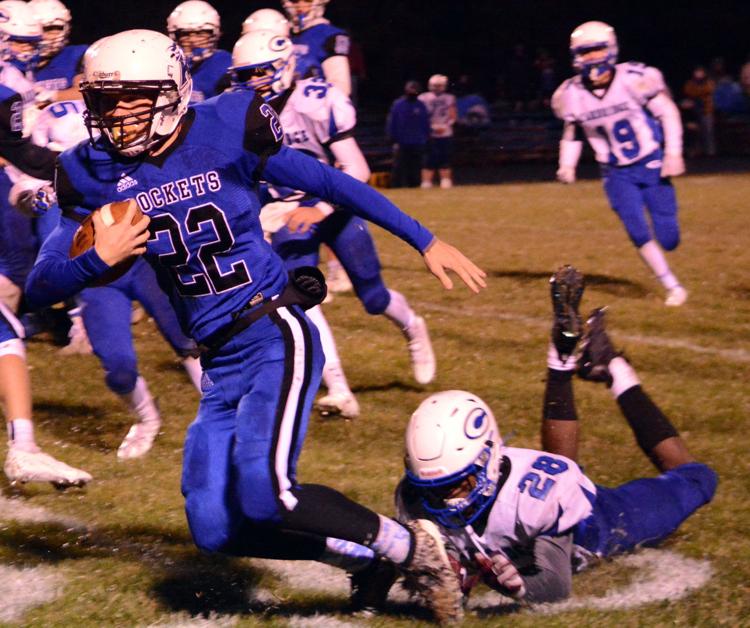 Brayden Haffele 3.jpg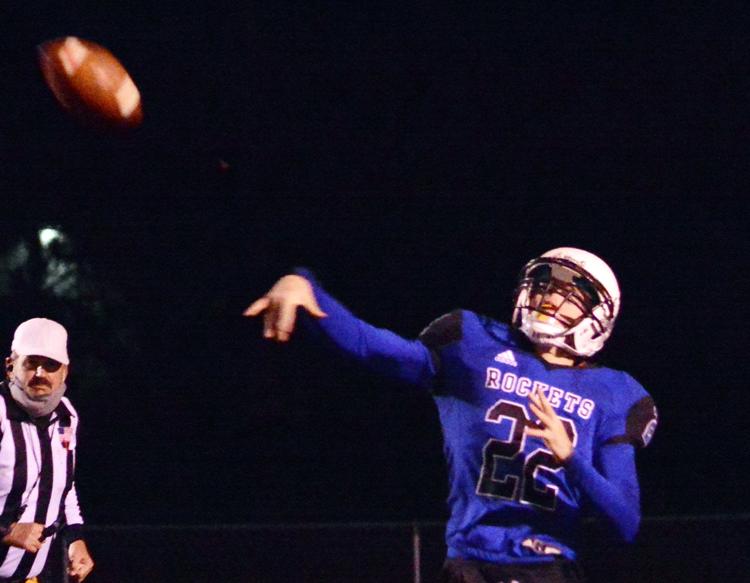 Brayden Haffele.jpg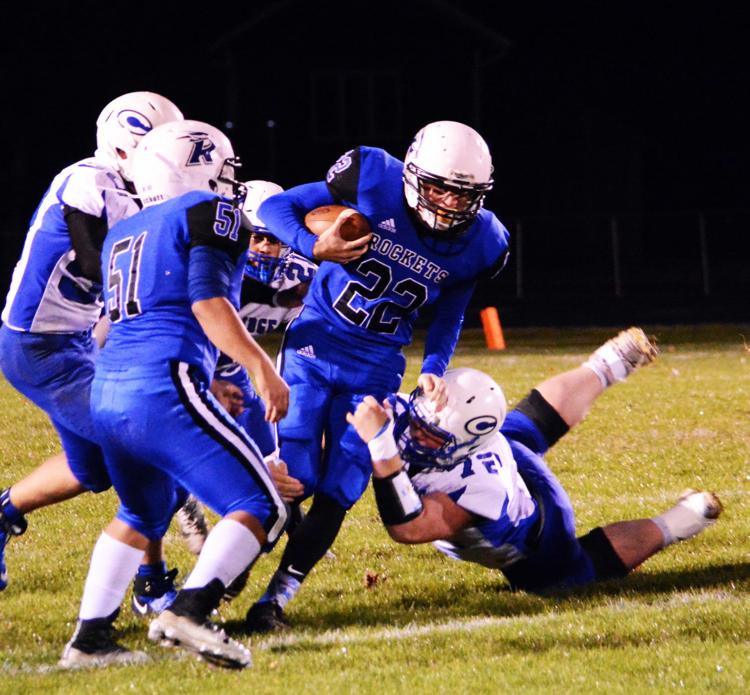 Dale Yerges.jpg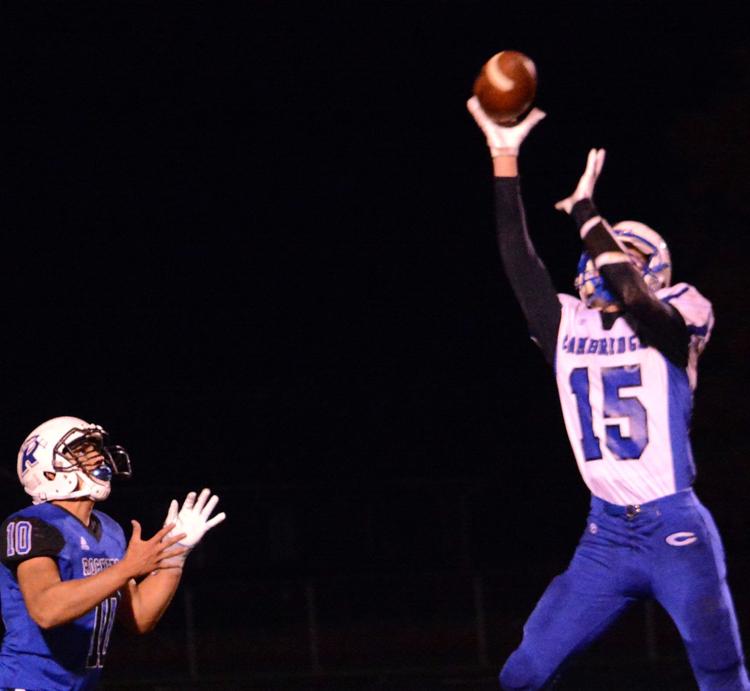 Gould and Alvin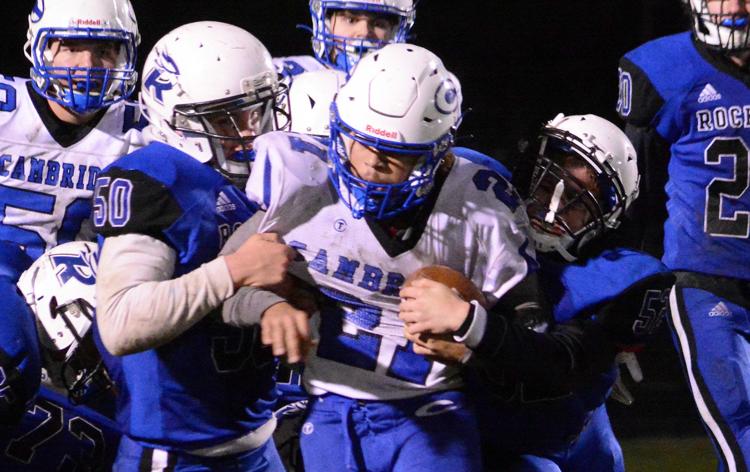 Jon Gjertson.jpg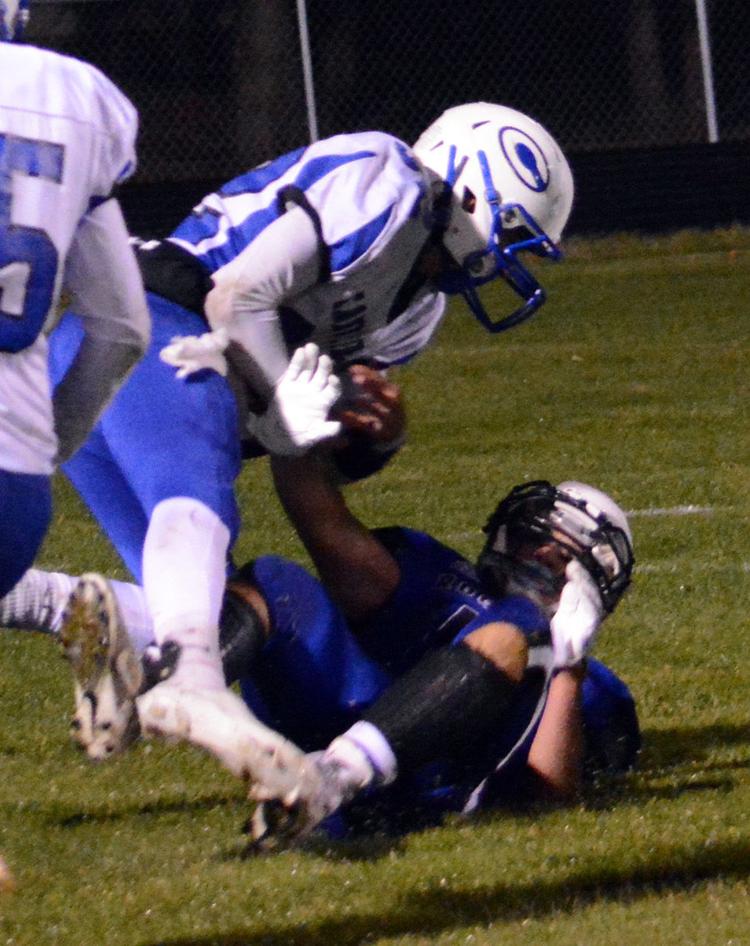 Jordan Tietz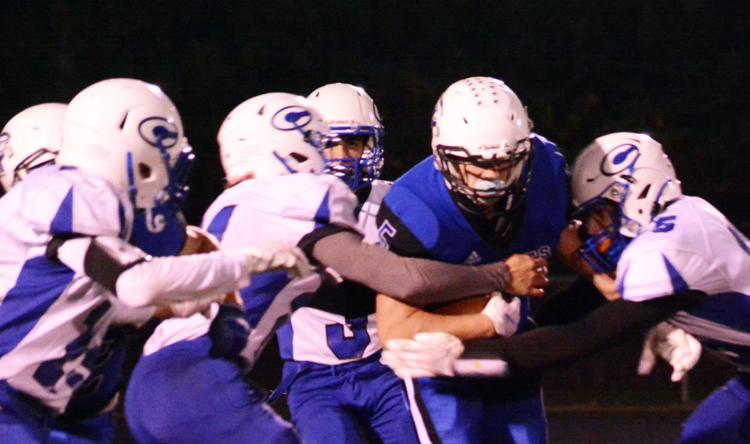 Jordan Tietz 3.jpg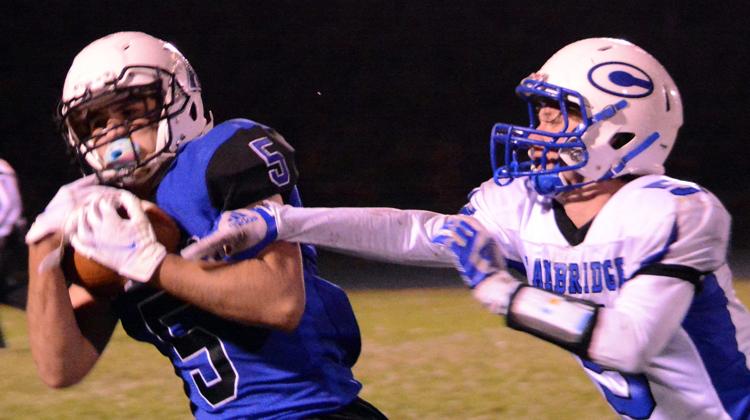 Jordan Tietz 4.jpg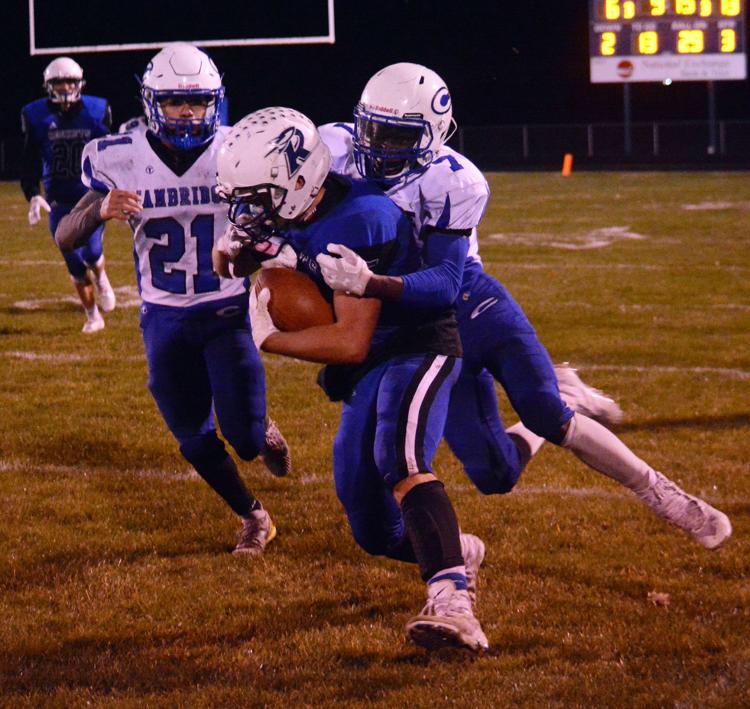 Jordan Tietz 5.jpg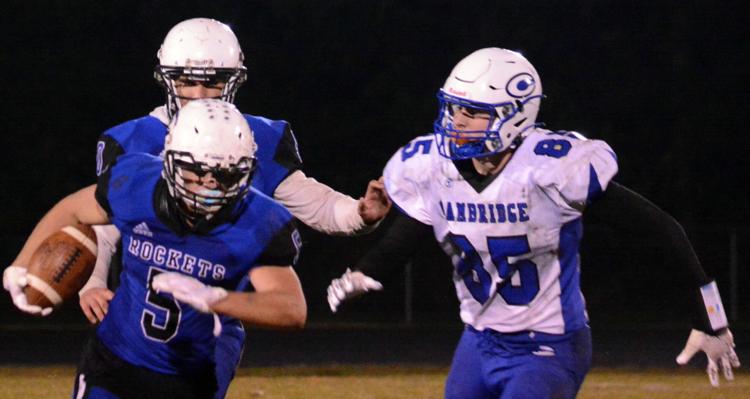 Jordan Tietz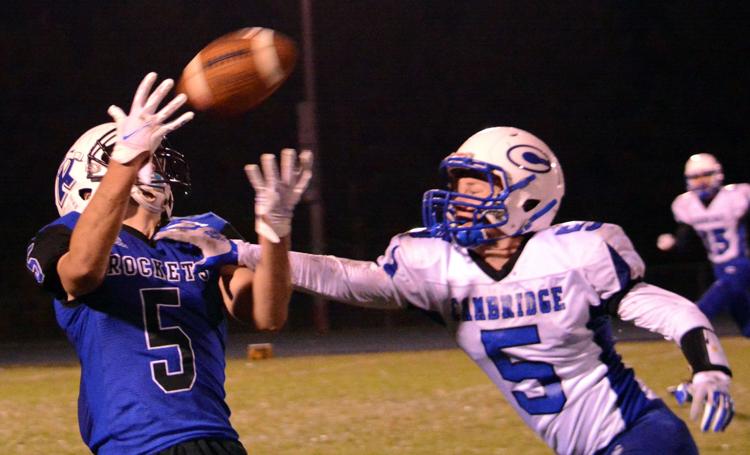 Matt Dykstra.jpg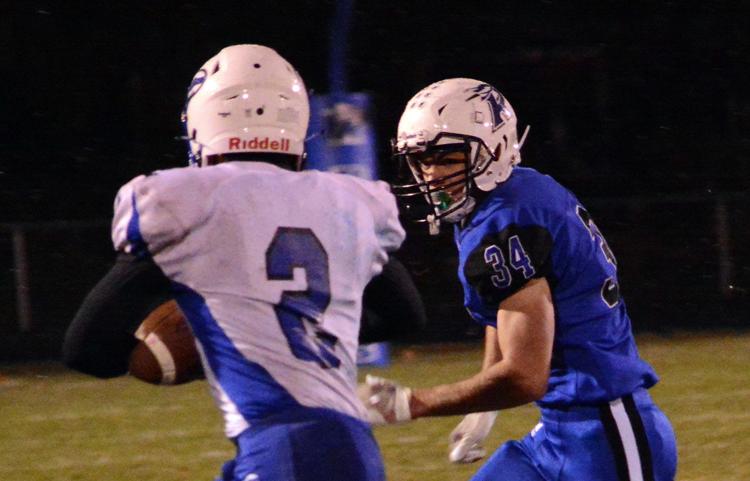 Randolph gang tackle.jpg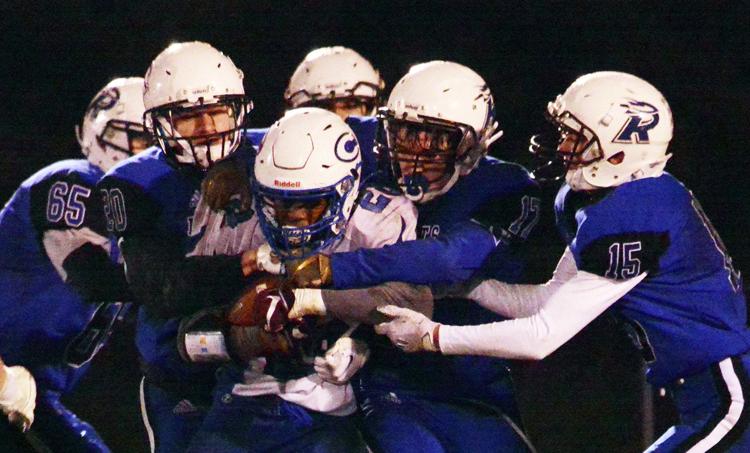 Randolph offense.jpg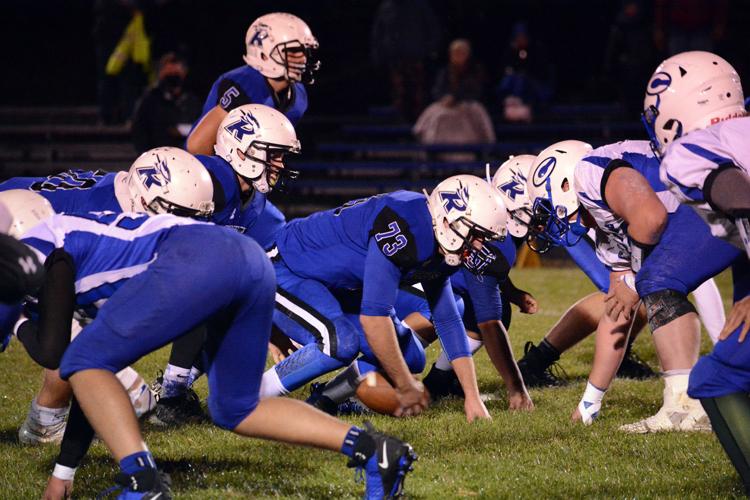 Sully Schlieckau.jpg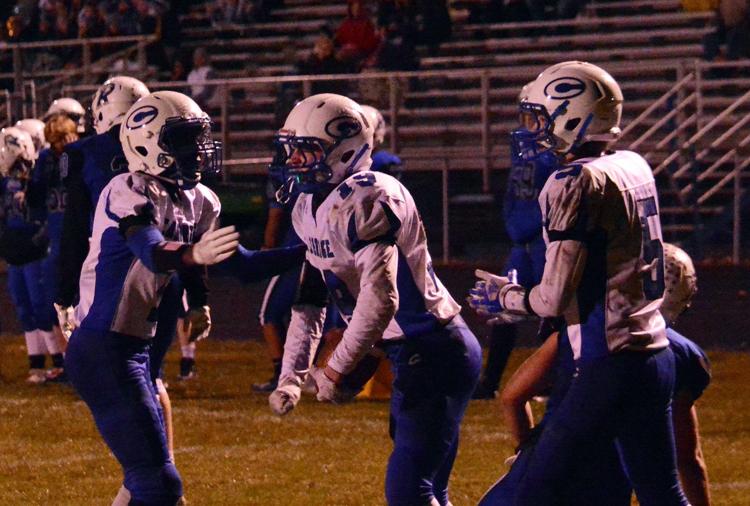 Traiton Lininger 2.jpg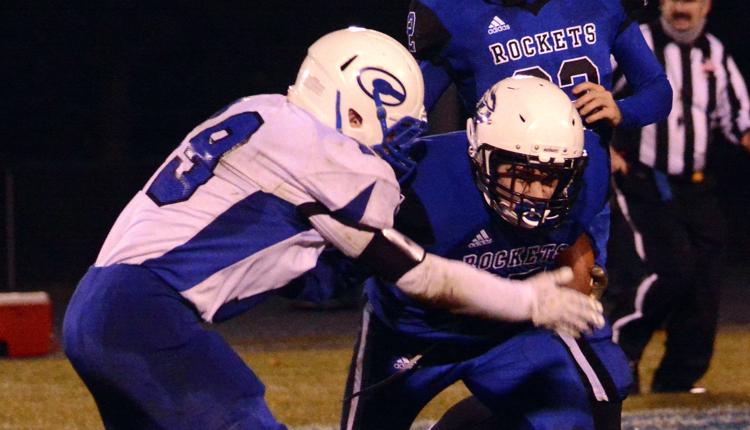 Traiton Lininger 3.jpg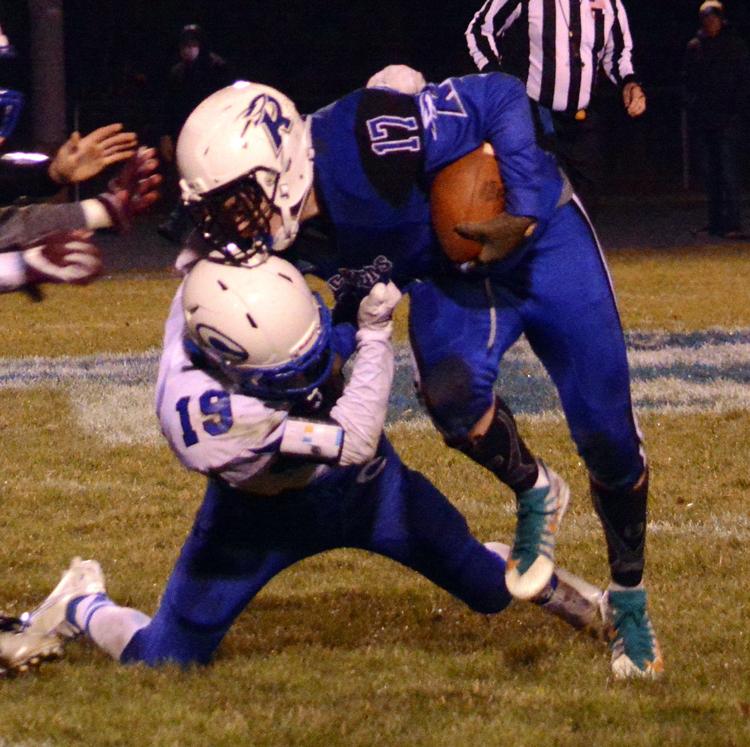 Traiton Lininger 4.jpg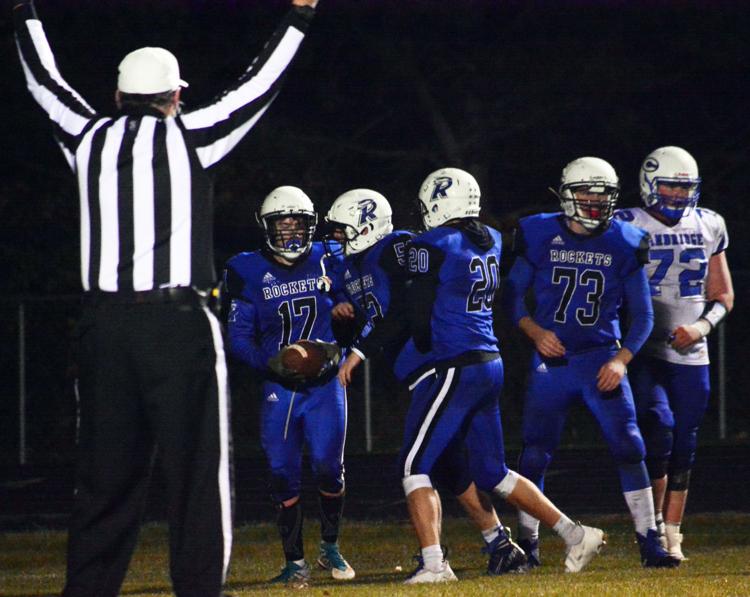 Traiton Lininger.jpg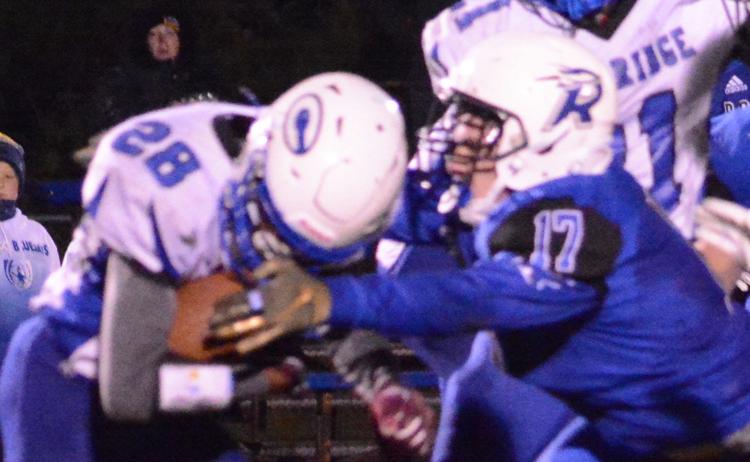 Zach Heft.jpg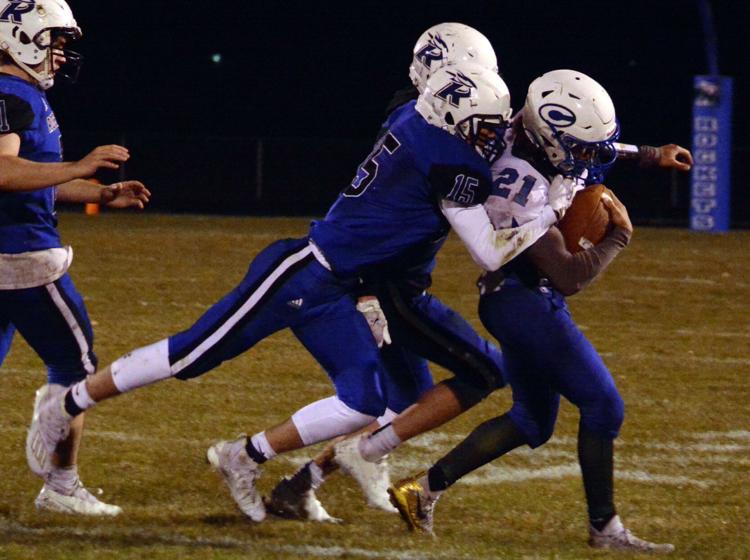 Zach Paul 2.jpg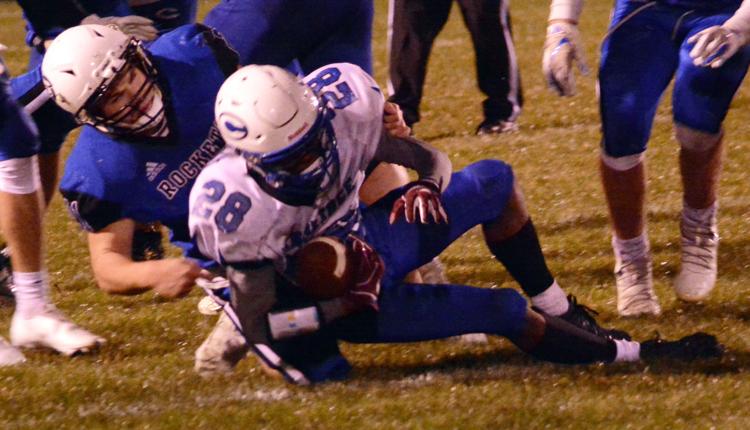 Zach Paul.jpg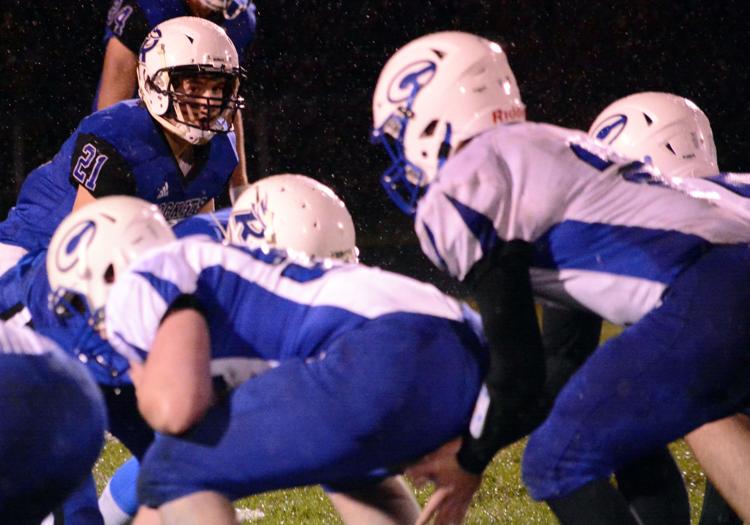 Follow Mark McMullen on Twitter @mmcmull2 or contact him at 920-356-6754.
Get in the game with our Prep Sports Newsletter
Sent weekly directly to your inbox!