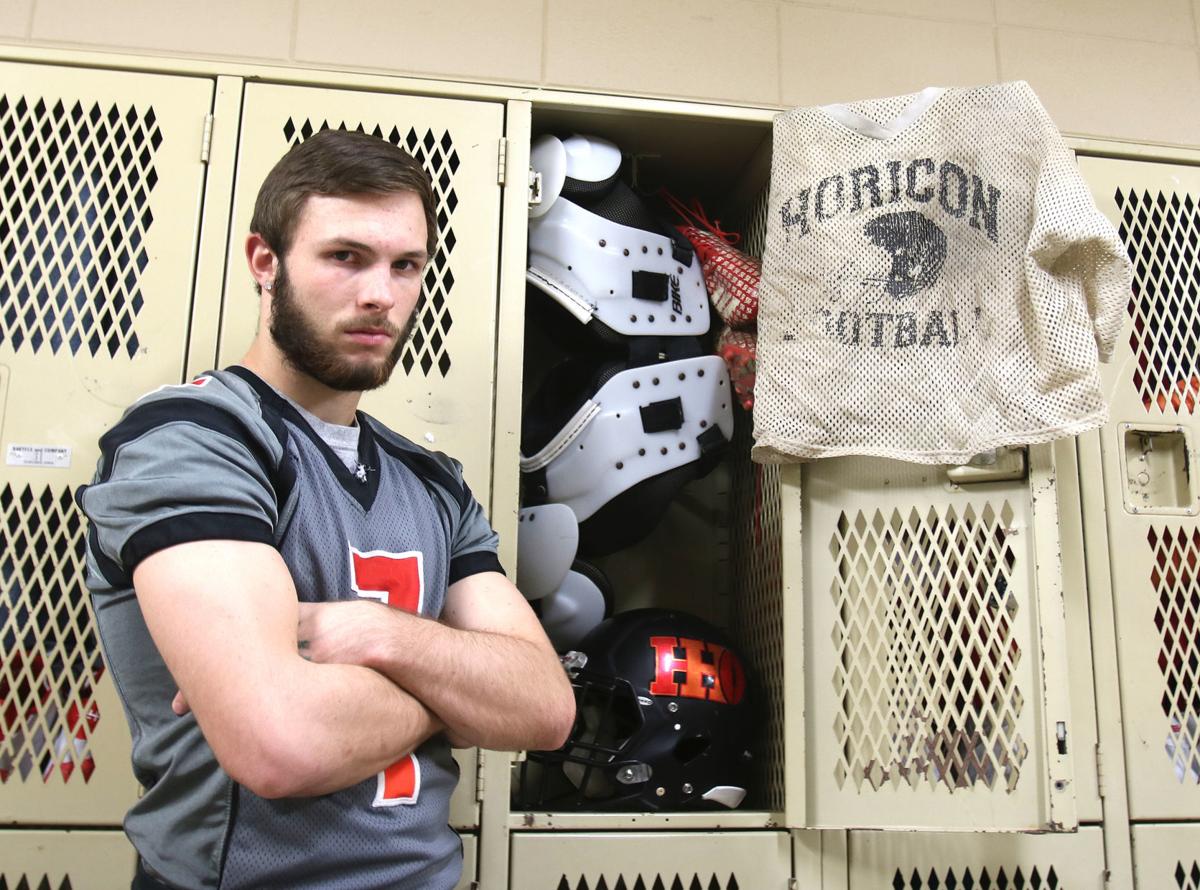 Over the last two seasons, Horicon/Hustisford's Dylan Schmitt has passed for a combined 2,743 yards with 32 touchdowns, 13 interceptions and a completion percentage of 59.4.
Gaudy numbers for a guy who now admits he was pretty leery of even playing quarterback in the first place.
"I was like, 'Dude, this is too hard, I can't do this.'" he said of his first impressions of the position at the start of his junior year. "And (the coaches) just kept on me. They knew I had what it took — they told me that — but I didn't believe it right away. It took a little bit."
It took until Week 4 the 2018 season, to be exact.
Schmitt, who attends Hustisford High School, recalled feeling extremely frustrated following a 30-13 Week 3 loss to Cambridge that season. He couldn't eject the doubt from his mind.
Then came a 41-6 win over Palmyra-Eagle to open Trailways Large Conference play — a game in which he was 9-of-12 for 160 yards, 3 TDs and zero INTs to go along with 11 carries for 109 yards and 2 TDs on the ground — and the rest, as they say, is history.
"I was like, 'I'm getting the hang of this — I think I can do this,'" he recalled. "It was smooth sailing from there.
"My head was in it, my body was in it, I was ready to go and so was everybody else around me. It kind of took off from there."
It certainly did. Schmitt went on to win the Trailways Large Offensive Player of the Year, an honor he would receive again this season. He also was the Daily Citizen's Most Outstanding Offensive Player in 2018.
And now after an even greater statistical season in 2019, a year in which he guided the MarshFalcons to another undefeated record in Trailways Large play and a second straight conference title, the senior has moved up in the world and is this year's Daily Citizen Most Valuable Player.
He credits his teammates for the award as much as anybody.
"They had a certain level of expectation for me going into the year, just because of what we were able to do last year," he said. "And that kind of helped to push me to be like, 'I need to be this for the team so we can be successful.' And they held me to it."
So did his coaches, who helped him through his early growing pains as a QB and never stopped pushing him to reach his full potential. 
"Dylan is a very gifted athlete and we are very proud of him for all his accomplishments," Husticon coach Shannon Mueller said. "Dylan has been so fortunate to stay healthy his junior and seniors seasons to show his true talents on the field. These athletes like Dylan do not come around very often so when you can coach a young man like this you relish it to the bitter end."
After passing for 1,273 yards, 17 TDs and 7 INTs and rushing for 766 yards and 15 TDs in 2018, Schmitt threw for 1,470 yards, 15 TDs and 6 INTs and ran for 1,144 yards and 16 TDs this year.
Schmitt said leadership was a priority from Day 1. With several key players having graduated from the 2018 team that not only won conference, but also advanced to the Division 5 state quarterfinals, Schmitt didn't want there to be any drop off this year.
"I wanted us to do well really badly this year," he said, "so I wanted to do all I could on offense to help our team be what we wanted to be.
"(This year's Trailways Large Defensive Player of the Year) Zach Kehl was that guy on the defensive side for sure. He ran everything and he was everywhere, all over the field," Schmitt said. "I wanted to be that guy on the offense that could carry us to where we wanted to go."
And carry the team to offensive success Schmitt did, helping the program to not just the second straight conference title, but also a fourth-straight postseason berth. Husticon suffered a hard-fought 22-15 loss to Lomira — the same team it lost to in Week 1 — in the opening round of the playoffs.
Schmitt, who missed most of his freshman year because of a broken collar bone and was a wide receiver on varsity his sophomore year, said once the players in his class got to be upperclassmen, they wanted to leave their mark on the program — which started as a co-op in 2016 after Hustisford had to forfeit its 2015 schedule due to not having enough players and Horicon struggled mightily like it had for almost a decade prior.
"Coming in our junior and senior year, we never let our foot off the pedal," he said. "We wanted it more than other people, and it showed."
As far as being such a dynamic threat in both the air attack and the ground attack, Schmitt said the recipe for that was pretty simple.
"Basically," he said, "I needed to trust (assistant) coach (Ryan) Connolly — he would tell me what's going to be open, what's not going to be open; he would tell me, 'You look here, and if it's not there, run.' It was pretty clear cut for me — if I didn't' see what I liked, I had the freedom to try and make a play.
"If I had a feeling something was going to be open I'd throw it wherever I needed to throw it. I didn't always want to run — I just did what I had to do."
All of that is to say he didn't just bail from the pocket at the first hint of pressure, tuck it, and run. His instincts and vision had as much to do with his success as his physical ability.
And talented players around him provided a big assist in terms of Schmitt getting the most out of his skills.
Following the lead of Mueller, Schmitt is a team-first guy above all else.
"Everything that he preaches I agree with 100 percent," Schmitt said of his coach. "He gives a lot of credit to the linemen, which they deserve. They don't get to score, they don't get the stats, but it starts with them and their hard work is what made me what I am, so I have to give a lot of credit to our front line — and to receivers who made great catches. Everything like that.
"It wasn't only me by any means."
And so just a handful of seasons removed from what was a very bleak future for both Horicon and Hustisford, Schmitt's class at both schools leaves having authored the two best seasons at either school since the mid-2000s.
That's something they'll carry with them forever.
"I don't think the feeling right now is ever going to go away — just the pride," Schmitt said. "We were able to do this two years in a row; nobody beat us in our conference. And considering we're a relatively new program, we were able to come together and bring people together who wouldn't normally come together. And other than that, just the relationships that we were able to build with people who are from a different town — families from different towns. That's not something you see every day.
"Even though we weren't able to do what we'd like in the playoffs (this year), we'll still (always) feel that pride."
Follow Dan on Twitter @Danny_Larson_8 or contact him at 920-356-6753.
Get in the game with our Prep Sports Newsletter
Sent weekly directly to your inbox!