CAMPBELLSPORT ― The Mayville football team's problem wasn't Campbellsport's defense during Saturday's Flyway Conference game.
It was the gale they had to run through which made it tough for the Cardinals rushing attack to get off the ground.
However, 6-foot running back Blake Schraufnagel found ways to overcome the gusts of wind, running for 182 yards and three touchdowns, leading the Cardinals to a 21-6 victory over the Cougars.
"Thank goodness, because that was basically the only thing that was working," Mayville coach Scott Hilber said, crediting the gaping trap holes created by the Cardinals' offensive line.
"Blake was hitting them and he was getting to the second level. He wasn't finding them early, but he made some nice adjustments, and he's the right back to be able to find it."
Both teams tested the waters, beginning the game trading turnovers and punts before Mayville (5-1, 5-1 Flyway) went on a 14-play drive that came to an end when Schraufnagel bulldozed in for a two-yard touchdown to go up 7-0 with 5 minutes, 6 seconds left in the first half.
The Cougars (3-3, 3-3) responded with a lengthy offensive drive themselves, going for an eight-play drive, punctuated by a 17-yard touchdown pass from quarterback Mitchell McCarty to receiver Noah Fleischman on fourth-and-8 with 1:15 left in the first half. However, Mayville kept a 7-6 lead heading into halftime when the defense stuffed a run up the middle.
"We were basically in man coverage," Hilber said. "That's one of those situations you've got to recognize the situation. It's fourth-and-8 and you've got to play within the limits. The ball got out pretty quick and it was decent coverage, but not good enough."
Schraufnagel got most of his yards in the third quarter off of two run plays that went for touchdowns. The first one was three plays into the second half when he bounced off of two would-be arm tackles, sprung loose and was off for the races for 56 yards and a 14-6 lead with 10:31 left.
The second was a 51-yard scamper where Schraufnagel speared through a giant hole up the middle and couldn't be stopped to go up 21-6 with 29 seconds remaining in the quarter.
"They're huge," Hilber said. "Thankfully, he's got the speed to break away. Where you really struggle when you're in games like this, you're not able to find those big plays. Those big plays made things way much easier. They're a big deal and I'm glad he was able to take them all the way in."
Both teams combined to throw for 45 yards as McCarty completed just 2 of 12 passes with two interceptions and a touchdown. Meanwhile, Mayville quarterback Zach Weiss threw for 20 yards on 3-of-7 passing. Weiss' favorite target was Schraufnagel, who he connected with twice for 13 yards.
"In this wind, it's not easy to pass the ball," Hilber said. "We're mostly a running team, but we wanted to pass the ball more this week. We wanted to get closer to a 4-to-1 run-to-pass ratio, but we weren't able to get it done because of the wind. That's fine. We were very content keeping the ball on the ground."
Both teams found success on the ground. Schraufnagel highlighted Mayville's ground game, helping the Cardinals run for 220 yards as a unit.
Campbellsport found success running jet sweeps and a couple runs up the middle for 170 yards. Joe Gardner led with 83 yards ― mostly up the middle ― while running back Joe Nerat was successful with jet sweeps for 49 yards.
"For most of the game," Hilber said of his comfort level with his team's defensive performance. "One of their long runs was my fault. I told a kid to do something out of assignment and it backfired. That happens. … The way they run their offense, they really force you to be stretched out and be disciplined. We decided not to do anything cute and stayed on our assignments to make them earn it. We held strong."
Mayville is having a remarkable season, losing only to undefeated Omro, 35-6, on April 16, but will have a chance to dethrone another undefeated team next week when they travel to play Lomira to end the alternate fall season.
"We're better than I'd thought we'd be, but we're still not as good as we should be," Hilber said. "We still make more mistakes and maybe that's on the coaching staff. Maybe we've given them too much. Maybe we need to condense the offense a little bit instead of expanding, and try to do what we do well and run on that.
"I wasn't expecting to be 5-1, but when I watch the film and I see these games, I'm thinking we leave so much on the field so many times. Young teams will learn from that and we'll get better. We're really encouraging the kids on let's go for it all this next week."
GALLERY: Action from Saturday's Flyway Conference game between Mayville and Campbellsport
Aaron Anderson.jpg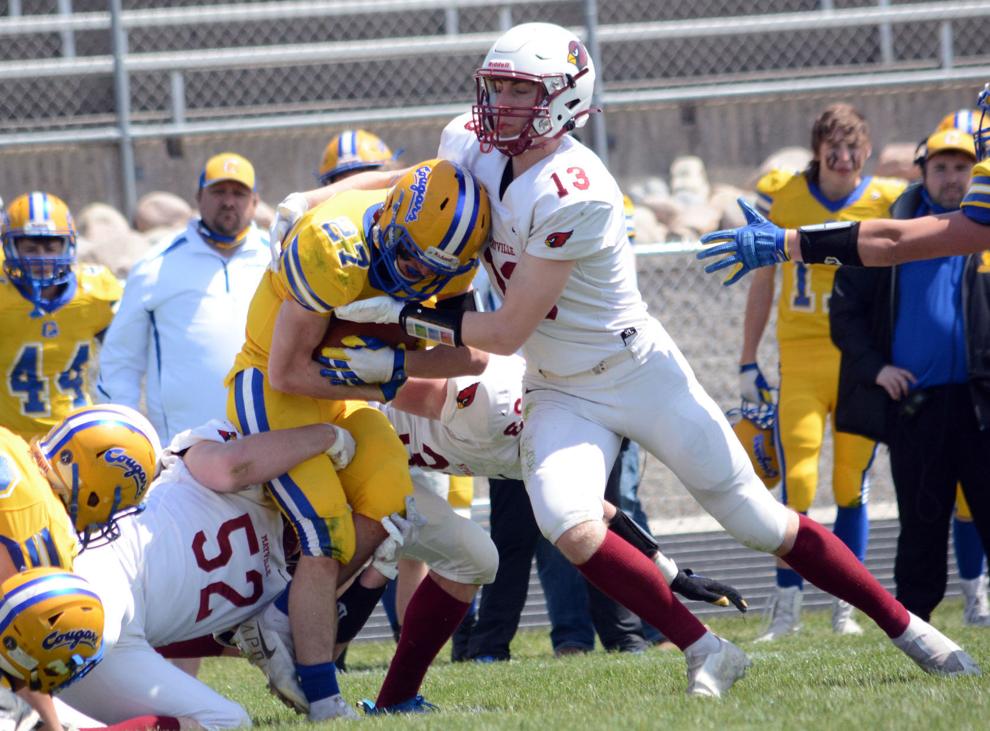 Alex Borkenhagen.jpg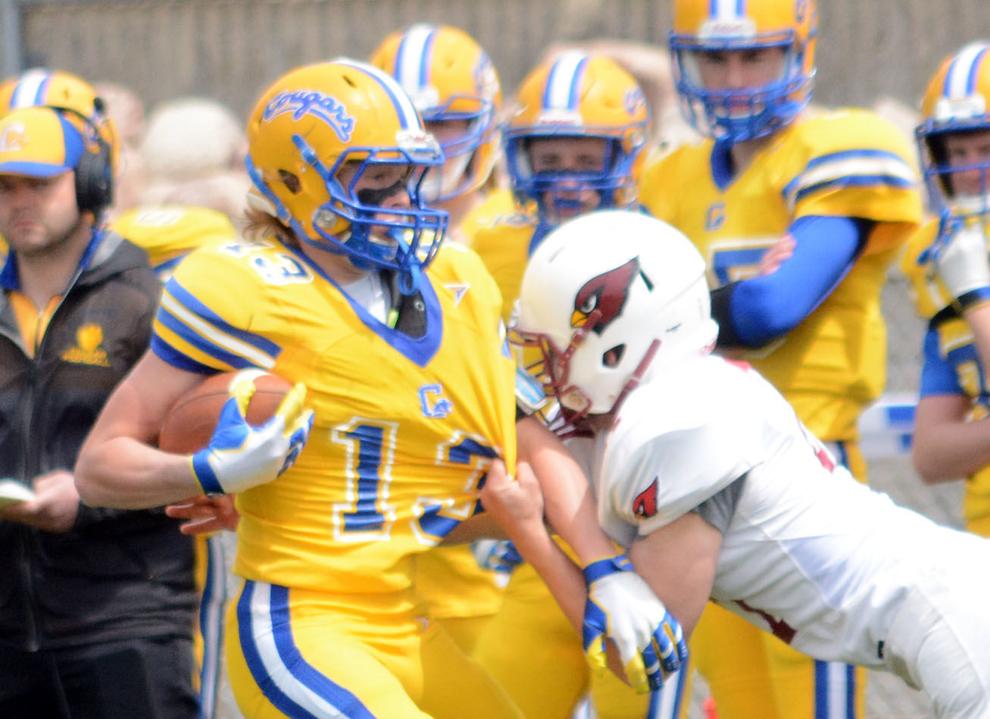 Blake Schraufnagel 2.jpg
Blake Schraufnagel 3.jpg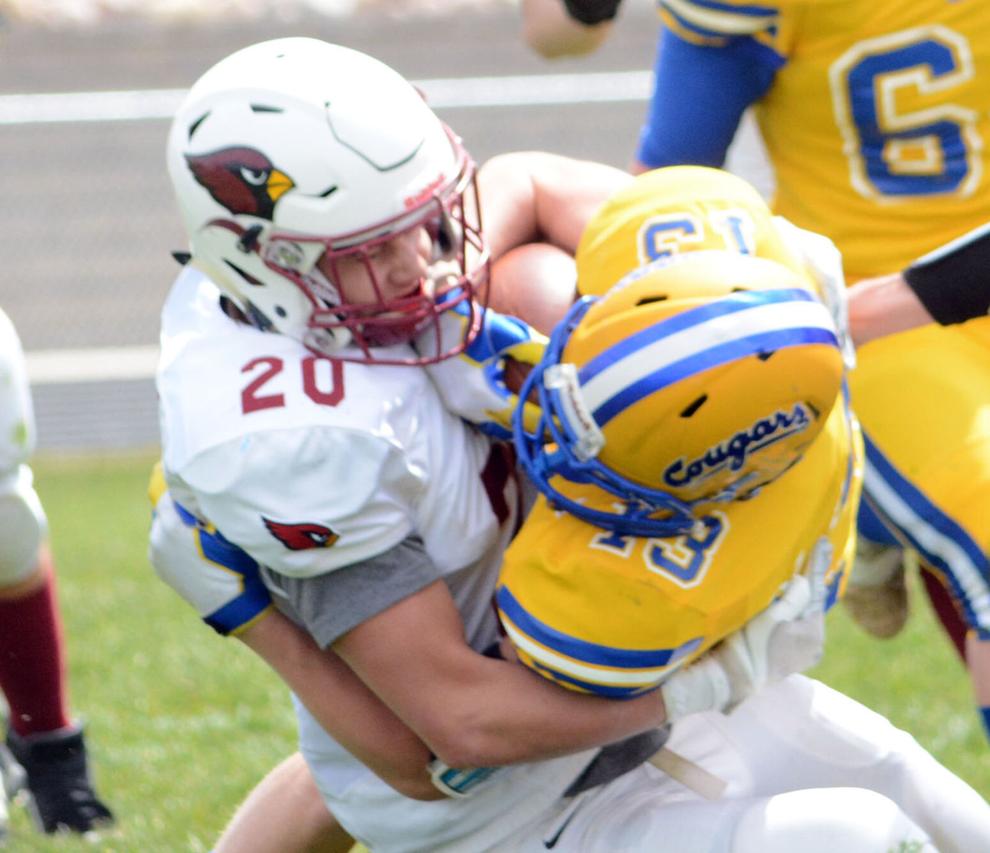 Blake Schraufnagel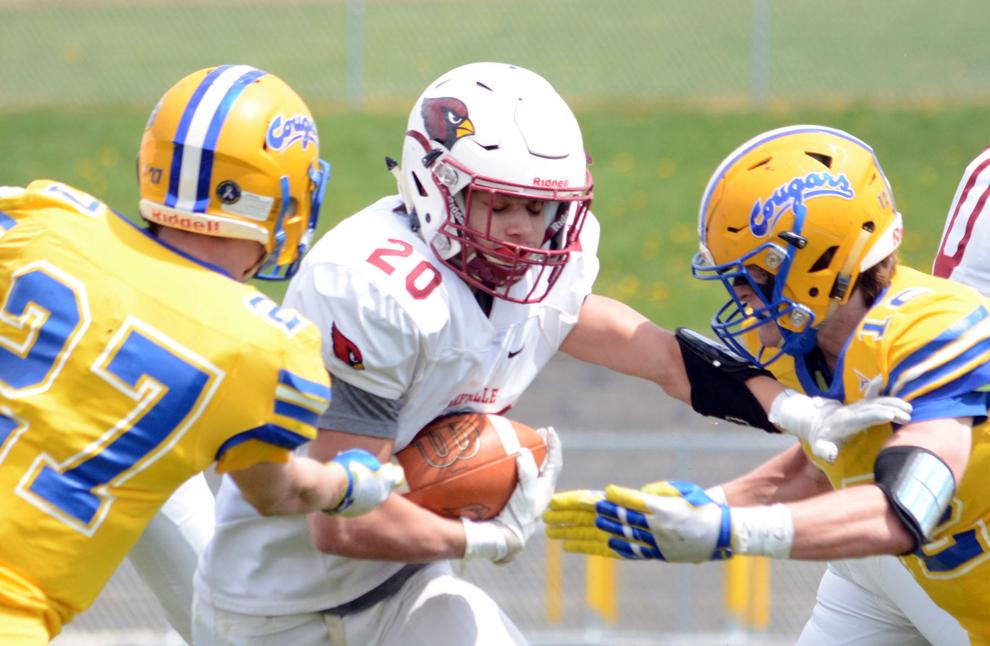 Blake Schraufnagel 5.jpg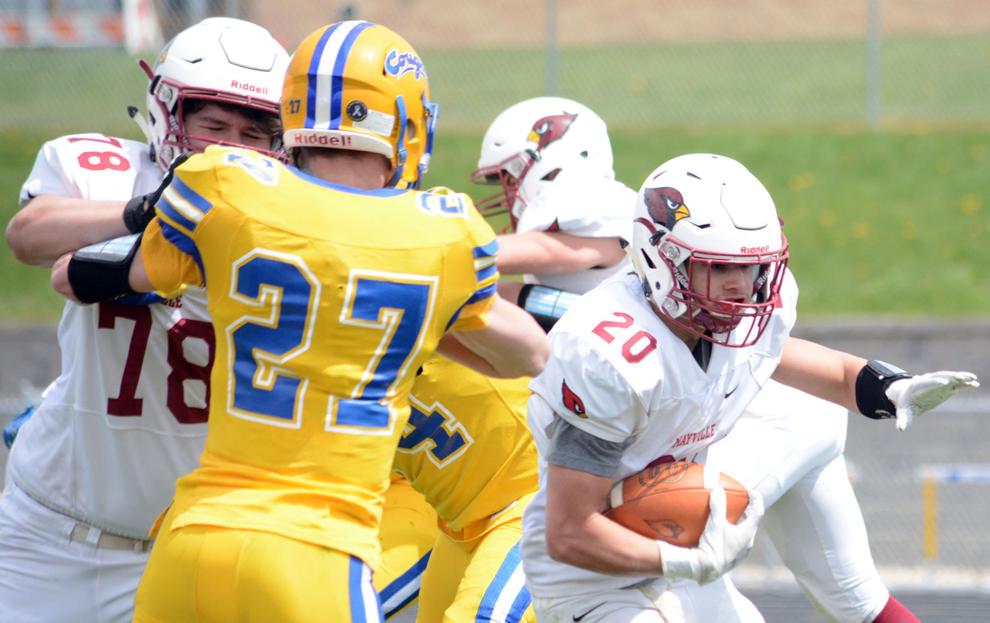 Blake Schraufnagel 6.jpg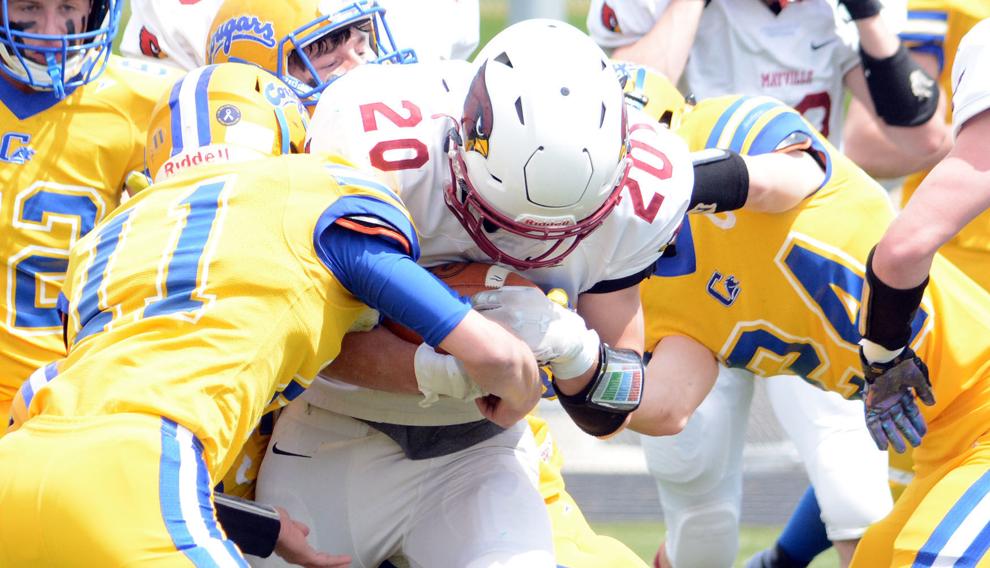 Blake Schraufnagel 7.jpg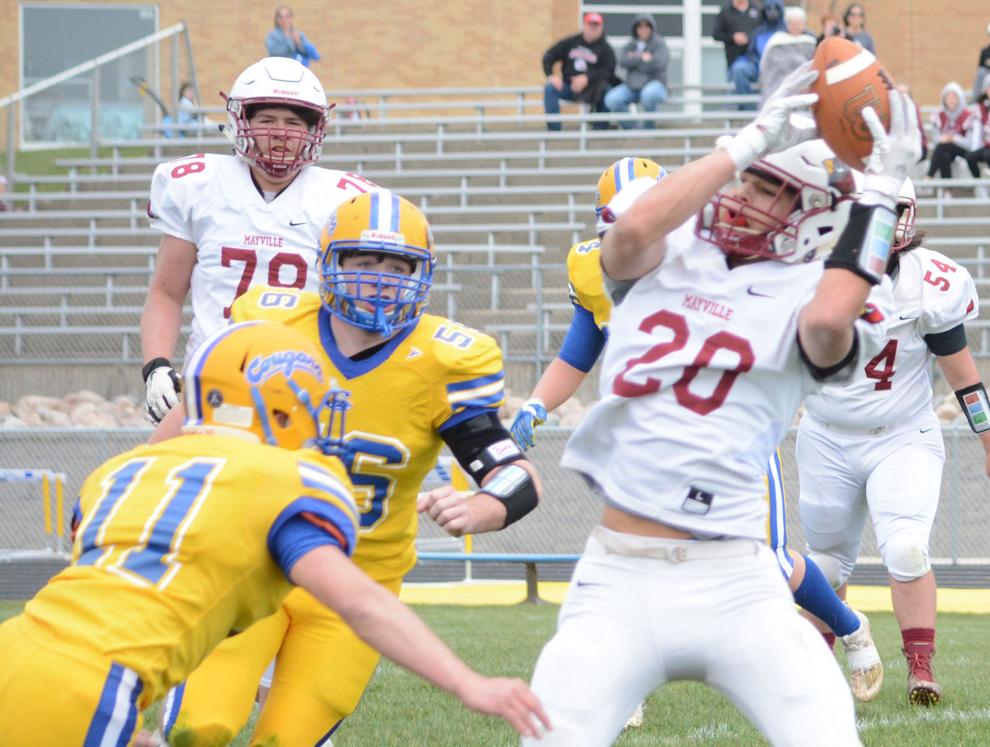 Blake Schraufnagel 8.jpg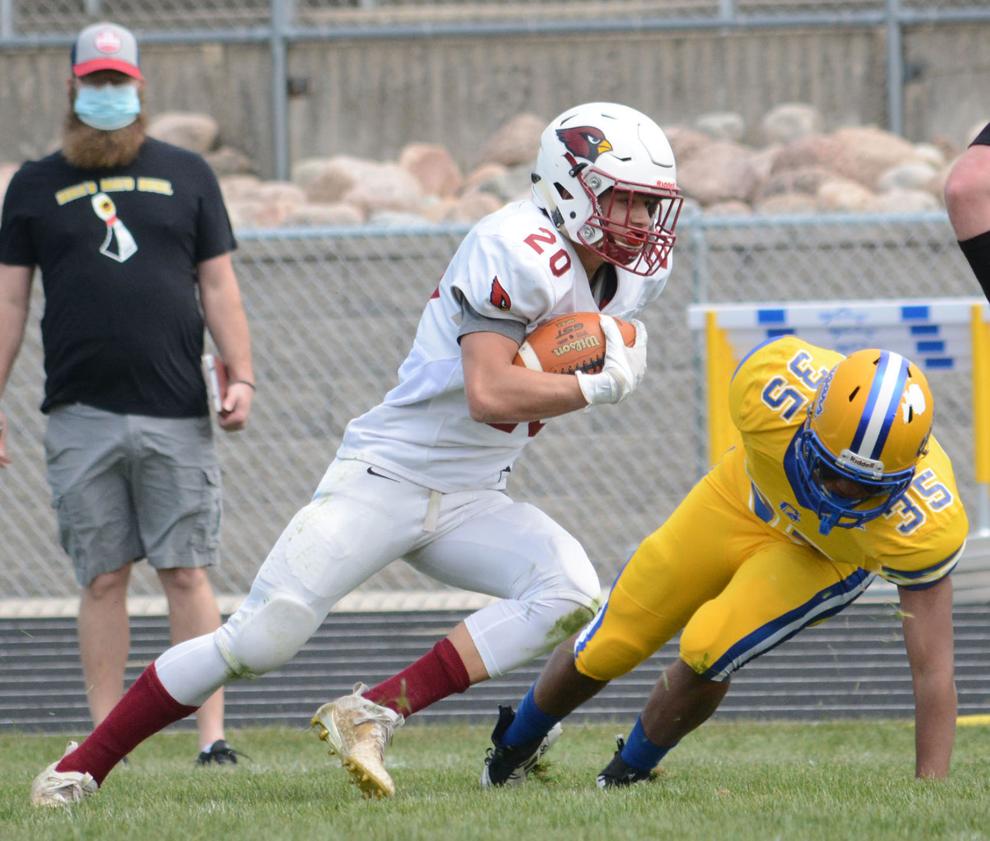 Blake Schraufnagel 9.jpg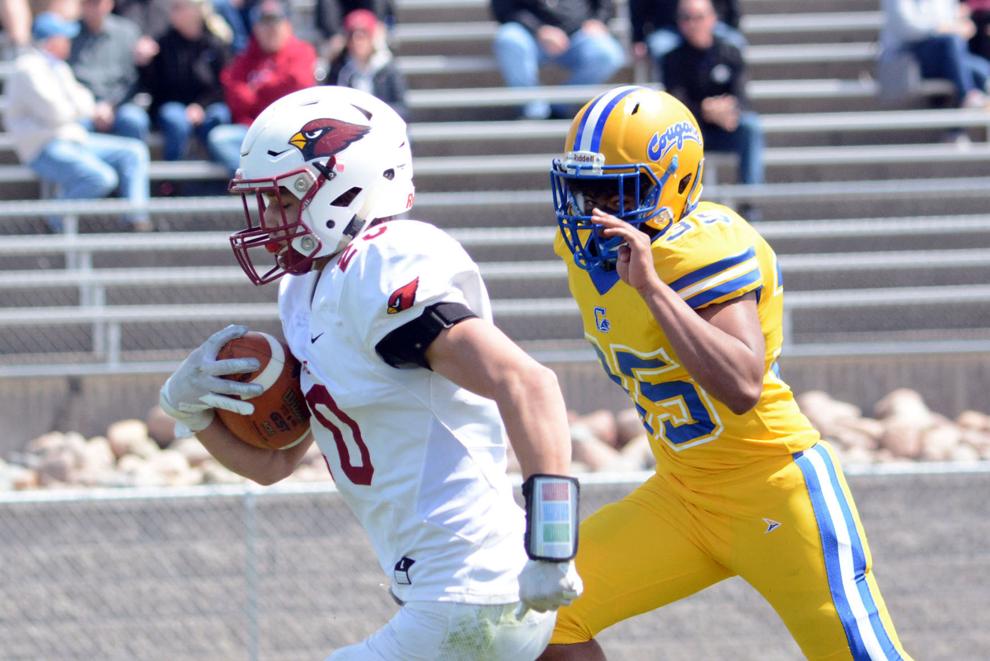 Blake Schraufnagel.jpg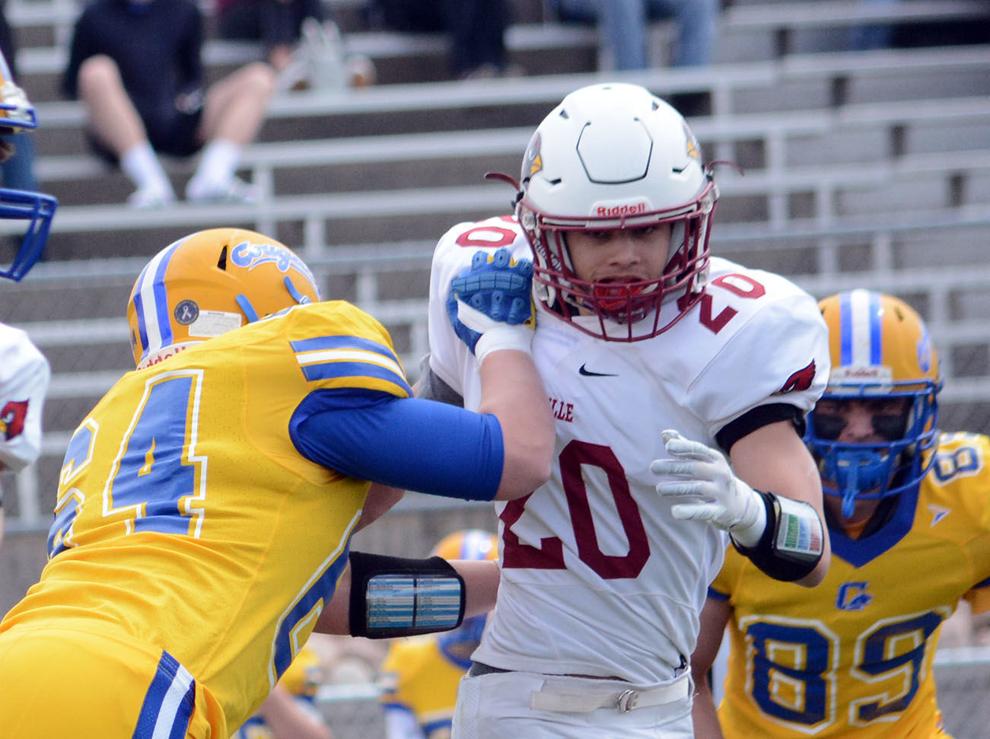 Bradley Bushke.jpg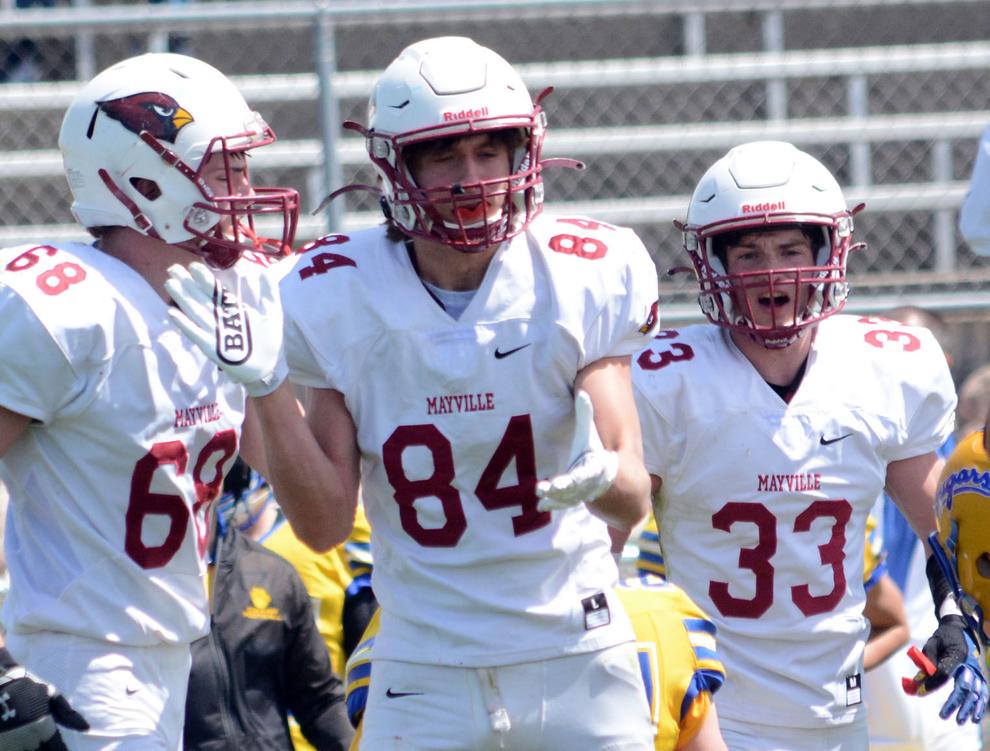 Braedon Vollmer.jpg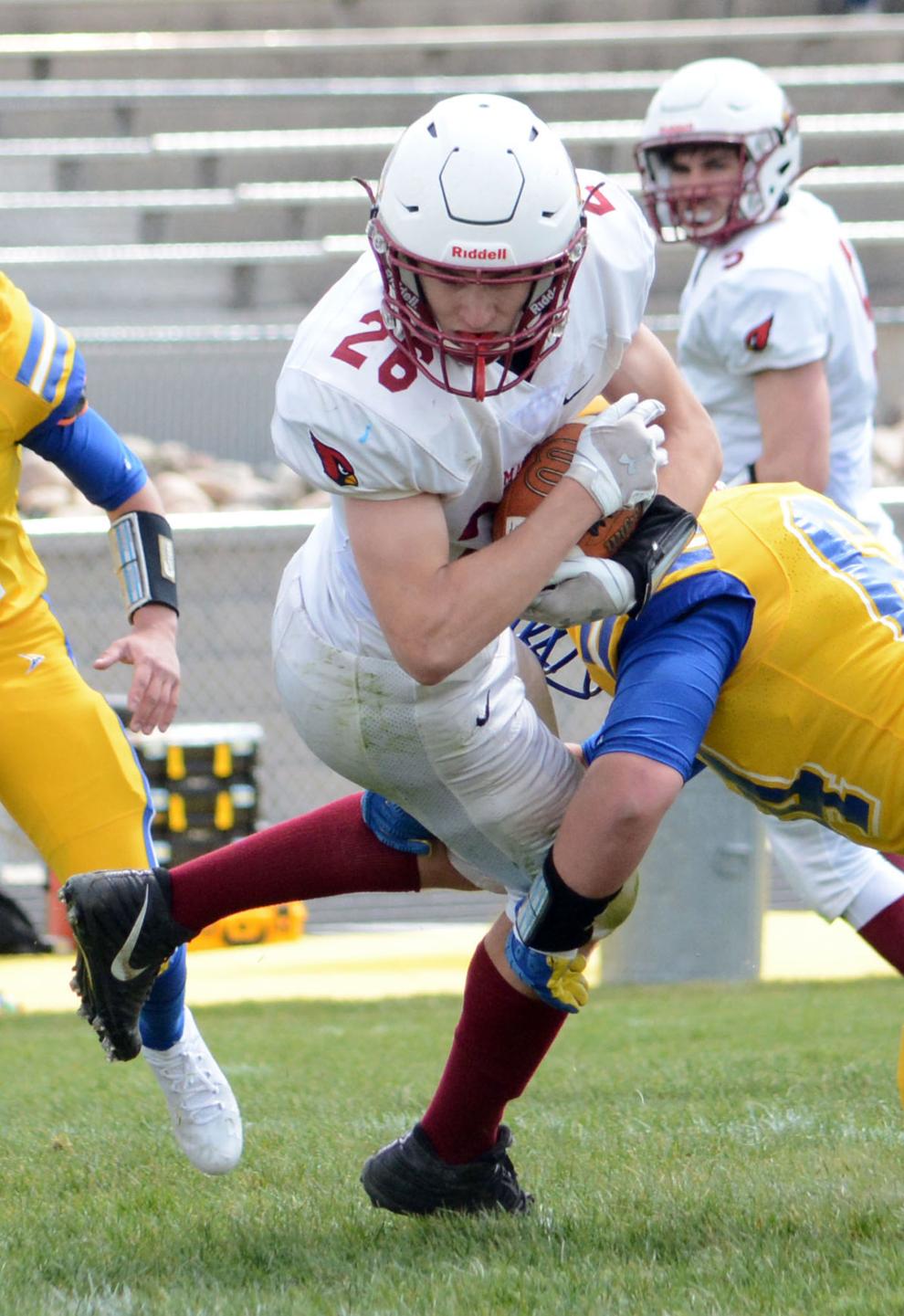 Cadon Hardesty 2.jpg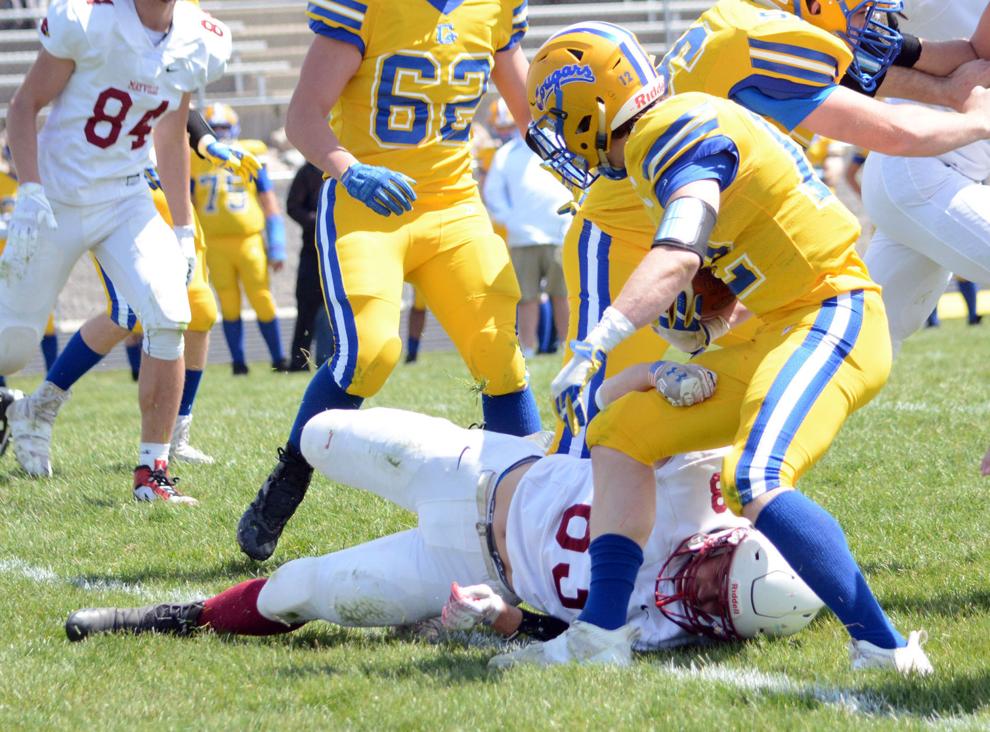 Cadon Hardesty.jpg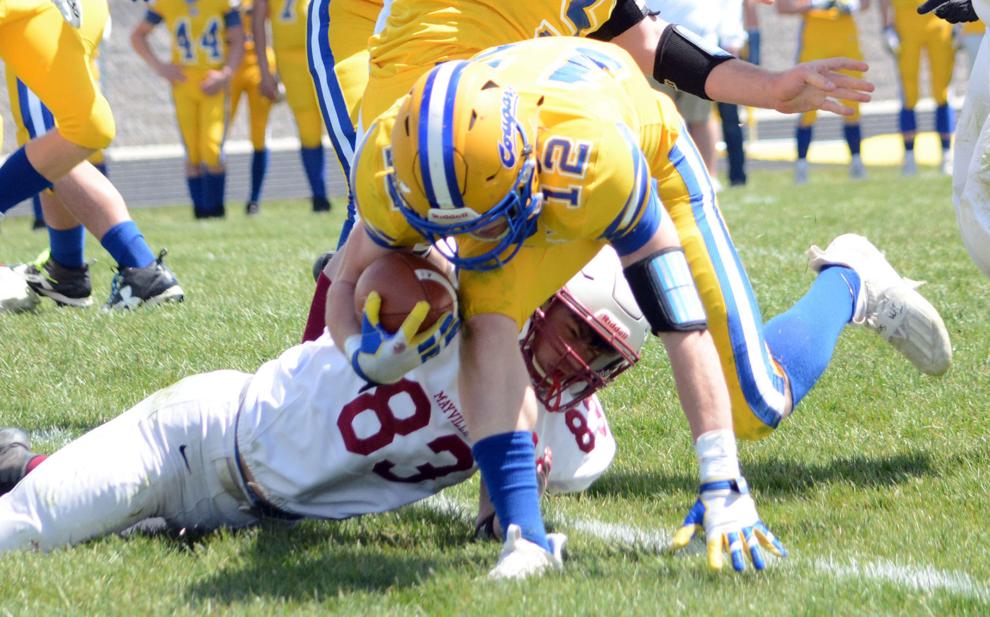 Evan Marx 2.jpg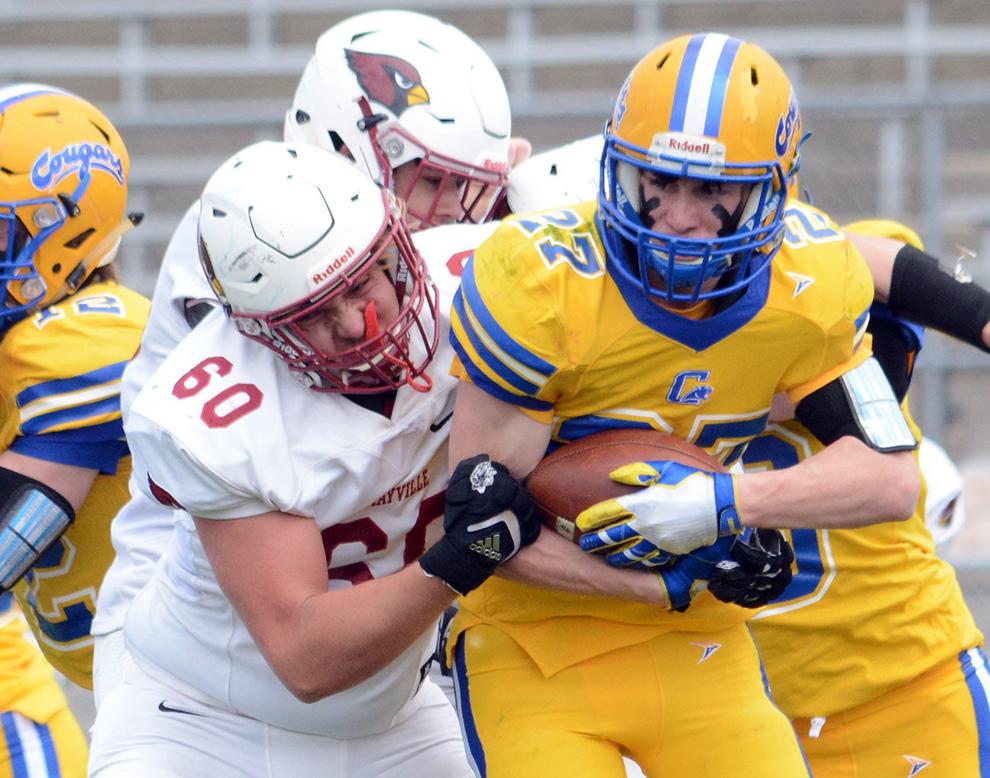 Evan Marx 3.jpg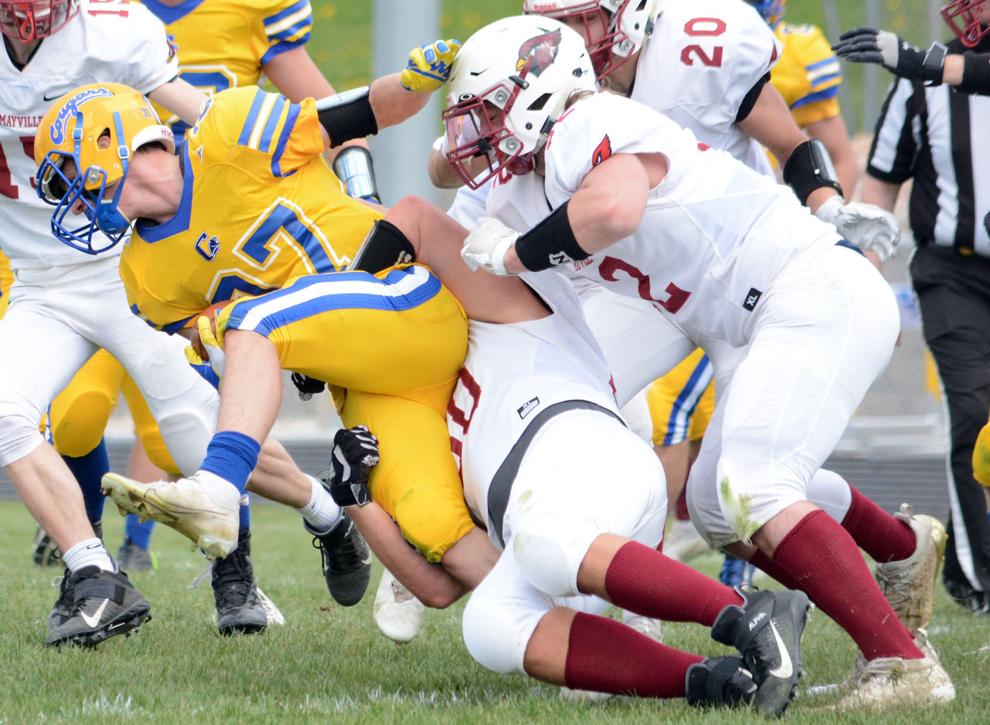 Evan Marx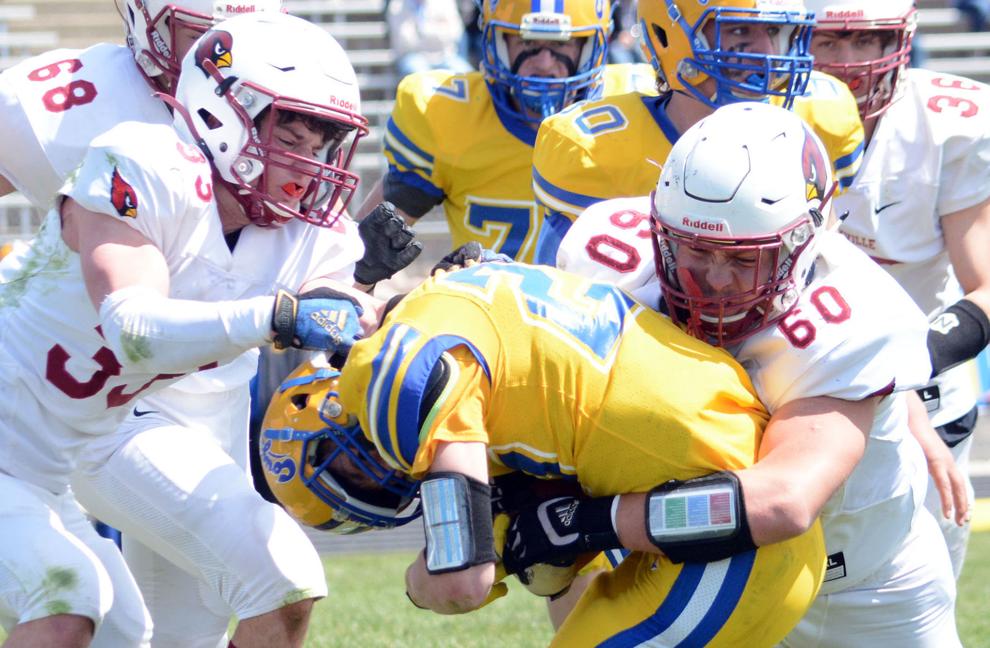 Evan Marx.jpg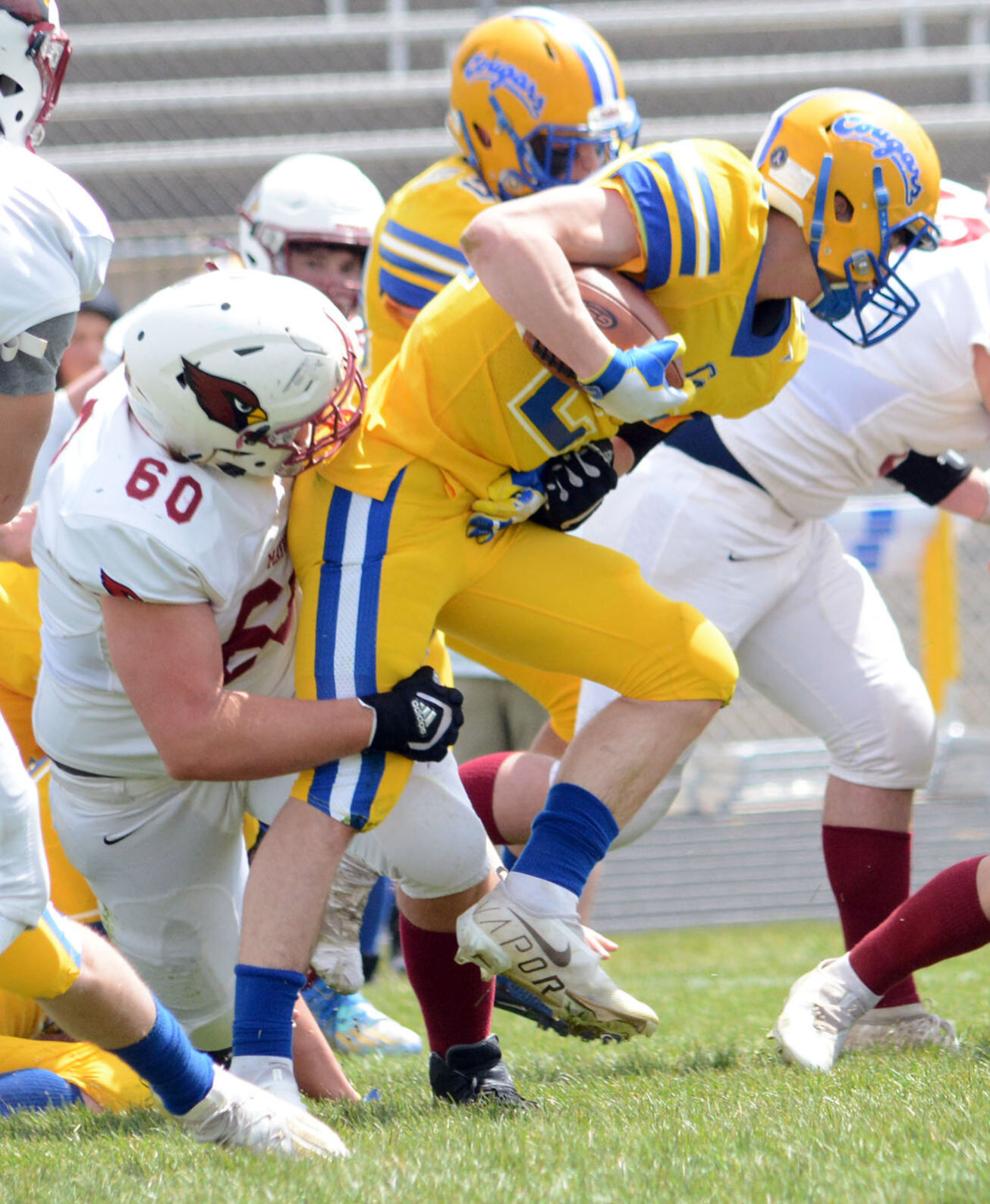 Halftime.jpg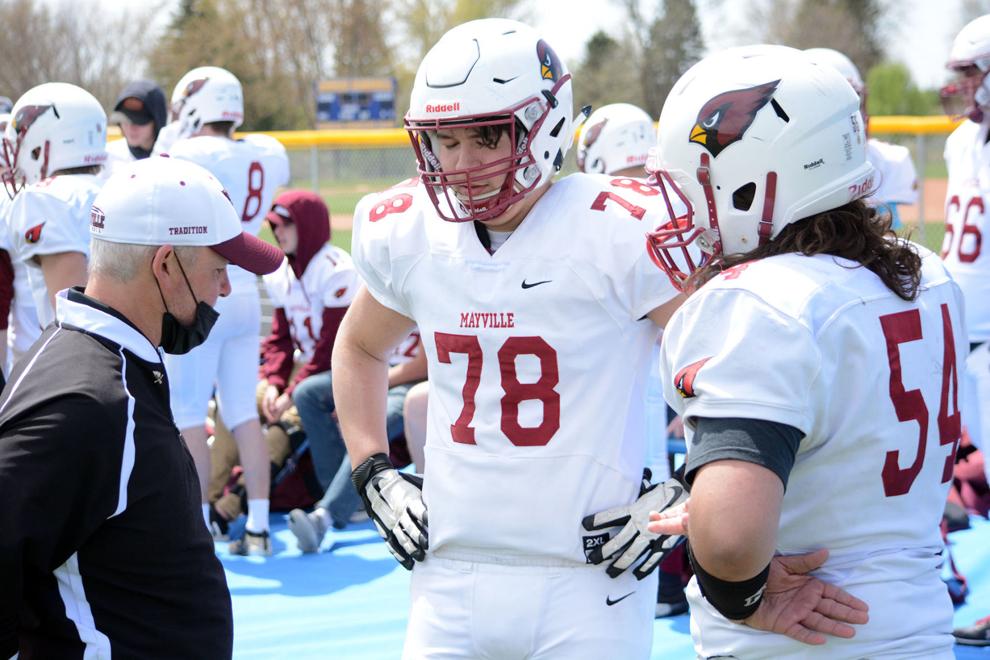 Incomplete pass.jpg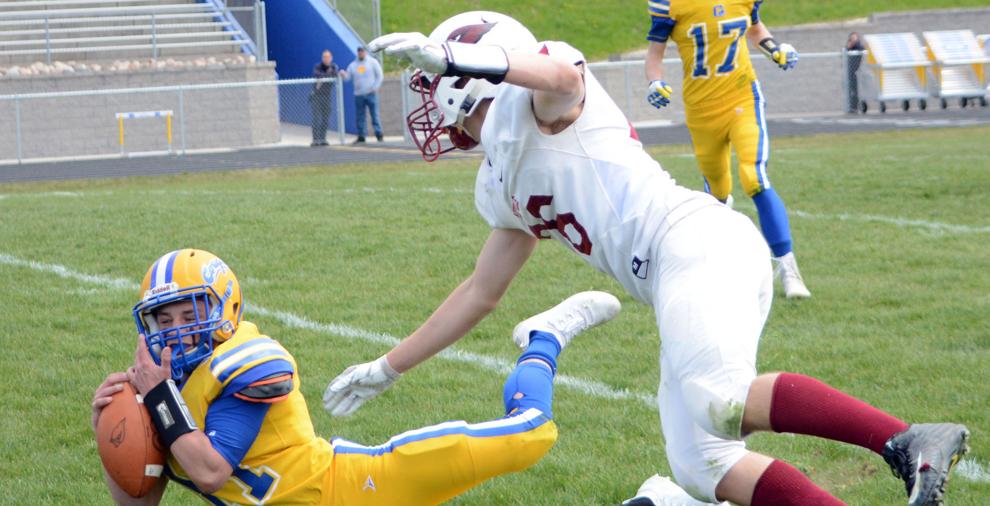 Joseph Nerat.jpg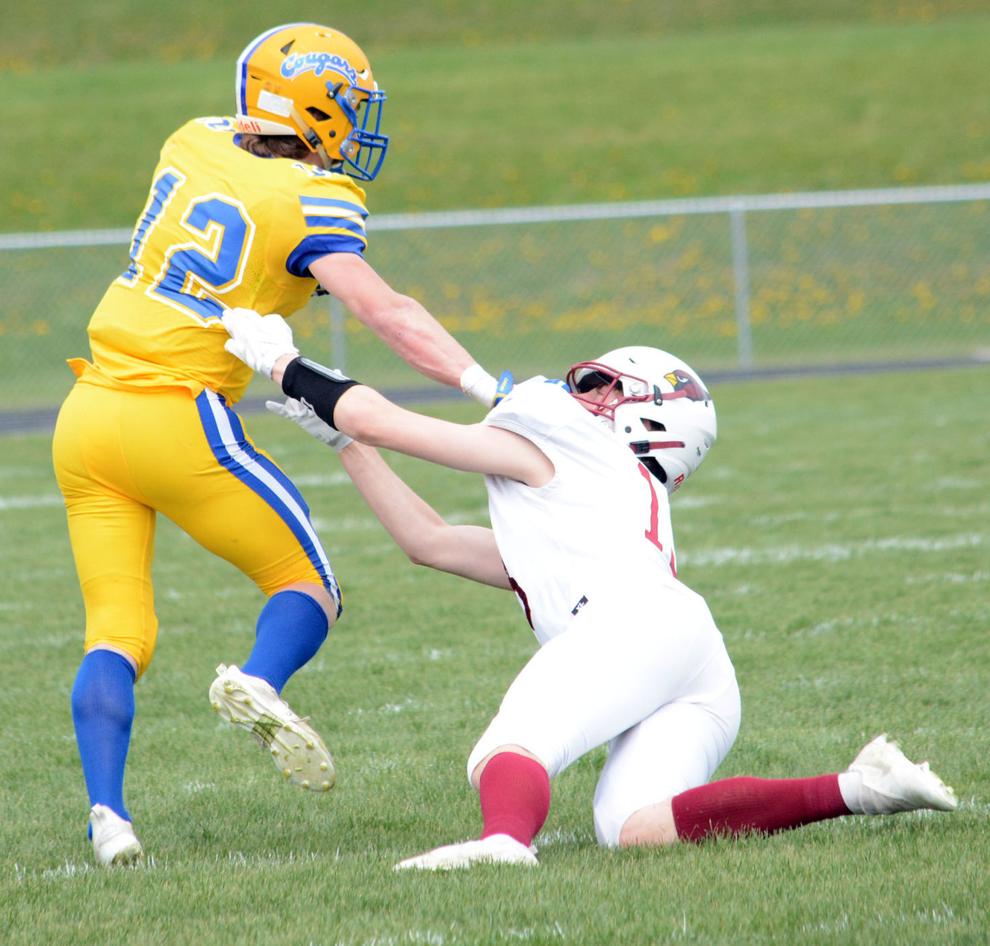 Marshal Weiglein.jpg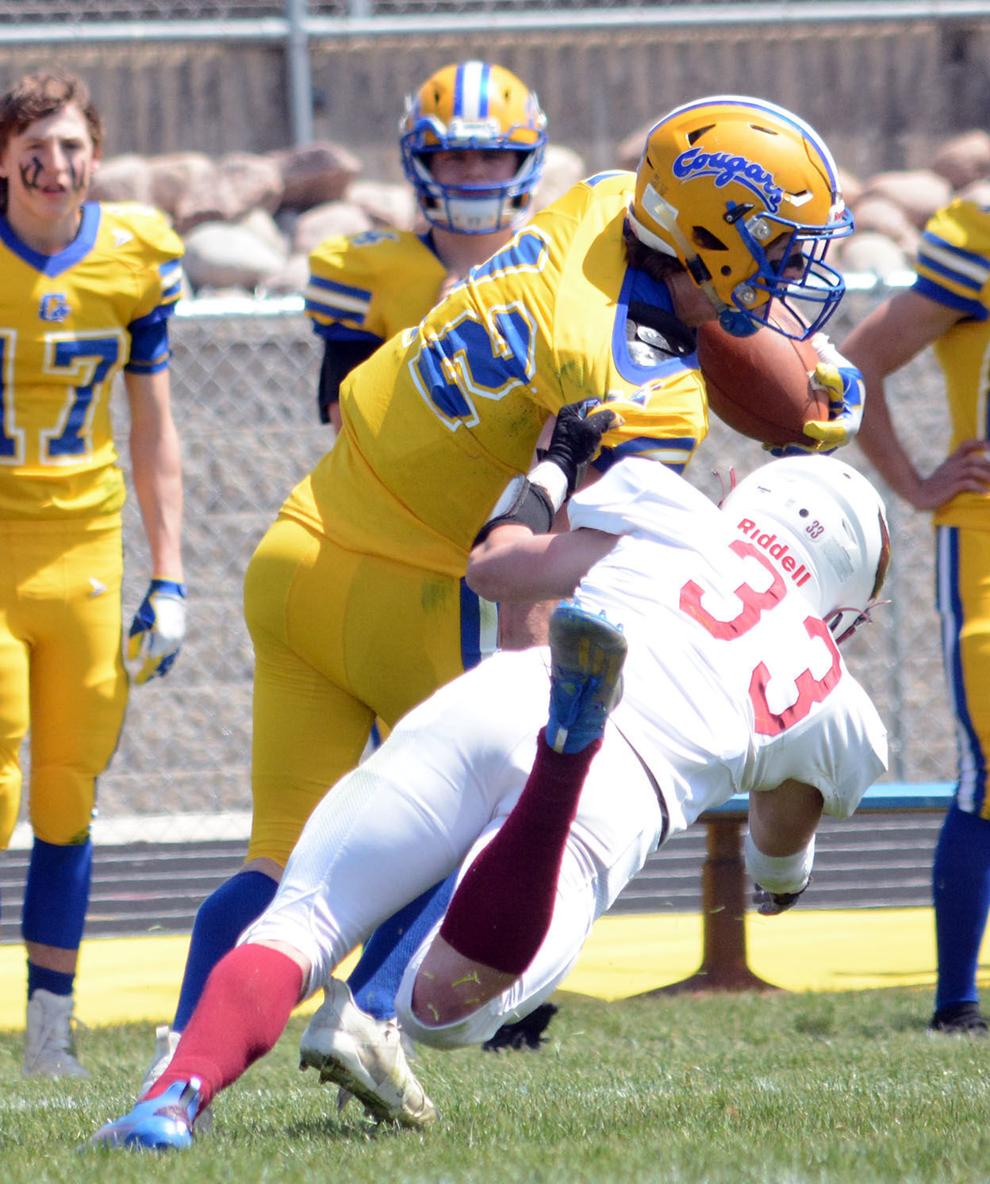 Mayville Cardinals tackle 2.jpg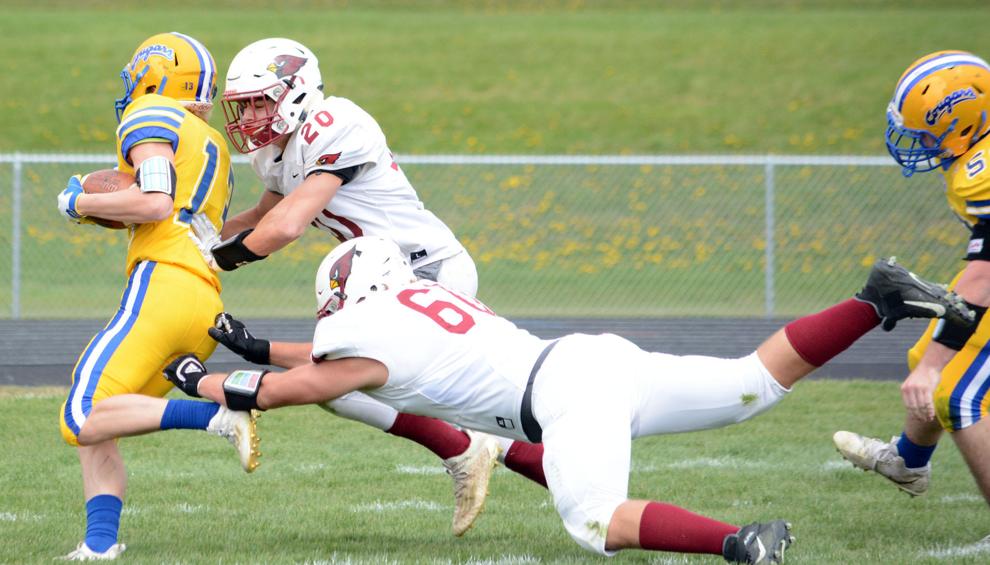 Mayville Cardinals tackle 3.jpg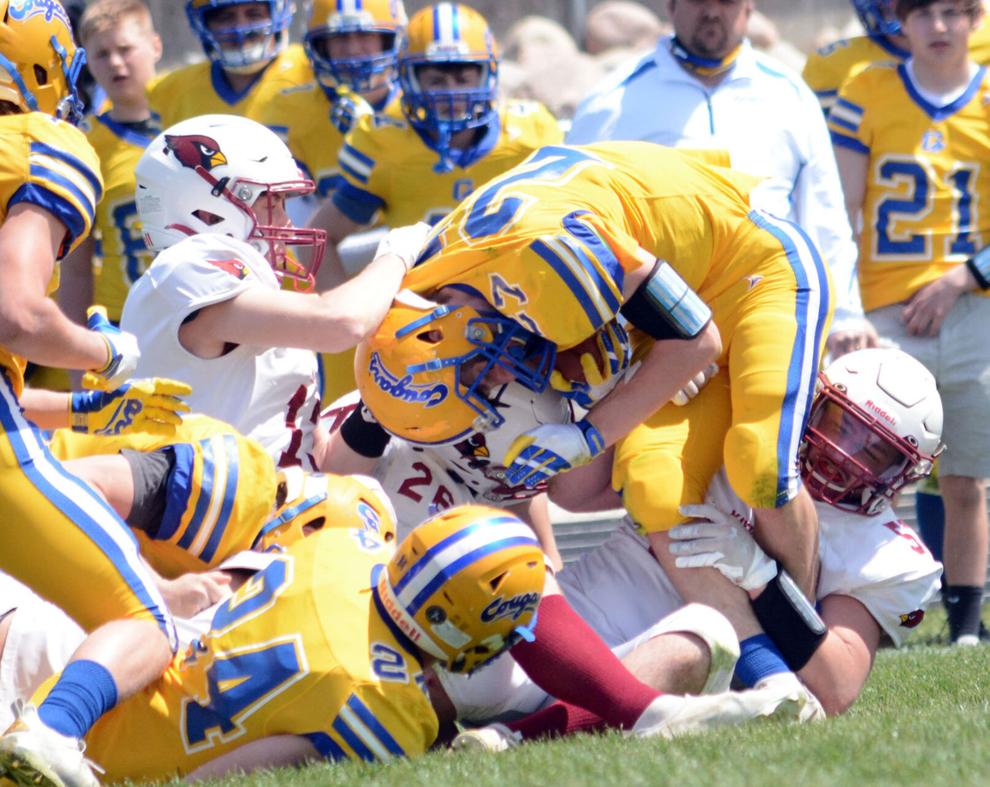 Mayville Cardinals tackle 4.jpg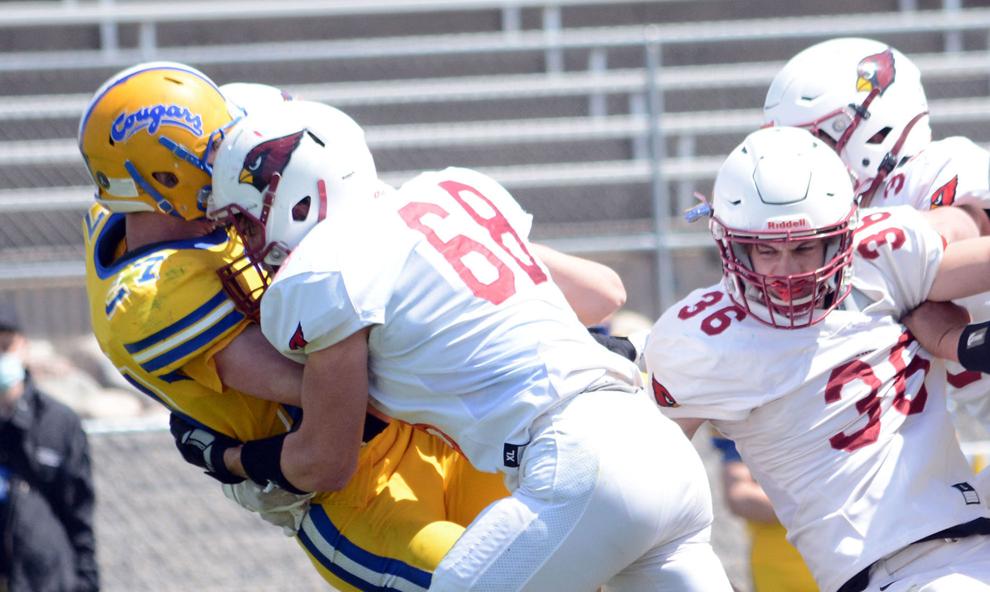 Mayville Cardinals tackle.jpg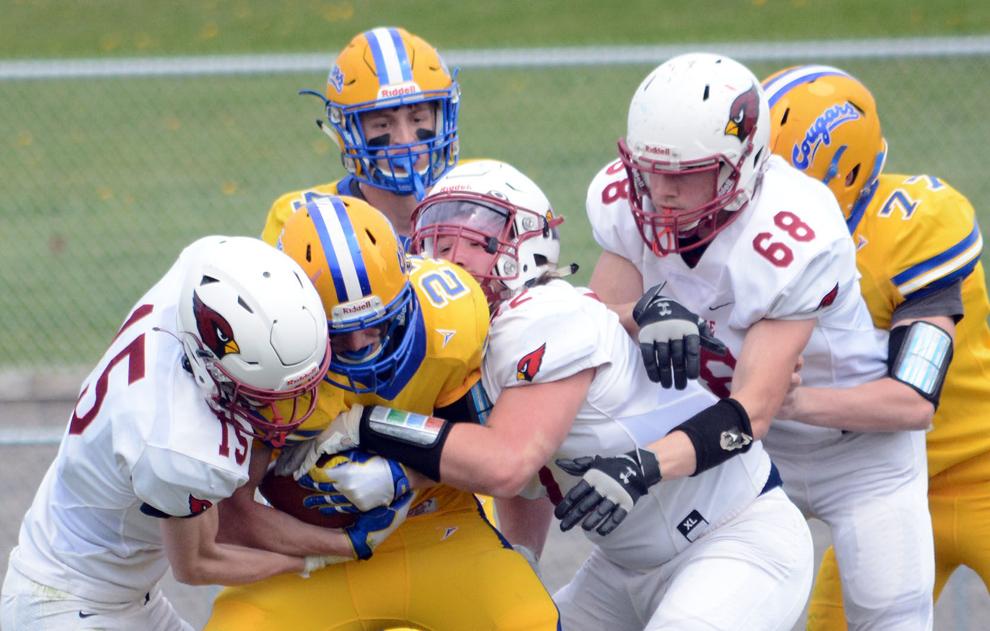 Nathan Jensen.jpg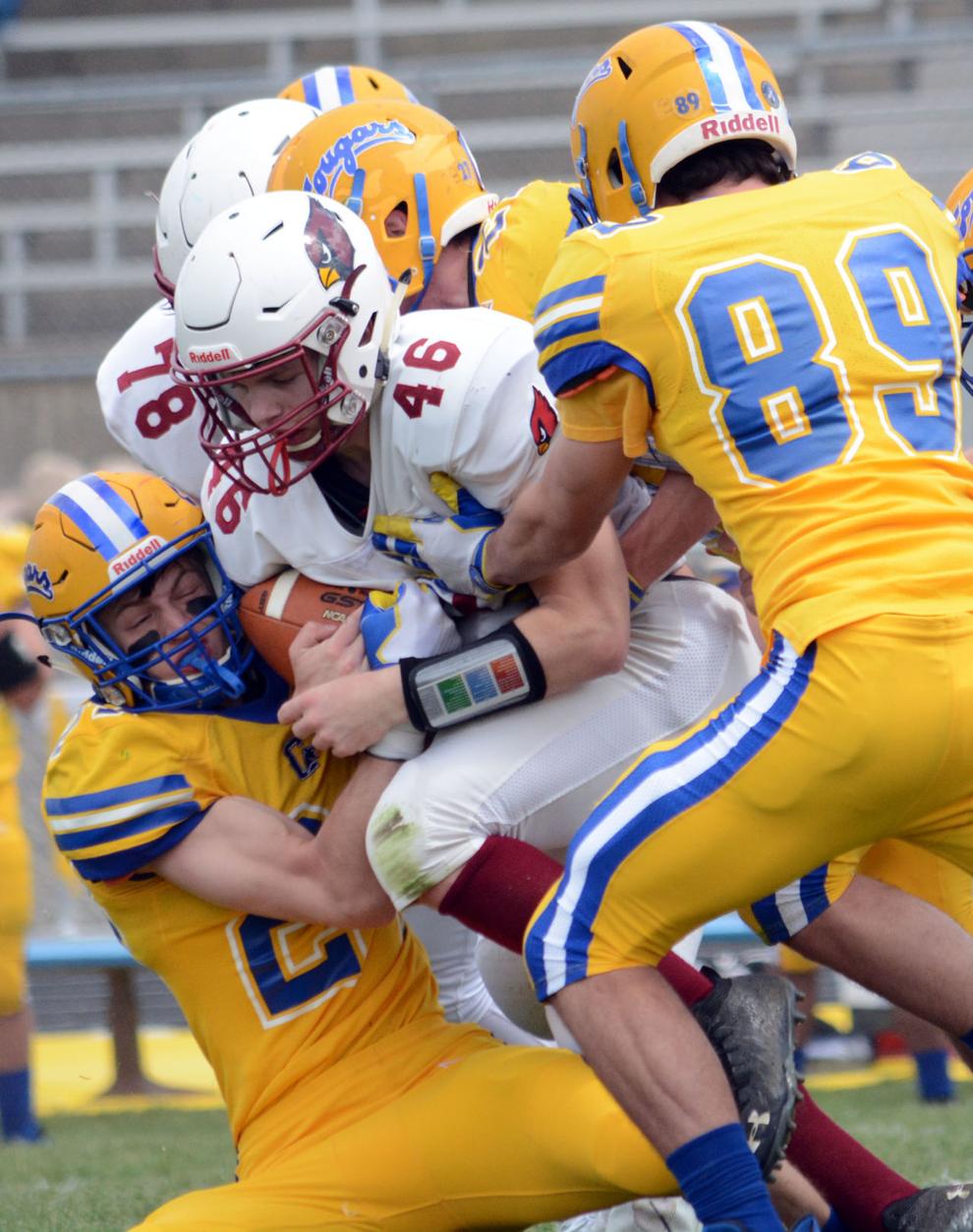 Scott Hilber.jpg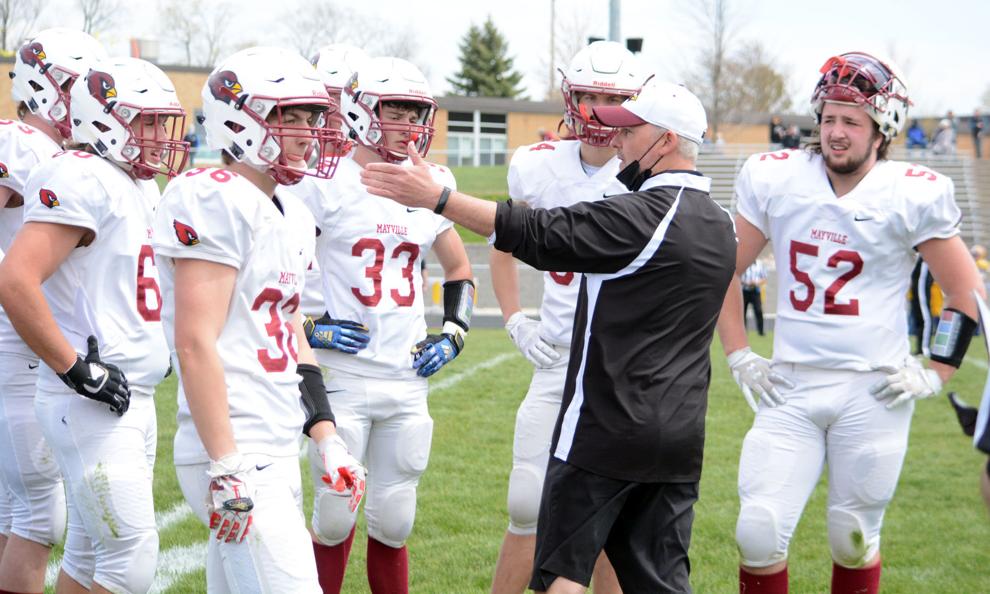 TD celebration.jpg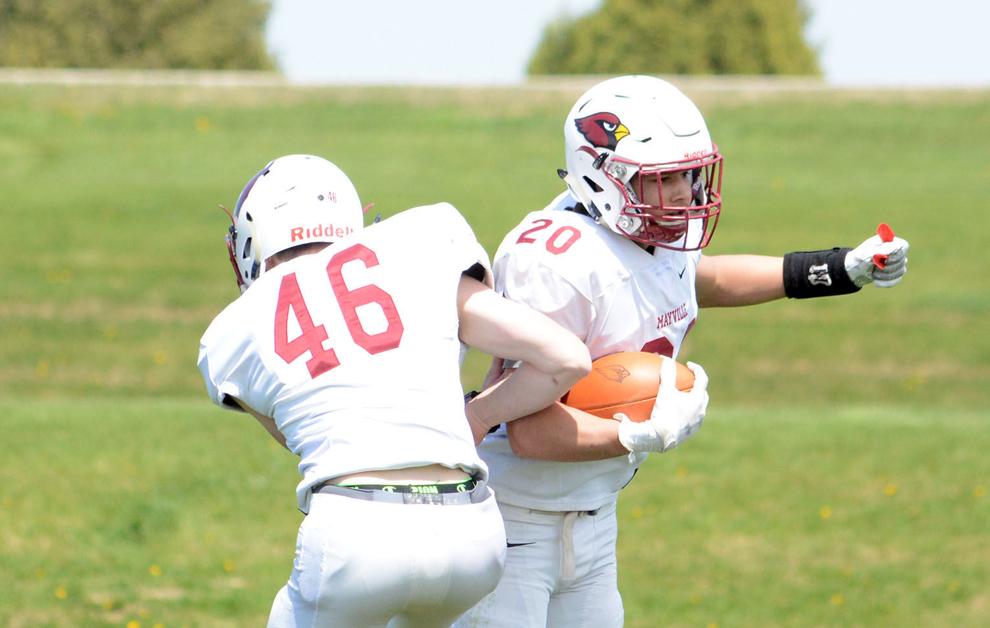 Ty Hockers 2.jpg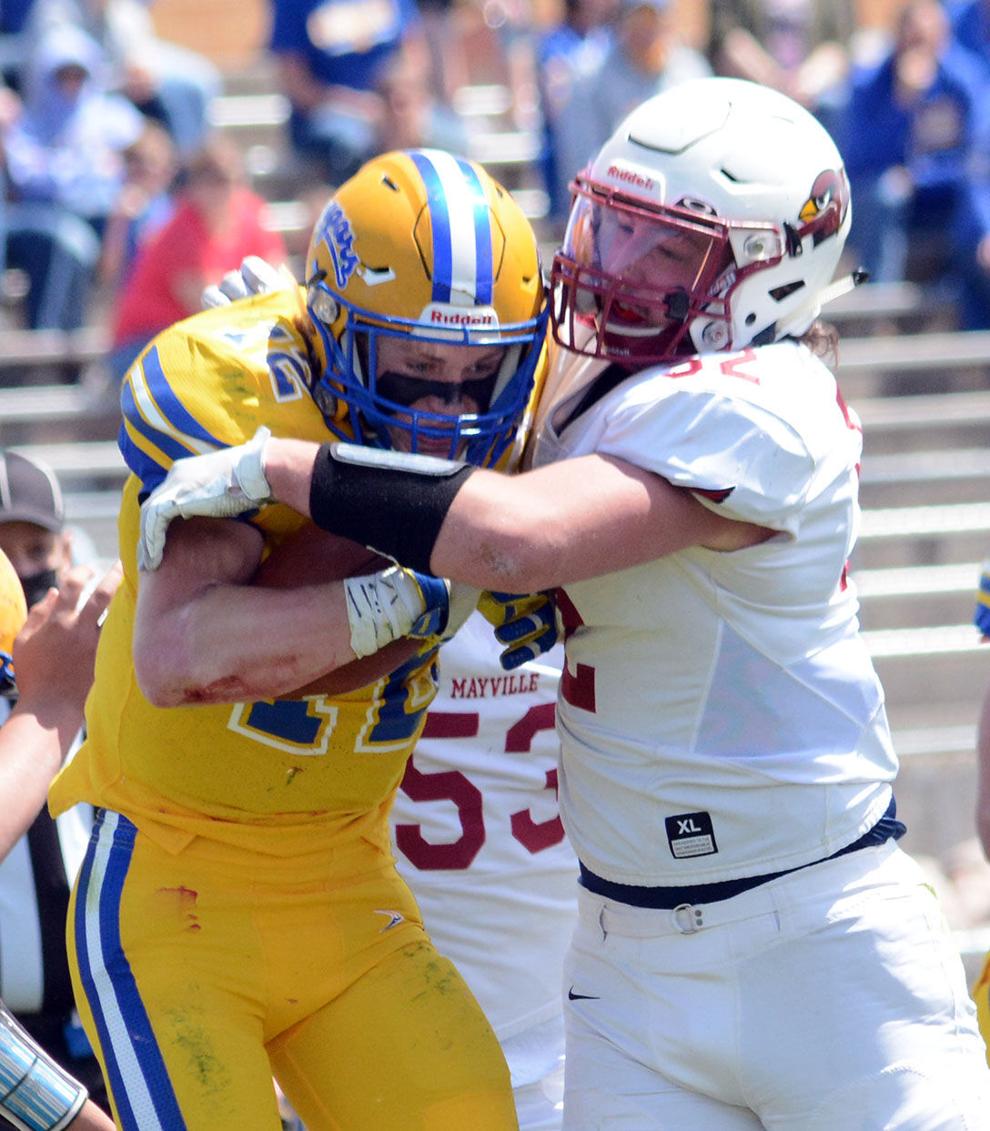 Ty Hockers 3.jpg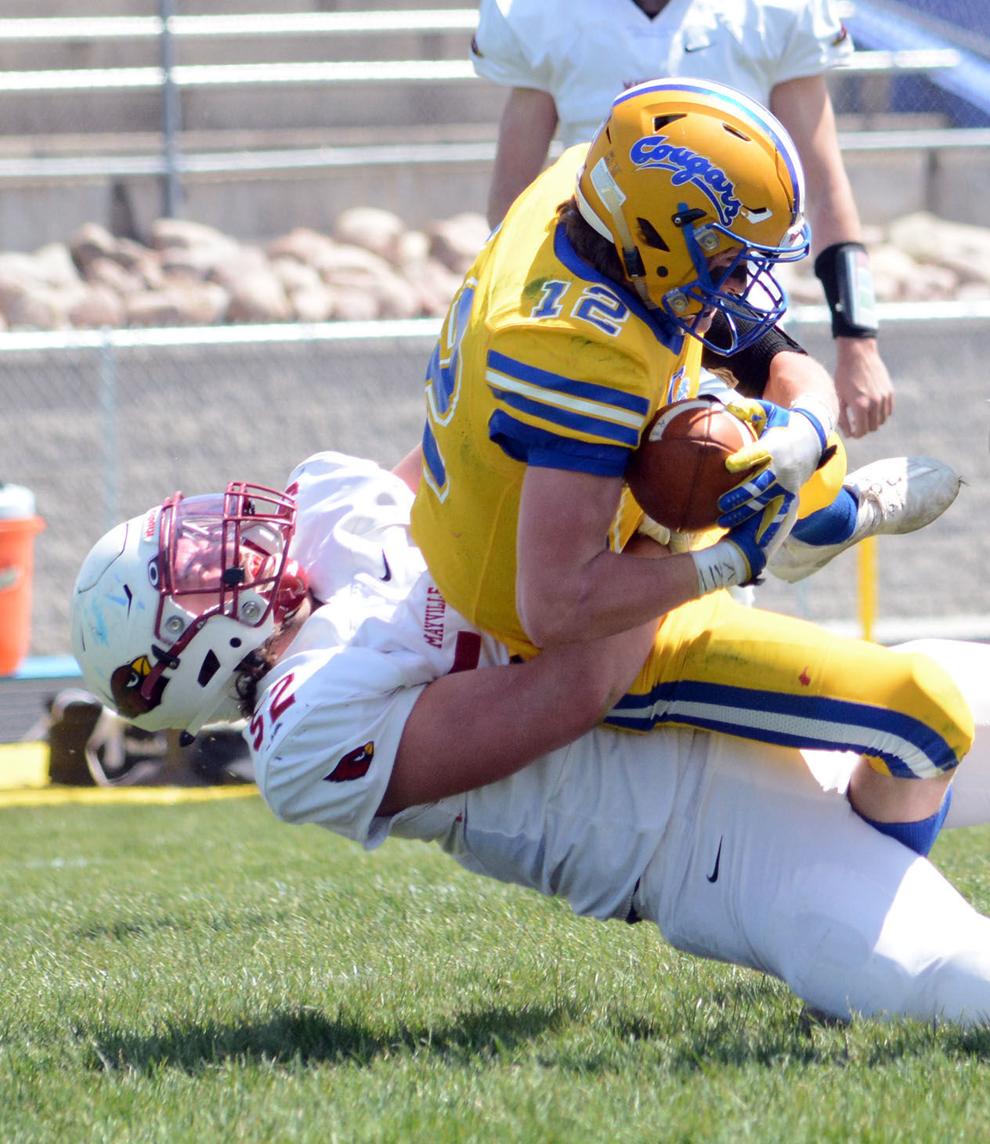 Ty Hockers.jpg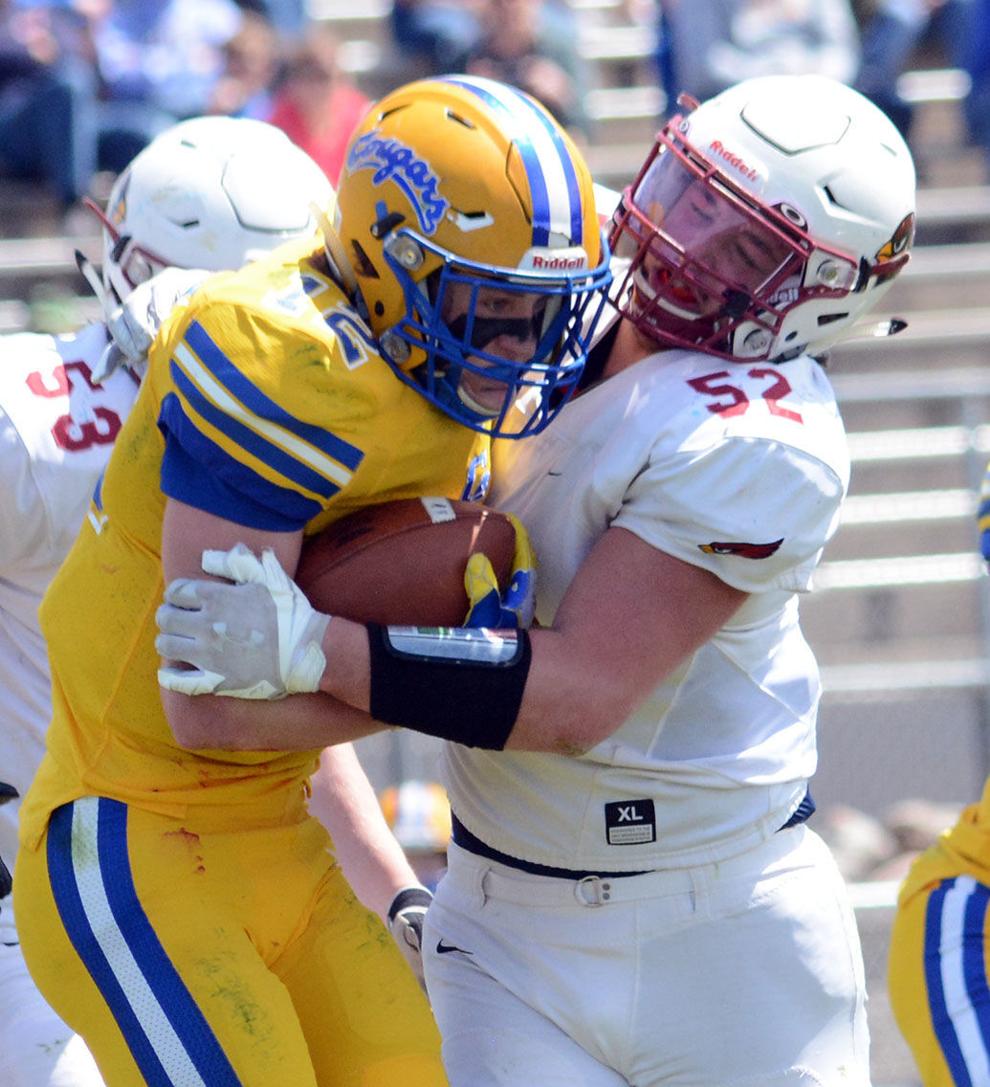 Zach Weiss 2.jpg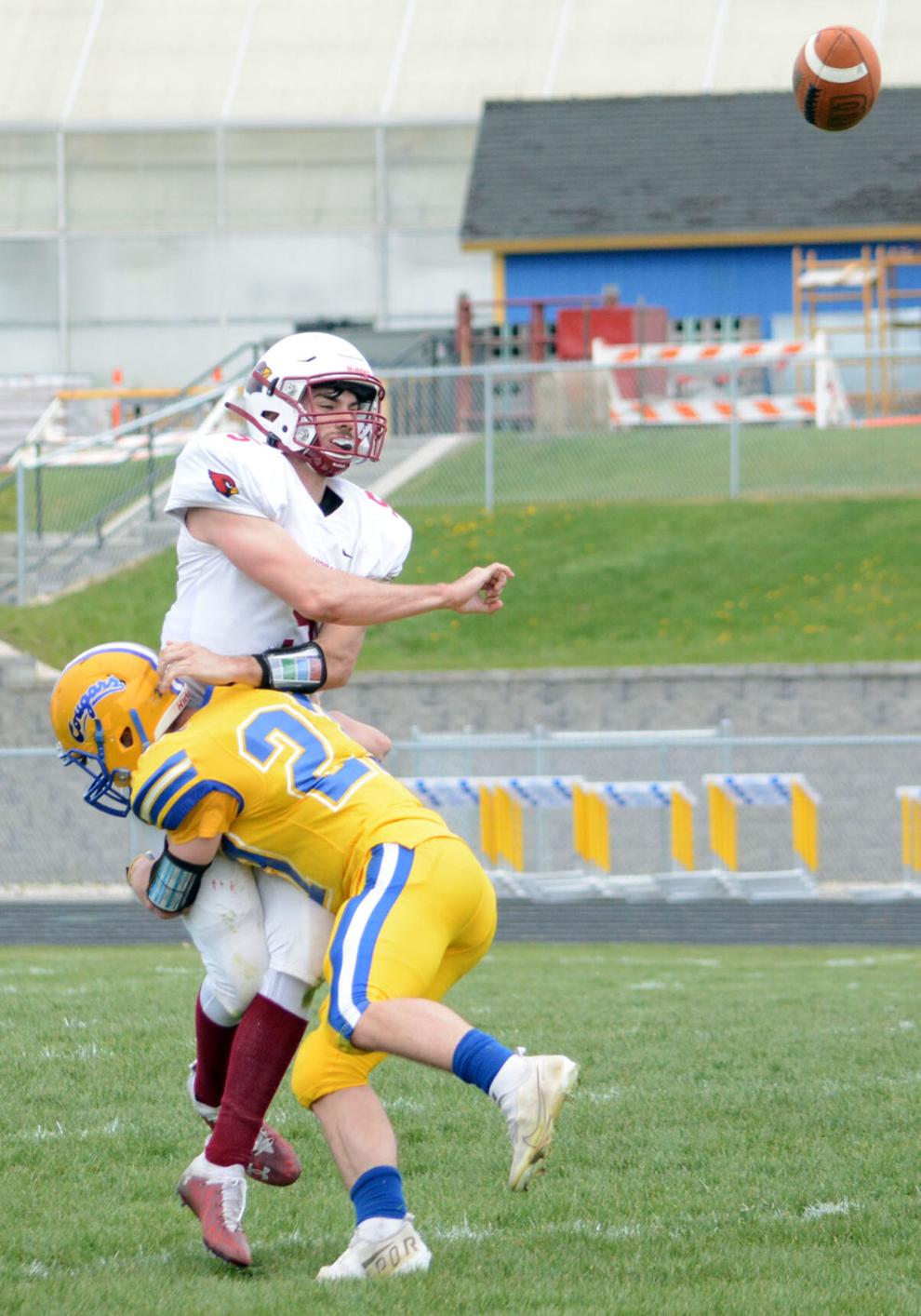 Zach Weiss 3.jpg
Zach Weiss 4.jpg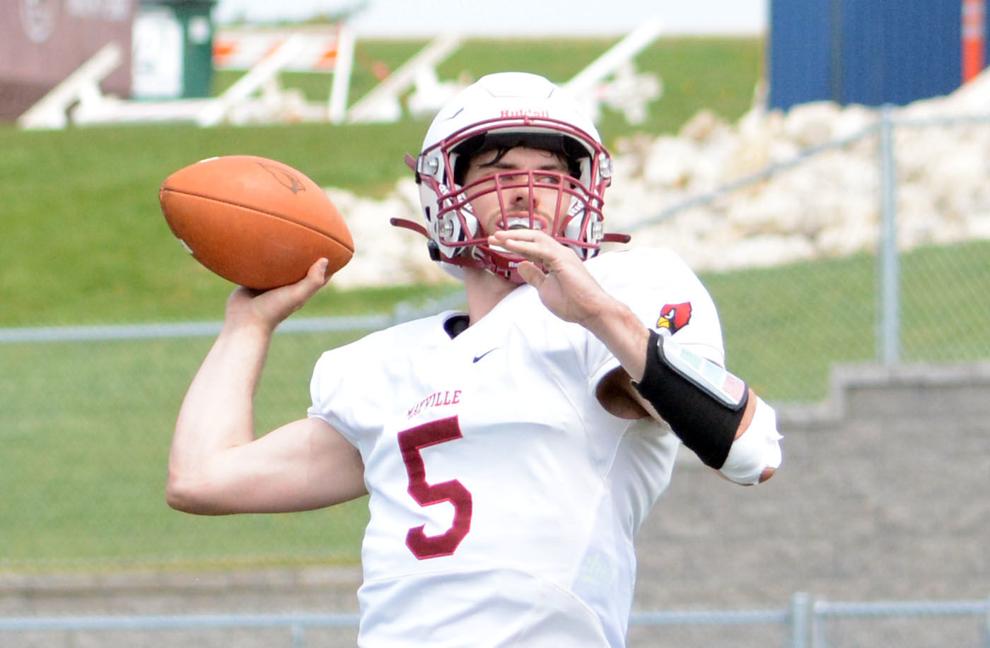 Zach Weiss.jpg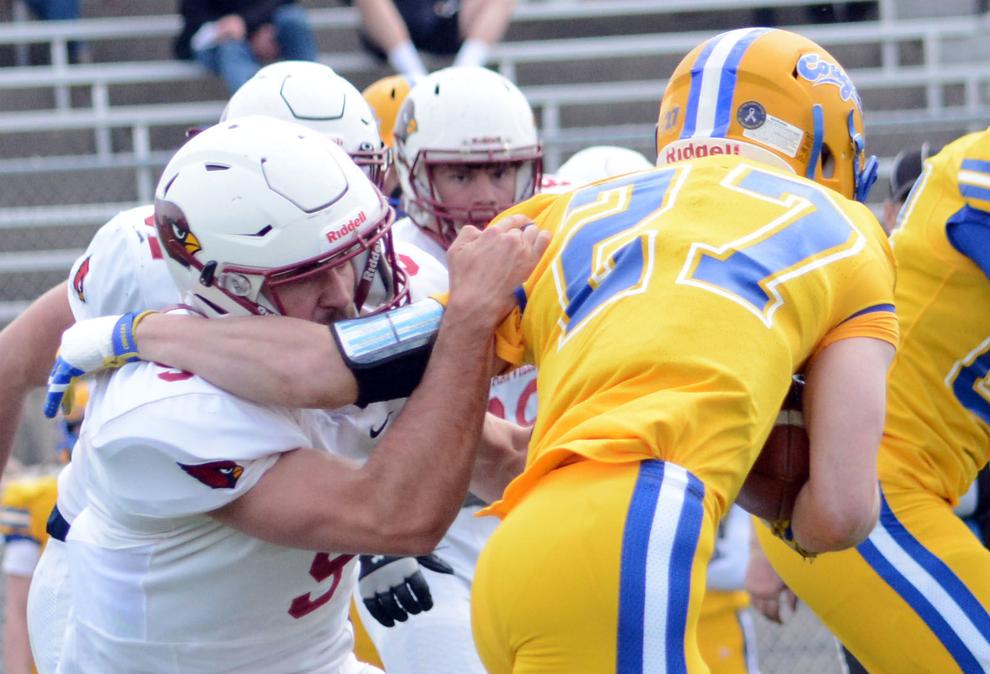 MAYVILLE 21, CAMPBELLSPORT 6</&hspag3>
Campbellsport 0 6 0 0 - 6
M ― Blake Schraufnagel 2 run (Aaron Anderson kick good), 5:06.
C ― Noah Fleischman 17 pass from Mitchell McCarty (run failed), 1:15.
M ― Blake Schraufnagel 56 run (Aaron Anderson kick good), 10:31.
M ― Blake Schraufnagel 51 run (Aaron Anderson kick good), :29.
First downs: M ― 10. C ― 11. Rushing (Att.-Yards): M ― 42-220. C ― 40-170. Passing yards: M ― 20. C ― 25. Passes (Comp.-Att.-Int): M ― 3-7-0. C ― 2-12-2. Fumbles-lost: M ― 1-1. C ― 0-0. Penalties: M ― 8-50. C ― 2-31.
Rushing: M ― Blake Schraufnagel 23-186, Zach Weiss 7-33. C ― Joe Gardner 22-83, Joe Nerat 11-49. Passing: M ― Zach Weiss 3-7-0-20. C ― Mitchell McCarty 2-12-2-25. Receiving: M ― Blake Schraufnagel 2-13, Aaron Anderson 1-7. C ― Noah Fleischman 1-17, Cole Kachne 1-8.
Follow Mark McMullen on Twitter @mmcmull2 or contact him at 920-356-6754.