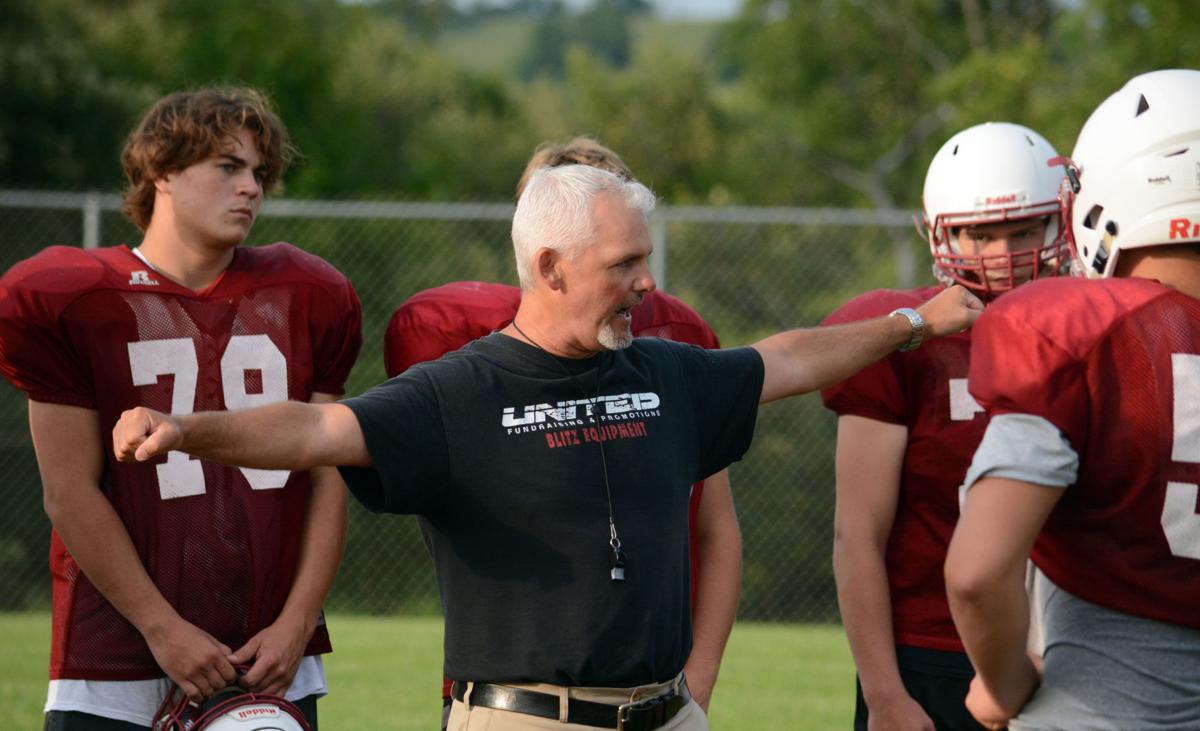 The Hilber name is a familiar one around Mayville. From 1985 to 2001 Alex Hilber built the Cardinals into a football power, winning 12 conference titles and a Division 4 state championship in 1994, on his way to accumulating an impressive 161-30 record before being inducted into the Wisconsin Football Coaches Association Hall of Fame in 2002.
Mayville is returning to the Hilber family to help get its football program back on track. On Monday, Alex Hilber's son Scott, the former head coach at Columbus High School, was hired as Mayville's next head football coach. He takes over for Tom Noennig, who stepped down earlier this year due to expanded roles at the school.
Hilber was the Cardinals' defensive coordinator the last two seasons.
"The reason why I came back here for a teaching job (and later the coaching position) was because of the passion I have for the district," Scott Hilber said. "I respect the legacy at this place, and that includes my father."
Welcome Coach Scott Hilber who officially is approved by our school board as our new Head Football Coach. Scott is a tremendous coach who will lead our football program into the future!

— Mayville Athletics (@MayvilleAthlet1) April 6, 2020
Coming to Mayville wasn't really on the mind of Hilber, a 1993 graduate of the school, until the summer of 2017. He had just resigned as the Columbus head coach that February and accepted a teaching position at Laconia High School in Rosendale.
"It was never my plan to come to Mayville to be a coach, but sometimes our plans don't always work out," Hilber said. "It becomes God's plan. It was circumstances in my life that brought me back to this area. The opportunity arose. The timing is right. I graduated my last kid from high school, so I have a lot more free time, not only during the season but all year round, to really put in the time and effort necessary to run a quality program."
After Hilber accepted the position at Laconia to get closer to central Wisconsin, a special education teaching position opened up at Mayville High School that same summer. The job proved too good to pass up.
Hilber took the job at Mayville and taught for one school year before Noennig reached out to him, asking him to be the Cardinals' defensive coordinator.
"I was incredibly honored. You always like getting calls like that. It lets you know that you're valued and you're welcomed. It got my attention," Hilber said. "That was the reason why I considered it, but it's the loyalty I had for the community and the school district that was the reason why I came here. When I went to school here in Mayville, we had a lot of school pride. Everywhere I've ever gone, I've always compared it to what it was like when I went to school here back in Mayville."
The Cardinals went 8-12 over the last two seasons with Hilber running the defense. The 2018 season was most successful, with Mayville finishing 6-5 overall, including a 35-6 first-round playoff victory over Palmyra-Eagle.
However, last season was a difficult one for the Cardinals, as they went 2-7. Noennig, who accumulated a 43-38 overall record in two stints at Mayville — his first stint included a Division 4 state runner-up finish in 2006 — took the blame because he couldn't give enough time and effort to the football team because of his roles as dean of students and athletic director at the school. Both titles, at times, required him to either arrive late to practice, or leave early.
"That's not who I am," Noennig said. "Those two things were really grinding me. My son (Tommy Noennig) still has two more years of college football (at UW-Oshkosh) on the weekends, so it gets a little harder for me to watch film as I'm traveling around the state and the Midwest to watch him play."
After much deliberation I have chosen to resign as Head Football Coach. I am thankful to the many players I have had the privilege to coach over the years. As AD I hope to hire a great coach to take over. Coach Noennig

— Mayville Football (@mayvillefbl) February 6, 2020
With being pulled in so many different directions throughout the week and on the weekends, Noennig felt the time was right to hang up the whistle.
"I feel very comfortable turning it over to (Scott)," Noennig said. "If it wasn't him, I would not feel very comfortable searching to find the replacement, especially when I'm still there."
Noennig is excited to see Hilber, someone he considers a friend, become the next leader of the football program. Hilber coached Columbus for four seasons (2013-2016), tallying a 35-10 overall record and a trip to the Division 5 state quarterfinals in 2015 and 2016. He also led the Cardinals to a Capitol North Conference title in his final year at the helm, having defeated conference foe Lodi for the program's first win over the Blue Devils since 2004.
And before Columbus, Hilber spent 10 years as the head coach at Nekoosa, where he led the Papermakers to a 32-14 record and South Central Conference championships in his final four seasons there.
"I feel very confident," Noennig said. "He's a tremendous coach and he'll do a great job in the years to come."
Noennig said he won't stray too far from the gridiron, because football means too much to him. He still wants to be part of the coaching staff as a position coach.
"I don't think I can leave cold turkey," Noennig said. "I don't want to be a coordinator, because I don't have the time to do that, but I just want to be a soldier and work for the general. However I can help to assist the transition and help the kids be successful is what I want to do."
Hilber has no problem with Noennig staying on to help out because of the respect he has for him.
"I wouldn't want it any other way. He's a loyal person. He's loyal to the program." Hilber said. "He did a great job of building Mayville up in four short years and getting back to playoff football, and had a playoff win. There was a little hiccup last year, but he was instrumental in bringing Mayville back to respectability."
Follow Mark McMullen on Twitter @mmcmull2 or contact him at 920-356-6754.
Get in the game with our Prep Sports Newsletter
Sent weekly directly to your inbox!