Normally this time of year, Brielle Blome is racing around the area as a member of the Dodgeland High School cross country team and Madee Peplinski is on the hardwood competing for the Trojans' girls volleyball team.
This fall, the two are finding new ways to fill their time — and scratch their competitive itches — thanks to torn ACLs they suffered during the girls soccer season this past spring.
One of those ways has been to serve as team managers for the football team. And while it's not a role they envisioned for themselves before getting hurt, they're embracing the experience.
"There are definitely factors where I don't think it would have been my first idea," Peplinski, a junior, said of if she would have considered helping out with the football team had she not gotten hurt, "but now that I'm here I feel like I would have regretted not doing it if I wouldn't have injured my knee.
"Being here and helping out, it's kind of like a second team. I feel like I probably wouldn't have — but I would have missed out on a lot of experiences."
Blome, who's a senior, agreed, though she said she probably would have helped out on the gridiron even if she hadn't been injured during soccer.
"I think I would have," she said, "but I wouldn't have been as involved as I am now."
Blome said there were a few things drawing her to being a football manager, including the fact she has many friends on the team and helping out was an excuse to spend extra time with them during their last year in high school.
But it's not all just for fun.
"It's a good experience to not just be on a team but to see how a team works," she said, "so then you get the feedback of, 'OK, I shouldn't do that when I'm on a team because that's bringing the team down.'
"I think it helps you grow as a person."
Blome and Peplinski also both play basketball in the winter but likely won't be far enough along in their rehab to play this year, at least not much if they do make it back in time. So the next time they're in action figures to be during the spring for soccer.
They're both happy with where their rehab is at so far, though.
"My recovery's going very well — my knee's recovering way faster than they thought it was going to," said Blome, who had surgery on Aug. 9. "My timeframe is kind of dependent on if I want to play college soccer or not, because if I play college soccer (my doctor) doesn't want me going back to sports in high school as quick. But if I decide not to play in college, there's a chance I'll be back for soccer, but it's not 100%. It kind of depends on my muscle and everything in my leg."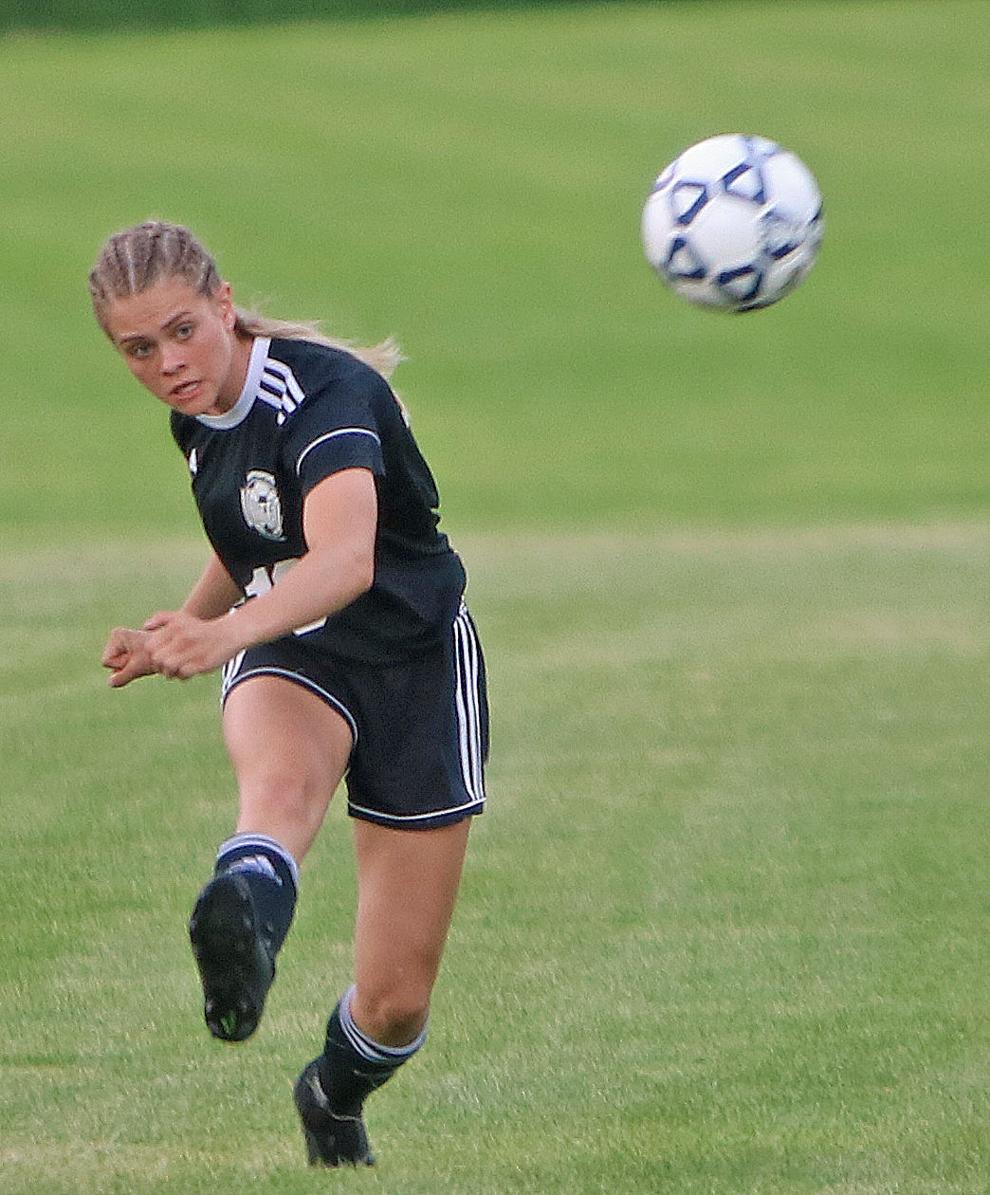 Added Peplinski, who had her surgery on July 19, "It's going good. It was really a doozy. I was on crutches for a lot longer because of my meniscus. But it's going a lot better than I hoped."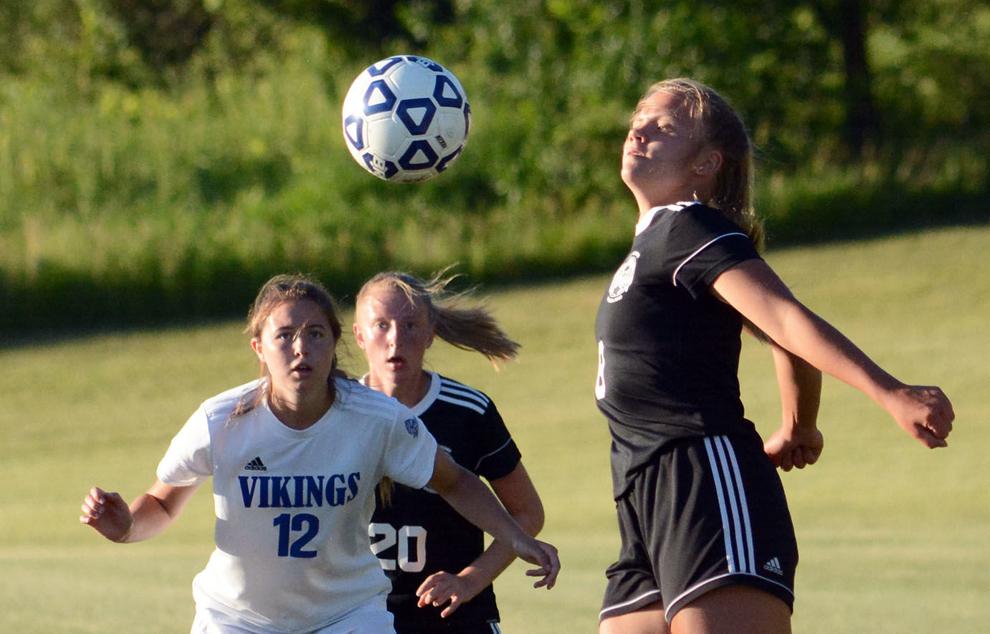 Dodgeland football coach Paul Scheel said those two helping out this fall despite the fact they'd much rather be healthy and competing in their own sports tells a lot about the kind of people they are.
"I think it says a lot about their character as individuals," he said. "They care about the wellbeing of other people. They're very dedicated young ladies."
Busy, busy, busy
Just because Peplinski and Blome are hurt doesn't mean they aren't also helping out their normal squads, which means that life this fall is pretty hectic.
Peplinski is helping out the girls volleyball team as an assistant coach of sorts, while Blome is doing the same for cross country.
And that means that their schedule after school fills up pretty quickly, going from one sport to the next before heading home to do homework and whatnot.
Blome's role on the cross country team is more cheerleader than anything, just because of the nature of the sport.
"There's not a lot to do. Today they went on distance runs so you can't really do much, because they just go and come back," she said. "But it's not really about doing things, it's about being encouraging and helping the team out."
Peplinski, though, has a little more active role as far as the competition itself is concerned.
"I had a very bad attitude like, 'Oh, I have to sit on the bench all season — I have to watch them play without me.' And then we had our first game and I could see so much more," she said. "You understand why the coaches say what they say. You see the floor so much better. In the game you're only worried about yourself — you're worried about, 'What do I need to do to make the team better?' — and when you're sitting and watching you can see the whole team, and how it's going.
"Being here (at football practice) and being at volleyball really distracts you from realizing that you can't play with your teammates. It's a really good distraction and it really keeps you motivated to get better."
Peplinski and Blome aren't alone in pulling double duty, either — senior Morgan Kjornes and sophomore Brooke Nehls both play on the girls volleyball team and also are helping out the football program as team managers.
"It's just another fun thing to do — be a part of something that I've never really been a part of," Kjornes said of why she chose to add the manager role to her responsibilities this fall. "Being around all the football guys, it's a whole different experience than being around a bunch of volleyball girls. It's a whole new atmosphere."
Added Nehls, who also is involved in trap shooting through Dodgeland High School, "I saw the posters in the halls (seeking football team managers) and I took it as an opportunity. I'm always a very busy person and I like to be kept on my toes.
"I'm kind of one of those people who just throws themselves into a lot of things. That's how you find out what you like — you've got to try something new all the time.
Team of managers
Four is a pretty good number of helpers for a program Dodgeland's size, but more is always better.
The Trojans have six in the fold this fall, with sophomores Syvana Benzing and Mia Pergande joining Peplinski, Blome, Kjornes and Nehls.
Scheel, who took over for veteran coach Doug Miller in July 2020 — right in the midst of the COVID-19 pandemic — knows how important managers are to making practice and game-day go efficiently. But because of the pandemic, he didn't make a big push for managers last year.
In the offseason, he put his foot on the gas, putting up those posters in the hallways to try and get some kids on board.
It worked, and now the Trojans have a group — not just one, two or three kids — ready to help out however possible.
"When you have that many girls," Scheel said, "you need to make sure that they're all engaged. You can't just let them be six girls goofing and joking around. They were very up front. They wanted to know what their jobs were."
Pergande said she's always loved football, so when she got to high school becoming a team manager was a natural fit.
"I have a lot of family that played football — all my cousins and my brother — so football is just kind of (in my family)," she said, adding that she's been looking forward to this role since elementary school or early on in middle school.
"Because I've always had to go to all my brother's games," she said of why. "I figured since he played football, I might as well try to help out the football team at some point."
Benzing, meantime, ran cross country last fall before being a manager for the wrestling team in the winter.
She decided after that that being a manager suited her more than cross country, and thus, she's involved in football this fall instead of running.
Like a lot of kids involved in extra-curricular activities this school year, Benzing — she does still plan on running as part of the Trojans' track and field team in the spring — is happy things are getting back to normal above all else.
"I just like the connections you get with everybody — just being around people — because during COVID you didn't really get to see many people," she said of her favorite part of being a football manager.
Benzing and Pergande are the only two not juggling other sports along with their football duties so they share more of the responsibilities at practice, which include taking attendance, filling and delivering water, setting up practice stations and keeping time so that practice stays on schedule.
They, along with the other four, have been great assets to the team, Scheel said.
"Running a football program takes an entire army of people," he said, "and these girls are just as much a part of the success and failure.
"We are glad that they are here."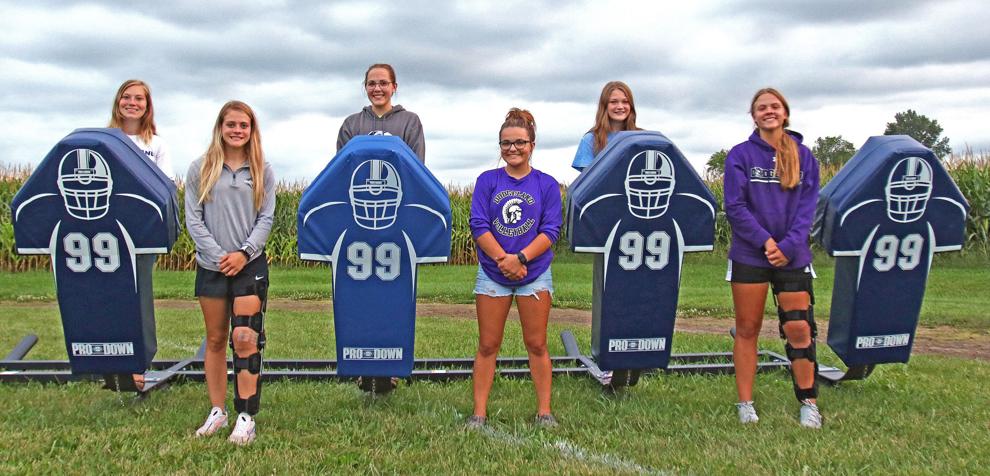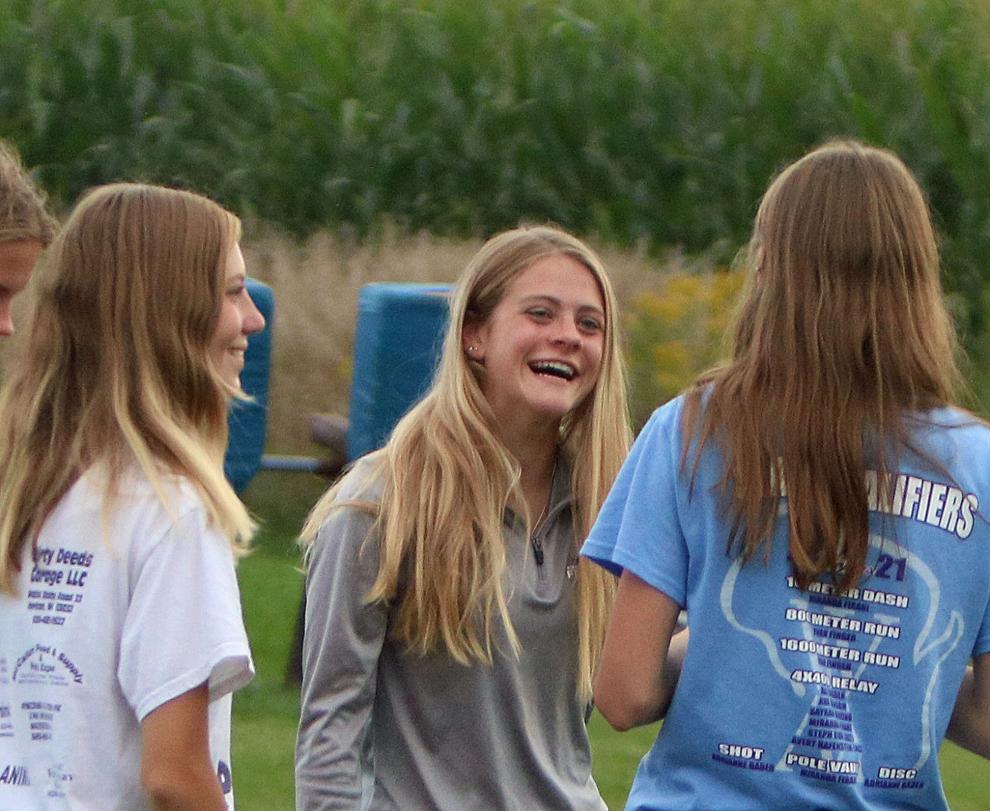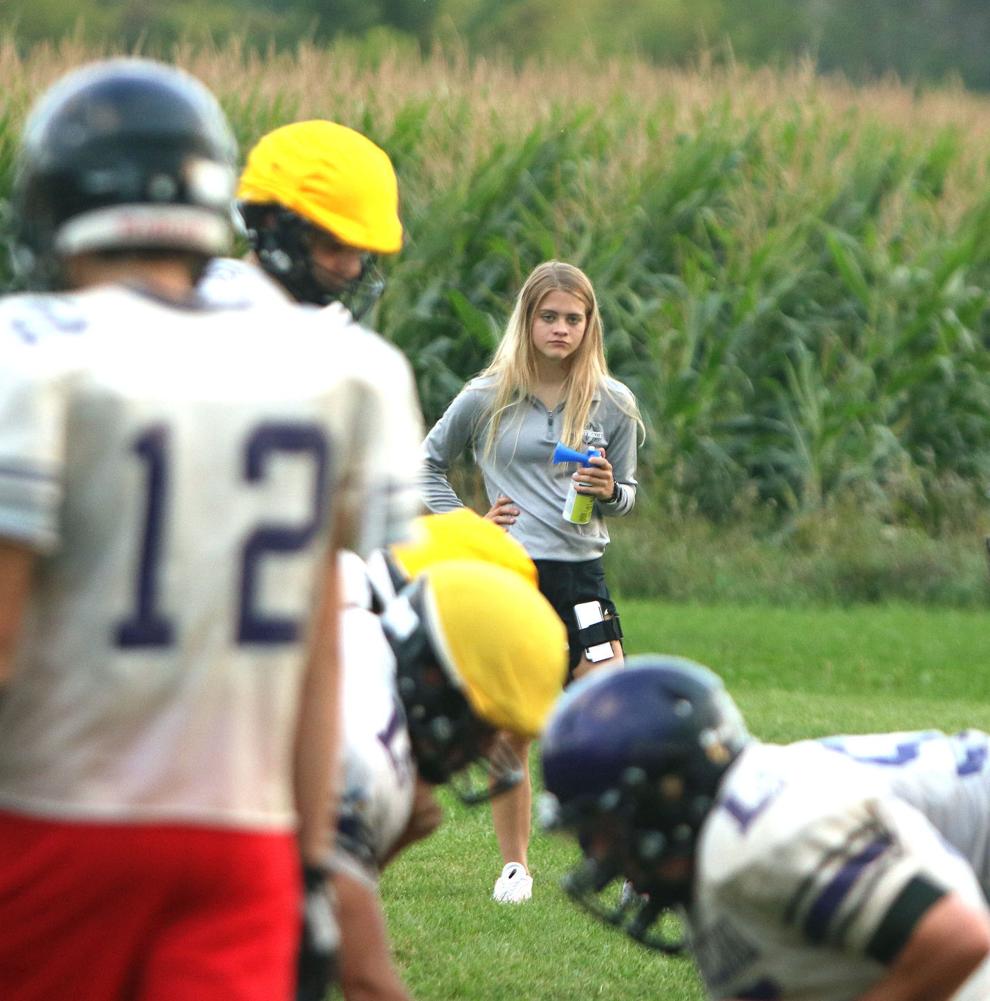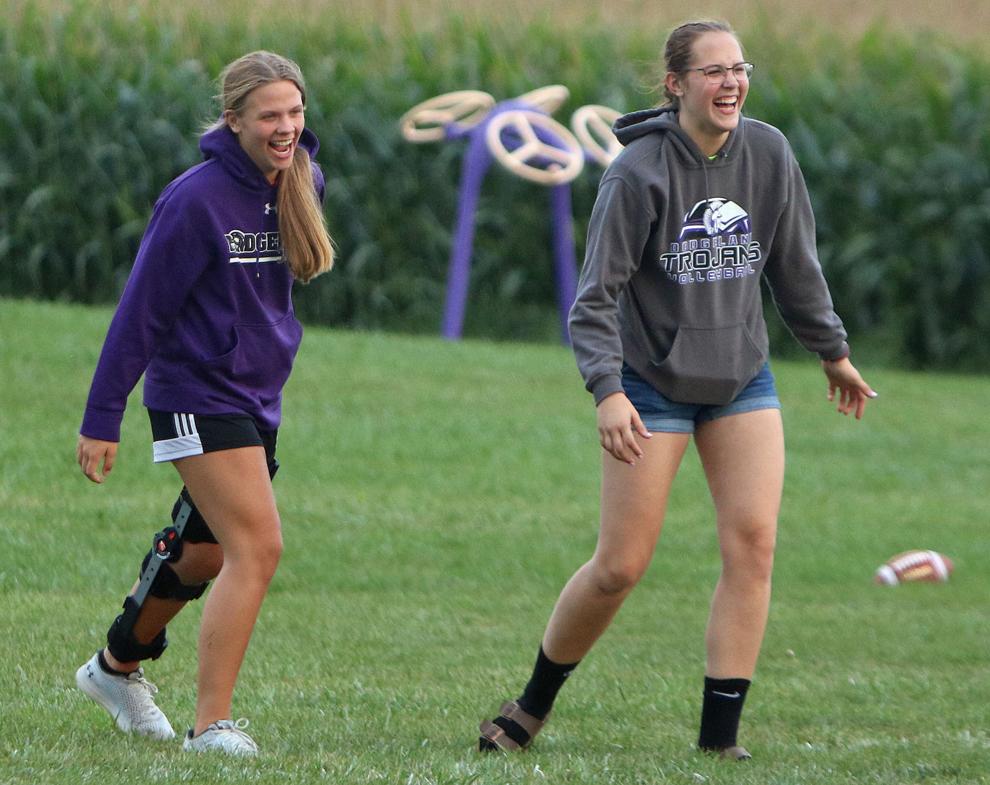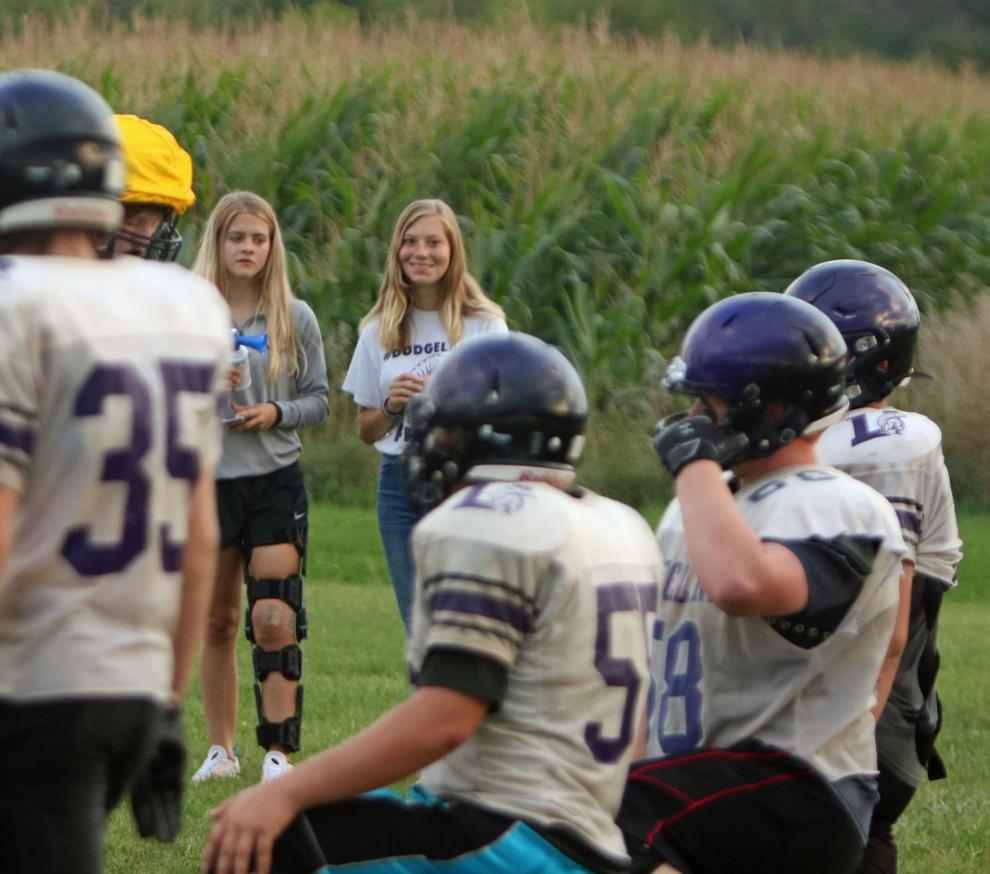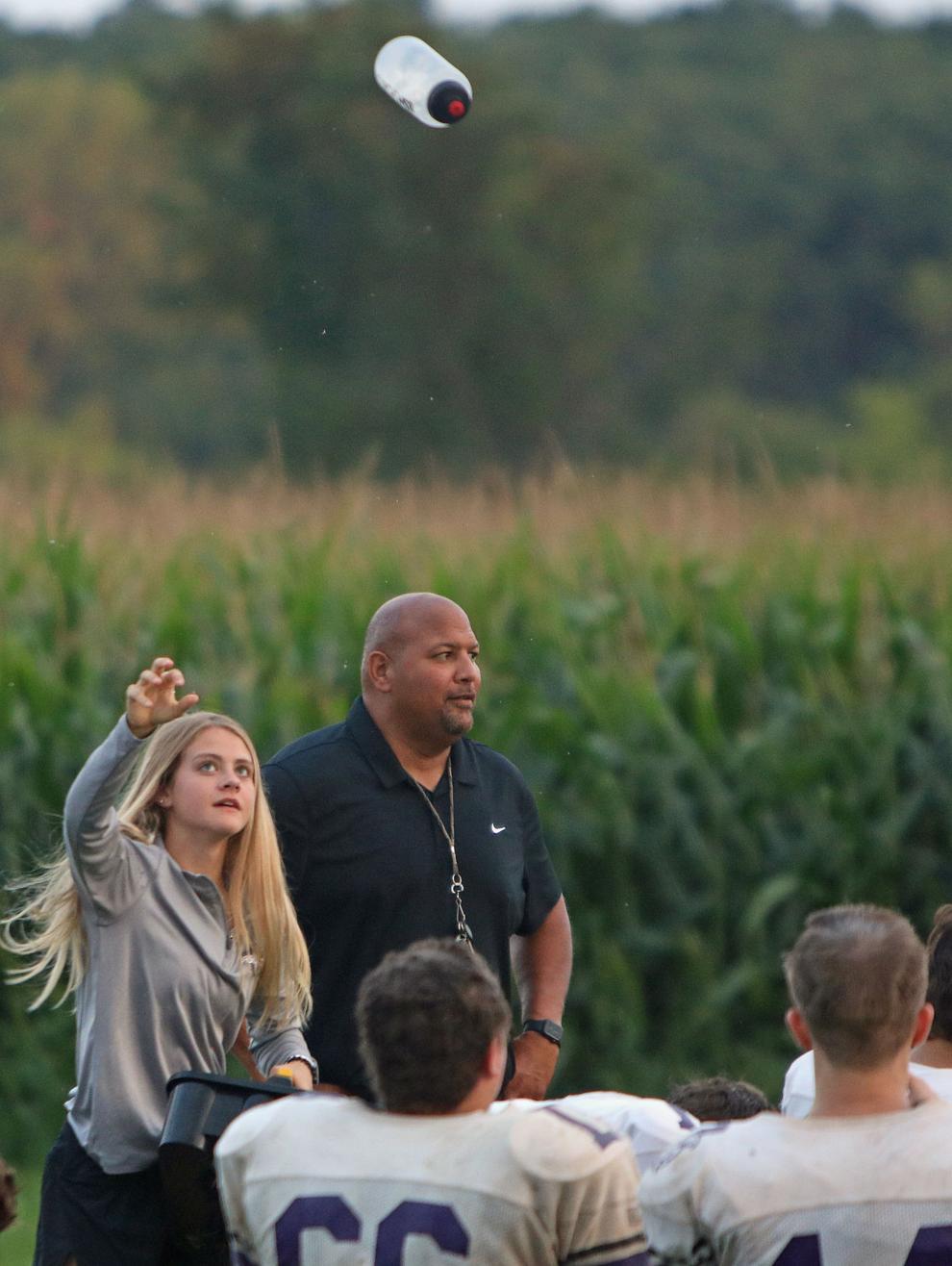 Follow Dan on Twitter @Danny_Larson_8 or contact him at 920-356-6753.