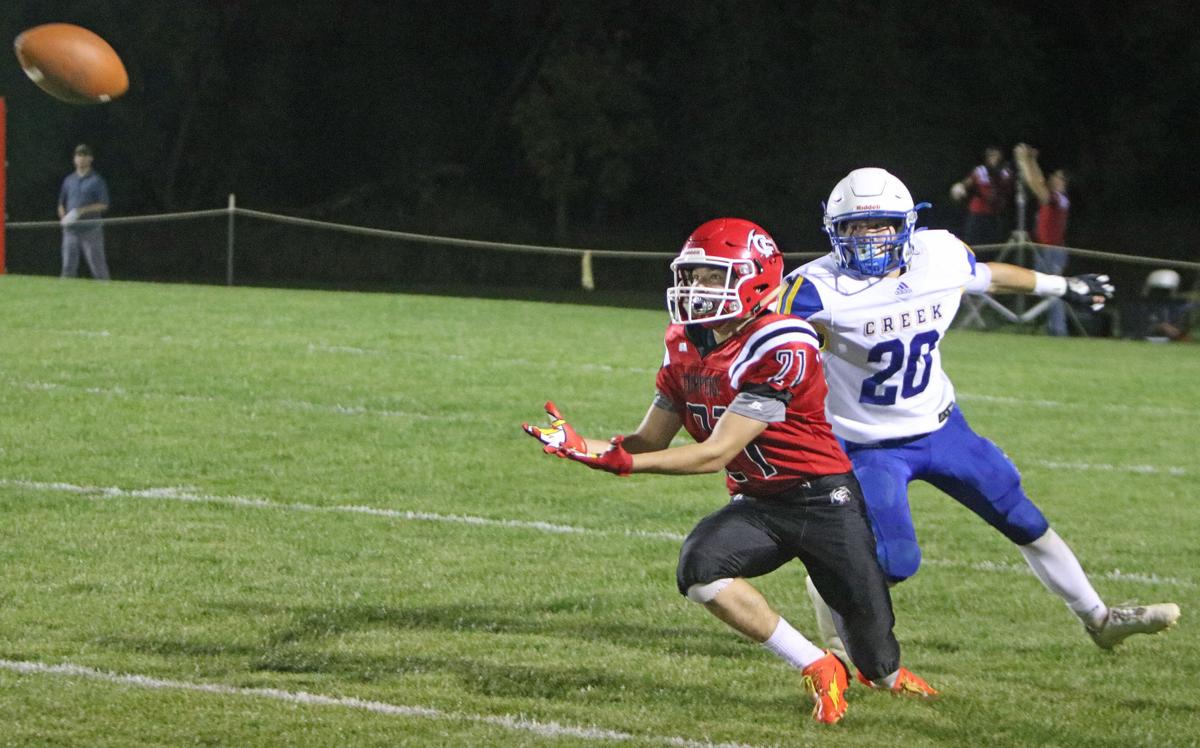 CAMBRIA — It wasn't the dagger, as it turned out.
But it certainly was the drive of the game.
Having just forced a punt in a game that was shaping up for a wild ending, Cambria-Friesland's prep football team chewed 7 minutes, 28 seconds off the clock on an 11-play, 60-yard scoring march to go in front by two touchdowns, creating the necessary separation to ultimately hold on for a 36-28 victory over rival Johnson Creek — the ninth-ranked team in Division 7 according to the WisSports.net coaches poll — on Friday night in a pivotal contest in the Trailways Conference race.
"That's all on the O-line," said senior running back Owen Jones, who had 21 carries for 173 yards (8.1 yards per carry) and two TDs. "They just pushed the defensive line back every play to give us running backs room to run. It was just a phenomenal job by them."
It was a drive — one that featured only running plays — capped off by sophomore running back Trevor Krueger's 7-yard scamper off the left side, his third rushing TD of the night, to give Cambria-Friesland (3-2, 2-1 Trailways) a 34-22 lead before quarterback Drake Burmania made it 36-22 by finding Jones wide open in the right flat for the 2-point conversion.
It was also a drive that underscored exactly who the Toppers are.
"That's our forte," Toppers coach Jim Bylsma said of pounding the rock play after play, "but that's also what we need to do because we don't have enough players to get into shootouts.
"We can't stretch the field, we don't have four wideouts — we have to control the clock because we're the third-smallest school in the state playing 11-man football. Every team we play has more players than we have. We play teams that have more coaches than we have players, so we have to control the clock."
Johnson Creek (4-1, 2-1) would answer Cambria-Friesland's long scoring drive in lightning-quick fashion, needing only two plays to make it 36-28 on Isaac Hartz's 45-yard TD catch from Dylan Bredlow with 1:57 to go.
But the Bluejays couldn't recover the onside kick, and two first downs later the Toppers were able to go into victory formation and hammer home the final nail in the coffin.
It was an anit-climactic ending to what was at times a wild second half.
Leading 28-14 at halftime, the Toppers got the ball to start the third quarter and marched into the red zone only to come up empty on 4th-and-8 from the 13-yard line.
And three plays later Bredlow found Logan Sullivan open along the right sideline and watched as Sullivan raced 71 yards to paydirt to make it 28-20 before Bredlow ran in the 2-point conversion to make it 28-22 with 4:14 left in the quarter.
C-F then went three-and-out, failing to swing momentum back in its favor.
But the Bluejays went backwards on the ensuing possession and had to punt, giving the ball back to the Toppers for that long, game-defining drive.
"Drake is a junior first-year quarterback — last year he was a wide receiver — and he did an excellent job milking the clock," Bylsma said of the way the signal caller calmly took the play clock down to the final seconds before every snap. "So yeah, ball-control and controlling the clock (was key)."
Indeed it was, because while the Toppers gained all but nine of their 370 yards of offense on the ground, the Bluejays rushed for only 69 compared with 233 through the air, led by Sullivan's four catches for 144 yards and Hartz's three for 82.
"We've got a lot of things to fix on defense," Bylsma said of the stark difference in styles of play Friday night. "We're starting to see our offense jell — there's still some things we have to improve, but we're starting to see things we want to see."
The Bluejays opened the game with a quick six-play, 55-yard scoring drive capped off by Sullivan's 30-yard TD catch, making it 6-0 with only 2:13 gone by.
But the Toppers answered with a 14-play, 64-yard scoring drive that Krueger punctuated with a 1-yard burst up the middle, making it 6-6 late in the first quarter before he would also run in the 2-point conversion to make it 8-6.
"We're a young team — we only have three seniors — so that's a true testament to our kids' resiliency and they're maturity, because they didn't back down when that happened," Bylsma said of the quick answer.
Later in the half after Johnson Creek knotted things up at 14 on an 8-yard TD run by Silas Hartz followed by Austin Anton-Pernat's catch for the 2-point conversion, Jones provided the special teams play of the night.
The speedy senior weaved all over the field for a 52-yard kickoff return that would set up Krueger's 7-yard TD run and a 2-point conversion run by Isaac DeYoung, making it 22-14 with 5:16 left in the first half.
"Close to 200 yards," he said when asked how far he thought he actually had to run to set the Toppers up at the Bluejays' 23-yard line. "I looked right but there were two guys coming down, so I had to go middle. I looked back and there were two more guys so I went back the other way and I just kept doing that until unfortunately I ran out of gas."
The game was never tied after that, and with the victory, the Toppers were able to wash away the bitter taste of last week's 26-22 loss to fellow conference front-runner Oshkosh Lourdes on a TD in the final seconds.
This win was big for Cambria-Friesland in order to jump back into the mix after feeling like they belonged with last Friday's showing.
"We think we're the best team in the conference. We played like it last week, we just couldn't finish," Jones said. "We can play with anyone in this conference."
"Obviously we should have milked the clock better last week," Bylmsa added. "But right now all we can do is control our own destiny — make sure we do that one week at a time."
Follow Dan on Twitter @Danny_Larson_8 or contact him at 920-356-6753.