MAYVILLE — Baptism by fire was the prevailing theme for Mayville's prep football team during the 2019 season, having seen 10 all-conference players and a number of other starters from the 2018 team graduate prior to the pre-pandemic campaign.
Many of those players, who 18 months ago were just cutting their teeth, are back this spring, only now they're not as green.
That bodes well for the Cardinals.
"Last year there were some guys who were playing who weren't ready to play — and they had to basically play by default because those were the options that we had," said Cardinals first-year coach Scott Hilber, a 1993 Mayville graduate whose two previous head coaching stops — at Nekoosa and Columbus — included a great deal of success. "This year, they come in here with experience. And the good news is we have competition within, which is really important.
"That's what's really exciting for us as a coaching staff, is we have kids in position to compete for jobs and not just coming in and owning it by default. Kids are earning it."
Mayville, like a number of teams across the state — including Beaver Dam, Columbus and Waupun from the area — opted not to play last fall because of the COVID-19 pandemic and instead are participating in the WIAA's "alternate fall season" this spring.
The Cardinals open up tonight with a Flyway Conference game against Laconia at Lomira, and they'll do so employing a Wing-T scheme on offense and 4-2-5 base defense.
Senior Zach Weiss gets the nod at quarterback despite not having lined up under center in some time.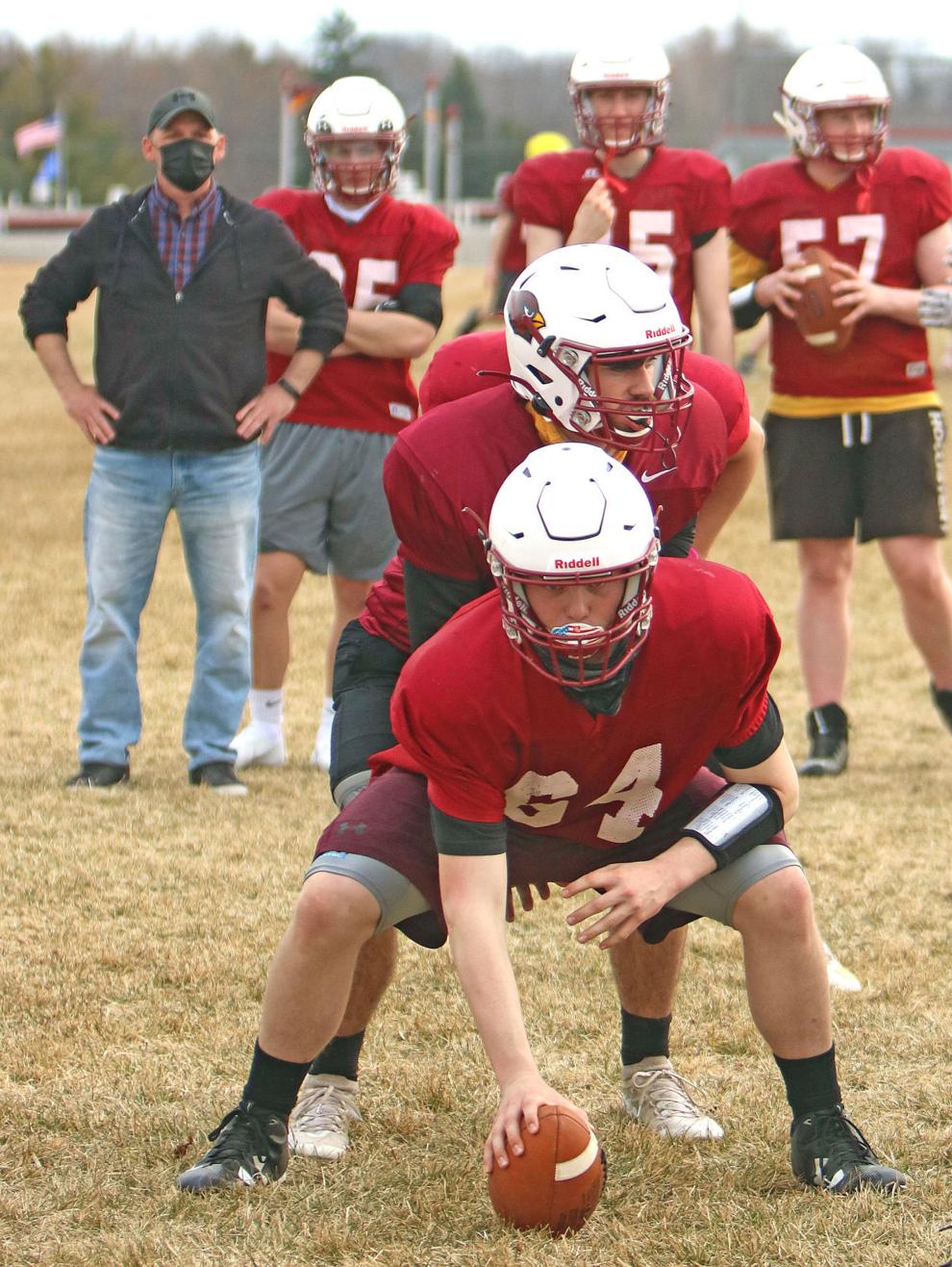 "When he was in middle school he was a quarterback, but I've never personally seen him play quarterback before," said Hilber, Mayville's defensive coordinator in 2018 and 2019. "But we knew going into this year that his leadership was probably what this team needed.
"He wanted this season really bad. That's the direction that we went — we have other options, but that's the direction we went — because we figured that's what's best for the continuity of this team. And he's done a fantastic job. A lot of our seniors have stepped up, but it ultimately starts with him."
Fortunately for Weiss, he should have a bevy of options to hand off to, a necessity in the Wing-T.
"Quite frankly," Hilber said, "you need to have four running backs. And I think we've got that.
"I like the IQ of all four of those guys in the backfield, and even their replacements."
Leading the charge among that group figures to be senior Nathan Jensen, who had 86 yards and a touchdown in a limited ball-carrying role as a junior.
"He's short in stature and he's super quick and he's tough," Hilber said of the 5-foot-8, 180-pound bowling ball. "Last year he didn't get to run much because we primarily ran with one running back and he never got his opportunities. So we're excited about him."
And among those paving the way for Jensen & Co. up front will be 6-foot, 240-pound senior Evan Marx, a versatile three-year starter on the offensive line dating back to when Mayville ended a long playoff-victory drought in 2018.
"Evan is the type of kid who has the ability to play every spot on the offensive line. Right now we have him at guard. He's played center, he's played tackle — he's played everything," Hilber said. "So he's a big cog for the continuity of our offensive line."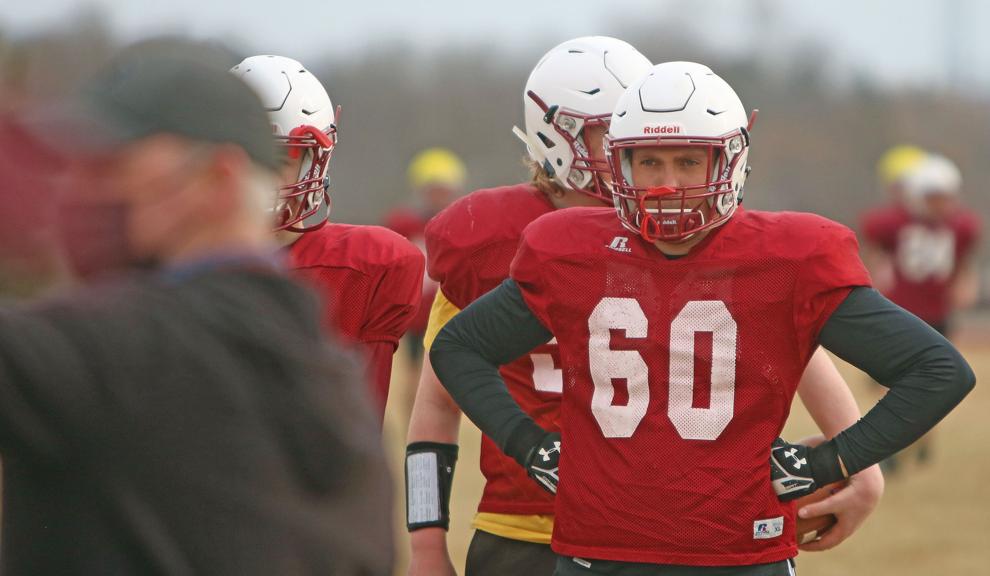 Also on the O-line is sophomore Zane Vetter, a starter as a freshman, and junior returnees Ty Hockers, Jackson Wade and Nathan Petersen.
It's an experienced unit that Hilber said "once they can get themselves to jell together, I think that can be a strength (of the team)."
Also returning on offense is senior Kaeden Kehrmeyer, a wide receiver who had 7 catches for 114 yards and a TD in 2019.
There's certainly reason for Mayville to be optimistic on offense, but defensively is where the team is strongest to start the campaign.
The reason is that the Cardinals return eight starters on that side of the ball, including Weiss, who was a second-team All-Flyway choice last season and an honorable mention pick as a sophomore, both times at outside linebacker.
Weiss led the team in solo tackles (46) in 2019 and had 54 total tackles, including six tackles for loss, although Hilber has him listed as a defensive back this season.
Joining him is senior linebacker Marshall Weiglein (56 total tackles, one TFL, one interception), Hockers at linebacker (47 tackles, eight TFLs, two sacks, one fumble forced and one fumble recovered) and junior linebacker Cadon Hardesty (four TFLs, one sack, one INT).
Up front in the middle of the defensive line are Marx and Jensen and on the edges are sophomore D-ends Vetter and Brad Bushke, who led the Cardinals in TFLs (nine) in 2019 and also had four sacks.
"Both of those guys did a great job, and we don't look at them as sophomores anymore — they're juniors to us now," Hilber said.
Kehrmeyer is a returning defensive back as well.
Overall the defense is pretty experienced after the opposite was the case in 2019, meaning the unit should be much less tentative and better able to swarm the ball this spring.
"This year," Hilber said, "it's just more react and go."
On special teams, Mayville's punting game should be strong with long-snapper Ty Hockers and the leg of Bushke both returning. And in the kicking game, Hilber said first-year kicker Aaron Anderson is "showing promise."
Hilber coached 10 years at Nekoosa, leading that program to four straight South Central Conference titles to close out his tenure there, and then four years at Columbus, from 2013-2016. In his final year at Columbus, he led the Cardinals to their first conference title since 2003 and a trip to the Division 5 state quarterfinals.
Both places involved some rebuilding when he got there, too — so what's going on now with implementing the Wing-T and trying to bring some younger players along isn't uncharted territory.
"On offense trying to install something new is taking a little bit of time. We're going to evolve with that," he said. "I've been through that before, and what you do is kind of rely on your defense to keep you in games while your offense gets better."
Hilber also said — likely echoing the sentiments of a lot of his peers — that while it would have been nice to play in the fall like normal, what the last five or so months off have done is given the kids in the program some additional time to develop, both mentally and physically, before having to buckle up their chinstraps in pressure moments.
"I like our group. I like our athleticism. We've got some good size and good numbers," he said. "We're a lot stronger and more competitive than the team was last year — and a lot stronger and more competitive than the team would have been this fall.
"We're not where we want to be, but we're making improvements and progress.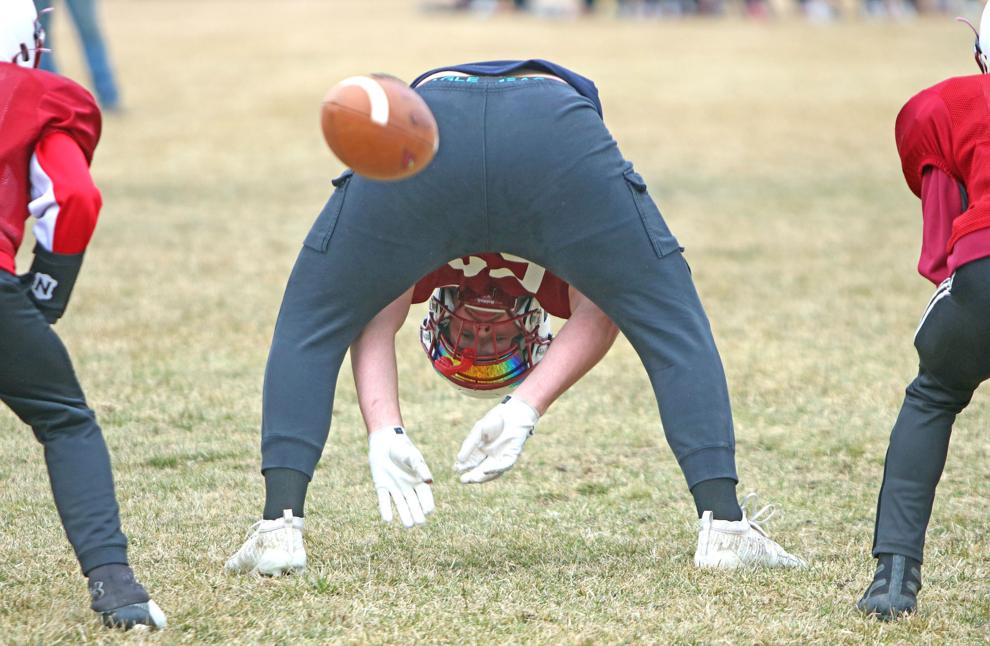 Follow Dan on Twitter @Danny_Larson_8 or contact him at 920-356-6753.