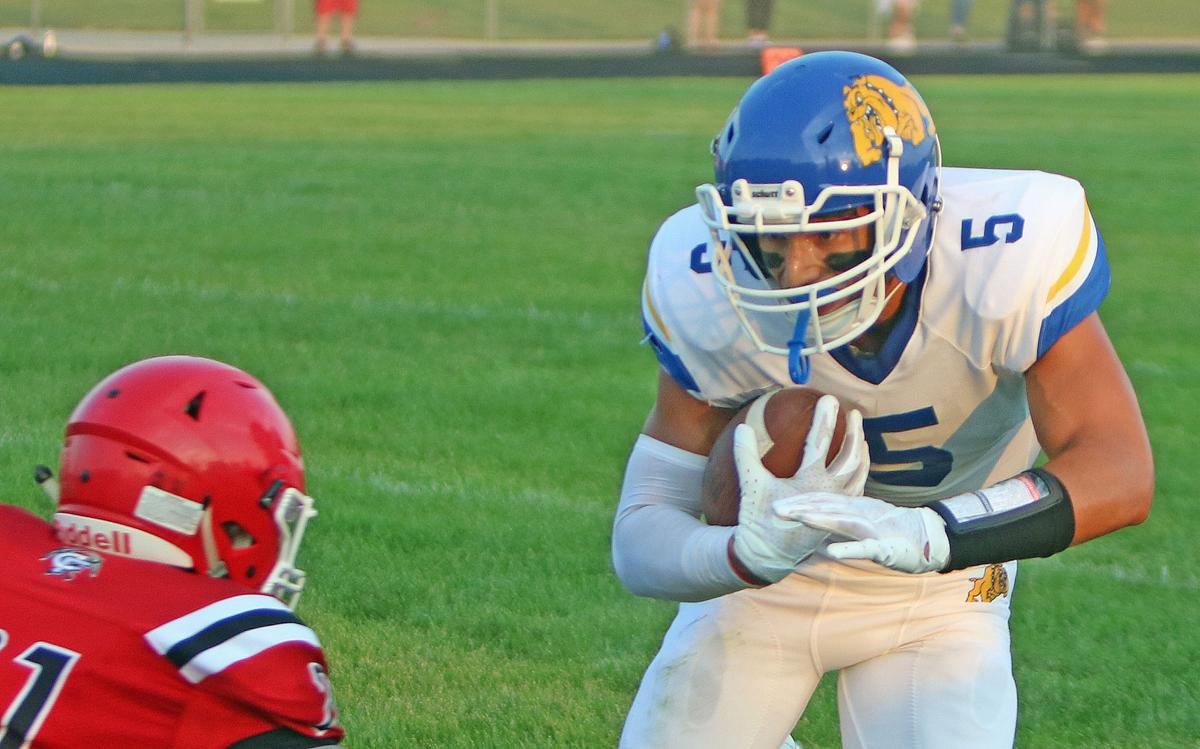 After a two-week layoff because last week's scheduled contest against Poynette was canceled, the Pardeeville prep football team returned to action and nearly stayed perfect on the season.
But Marshall had other ideas.
Cam Ward's 32-yard touchdown strike to Cole Denniston with 2 minutes, 27 seconds left in the game lifted the visiting Cardinals to a 22-16 victory in Friday night's Eastern Suburban Conference opener for both teams.
Derek Lindert, who rushed for 115 yards on 21 carries, gave Pardeeville (1-1, 0-1 Eastern Suburban) an 8-7 lead with 5:33 to go before halftime when he ran in a 6-yard TD then added the 2-point conversion.
Marshall (3-0, 1-0) answered before halftime, going in front 14-8 on Canon Siedschlag's 49-yard TD catch from Ward.
Siedschlag, whose 70-yard TD catch made it 8-0 in the early going of the second quarter, finished with 8 catches for 229 yards and the two scores.
Pardeeville had 238 yards on the ground and took an 16-14 lead in the final minute of the third quarter on Hayden Guenther's 2-yard TD run followed by Lindert's 2-point conversion.
The Cardinals, meantime, averaged only 2.0 yards per carry on 24 attempts for a total of 47 rushing yards. But they did their damage through the air, with Ward throwing for 274 yards and three TDs on 12-of-19 passing. He did throw one interception.
Cardinals de-claw L-Cats
The first points scored by Columbus on Friday night came in less-than-conventional fashion — a safety on a punt attempt by Lake Mills.
All the rest were scored the more common way — by hitting paydirt.
Most importantly for the Cardinals, though, is that they scored the most points.
In fact, they scored all the points, winning 29-0 over the L-Cats in both teams' Capitol Conference opener.
Colton Brunell scored Columbus' (3-0, 1-0 Capitol) first two TDs, one from a yard out in the second quarter and the other a 16-yard scamper with 2:03 to go in the third.
Andrew Pfeffer then added to the lead with a 2-yard TD run less than a minute later and he would score the game's final TD on a 6-yard run with 5:04 remaining in the contest.
Led by 109 rushing yards from Brunell, 44 from Pfeffer and 66 through the air by Nathan Cotter on 9-of-14 passing with no interceptions, Columbus had 224 yards of total offense compared with only 37 — on 38 plays for an average of 1.0 yards per play — for the L-Cats (1-2, 0-1).
Wild ending in Randolph
Neither team scored in the first half. Both scored in the final 3:07 of the game.
After slugging it out to no avail for much of the night, Oshkosh Lourdes and Randolph finally found some traction on offense in clutch time.
And it was Lourdes that came up most clutch, as freshman quarterback Wade Lindahl found senior wide receiver Joshua Pritzl for a 31-yard TD on 2nd-and-6 with 1:40 to go, propelling the visiting Red Knights to a 12-7, Trailways Conference victory.
The Rockets (1-2, 0-1 Trailways) moved the ball out to their own 40-yard line on the ensuing possession but came up empty on 4th-and-5, turning the ball over on downs.
Junior quarterback Brady Prieve's 1-yard TD run with 3:40 left tied the game at 6 before Jonathon Alva booted the extra point through for a 7-6 lead.
Senior running back Gabe Bohn's 1-yard TD burst with 7 minutes remaining in the third quarter gave Lourdes (2-1, 1-0) a 6-0 lead following the scoreless first half.
Randolph outgained Lourdes 279-174 and had 18 first downs compared with nine for the Red Knights. But three turnovers, all interceptions, proved costly for the Rockets.
The Rockets were 8-of-13 on third down but could muster just the one score, while the Red Knights were 2-of-11 on third down and 0-for-4 on fourth down.
Lindahl was 11-of-18 passing for 159 yards, one TD and no interceptions for Lourdes, which had only 15 rushing yards on 26 carries against Randolph's stout defense — led by senior defensive lineman Travis Alvin, who had 10 tackles, four of them for loss, and one sack.
Senior running back Traiton Lininger led the Rockets on offense, rushing for 137 yards on 25 carries (5.5 yards per carry)
Cougars claw Trojans
Dodgeland struck first against Clinton. It never struck again, however, as the Cougars answered Tony Stone's 27-yard TD pass to Tristan Hahn with eight unanswered TDs, claiming a 55-6, Eastern Suburban Conference victory.
Caden Brugger (63 yards) and Jace Christopherson (37) spearheaded a Trojans' rushing attack that managed 96 yards on the ground, but Dodgeland could only muster 160 yards of offense in all while giving up 460.
Quarterback Peyton Bingham led Clinton (3-0, 1-0 Eastern Suburban), completing his only pass attempt for a 35-yard TD strike to Abel Espinoza while also rushing seven times for 109 yards and three TDs.
Four others rushed for 55 yards or more as the Cougars finished with 402 yards on the ground, averaging 13.9 yards per carry in the process.
Brugger also had seven tackles, all of them solo, and a tackle for loss for Dodgeland (0-3, 0-1) in the defeat.
Warriors win streak snapped
Waupun buried the program's 27-game losing streak the best way possible. By winning not one, not two, but three games in a row.