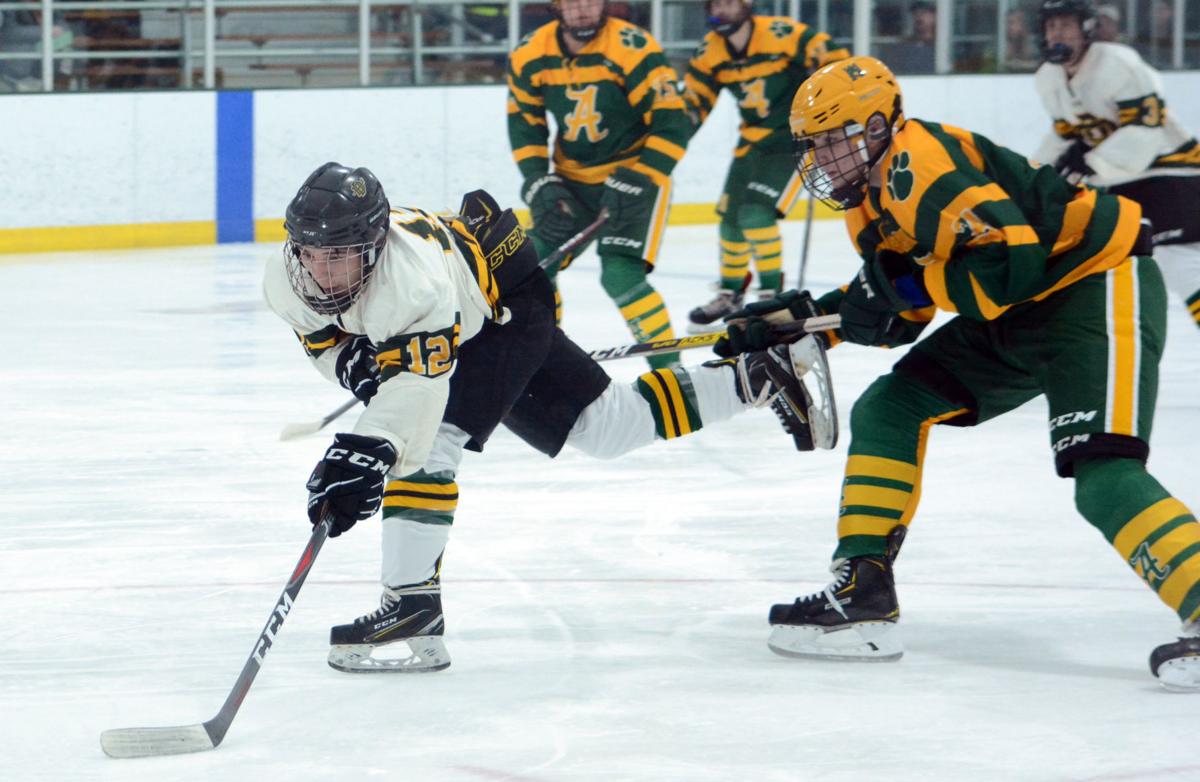 Beaver Dam boys hockey coach Jose Matamoros knows he's got a lot of fast players on his roster, and he wants to use them to the Golden Beavers' advantage as the 2019-2020 season gets underway.
In fact, one of Matamoros' mantras for this year's team is "score on the rush, but don't rush to score." It means that he wants the Golden Beavers to score in transition, but he doesn't want them to be in such a hurry to score that they make mistakes.
That speed showed itself last Tuesday when Beaver Dam crushed Ashwaubenon 7-2 to begin the season. In that win, six of Beaver Dam's seven goals were scored on the initial rush up the ice.
"That's what we're looking for," Matamoros said. "We're looking for a fast-paced game. We're looking for other teams to make mistakes and thinking faster than they can. That's going to lead to a lot of offense and productivity."
Matamoros said the speed of the game is what he's been working on during practice. He hopes the offensive production continues tonight when Beaver Dam hosts Greendale at 6:30 p.m.
"We work on stop-and-start transitions, so instead of being lazy using their edges, they're stopping and going quickly," Matamoros said. "We talked about our neutral zone transition that's a little bit different than last year. We're trying to force the puck up quickly to catch teams off guard; catch teams being a little bit lackadaisical or lazy, and forcing the other team to make decisions, mistakes and turnovers, and capitalizing on that."
Beaver Dam's first goal of the season was a shorthanded one that happened when Dalton Jones poked the puck away on defense and was off to the races in the first period.
Another thing Matamoros said his team is working on is its power play and penalty kill. The Golden Beavers killed off all four penalties against Ashwaubenon and scored twice in three power play opportunities.
"We're trying to change the mindset of these guys," Matamoros said. "They've been trained their whole lives that the penalty kill is a defensive thing. We're trying to turn it into an offensive thing."
Beaver Dam killed 74.4% of the penalty kills and scored in 36.1% of the power plays it had last season, when it finished the regular season at 12-8-2 overall and fourth in the six-team Badger North Conference.
"We practice it every day," Matamoros said. "Special teams is a huge part of the game. You win games with special teams. There's a couple other things that win games — face offs and blocked shots. You win face offs, you gain possession of the puck. You block shots, you don't allow the other team to score. The last thing is special teams.
You have free articles remaining.
Matamoros believes he has two very good junior goalies. Kirk Davis played in 19 games last season, finishing with a 3-4 record and an 85.5 save percentage.
When Beaver Dam hosted Ashwaubenon, Matamoros went with Noah Banes between the pipes. Banes only played in six games last season and saved 28 of the 34 shots he faced.
"Last year he fell back," Matamoros said. "He was our third goalie behind senior Kyle Henning and Kirk Davis. Noah's worked really hard this year. In the summer he was getting up at 6 a.m. for ice sessions with our goalie coach. He was putting in that time and effort, and won our 151 league for us — a summer league we play in. He won the championship for us. He was between the pipes all summer long.
"To see that dedication and to go from No. 3 to become a No. 1 the next season has been phenomenal. That's what you really (want). If you have a good goalie, you can win games."
And Matamoros believes the Golden Beavers won't lose a step if they put Davis in at any point this season.
"To have that ability to either put Noah or Kirk in the net any night gives us the ability to win a game," Matamoros said.
Beaver Dam will have to replace graduated senior Sam VanderHoeven, who scored a team-high 29 goals last season. Matamoros isn't worried about the loss of production, as he believes he has plenty of players that can put the puck in the net this season.
"Any time you lose a player like Sam, it's very difficult to replace," Matamoros said. "We have a lot of kids who we started to see in the second half of last season who really step up and produce points for us.
"You saw that in game one of this year when we had eight different guys record a point for 17 total points in one game. That's quite impressive at the varsity level."
Ben Cremers, Daniel Smolen and Ian Conlin each scored two goals in the season-opening win, while Cremers and Riley VanderHoeven each had three assists.
"That's huge to me," Matamoros said. "I'd rather see guys get assists than goals, because that means they're producing and making plays happen for our team. That's bigger to me than scoring an unassisted goal."
Follow Mark McMullen on Twitter @mmcmull2 or contact him at 920-356-6754.