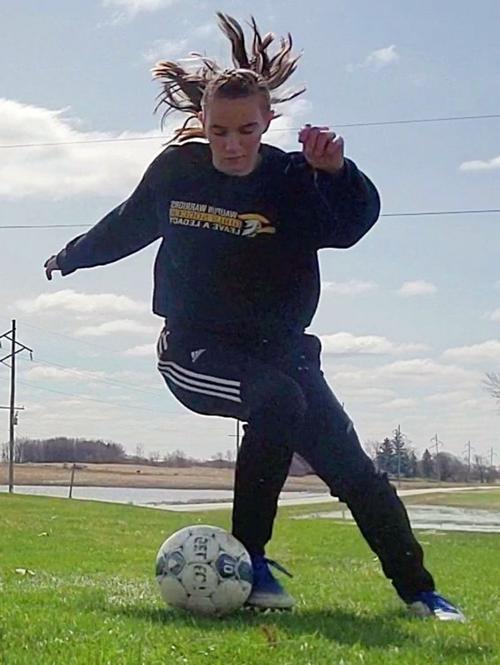 Waupun midfielder Nicole Roecker didn't get to play prep girls soccer as a freshman due to COVID-19.
She still balled out as a sophomore, scoring two goals with two assists.
Waupun coach Josh Fitch said Roecker is an "all-around great player who is physical, tactical and possesses great passing (skills)."
She caught the eyes of the East Central Conference coaches as they voted her as a second-team midfielder.
Fitch also said because of Roecker's versatility, she was able to fill in for injured teammates on defense.
Roecker was a big reason why the Warriors finished 6-7 overall and fifth in conference with a 3-3 record. However, she wasn't the only Warrior recognized for their play.
"Nicole is the most versatile player on the team and played every position this season while making starts on each line," Fitch said. "She was a lockdown defender, great distributor from midfield and our leading scorer as an attacker."
Waupun junior Kate Braskamp was voted as a second-team defender by the coaches.
Fitch said he had two defensive starters out for all but two games this season, which forced Braskamp to play everywhere on the back line. She was only responsible for three goals this season as Fitch said she was a workhorse for the Warriors, playing 94% of the total minutes played this season.
She's "a relentless defender willing to attack upfield off the dribble and overlaps," Fitch said. "Consistently matched up with best forward and is considered a lockdown defender."
Waupun's Emily Brown finished with four goals and two assists and was an honorable mention midfielder for the Warriors.
"Emily is extremely versatile, but (she was) needed as our playmaker on the attack," Fitch said. "Working from the midfield, Emily is a workhorse on defense and is always a threat in launching our attacks."
Waupun also had two honorable mention attackers in senior Cristal Espinoza and junior Ava Heeringa.
Espinoza finished with four goals and two assists during league play.
"Cristal was bounced around and started games at all three levels on the pitch," Fitch said. "She was the heart of our team and worked constantly to set up her teammates for success."
Heeringa finished with five goals and five assists as she battled through a hip injury all season.
"Ava battled through injuries this year but still managed to be our best offensive threat," Fitch said. "She can switch the point of attack effortlessly and can score anywhere from the attacking third. She is our target player that gets a lot of attention from the opposing defense."