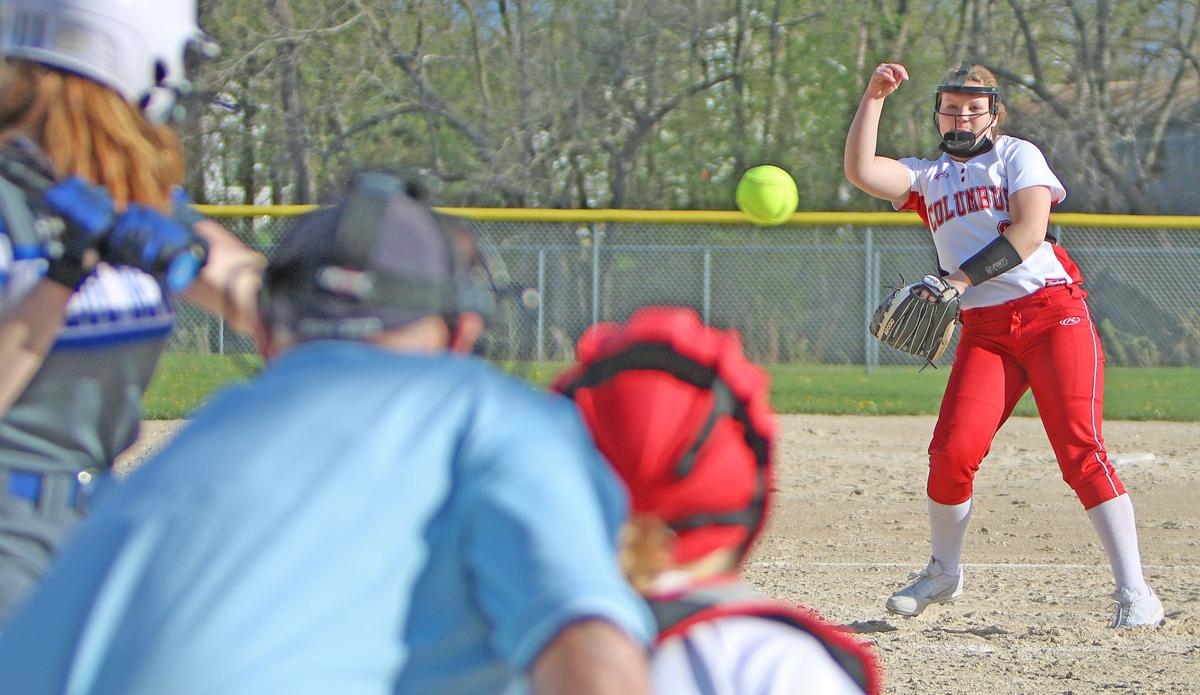 COLUMBUS — EmmaJo Peck had already done her job in the circle. It was time to get the job done at the plate, too.
The sophomore pitcher's towering solo home run to left field sparked a seven-run bottom of the sixth inning for the Columbus prep softball team Thursday evening against Lodi — a big frame that ended the game by virtue of the mercy-rule, giving the Cardinals a 13-3, Capitol North Conference victory at Meister Park.
"I have never seen a ball hit that high and far in this park," Columbus coach Jim Rake said.
How far, exactly? Well, that's tough to say. But the distance to the fence out in left is 225 feet — and Peck's homer wasn't a wall-scraper.
"If I would have to guess, yeah," Rake said. "That was a pretty nice swing and a pretty nice shot."
Peck didn't have a hit in Tuesday's 2-0 loss at Lake Mills and the Cardinals' clean-up batter had walked and reached on errors in her first three plate appearances Thursday.
The righty's sight was true in her fourth trip up.
"I haven't been hitting so hot last game and (the start of) this game, so I just wanted to get a hit," she said. "I saw one that I liked and I just drove it out."
Way out. And she knew it was gone the minute it left the bat.
But just in case, she got a loud reminder as she began rounding the bases.
"Once Jim started yelling, 'It's a home run,' that's when I really knew," she said.
Prior to that at bat, Peck — with help from her defense, which did commit three errors but by no means was sloppy in the field — held the Blue Devils in check, allowing only one earned run on four hits while striking out nine and walking a pair.
She pitched well in her first-ever varsity start.
"She did," Rake said. "She's got a lot of innings in the circle. She's working on her rise and her drop."
For her part, Peck said getting the butterflies out of the way early made a big difference.
"I was kind of nervous because it was my first game," she said, "but I just relaxed and did what I do best."
On this night, that meant keeping Lodi batters guessing.
"Things that move out of the zone, just trying to get them to swing," she said of her approach. "And if they did hit it, it would be routine plays and our defense could get outs."
Peck got plenty of run support right out of the gate to aid in her cause.
Lodi (0-2, 0-2 Capitol North) took an early 1-0 lead when Sam Edge drew a walk to lead off the game and then later scored on Mackenzie Christhofferson's two-out single, but the Cardinals (1-1, 1-1) would go to work in the bottom half of the first inning.
Alise Hayes led off with a single and would tie the game when she touched home on Claire Smedema's RBI triple, and Smedema would score one batter later on Peck's RBI grounder.
Peck reached on an error that should have been the second out, and after Rhyann Adam drew a walk, they both came home on Dakota Volesky's two-run double that made it 4-1.
Volesky would later score on a passed ball to cap off the big inning.

Lodi did right the ship from there, though, getting with 5-2 on Lauren Burros' two-out RBI triple in the third and then within 6-3 on Christhofferson's RBI single in the sixth.
"I'm very proud of the way we played tonight," Lodi coach Trent Schneider said. "We had a rough first inning, but I was hoping we'd be able to say after the first inning that we won the rest of the game.
"With any game, if you hang around long enough and you put a little pressure on the other team, maybe they crack, maybe they don't."
"They've got a nice team," Schneider added. "They came up with a big home run to lead off the sixth and then kind of piled on from there, but I was really happy with the progress we made from just one practice after the shellacking (in a 21-0 loss to Poynette) on Tuesday to tonight.
"We've got a lot of potential — a lot of young girls, so a lot of learning to do."
The same is true of Columbus.
"We have a lot of softball experience but we're still a young team, and we need to keep the energy level going through a seven-inning game," Rake said. "We got off to a hot start and then we kind of just sat back and just let the game come to us instead of us taking the game."
The Cardinals finally re-took control in the bottom of the sixth, though.
Following Peck's homer, Adam, Volesky and Gretta Kelm all followed with singles, Carley Meyers and Hayes drew walks and Kylee Farrington reached on a fielder's choice before Smedema's two-run single ended it.
The key was being patient.
"I'm very pleased with our plate discipline," said Rake, whose team struck out just once in the game while collecting 10 hits and drawing 10 walks. "In our first game, against Lake Mills, we were swinging at pitches at our eyes. Today, the Lodi pitcher was pitching up and we were laying off of them.
"In the last inning we said, 'Let's go be aggressive.' And you can see what happened."
The Blue Devils certainly saw.
But the blowout on the scoreboard wasn't a good reflection of how well they played.
Case in point: If not for the crooked numbers Columbus was able to put up in the first and sixth innings, Lodi would have been right in the contest.
"Once everybody settled down," Schneider said, "it became fun. Once you get locked in and our pitcher started throwing strikes and our fielders started locking in and playing good defense, it gets fun and you forget about being nervous.
"It was a good softball game. Hats off to Columbus — they put the bat on the ball and just made some more things happen than we did."
COLUMBUS 13, LODI 3 (6)</&hspag3>
Columbus 500 017 —13 10 2
Leading hitters: Lodi — Mackenzie Christhofferson 2x3. Columbus — Alise Hayes 3x3, Claire Smedema 2x5.
HR: EmmaJo Peck (Col). 3B: Smedema. 2B: Dakota Volesky (Col).
Pitchers (ip-h-er-bb-k): Lodi — Emma Krumpen (L, 6.1-10-12-10-1). Columbus — EmmaJo Peck (W, 6-4-1-2-9).
Follow Dan on Twitter @Danny_Larson_8 or contact him at 920-356-6753.