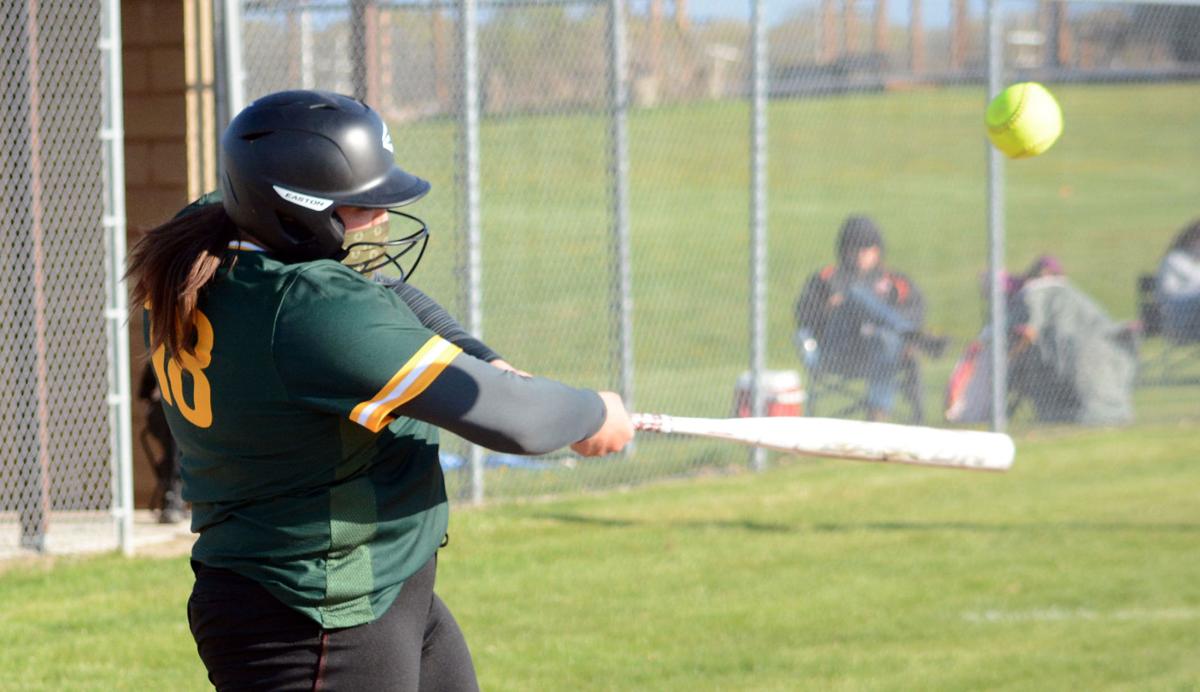 Beaver Dam coach Abby Schmitt said last week her prep softball team is loaded with talented batters and any one of them could scatter hits anywhere on the diamond.
That was apparent in an 11-5 non-conference victory over West Bend West Saturday afternoon when the Golden Beavers had nine hits.
The Golden Beavers had a triple and three doubles against the Spartans.
Liv Distefano had a two-run triple in a four-run second inning to put Beaver Dam up 5-1. Distefano went 1-for-4 at the plate.
Beaver Dam's Carlee Lapen had a double to right field that put runners on second and third. After a strikeout, Haley Allen's sacrifice bunt to first scored a run and put Lapen at third. Lapen would eventually score on an error to put Beaver Dam up 8-4. Lapen went 2-for-4 with an RBI.
Beaver Dam's Audriana Edwards also had a double to center in the sixth that brought in a couple of runs to raise the lead to 10-4. With runners on second and third, Lapen hit an RBI single to right to put Beaver Dam up 11-4. Edwards went 1-for-4 with a double and three RBIs for the Golden Beavers.
Beaver Dam's Gabby Fakes pitched a complete game, striking out six while allowing five runs off 11 hits. She also gave up a three-run homer by Jessie Reich to put West within 6-4 in the fourth. Fakes also had a double and scored three times at the plate.
Beaver Dam's Riley Czarnecki was 3-for-4 with an RBI and scored twice to help get the win as well.
Baseball Beaver Dam wins twice
The Golden Beavers defeated Appleton East 4-1 and 11-4 in a doubleheader over the weekend.
No other results were reported to be included in.
Friday football Columbus embarrasses New Glarus/Monticello
Running back Caden Brunell went off for 135 yards and four touchdowns on just 22 carries to go along with a 40-yard touchdown reception to lead the Cardinals to a 42-6 victory on Friday.
Brunell scored twice in the second quarter ― one for six yards with 4 minutes, 44 seconds left to go up 7-0 and another four three yards with 26 seconds left to raise the lead to 14-0 heading into halftime.
New Glarus finally got on the board with 6:17 left in the third when quarterback Darris Schuett found receiver Rudy Wicker for a nine-yard TD pass. After a missed extra point, Columbus lead 14-6.
Brunell responded a minute later for a 48-yard scamper to put Columbus us 21-6. Then with 4:34 left, Brunell bulldozed in for a one-yard thumper to put the Cardinals up 28-6.
Columbus would score again with 2:29 left in the third, but this time it was running back Braxton Nachreiner for nine-yards to raise the lead to 35-6.
Columbus quarterback Will Cotter ― who threw for 217 yards and an interception off of 15-of-23 passing ― found Brunell for a 40-yard pitch-and-catch TD 9 seconds into the fourth quarter to go up 42-6.
Friday softball Randolph grabs two non-conference games for Rio
The Rockets only needed eight innings between two games to dominate the Vikings.
Jorey Buwalda went 2-for-2 with a double, a home run and three RBIs while both Madelyn Hemling and Cassandra Alsum was 2-for-3 to help the Rockets win the first game 26-0 in three innings.
The Rockets won the second game 21-9 in five innings as Brianne Baird had a home run and Leia Agnew went a perfect 3-for-3 at the plate. Allison Nieman was 2-for-4 and Josie Spors was 2-for-3 at the plate as well.
Friday's boys golf Beaver Dam falls to Baraboo
Logan Heim highlighted the Golden Beavers' 181-208 Badger North Conference dual loss to the Thunderbirds with a score of 48 at Baraboo Country Club.
Baraboo's Adam Janssen (43), Charlie Gibbs (45), Kane Mahoney (46) and Luna Larson (47) each outdid Heim's score.
Beaver Dam's Ben Nortman scored a 50 while Wyatt Straseske had a 54 on the day.