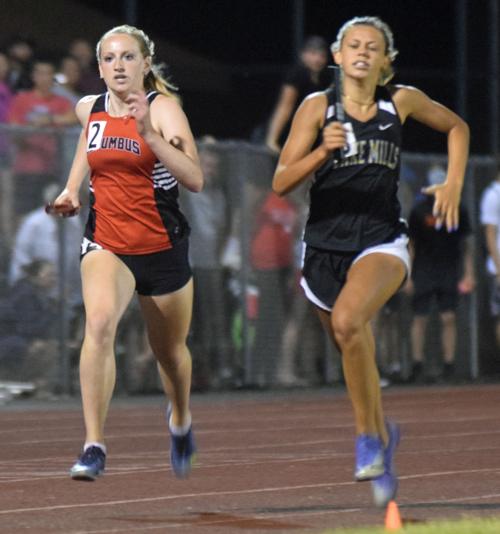 The WIAA State Track and Field Championships field, that is.
And the list of area athletes who are headed to La Crosse isn't short.
Leading the way is Beaver Dam sophomore Leah Burchardt, who not only took first place in the girls high jump at Thursday's Division 1 sectional meet at Hartford Union High School — she cleared 5 feet, 2 inches to edge out Slinger's Kacey Ott (5-1) by an inch — but also was on the 3,200-meter relay team that took third place (10 minutes, 20.54 seconds) and is headed to state.
Joining Burchardt on the relay were fellow sophomore Brooklyn Tonn and freshmen Mila Westra and Kylie Hackbarth.
The top three finishers in each event received state berths, and that was it for Beaver Dam as far as qualifiers go.
But the Golden Beavers had a number of athletes come close. Junior Truman Leisses took fourth in the boys 200-meter dash (24.07 seconds) while junior Cole Pettersen, a winner at regionals on Monday, took fifth in the boys 100-meter dash (11.85).
Senior Cora Wendt also had a fifth-place finish, hers in the girls 300-meter low hurdles (50.22), as did freshman Amiyah Jackson in the girls long jump (16-9).
Westra, Burchardt, Hackbarth and freshman Makenzi Gritzmacher also took fifth in the mile relay (4:22.53) and Westra took seventh in the girls pole vault (8-6), rounding out Beaver Dam's eight sectional qualifiers.
In the Division 2 sectional meet held at Waupun High School, the host Warriors saw two athletes advance — senior hurdler Kellen Hacht and senior thrower Alexa Kuhn.
The top four in each event at the D2 and D3 sectionals earned state berths, and Hacht moved on by taking third in the boys 110 high hurdles (17.39) and fourth in the 300 intermediate hurdles (43.30) while Kuhn was fourth in the girls discus (102-4).
Also at that meet, Mayville sent four athletes on to state in junior Bradley Bushke (fourth in the 110 hurdles in 17.61), seniors Alex Borkenhagen and Edyn Marx (fourth in the boys pole vault at 12-0 and fourth in the girls pole vault at 9-0, respectively) and senior Emily Schellpfeffer (fourth in the girls shot put with a throw of 35-2¼).
Also in Division 2, a few Columbus athletes extended their seasons with top-four finishes at a sectional meet in Whitewater.
Senior Molly Kahl won the girls long jump (18-4¼) and was fourth in the triple jump (36-½), while the girls mile and two-mile relay teams both also advanced for the Cardinals by taking third (4:13.59) and fourth (10:20.86).
On the mile relay were sophomores Jaiden Dornaus, Grace Kahl and Maya Pearcy as well as junior Aurora Pennington, while Dornaus, Pearcy, Pennington and junior Emma Paulson made up the two-mile relay.
Senior Austin Rennhack took second in the boys discus (139-10) to round out the state qualifiers for . He also narrowly missed out in the shot put, taking fifth (48-1) by two inches to the fourth-place distance.
The Division 3 sectional meet in Princeton on Thursday was suspended midway through because of stormy weather and didn't resume until 6 p.m. Friday.
Prior to it being suspended, Dodgeland junior Mirandi Firari took second in the girls 100-meter dash (12.60) and won the pole vault (10-6) while Trojans senior Evan Finger won the boys half-mile (1:58.02) and mile (4:37.11) and junior Adrianne Bader won the girls shot put (35-11) and took fourth in the discus (98-11), all punching tickets to state.
Fall River junior Clay Blevins won the boys high jump (6-1) while senior Helena Nashold narrowly missed out on advancing in the girls triple jump, taking fifth (32-2).
Horicon didn't have any state qualifiers prior to the meet being suspended, with the best finish turned in by sophomore Ethan Fraze in the boys 400-meter dash (53.67).
Markesan's Morgan Amend won the girls 100 high hurdles (16.59) in a photo finish over runner-up McKenzie Kennedy (16.61) from Randolph/Cambria-Friesland and was the Hornets only state qualifier prior to the meet being put on pause.
Also advancing for R/CF were seniors Isaac Albrecht (first in the boys 110 and 300 hurdles in 15.19 and 40:17) and Griffin Hart (first in the boys 200 in 23.53 and third in the high jump in 6-0), and sophomore Savannah Duckett (third in the girls 200 in 27.56).
Hustisford had senior Dylan Kuehl punch a ticket to state by winning the boys triple jump (44-1¼) and taking fourth in the long jump (19-½), and junior Ari Hildebrandt also advanced in the girls 400, also by taking fourth (1:02.80).
From Wayland Academy, senior Isaac Eubanks took second in the boys 100 (11.19) and 200 (23.77) to move on, while junior Griffin Hughland was third in the 400 (53.28) and fourth in the 800 (2:02.31) to qualify for state.
Once the meet resumed on Friday, Central Wisconsin Christian nabbed a pair of state berths as both the boys and girls 1,600 relay teams took fourth to move on.
The Crusaders boys team of freshman freshman Levi Vander Galien, sophomore Cade Vlietstra, junior Caleb Slings and senior Benn McKean finished in 3:39.18 while the girls squad of sophomore Elise Ritzema, juniors Shelby Buwalda and Mady Friese and senior Jolie Schouten clocked a time of 4:25.74.
Dodgeland also netted another state spot upon resumption Friday when freshman Ava Raasch, sophomore Sayrah Benzing, Firari and senior Ali Sugden took first place in the girls mile relay with a time of 4:15. 80.
Only the girls and boys two-mile and the girls and boys mile relay were yet to be completed when the meet was suspended on Thursday.