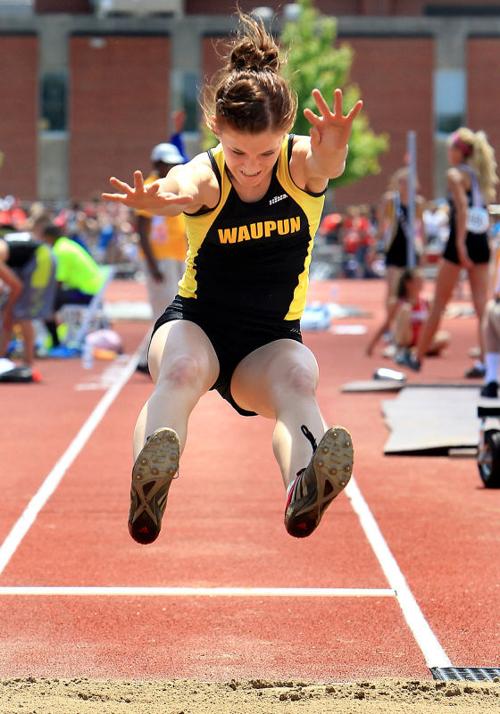 LA CROSSE – Sophomore Brooke Tonn has become Waupun's Wally Pipp.
Tonn took fourth in the Division 2 long jump (17 feet, 4.75 inches) one week after breaking the school record while winning sectionals. She has less than a half-dozen meets as a long jumper under her belt.
"I just started doing it late in the season," Tonn said. "One of the girls was sick at a meet and there was an open slot so I took it."
As the legend goes, Pipp was removed from the New York Yankees lineup and replaced by Lou Gehrig due to a headache. Gehrig went on to play 2,130 straight games, prompting Pipp to later quip, 'I took the two most expensive aspirins in history.'
With that said, it's unlikely Tonn will be replaced in the long jump anytime soon.
"It feels good to make it on the podium," Tonn said. "It's the stuff of awe. It's huge."
Unlike the long jump, Tonn and Columbus senior Madeline Tompach did not have a tailwind in the 100 meter dash. Given their slight frames, Tompach (11th, 13.5 seconds) and Tonn (12th, 13.55) both struggled running straight into gusts and missed out on today's finals.
"At first it was all right," Tonn said. "Then it took me back."
Tompach recovered to grab the last qualifying spot in the 200 (27.28) and helped the Cardinal 1,600 relay team with Emma Severson, Reagan Johnson and Lena Mason land the third-fastest qualifying time of 4:06.33.
It was a much-needed source of good news for Severson, who was the top seed in the 300 hurdles but hit one and finished 16th (52.19) to miss qualification.
Finally, Waupun's 3,200 relay team could just focus on one thing.
With the slate cleared from the brutal Whitewater sectional, the Warrior quartet of Adrian Harmsen, Andrew Klapper, Matt Kuik and Bryce Verheyen broke the school record with a time of 8:11.75 to finish in seventh.
"I thought they could run better," Waupun assistant coach Diane Burg said. "At least a couple of seconds."
For Klapper, it was a fitting final run that included two trips to state in cross country and a prestigious WIAA Scholar Athlete award, given to only 32 seniors. Klapper, as usual, spread the credit around.
"We wanted our best time, a school record and to get first in our heat," Klapper said. "It was nice to have a good crew to run it with."
Brady Stockwell, a junior, finished 10th in the discus with a throw of 147-11.