LA CROSSE — Being at the WIAA Division 2 state track and field championships was nothing new for Molly Kahl.
The Columbus senior had been on the big stage before as a sophomore, having qualified in the long jump in 2019. The one thing that escaped Kahl in that prior trip was a podium finish as she missed out on the medal stand, settling for seventh place by four inches.
The future Minnesota State (Mankato) Maverick left no doubt twice on Friday, as she finished second in the long jump and third in the triple jump to close out her prep career in style at Veterans Memorial Stadium.
"It's just a really great way to go out," she said.
"Going to the podium has been my goal since sophomore year when I missed it by one place, so it was really great to finally get up there."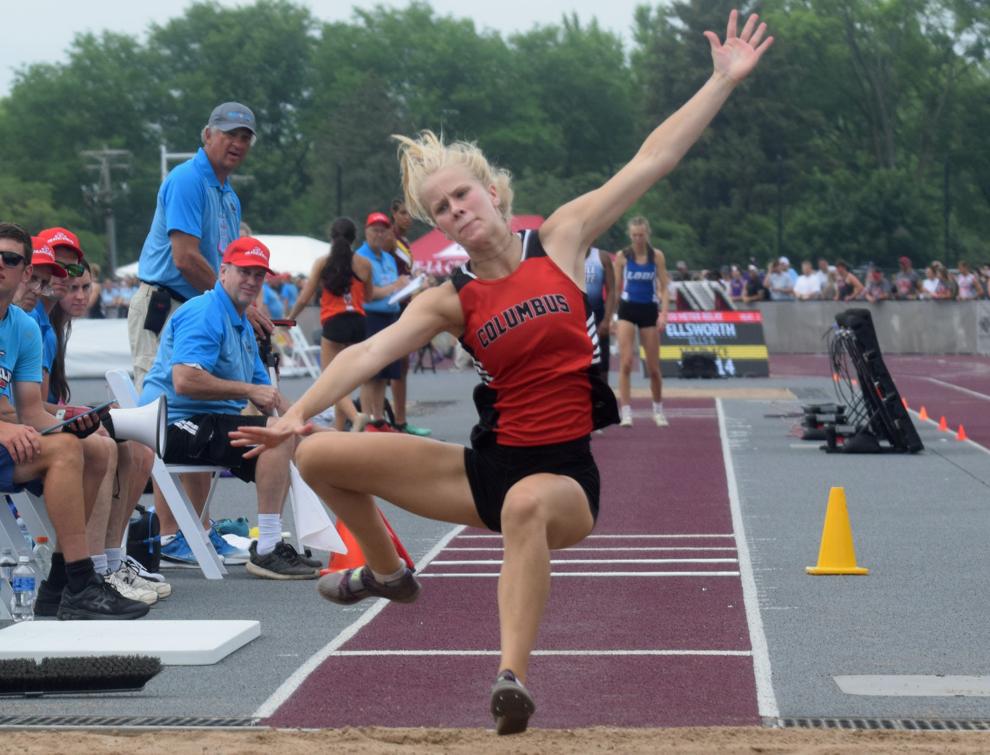 Kahl got her day started on the right foot with the long jump, although it admittedly took some time. After leaping 17 feet, 8¼ inches in her opening jump of the day, Kahl hovered around the mark through the remainder of prelims and the first two jumps of the finals.
Sitting tied for third with Antigo's MacKenzie Wissbroecker heading into the last round of finals, Kahl made sure to make her final jump count, hitting 18-1¼ to separate from the Red Robins freshman for silver alone, but behind Appleton Xavier's Kylie Mccormick (18-11½).
Entering seeded second, Kahl admitted she "went into it pretty confident and I knew I'd be okay."
"My first couple jumps weren't the best, but my last jump in finals was good and that did it for me," she added.
That momentum carried into the triple jump as she moved up three spots from her No. 6 seed to earn the bronze. There wasn't much of a stop gap either, as Kahl closed out prelims with a jump of 36-4¾ to head into finals sitting in third place.
"I got that jump in, got it secured and I wasn't really worried about it anymore," she said.
While Kahl failed to improve on the mark — she ended her day with a jump of 35-7½ — the mark held up throughout the final three jumps, narrowly edging out fellow Capitol North Conference foe Lauryn Milne of Lodi, as the Blue Devils senior finished just under two inches behind with a 36-3.
Having competed against Milne throughout this season and her prep career, Kahl said there was a sense of pride seeing a fellow member of the Capitol North alongside her on the medal stand.
"She's a really nice girl, a really great athlete and I think it's just kind of awesome to have somebody from the same conference make it too," she said.
Even though the prospects of what-could-have-been — Kahl finished behind Mccormick her sophomore season as well — will remain in the ether thanks to the loss of last season due to the COVID-19 pandemic, Kahl said she'll relish the final chance she did get this season.
"It was really great to get back out here and being able to have some sort of season," she said. "It's a really great feeling, ending on a good note. It just makes me feel a lot more confident going into college."
Mayville's Borkenhagen rewrites Cardinals record book
Pole vaulting success is no stranger to the Borkenhagen family on the Mayville prep track and field team.
Alex Borkenhagen ensured it will be for the foreseeable future, too, as the Cardinals senior broke the program's record in the pole vault on Friday by clearing 14 feet, 3 inches, en route to tie for third-place in his first-ever state appearance.
"It's extremely special," he said. "My dad was the previous school record holder and my uncle decided to pole vault, and he beat it. Then it was my turn to beat that."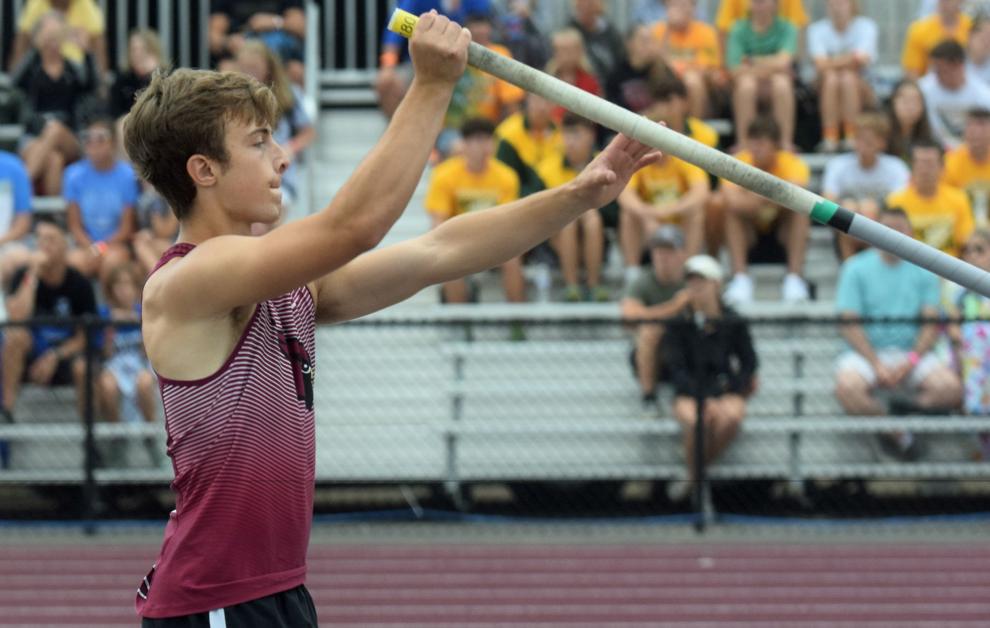 Borkenhagen not only broke the previous record of 13-6 shared by a trio of fellow Cardinals, he shattered it by nine inches.
And he did it in style, too.
Entering seeded 14th, Borkenhagen made quick work of the opening four heights, starting at 12 feet, clearing each on the very first attempt as one of only seven to break 13-6. Borkenhagen said the poor seed — he entered at 12 feet — "was definitely a factor," in pushing him to succeed, while the clean start was also imperative to his long-term success.
"It was massive for me because I've had some previous complications in meets where I hit the standards on the way up, and then I have to adjust that for the next attempt," he said. "So having it so the standards are right, was great to have in my mindset."
He ran into a bit of a hiccup at 14 feet as he missed on his first two attempts before clearing it on his third attempt as one of only five competitors. He then cleared 14-3 on his very first attempt, but couldn't keep going, bowing out on all three of his attempts at 14-6.
The bronze medal punctuates a massive turnaround for Borkenhagen, who admitted he failed to clear any height in his first three meets of the season, but ended the regular season with a personal record of 9-6.
That, along with the previous top marks in the Cardinals record books, are long gone now.
"I wanted to get my name up there to make sure it stayed in the Borkenhagen family, so PRing today at 14-3 and vaulting well was awesome," he said.
Others from area in action
Columbus and Mayville had a few others in La Crosse today, as did Waupun.
The best finisher among those others was Columbus senior Austin Rennhack, who took 12th in the boys discus with a throw of 136 feet.
Also for Columbus, the girls 4x400 relay team of sophomores Jaiden Dornaus, Grace Kahl and Maya Pearcy and junior Aurora Pennington took 14th in 4:15.64 and the 4x800 relay of Dornaus, junior Emma Miller, Pearcy and Pennington also came in 14th in 10:18.05.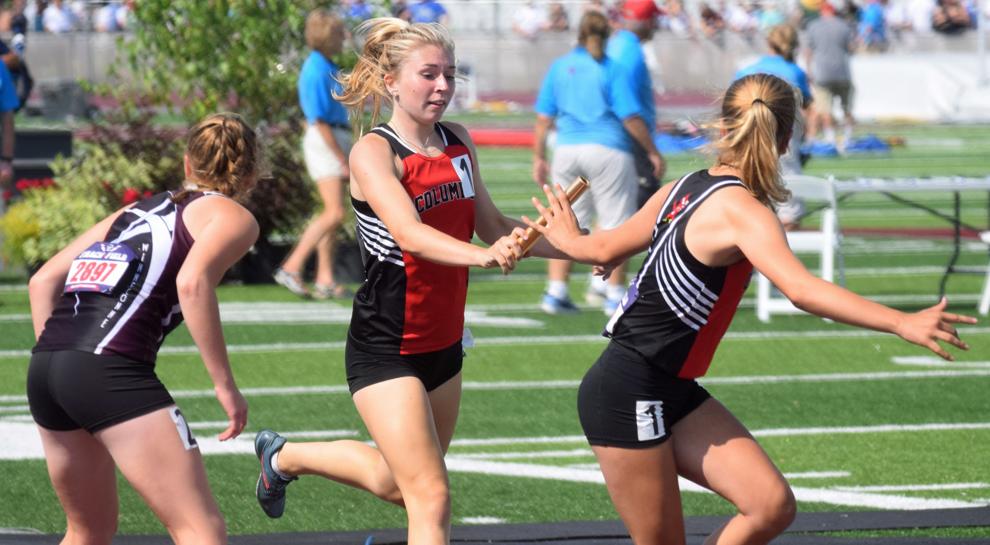 For Waupun, senior Alexa Kuhn was 14th in the girls discus (108-5) while senior Kellen Hacht was 15th in the prelims of the 110 high hurdles (16.72 seconds), missing out on the finals, and also came in 17th in the 300 intermediate hurdles (:44.56).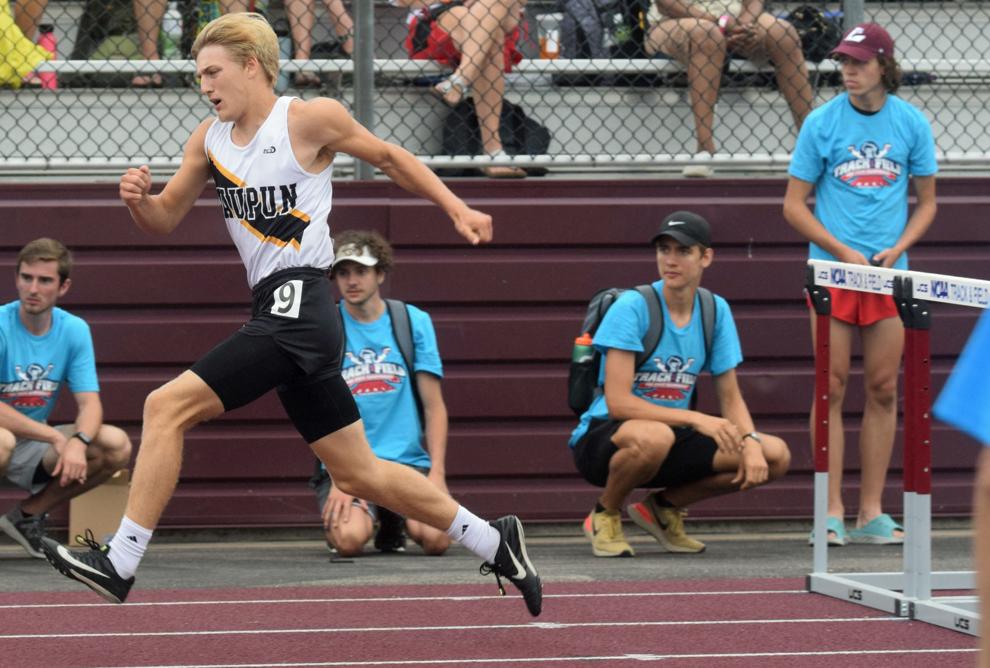 Mayville sophomore Edyn Marx was 15th in the girls pole vault (9-6) while senior Emily Schellpfeffer was 15th in the shot put (34-5¾) and sophomore Bradley Bushke was 17th in the prelims of the boys 110 hurdles (:17.28).
Follow Sean Davis on Twitter @SDavis_PDR or contact him at 608-745-3512.