COLUMBUS — Thursday was Senior Night for the Columbus prep girls volleyball team, and so prior to the Cardinals' match against Cambridge, each of the seniors was given a bouquet of roses — which they each smelled for good luck.
The outcome was also flowery.
The Cardinals ended the first set by scoring 13 of the final 14 points and it was nothing but bliss the rest of the way, with Columbus winning 25-11, 25-15, 25-9 to put a bow on top of the night's festivities.
Winning was one thing, but the manner in which Columbus won was what stood out most to coach Aileen Heller.
"My biggest takeaway," she said, "would be how the seniors led the team tonight and how they were able to pass and dig the ball, and then do their work at the net and lead us in kills."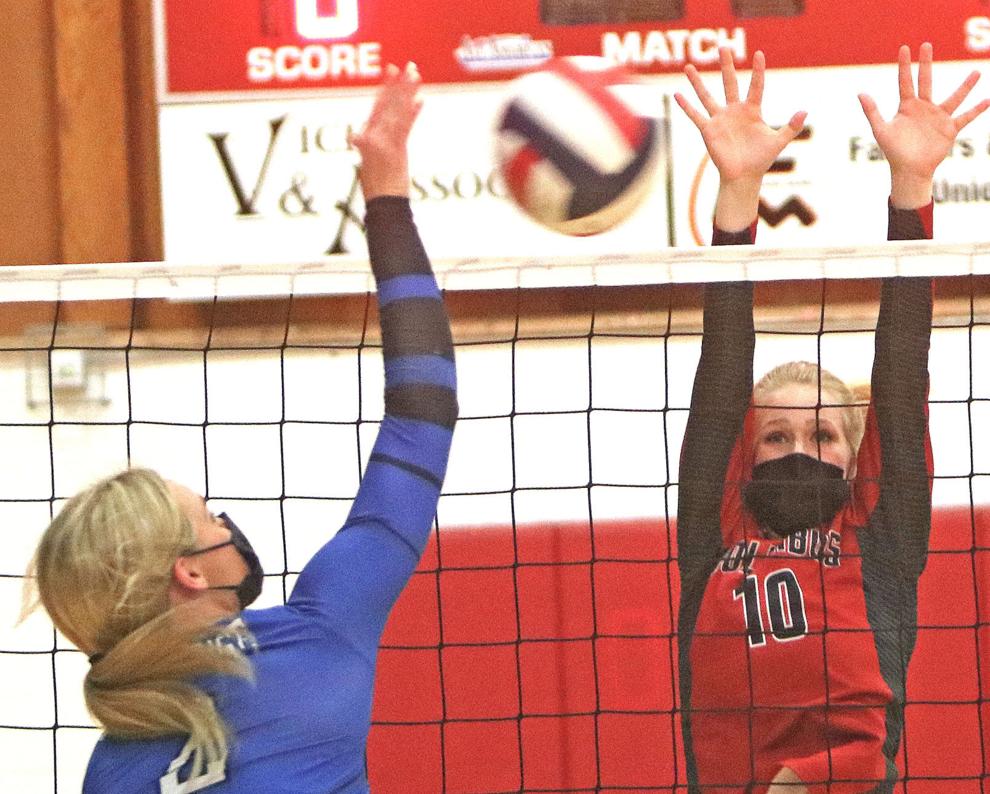 The seniors did, indeed, drive the bus, with Molly Kahl and Jordan Link joining junior Lauren Henry to lead in kills with five apiece, Mckenzye Bruss adding four assists and a team-high 13 digs, and Peyton Priem pacing the way in blocks with four.
Senior Micaela Zittel also was part of the group honored on Thursday night. And though she didn't lead in any stat category, senior defensive specialist Hannah Fox had a big hand in starting the party.
Ahead 6-5 in the first set, Fox's ace gave the Cardinals a 7-5 lead — the first two-point lead for either side as they had taken turns trading points up until then — that helped spark a 6-1 run to make it 11-6. She also capped off that run by sandwiching an ace between two kills for the last three points.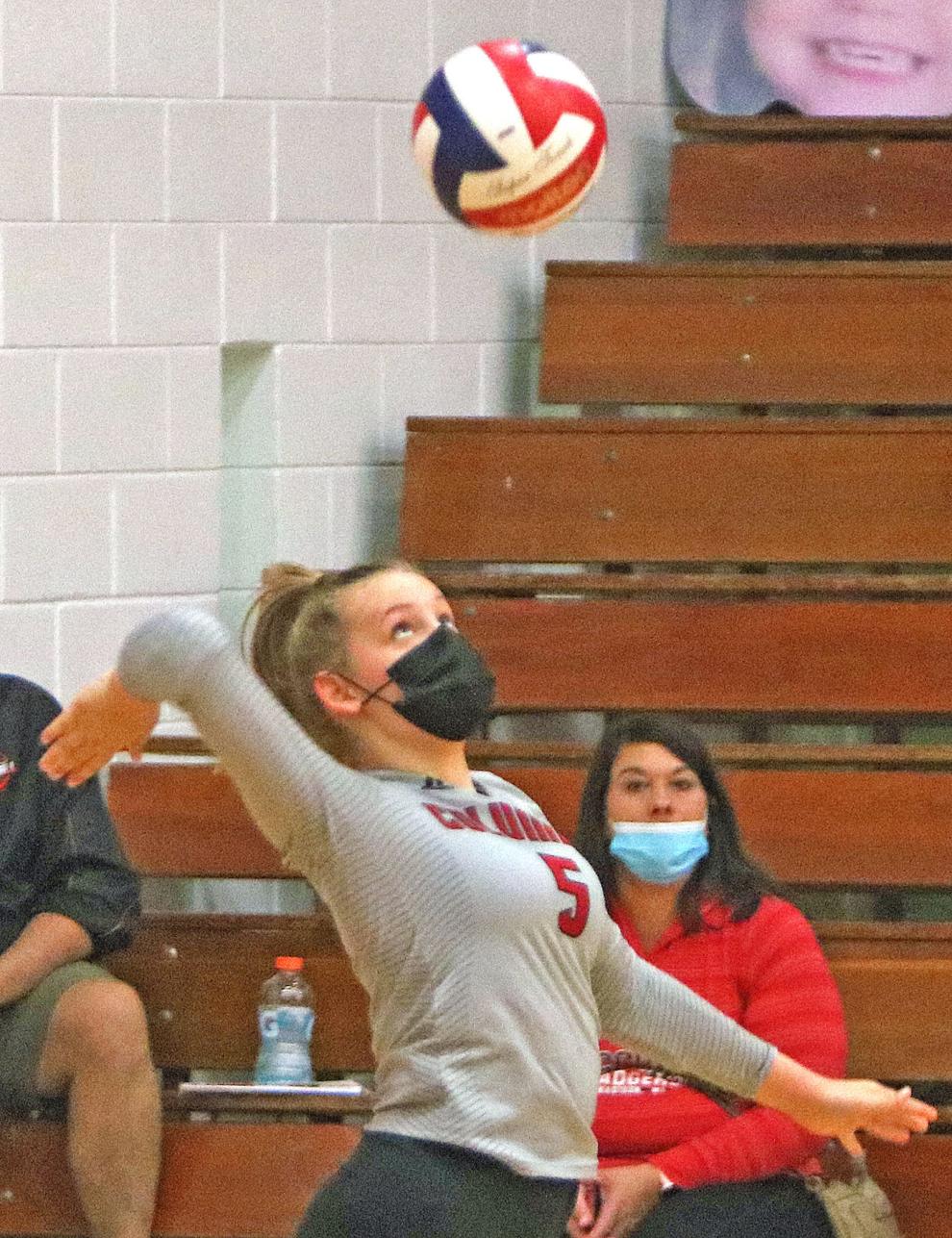 And it was a run that foreshadowed how the set would end, as the Cardinals finished on a 13-1 run — punctuated by Priem's kill — for the one-set-to-none advantage.
"It definitely built up their confidence," Heller said of the hot start. "And when we pull away like that, we can usually keep our momentum — so it's always nice when they do that."
The second set was close early, with the score tied at 4 before Columbus went on a 9-0 run — which included a kill by Priem and an ace by Mikenna Boettcher, who led in that department with three — to go in front 13-4.
Cambridge played the Cardinals to a virtual draw the rest of the set, but that wasn't nearly enough to make things interesting at any point and Link's kill made it 24-14 before Columbus took the set on a hitting error by the Blue Jays.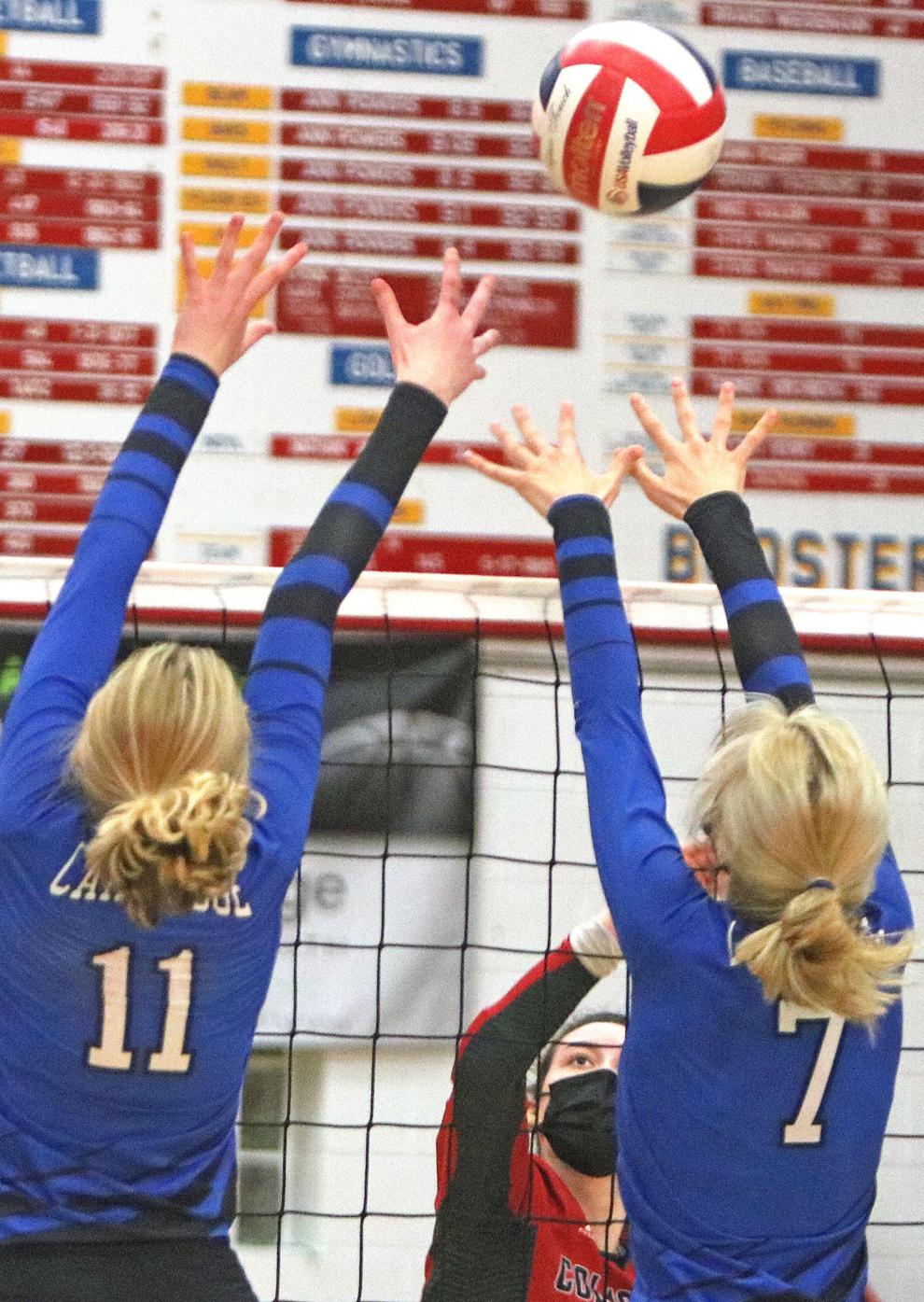 In the third set, it was Henry who helped Columbus pull away as she got back-to-back blocks to make it 10-3. Link then followed with a kill to make it and two points later Kenzie Selk's kill made it 12-4.
The rout was on from there as Columbus easily took care of business to finish off the sweep.
"We served aggressively so we got them out of system a lot. That's huge," Heller said of the key, strategically, to the victory — singling out sophomores Boettcher (14 serves without an error) and Alise Hayes (18 with no errors) as being particularly key in the Cardinals' effectiveness at the service line.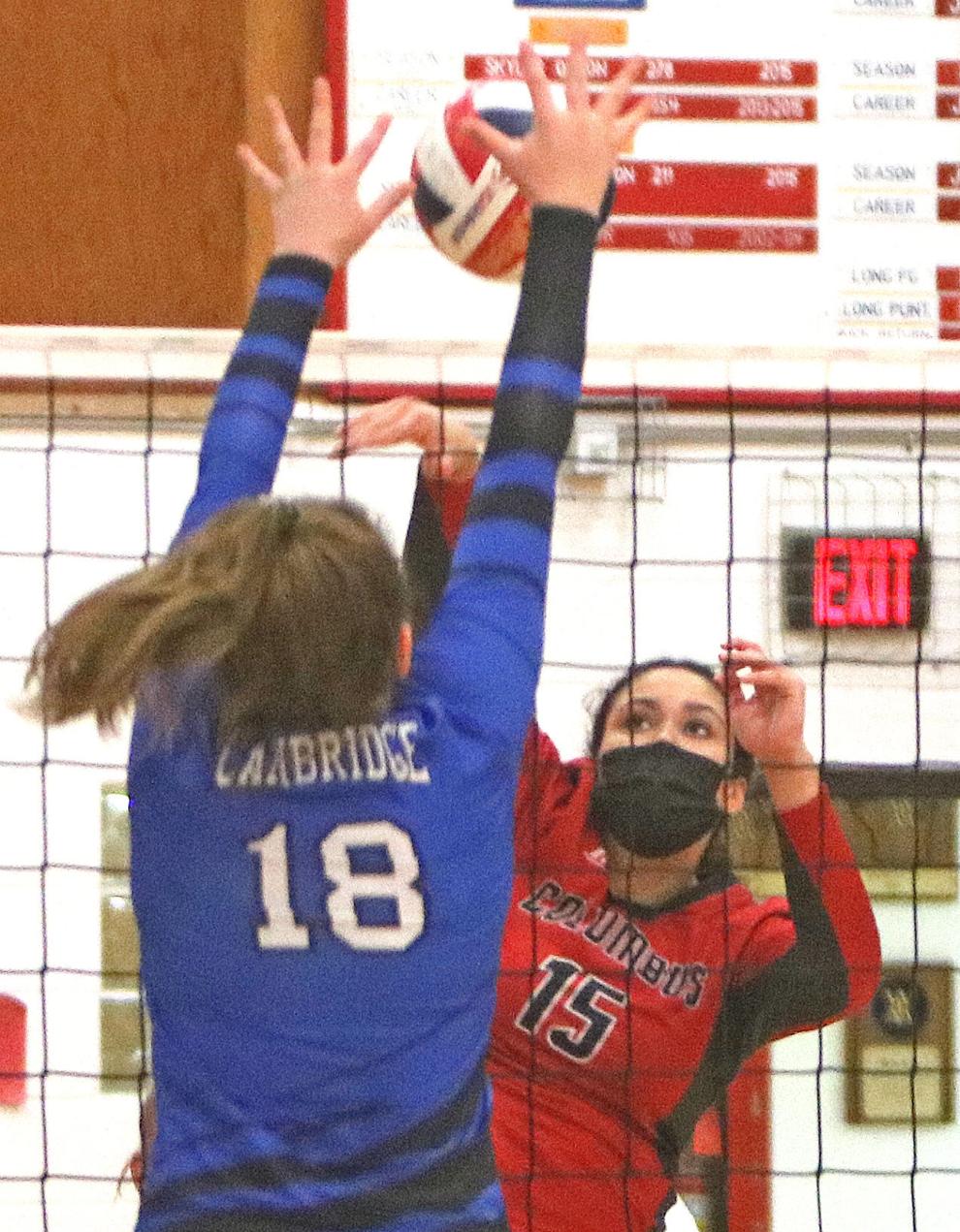 All in all, there was pretty much nothing for anyone on the Cardinals' side to complain about.
"Yeah," Heller said, "we played hard. And we played our game, which was nice to see.
"I don't know what else to say — they played really well. The seniors stepped up tonight."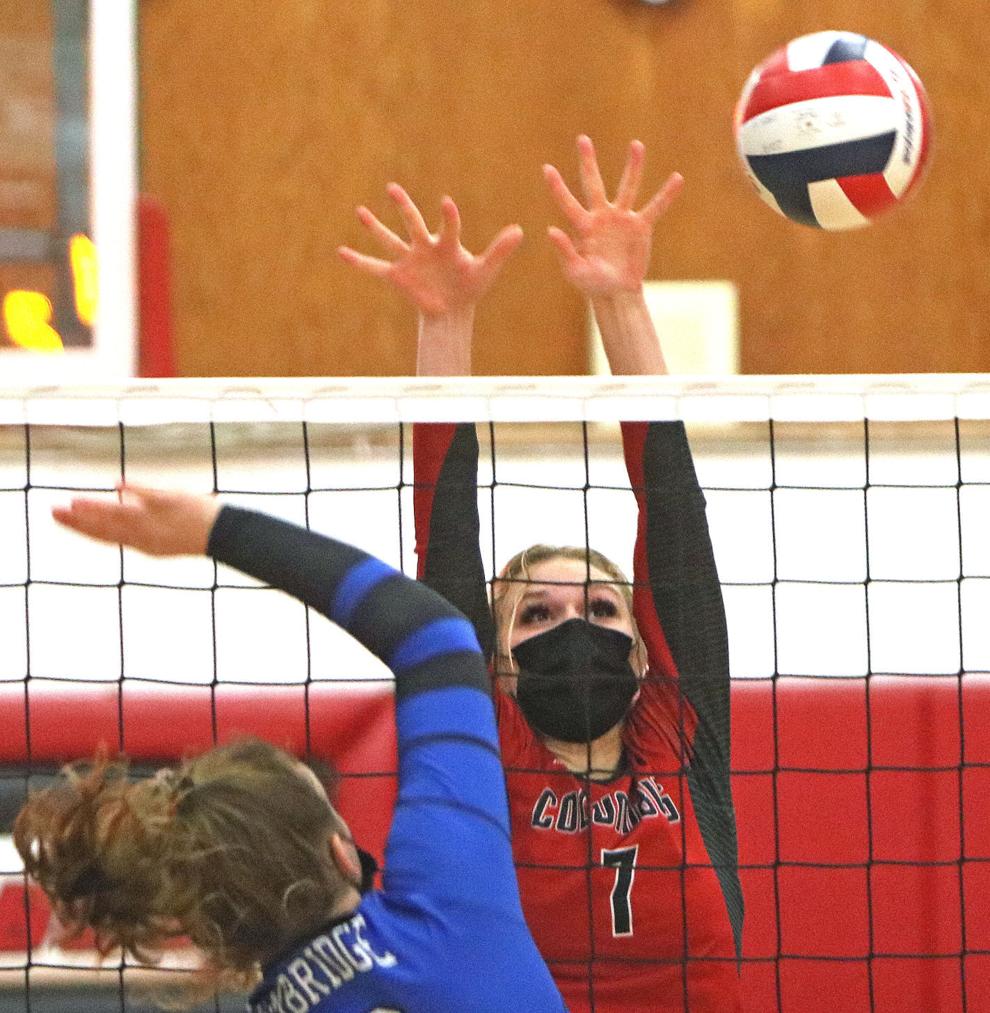 COLUMBUS 3, CAMBRIDGE 0</&hspag3>
Cambridge leaders: Kills — Saveea Freeland 4, Mayah Holzhueter 4. Assists — Taylor Stenklyft 13. Aces — Kayla Roidt 1, Saveea Freeland 1, Sage Evans 1. Blocks — None. Digs — Saveea Freeland 5.
Columbus leaders: Kills — Jordan Link 5, Lauren Henry 5, Molly Kahl 5. Assists — Mikenna Boettcher 9, Mckenzye Bruss 4. Aces — Mikenna Boettcher 3. Blocks — Peyton Priem 4. Digs — Mckenzye Bruss 13, Hannah Fox 8.
Follow Dan on Twitter @Danny_Larson_8 or contact him at 920-356-6753.