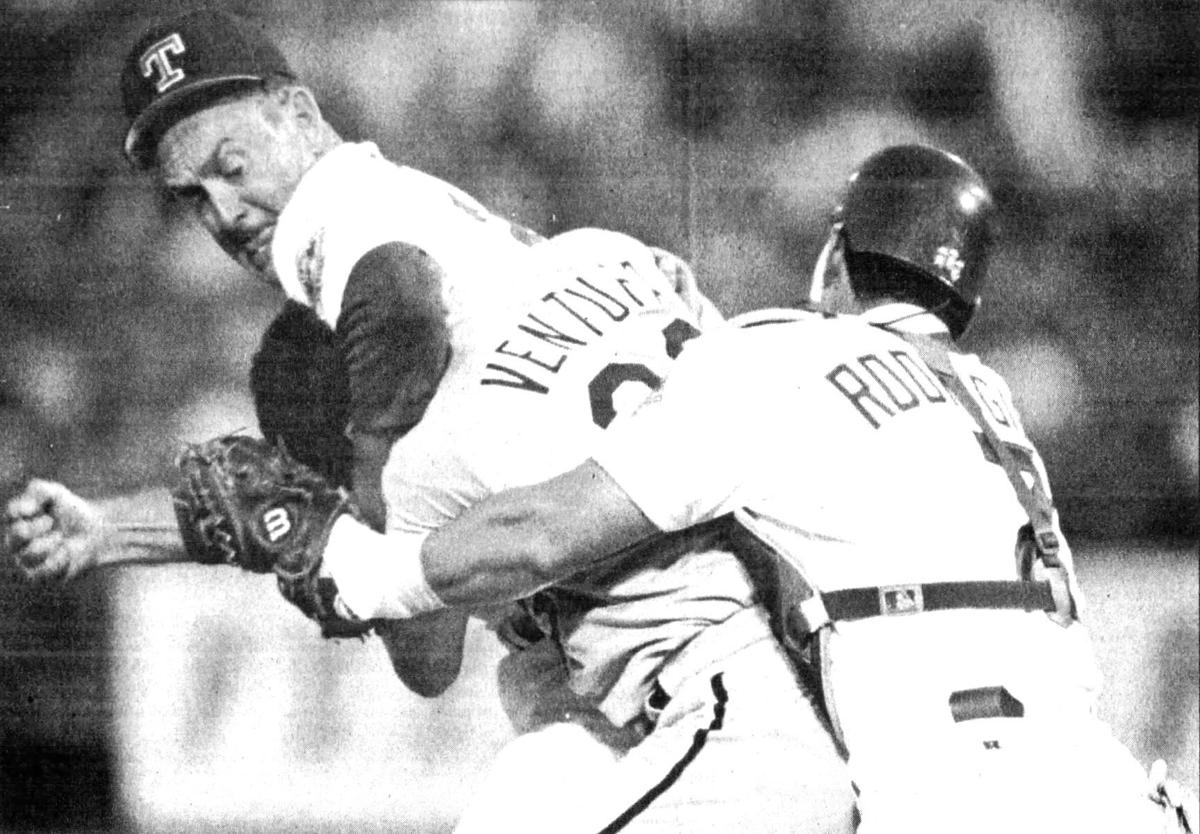 TODAY'S HIGHLIGHT
On this date in 1993, Texas Rangers pither Nolan Ryan, at age 46, exchanged blows with 25-year-old Chicago White Sox third baseman Robin Ventura after Ventura charged the mound when he was hit by a Ryan fastball.
2008
The Green Bay Packers lost their tampering case against the rival Minnesota Vikings as NFL commissioner Roger Goodell cleared the Vikings of wrongdoing in their communications with then-retired quarterback Brett Favre. The ruling came just one day after Favre returned to Green Bay to inform the Packers of his intent to play that season.
2003
The Green Bay Packers lost 9-0 to the Kansas City Chiefs in the NFL Hall of Fame Game in Canton, Ohio. The game ended with 5 minutes, 49 seconds left in the third quarter when commissioner Paul Tagliabue called the game due to lightning and torrential rain. One of the few highlights of the game for the Packers came from rookie defensive linemen Kenny Peterson, who made his first big play as a pro and did it on his high school field. Peterson, who led Canton McKinley to a state championship as a high school senior, recovered a fumble by backup quarterback Todd Collins.
1992
Rock River Hills in Horicon continued playing host to the Wisconsin State Golf Association State Junior Tournament with second round play. Scott Chitko from Beaver Dam was in 25th place after 36 holes.
1990
Paul Laue was 1-for-3 with two runs scored and three RBIs and Noah Schmidt was 2-for-5 with a run and two RBIs but it wasn't enough as the Beaver Dam American Legion Post 146 varsity baseball team suffered a 10-9, extra-inning loss to Kimberly at the Wisconsin Class AA state tournament in Sparta. A five-run fifth for Beaver Dam eliminated an 8-3 deficit and tied the game and then in the top of the ninth current Beaver Dam coach Nate Wilke gave Post 146 a 9-8 lead by driving in Paul Scharfenberg with a squeeze bunt, but Kimberly rallied to win in the bottom half.
1987
Paul Molitor homered to lead off the bottom of the first inning for the first of his three hits, extending his hitting streak to 18 games in a 9-8 victory over the Baltimore Orioles in 12 innings at County Stadium in Milwaukee. His hitting streak would eventually reach 39 games, the seventh-longest in baseball history.
Be the first to know
Get local news delivered to your inbox!