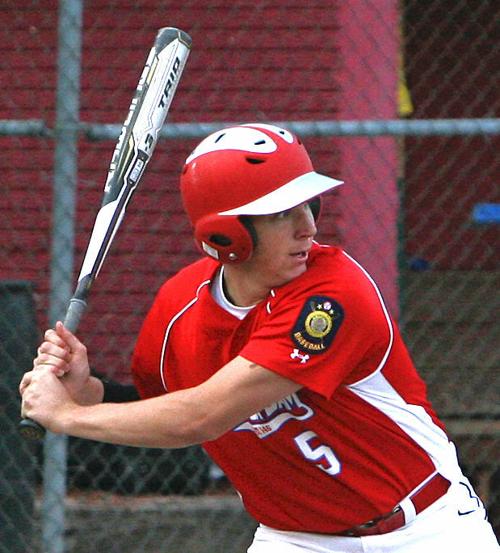 TODAY'S HIGHLIGHT
On this date in 2004, an error allowed the Mayville American Legion Baseball team to tie Horicon at 5 in the sixth inning, and eventually send the game into extra innings. However, Horicon only needed one extra inning to score nine runs off of six hits and three walks to win 14-5. Cory Tjader went 4-for-5 with a triple and four RBIs for Horicon, while Bill Niemuth went 3-for-5 with five RBIs. Niemuth pitched 2 2/3 innings with three strikeouts and two walks, while giving up two hits and no runs.
2018
Former Cleveland Cavalier star LeBron James jumps ship to the Los Angeles Lakers, signing a four-year $154 million deal.
2015
Nick Klavekoske had two triples and Logan Meier had a pair of doubles to lead the Beaver Dam Post 146 American Legion Baseball team past Mayville 14-3 in five innings. Klavekoske had a two-run triple to give Beaver Dam a 7-1 lead after two innings. Klavekoske went 2-for-2 with two RBIs while Meier went 3-for-4 with three RBIs. Beaver Dam's Jake Anderson also went 3-for-3 with three RBIs. Beaver Dam's Kyle Jarogoskie pitched all five innings, striking out seven with a couple of walks. Jarogoskie gave up three runs (two earned) off of five hits. Mayville committed four errors. … The Waupun Post 210 Legion Baseball team beat Hartford by forfeit after a batter got hit in the hand to lead off the sixth inning, and was unable to continue. The official score was 7-0. Hartford didn't have anyone else to sub in, so the team had to forfeit. At the time of the incident, the game was tied at 11. Both Drew Behling and Ryan Schmitt went 3-for-4 with a triple, while Brady Beekman went 3-for-3 at the plate. Waupun trailed 10-6 after three innings, but rallied in the fourth, getting four runs to cross home plate.
2014
The Milwaukee Bucks traded a 2015 and 2019 second round pick to the Brooklyn Nets in exchange for head coach Jason Kidd. The Bucks then fired current coach Larry Drew later in the day. Kidd spent one season with the Nets, leading the team he had once played for to a 44-38 regular season record. Kidd coached the Bucks until he was fired in 2018. He led the Bucks to a 139-152 overall record and playoff appearances in the 2014-15 and 2016-2017 seasons.
2004
Ben Sheets struck out eight batters in seven-plus innings, and had an RBI-blooper in the fifth inning to help the Milwaukee Brewers beat the Colorado Rockies 5-4. The hit ended an 0-for-41 slump and was his first hit in almost a year. It was the fourth-straight victory for the Brewers. In the same game, Colorado's Larry Walker had his 2,000th career hit.
2003
The Beaver Dam Post 146 American Legion Baseball team pounded out 15 hits to help pitcher Matt Hatzinger – who only gave up two hits – beat Berlin 13-2 in five innings. Hatzinger gave up his first hit of the game in the fifth inning when Berlin's Brant Bednarek hit a two-run homer to cut the deficit to 13-2. Broc Wuesthoff, Travis Schmitt, Mike Ackley and Dusty Otto each had two hits. Mike Kuhn had a homer and three RBIs for Beaver Dam.
2001
The Beaver Dam American Legion Post 146 Baseball team defeated Berlin 4-3 without two of its best players. Eric Baldwin, was unavailable because he attended the prep all-star game, and Abe White had a school commitment to attend to. After both teams ended the first inning tied at 2, Beaver Dam tacked on two more in the fourth to take a 4-3 lead. Berlin scored once in the top of the frame. Beaver Dam pitcher Avery Schroeder relieved Ryan Byrnes with one out in the fourth because of a blood blister. Schroeder pitched 3 2/3 innings, giving up just one hit to get the win. Schroeder struck out two batters.
1995
The Beaver Dam American Legion Baseball team smacked six doubles, had 12 hits overall and had a nine-run third inning, on its way to beating Mayville, 17-2. Beaver Dam's Rollie Rivera pitched three innings, allowing one earned run on two hits, and struck out six.
1992
After giving up a run in the top of the first inning, the Beaver Dam Post 146 American Legion Baseball team tied the game in the bottom of the inning, and added three more runs in the second, and two more in the sixth to beat Horicon 6-1. Beaver Dam out-hit Horicon 9-3. Beaver Dam's Mike Bork went 2-for-2 with an RBI.