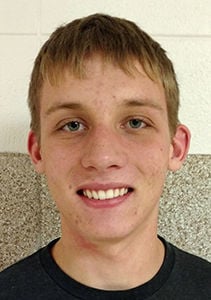 HORICON – Hunter Mann is a genuinely humbled, quiet kid on the Horicon wrestling team.
Over the last few years, he spent a lot of time on the JV team, but with hard work over the offseason and a wrestler above him graduating last season, Mann finally got his chance to shine on the varsity team.
"I did so much offseason training that I knew no one was going to be able to compete with me for my spot," Mann said about his spot in the 152-weight class.
His head coach Lucas Kern is taking notice of the senior, saying he's "made huge strides in his wrestling ability and has earned a full time varsity spot and we believe will compete for a conference championship as well as have a chance at state."
You have free articles remaining.
But more importantly Kern has been impressed with Mann's dedication that he has shown to be quite the leader for the Marshmen and that's why we've chosen him as our Athlete of the Week.
"His dedication over the years is admirable and he has never given up" Kern said. "Outside of the season he has been one of our most dedicated taking private lessons and attending summer camps. Athletes like Hunter are helping our program take a huge step forward."
And this year, Mann prides himself of being a lead-by-example type of leader – always doing the right things and making sure if his teammates are down that he's the first one there to pick them up and help them if they need it.
"I work the proper way and the team sees me as an upperclassman is doing that, and realize it's not cool to bring people down," Mann said. "(They see me) going into practice trying to get better and not hating it."
But Mann isn't just a leader on the mat for his team, he's also an honor roll student, which Kern said he believes he's been on the honor each semester he's been in high school.
"My parents always push me to get good grades and I just kept working at it, and if you don't get good grades colleges won't accept you," Mann said, as he stated that after high school, he plans on enlisting in the U.S. Navy.