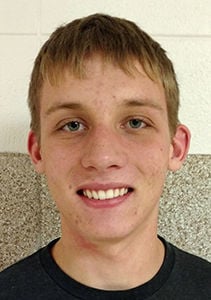 Sports/Activities participating in? Wrestling.
Most memorable sports moment? Winning a big match.
Game day superstition? Don't eat or drink until weigh in.
Favorite sport? Wrestling.
Favorite sports team? Green Bay Packers.
Favorite athlete? Green Bay Packers player Jordy Nelson.
Favorite movie? "Super Troopers."
Favorite book? I don't read in my free time.
Favorite food? Venison or duck.
You have free articles remaining.
Favorite restaurant? Taco Bell.
Dream vacation? I would take a hunting trip in Africa.
What are your expectations for the season? I want to place at state, which is at the Kohl Center in Madison.
If you had $1 million to spend in one day, what would you do with it? Spend it.
What are three words that describe you? Hard worker, smart, work ethic.
If you could meet anyone in the world, who would it be? Donald Trump.
Post high school plans? U.S. Navy.
Career goal(s)? Electrician.
My role model(s) is/are? Dad.
What songs do you listen to before a game? Depends on what I'm feeling.
Pre-game meal? Nothing I'm usually cutting weight
Routine on game day? Try to take first (in all matches I have).