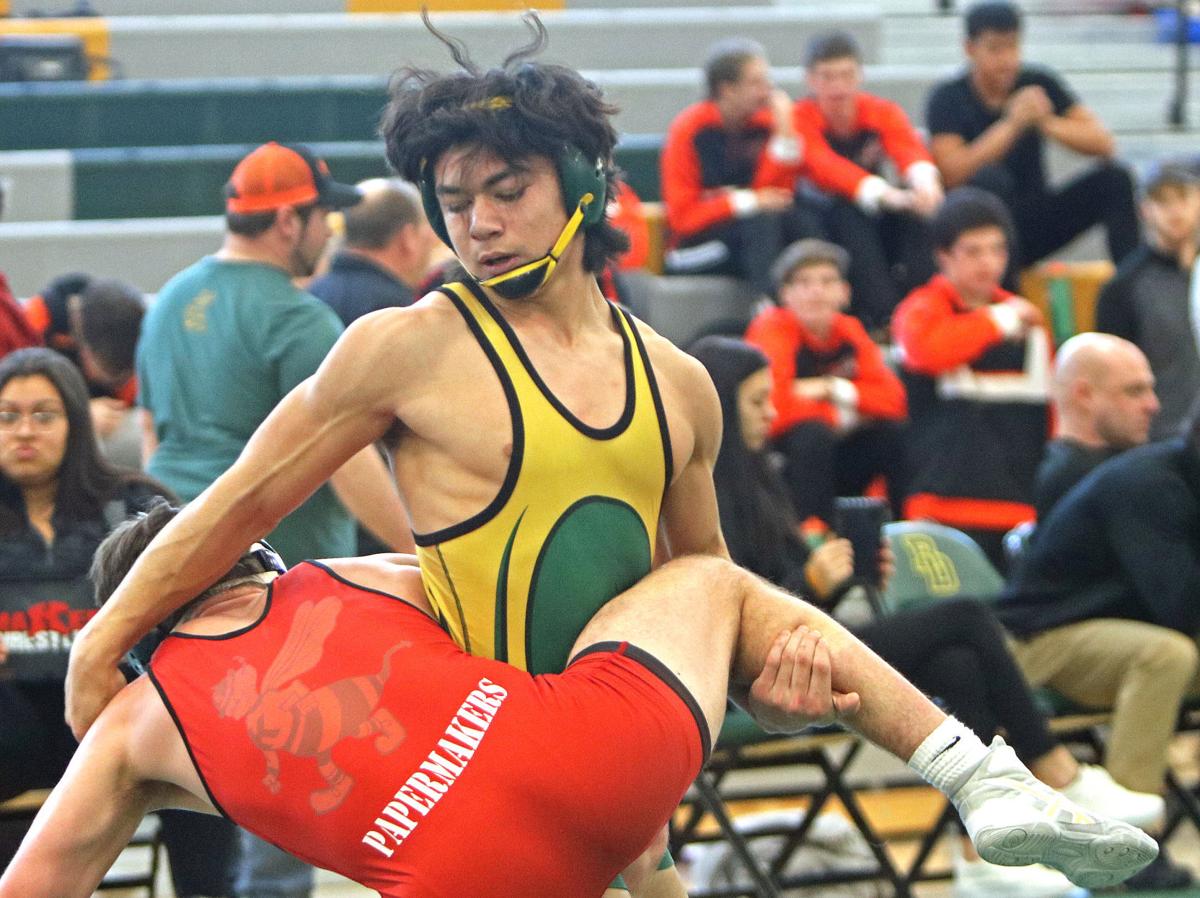 Highly successful underclassmen at upperweights are few and far between in high school wrestling.
Gabe Klatt is hoping to become one of them.
"I'm trying," the Beaver Dam sophomore said, "to win state this year."
He has every reason to believe he can, too.
Klatt is currently ranked second in Division 1 at 195, one of just three underclassmen in the Top 12 — all sophomores. He is not, however, the highest-ranked of the underclassmen as West Bend West's Cole Mirasola owns the No. 1 spot.
So how is that Klatt has gone from a freshman at 160 in the pandemic-altered 2020-21 season, one in which he failed to advance to state (competing at 170 for the postseason) and was never ranked higher than 12th to among the elites now in 2021-22?
"Definitely my speed — my speed has increased a lot from last year to this year," he said. "And my mentality, too. I'm having a lot more fun this year than I was last year. It's something I want to do.
"Last year I was kind of just doing it because I've done it my whole life, but this year I actually have a want to do it."
That added passion and determination has paid off in a big way. Klatt is 30-1 on the year, his only loss coming in the first match of the season against Milton's Kade Desormeau, currently ranked fifth at 182.
Since then, Klatt has added some feathers to his cap, beating Waunakee senior Kaden Hooker (currently eighth at 195 and a recent UW-Parkside commit) by major decision (14-6) and Oshkosh West senior Roman Martell (fifth) by decision (7-2).
That win over Martell was particularly impressive, according to Beaver Dam coach Tim Winker.
"Your average fan might not look at that and say he beat the crap out of him," Winker said. "But Martell didn't score an offensive point (both points were escapes) and Gabe got three takedowns."
And while Winker agrees that Klatt has gotten faster — "That strive every single day to push himself and try to reach that next level as an athlete is what really has set him up for this year," the coach said — it's becoming a complete wrestler that has made a bigger difference on the mat.
"He's really improved his riding, being able to control every opponent," Winker said. "He's always been very good at takedowns, being able to pretty much take anybody down that he wrestled last year, and nobody's ever really been able to ride him.
"He doesn't have to cut them and go back on his feet to try and take them down again — he feels more confident being able to control them and wear them down from the top position. He's just wearing down his opponents by wrestling on top."
He's also turning those opponents and getting plenty of pins — 22 so far. That puts him in the running to break the single-season program mark of 33 held by 2017 graduate Wyatt Wells, who took third at 220 as a senior.
Klatt is currently in a neck-and-neck race to chase down Wells, however, as senior teammate Kyler Neuberger (ranked eighth at 138) has 23 at the moment. Both will try and add to their marks when Portage and Watertown visit Friday for a triple-dual (although Portage and Watertown won't compete against each other).
Winker said that because of the way COVID-19 impacted the 2020-21 season — eliminating invites until the postseason, which greatly reduced the number of matches wrestlers got to compete in compared with a normal year — the Beaver Dam coaching staff didn't know Klatt's true potential until the end of the season.
He's picked up right where he left off, making his mark as someone to watch over the next month and a half as the stakes ramp up.
As an underclassmen, no less.
Three of the top four in the rankings at 195 are sophomores — Appleton North's Brock Arndt is fourth — and the No. 1 spots at 170 (Milton's Aeoden Sinclair) and 182 (West Bend West's Connor Mirasola) are also currently occupied by sophomores.
But from 160 up to heavyweight, of the 96 wrestlers either in the top-12 or in one of the four honorable mention spots at each weight, only 11 are underclassmen — all sophomores.
That puts into context how quickly Klatt has arrived on the scene and how rare that is for someone at his age to do as an upperweight.
"I take it as more of a challenge," he said. "When I wrestle those good kids — those older kids — seeing how I do against them and then seeing what I can do better, it helps me a lot."
"Gabe can wrestle with anybody in the state, regardless of who their name is or where they're from," added Winker. "Whether or not that can actually happen when you get to the state tournament, I don't know.
"But I'll put him against anyone in the state."
Follow Dan on Twitter @Danny_Larson_8 or contact him at 920-356-6753.