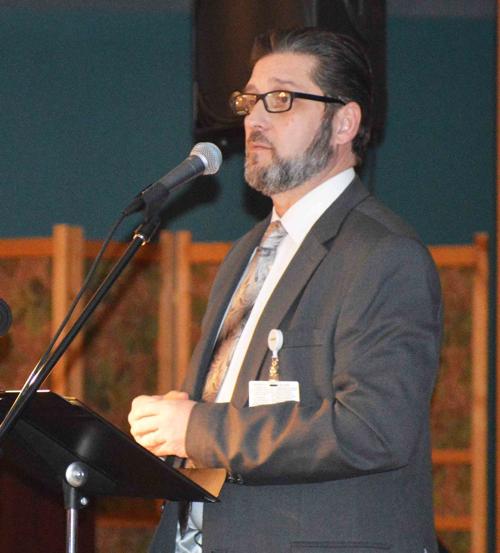 Hospital expanding after successful 2018
Columbus Community Hospital and Prairie Ridge Health Clinic reflected upon a successful 2018 and announced exciting future plans at its annual dinner Feb. 25 at Savanna Oaks in Fall River.
President and Chief Executive Officer John Russell said the hospital is planning a building expansion project beginning this spring. The work is scheduled to be completed in 2020. Construction will include a new three-story building attached to the hospital with two floors dedicated to the clinic, while the third will feature housing for the CCH rehabilitation center.
The addition to Prairie Ridge will include additional clinic space and accommodations for four additional providers. The hospital's rehab center will be moved to the third floor of the clinic building, and according to CCH, it will provide "natural light and an energizing atmosphere to aide patients in healing and recovery."
In addition, the Park Avenue Café, the hospital's cafeteria, will also be renovated. The dining area will be expanded to allow for more natural light and will include an outside dining area. It will be open to the public throughout the day. It will also feature a lounge area, utilized by patients and clinic staff. Renovations of the hospital's ground floor are also planned, which will expand education and classroom space.
The hospital last expanded with a new surgery center in 2014-15.
"We added some clinic space that we thought would be adequate for a number of years, but we've grown beyond that already," Russell said. "We have literally filled every space in that clinic."
You have free articles remaining.
CCH has three Prairie Ridge Health Clinics in Columbus, Beaver Dam and Marshall. Russell said the clinics opened in 2014 and have grown exponentially in the last five years, attracting 13 health care providers.
Also at the dinner, Chief Financial Officer Jimmy Fish provided an update on the hospital's finances. Fish said CCH continues to be a vibrant and growing organization.
"Our increase in assets in 2018 increased almost 20 percent or $681,000," Fish said. "With that growth, it's allowed us to provide community benefits costing more than $1.9 million. That amount impacted more than 12,180 lives in our communities."
Fish said the hospital's and clinic's economic impact last year topped $87 million. The two organizations created 670 jobs in 2018, accounting for almost $28 million in salary.
"We appreciate the trust you place in us to be good stewards of the financial strengths and resources you provide," Fish said. "We thank you for contributing for the financial success of Columbus Community Hospital and Prairie Ridge Health and thank you for the opportunity to serve."
Dorothy Priske also provided an update on the CCH Foundation. Priske said 2018 was another record-breaking year. She said the organization's connection with the Columbus community has grown significantly the past seven years.
"This year our focus was on raising funds for new 3D mammography equipment," Priske said. "Together, more than $117,000 was raised for this equipment through a variety of events and personal donations."
The foundation also accepted two bequests from local families with the help of former member Al Strohschein. Strohschein retired from the foundation in November after serving for six years.
Monday's event featured a packed house with special guests, including State Representative Jon Plumer (R-Lodi).
Follow Kevin Damask on Twitter @kdamask or contact him at 608-963-7323.
Follow Kevin Damask on Twitter @kdamask or contact him at 608-963-7323.