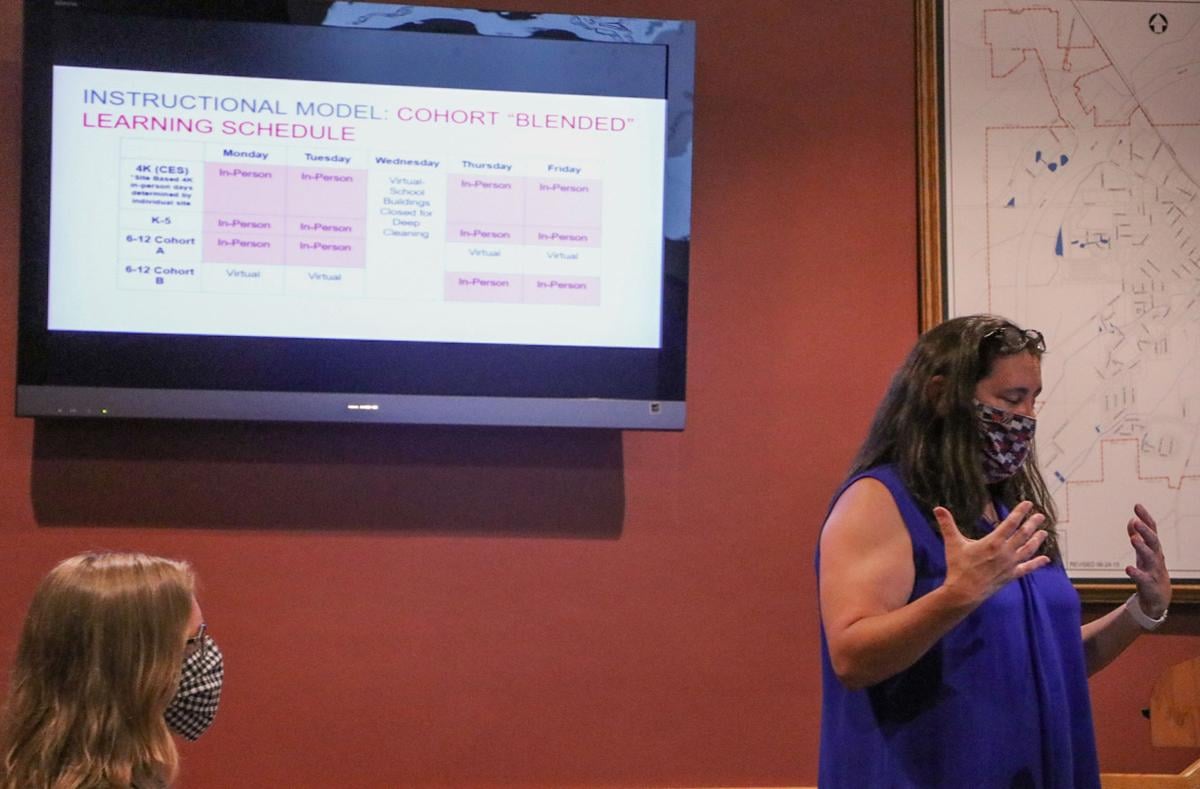 The Columbus School District's plan for reopening its buildings in the fall looks to prioritize safety while maintaining flexibility.
Superintendent Annette Deuman and district administration presented a draft of the reopening plan to the school board in a meeting July 13.
The plan outlines three different instructional models the district can use and seamlessly transition between during the school year, depending on the circumstances.
The first model calls for fully in-person classroom learning that will follow the regular district calendar, while also adhering to a host of safety procedures.
The district's goal is to eventually utilize the fully in-person model, Deuman said, though the safety of students and staff will always remain the district's top priority.
However, the district anticipates starting the fall semester with a "blended" instructional model, which combines in-person instruction with virtual learning. Using this model, all buildings would be closed on Wednesdays for deep clearing, during which virtual learning would take place.
Grades 6-12 would be split into two "cohort" groups, with only one cohort attending school at a time, while the other would take virtual classes — "Cohort A" would attend school on Mondays and Tuesdays and "Cohort B" would have in-person classes on Thursdays and Fridays.
The transition to a cohort model would be less drastic for the elementary school and the intermediate school, with in-person schooling set for Mondays, Tuesdays, Thursdays and Fridays.
"By nature, 4K through grade 5 are already somewhat cohort, in that you have a group of students who spend the majority of their day with a particular teacher," Curriculum and Instruction Director Becky Schmidt said. "But the group of students, more importantly, will spend the day together and move together."
The reopening plan's third instructional model focuses entirely on virtual learning and would be used in the event of a positive COVID-19 case, though the implementation of this model could be limited to the specific exposed building. Virtual learning, which would follow the regular school calendar, would also be available as an alternate schooling option for families who are not comfortable with any form of in-person learning.
Throughout the school year, the district plans to remain flexible in its use of these instructional models in order to allow a fluid response to changing circumstances. All instructional models will follow normal grading procedures, regardless of the type of learning environment.
The draft of the reopening plan also seeks to address the needs of special education students by redesigning staff schedules when necessary to accommodate Individualized Education Programs and 504 plans. The reopening plan also calls for assessments of the social and emotional health of students and staff.
"One of the things that we are really concerned about is the 'reboarding' of our students," Deuman said. "March 13 was the last time we saw many of our students."
The district will universally screen students for their social and emotional health when they return to school and, in the case of in-person schooling, will also focus on introducing the students to a "new look" school environment.
This environment will feature many physical changes, including sanitation stations, safety signage, isolation rooms and plexiglass barriers in public spaces. Furniture will be removed or reconfigured to expand social distancing space, lockers/cubbies will be used on a rotating basis and water fountains can only be accessed using water bottles or disposable cups.
The reopening plan also limits the movement and density of people within the district — "non-essential" visitors will be prohibited from entering the interior of school buildings, communal spaces will be limited to "staggered" use, school staff will coordinate student foot traffic and cafeterias will feature a max occupancy of 50 percent during lunches.
Fruit, salad and vegetable bars will not be utilized during lunches, though the district will still follow the Department of Agriculture's child nutrition guidelines, and a disinfecting of the cafeterias will precede each lunch service. In the case of a virtual instruction model, families will be able to preorder and pick up meals from each school building daily.
Finally, school buses will be disinfected following each route, with students from te same household encouraged to sit together and front seats left empty to protect the driver.
The district is looking to share a final version of the reopening plan with staff, parents and the community on July 20, which will feature any adjustments based on feedback.
Be the first to know
Get local news delivered to your inbox!