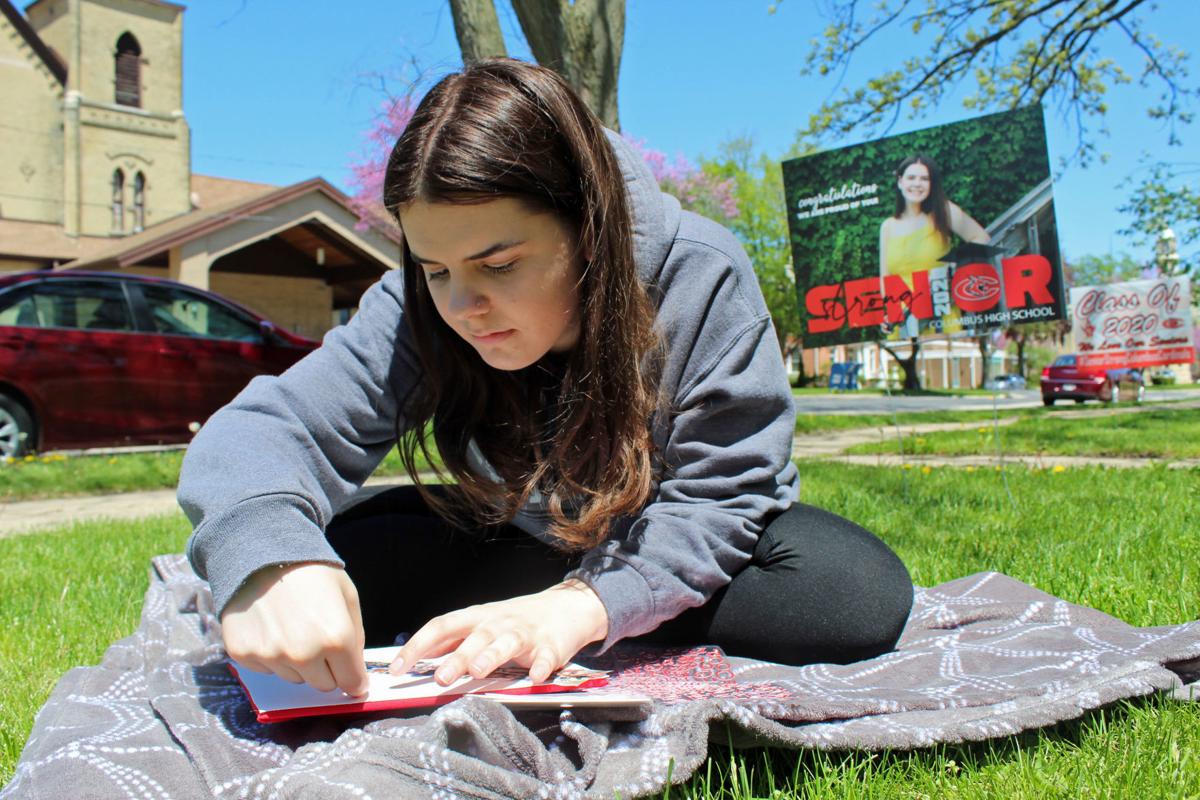 Columbus High School will commemorate graduation differently this year starting on Thursday and ending with a virtual graduation ceremony, but the traditional gym filled event will be missed.
Seniors were notified on May 12 that they will graduate virtually May 30, the scheduled day that they would have walked the stage.
"The Columbus School District is acting out of an abundance of caution to protect the safety of you and your loved ones," stated a letter that was sent out to the graduating class of 93 students May 15.
Superintendent Annette Deuman said that the virtual ceremony will be shown at the same time the students would have been beginning the ceremony on May 30 at 10 a.m. They will have a drive thru ceremony as well Thursday and Friday.
"The high school administration is doing their best to include all aspects of our graduation ceremony," Deuman said.
Of course, Columbus is not alone in trying to find a unique way to celebrate the graduation of the senior class this year while avoiding holding the traditional large gathering that they had in the past. Fall River will be deciding on what its ceremony will look like during its school board meeting on Thursday. Beaver Dam has decided to go with a traditional ceremony, but it is not scheduled to be held until June 28, about a month after the students would have graduated during a normal year.
"I am disappointed in the virtual ceremony," Columbus Senior Dylan Sanders said. "I feel that we have worked hard in our high school careers, and that we deserve a real ceremony. I wanted the opportunity to have pictures with friends and to say goodbye to all my classmates and teachers."
Columbus senior Peter Klokow agreed with Sanders.
"We've worked so hard for our whole lives pretty much up until this point and now we only get a small graduation on a screen," Klokow said. "I know these are some difficult times for all of us, but it would've been nice for maybe something to be planned further out to honor my classmates and I."
Deuman said in the letter to families that the district was disappointed as well that the traditional ceremony would not be held, but they did want to put in additional practices to make the day special.
Students will be scheduled to attend the drive thru ceremony on Thursday and Friday with eight families being scheduled during a 45 minute time frame. The families are advised to wear a mask during the drive thru ceremony.
"Only the student, wearing a graduation cap and gown, gets out of the car to pick up the diploma cover and class flower, while the principal says the name of the student on a loudspeaker, a professional photo and video is taken of the student more than 6 feet from school staff," according to the May 15 letter.
Columbus senior Brianna Emerson will be giving one of the speeches during the virtual ceremony and said that she also volunteered to help out with the senior slide show. Emerson said that her speech will feature some of the biggest things she learned each year in high school.
Emerson said mourning the loss of high school was one of the biggest factors of her senior year.
"I always loved high school," Emerson said. "I went to every school dance and graduation. When the governor closed the schools indefinitely, I bawled. I couldn't comprehend that we wouldn't go back to class."
The students wanted to do some sort of walk to commemorate their time at the school, Emerson said.
"We all lost our senior year," Emerson said. "I'm hoping we get closure, but this feels like it is never enough."
The community has done a lot to support the graduating class, Emerson said. Banners and yard signs went up congratulating the class of 2020. In addition, there is talk about a parade honoring the class and a class picture being done later in the summer.
"There are a lot of community members who are making sure we are not missing a lot," Emerson said. "I love that."
The class of 2020 will always have a bond together, Emerson said.
"We have a really strong class, and I don't think we would be that strong without the community," Emerson said.
Follow Terri Pederson on Twitter @tlp53916 or contact her at 920-356-6760.
Concerned about COVID-19?
Sign up now to get the most recent coronavirus headlines and other important local and national news sent to your email inbox daily.