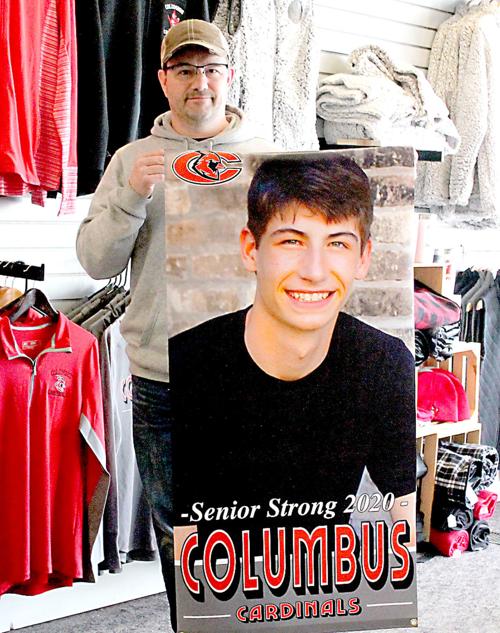 The Columbus School District has found a special way to honor seniors that won't get to move their tassels at the end of the month as planned.
Columbus High School class of 2020 will be celebrated by its community and all those passing through with personalized banners hanging from city light poles.
When schools across the state were ordered to close for the rest of the semester due to the coronavirus pandemic, Superintendent Annette Deuman, CHS Dean of Students/Activities Director Terri Schumacher and CES Dean of Students Karin Westlake quickly put on their thinking caps.
"We wanted to come up with a unique idea to pay tribute to the seniors," said Schumacher. "We're proud of them and wanted everyone to know it."
The administrators discussed the possibility of purchasing yard signs, but thought a grand display of banners up and down Highway 73 and perhaps on Farnham Street would be the best way to highlight the graduates.
After the school district received parental permission to use images of each child on a banner, Schumacher contacted Brian Anderson of Cardinal Embroidery to get the ball rolling.
"It just took off from there. The feedback I'm hearing is that people are really excited to have them going up," she said.
This coordinated effort between the Columbus School District, Cardinal Embroidery and Screen Printing, and the city of Columbus will recognize approximately 90 graduating seniors from CHS.
Anderson said producing the banners was a swift and easy process since the school had previously acquired digital photos of all the students for the yearbook.
"I'm more than happy to help out on this project, especially since I'm the parent of a senior. They really missed out on a lot this spring," he said.
Deuman said in a statement that the banners are a sign of appreciation and support for the students' culmination of 13 years of hard work and the months lost due to the COVID-19 pandemic.
"I am heartbroken for the loss each of our families must feel," she said.
The banners are expected to hang from the poles through June 30. Once removed, the district plans to give them to the seniors as a keepsake. They may be distributed at graduation or at a later date.
A committee is currently working on rescheduling the Columbus High School graduation ceremony. They are keeping an eye on the latest health news as well as the calendar before deciding how to proceed.
"High school just ended for these seniors without us saying goodbye properly," said Schumacher. "So I think it's a nice farewell from the school district to display the banners in their honor."
Follow Kelly Simon on Twitter @KSchmidSimon or contact her at 920-356-6757.
Follow Kelly Simon on Twitter @KSchmidSimon or contact her at 920-356-6757.
Concerned about COVID-19?
Sign up now to get the most recent coronavirus headlines and other important local and national news sent to your email inbox daily.