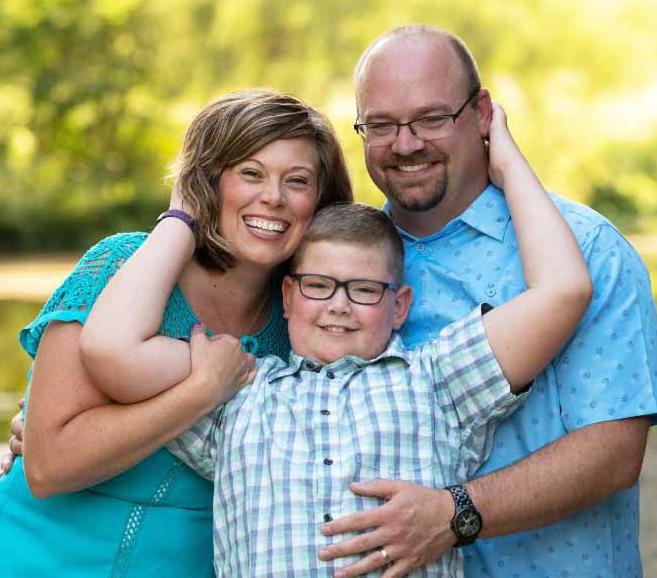 Austin Schuetz was running out of miracles.
Schuetz, from Fall River, spent most of his young life traveling to doctor appointments, staying in hospital rooms and receiving painful chemotherapy treatments. Just before turning three years old, Schuetz was diagnosed with Acute Lymphoblastic Leukemia, a high-risk form of blood cancer.
Along with the chemo treatments, Schuetz's life was filled with bone marrow biopsies and cranial radiation six days a week. It's a lot for anyone to handle, let alone a small child. Schuetz began thinking his experience was normal.
To the casual observer, Schuetz appeared as a typical, happy-go-lucky boy, but the treatments were taking a toll on his body and not working.
"For Austin, unfortunately, we never made it past treatment – he relapsed while on treatment," said Kim Schuetz, Austin's mom. "That made him even more high risk because he was getting chemotherapy and his cancer still came back. That was when we had to proceed to the bone-marrow transplant."
As a nurse, Kim knew her son's situation was dire. She believed he had about six months to live.
"It went from bad to grave and I knew that his chances of survival were going down," Kim said. "I never lost hope, but when you hear 'cancer' that's where your mind goes."
Kim was petrified, thinking about her 4-year-old son going through bone-marrow surgery.
"We thought having the bone-marrow transplant was going to be the end of our journey," Kim said. "Austin's cancer tried to be smart and hide, it was pretty persistent. Unfortunately, through surveillance monitoring, they found his cancer was going to be coming back."
In the winter of 2011, before her son's diagnosis, Kim watched a news report profiling a breakthrough in cancer treatments. Being a nurse, she was impressed, telling her husband, Jeff, "this is a game-changer." She had no idea then this daring treatment would be Austin's best hope. In the fall of 2013, the family's prayers were finally answered. Through gene-therapy treatment, Austin, 11, is celebrating six years' cancer-free.
Through help from St. Baldrick's Foundation, Austin was accepted for a clinical trial. In the treatment, his T-cells were collected in a lab and trained to attack and kill the cancer cells. It used Austin's own immune system to fight the disease.
"They always say kids are more resilient and that's definitely true," Kim said. "We'd come home from chemo or radiation and my husband and I were just exhausted and Austin was ready to go. He wanted to jump on his trampoline, play in the pool … he just kept going and we had to follow suit."
You have free articles remaining.
Last month, Austin was chosen as one of six children in the nation to serve as St. Baldrick's Ambassadors of the Year. St. Baldrick's is a non-profit organization raising awareness of childhood cancers. This year, the six ambassadors and their families will share their stories to help fund treatment programs and valuable research.
Austin's inspirational story was featured nationally on "Today with Hoda and Jenna" in September 2019. In the video, Jeff and Kim talk about embracing Superman as Austin's motivational hero. Jeff said his son became their superman. He never stopped fighting.
"He deserves the title," Jeff said. "He's a three-time cancer survivor."
Austin read a letter during the segment, saying his dream is to "find a cure for cancer and to have every kid in the world who has cancer to be cancer-free."
However, even with the gene therapy option, risks still remained. There was no guarantee he would be cured.
"The stars truly aligned for us," Kim said. "He met all the qualifications. But he was so fresh out of transplant that his immune system was pretty weak, it's like a new-born baby. Back then there was only two slots of cells that could be engineered in the nation. Just two kids (could receive the treatment at a time)."
In the fall of 2013, the family moved to Philadelphia for Austin's treatment. According to Kim, Austin was the 21st child in the world to receive the procedure. Halloween, Oct. 31, is also Kim's birthday. That year she received the best birthday present a mom could hope for.
"We were out trick-or-treating and that was the day the doctor called," Kim said. "He told us they got the bone-marrow biopsy results back after (Austin) got these killer T-cells put inside of him and it worked. His cancer is gone. There is no birthday present that will ever top that day. Nothing."
Austin deals with a few lasting effects of his treatments, but for the most part, he's enjoying life as a care-free fifth-grader. He likes video games, basketball and swimming in his pool.
Kim said the T-cell treatment has grown through the years. Last August, it received the Federal Drug Administration's approval.
"It's now available for kids everywhere," Kim said. "It's not a first-line treatment, but they're hoping it will go forward as a front-line treatment."
Columbus High School students Gretta Hanna and Taylor Raley shared Austin's story at the Feb. 3 Columbus Area Chamber of Commerce banquet. The CHS sophomores are trying to raise $52,000 for the Leukemia and Lymphoma Society through the Student of the Year Campaign. To reach Raley, call 920-484-8448 or Hanna at 920-344-8606.
"As an oncology nurse, I never expected to go through this as a mom, but there are so many children even around Fall River and Columbus going through this," Kim said.
Follow Kevin Damask on Twitter @kdamask or contact him at 608-963-7323.