John Paleno's family enjoyed a Fourth of July surprise they won't soon forget.
Paleno, an officer in the U.S. Navy, surprised several family members and friends when he returned home and marched in the Columbus Fourth of July parade last week. Video of the heartwarming reunion made a splash on social media and was shared on Facebook.
Paleno, a 2014 Columbus High School graduate, serves as a petty officer, third class, or E-4. He has been stationed in Okinawa, Japan for the past year and, prior to July 4, hadn't seen his family and friends since shipping off to the island nation.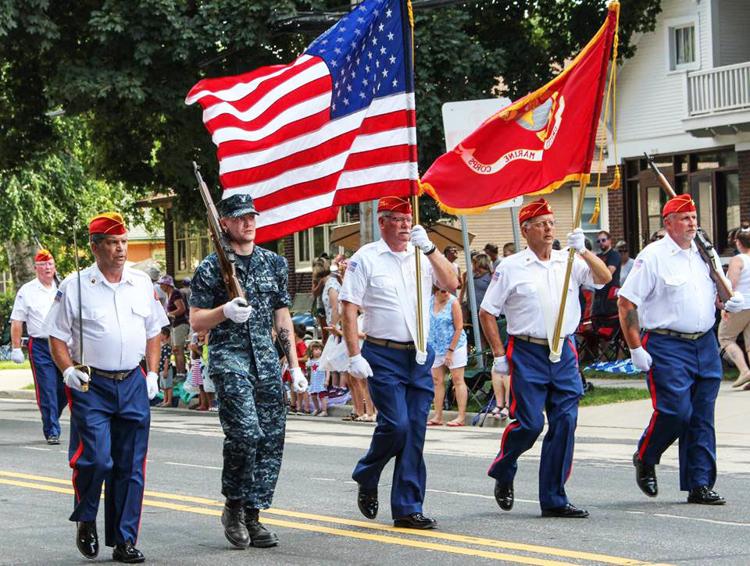 "Being out there it gets a little homesick sometimes because it's pretty far away and it's hard to talk to people (from there)," Paleno said. "I set this up a few months in advance. I was talking to my mom and making plans to come home and I thought maybe we should make it a surprise."
Paleno was planning to come home for leave in July to celebrate his mom, Melinda Oxner's, birthday. Oxner thought it would be a fun idea to join a group of retired Marines in the annual Fourth of July parade to surprise his family. Melinda and her husband, William, live in Beaver Dam.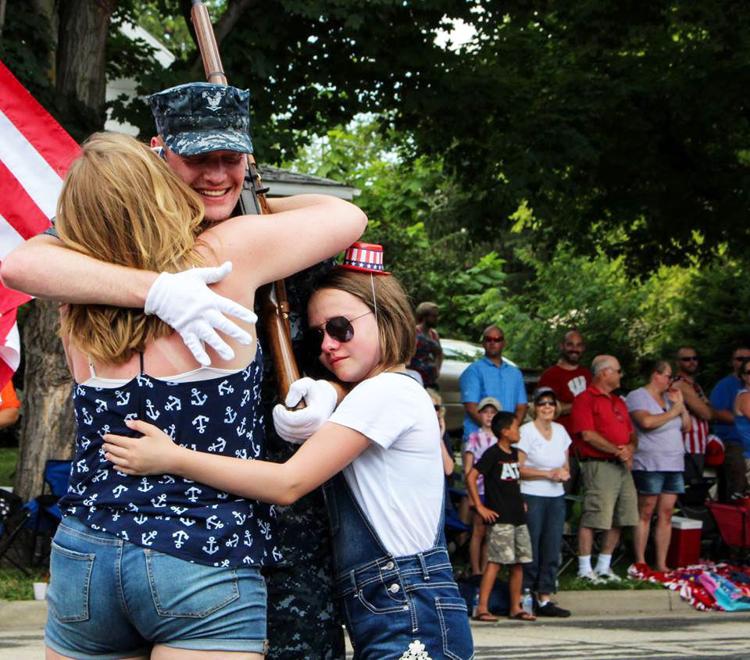 "I thought that was a great idea," Paleno said. "My friend, Kelsey Goebel, picked me up from the airport and I stayed at her parent's house that night just so my family didn't catch wind that I was home."
During the parade, Paleno tried to blend in with the retired service members, but it didn't take long for his family to recognize him. His younger sister, Jena, who is very close to John, ran over and embraced her brother whom she hasn't seen in nearly a year.
"He wanted to come home earlier because his sister has been in the hospital quite a bit this year," Melinda Oxner said. "It was a big surprise for the kids. They were very emotional and had no clue he was going to be there."
Paleno said he was very nervous and anxious as he began marching with the Marines. The veterans asked him to hold a rifle, standard procedure for Marine Corps marches, but foreign territory for a naval officer.
"I'm not going to lie, I was extremely nervous, but once it got going it wasn't bad," Paleno said.
Once Paleno saw his family it was difficult to keep his composure.
"It was pretty emotional," Paleno said. "I was crying and pretty much everyone else was too."
Earlier this week, Paleno joined his family on a vacation in California. He will be on leave until July 24 before heading back to Japan. Paleno works at a hospital in Okinawa as a corpsman, serving both the Marines and Navy. Paleno said he will remain in Japan for two more years. He isn't sure what the long-term future holds, but he would like to stay in the medical field.
"I think I would like to be a physician's assistant or doctor, but that's way ahead (in the future)," he said. "For now, I just want to stay enlisted and maybe go onto x-ray school."
Oxner said Paleno is very family-oriented so last week's surprise meant a great deal to him. Along with his parents, Paleno's two younger sisters, younger brother and grandparents were also at the parade. Paleno's sister, Jena, is autistic and recently graduated from a transitional program in Columbus.
"My oldest daughter, she was the first person to see him and I could hardly hold her back," Oxner said. "She started screaming his name and could hardly wait until he was released from formation. She was like, 'I don't care, that's my brother!'"
Oxner has family members in the Navy and was pleased when Paleno chose to serve in that branch. She's proud of her son's accomplishments and believes a bright future lies ahead.
"He's doing his dream," Oxner said. "He wants to be in the medical field and he loves helping people so it's a perfect fit for him. And the Navy is like one big family, they all take care of each other."