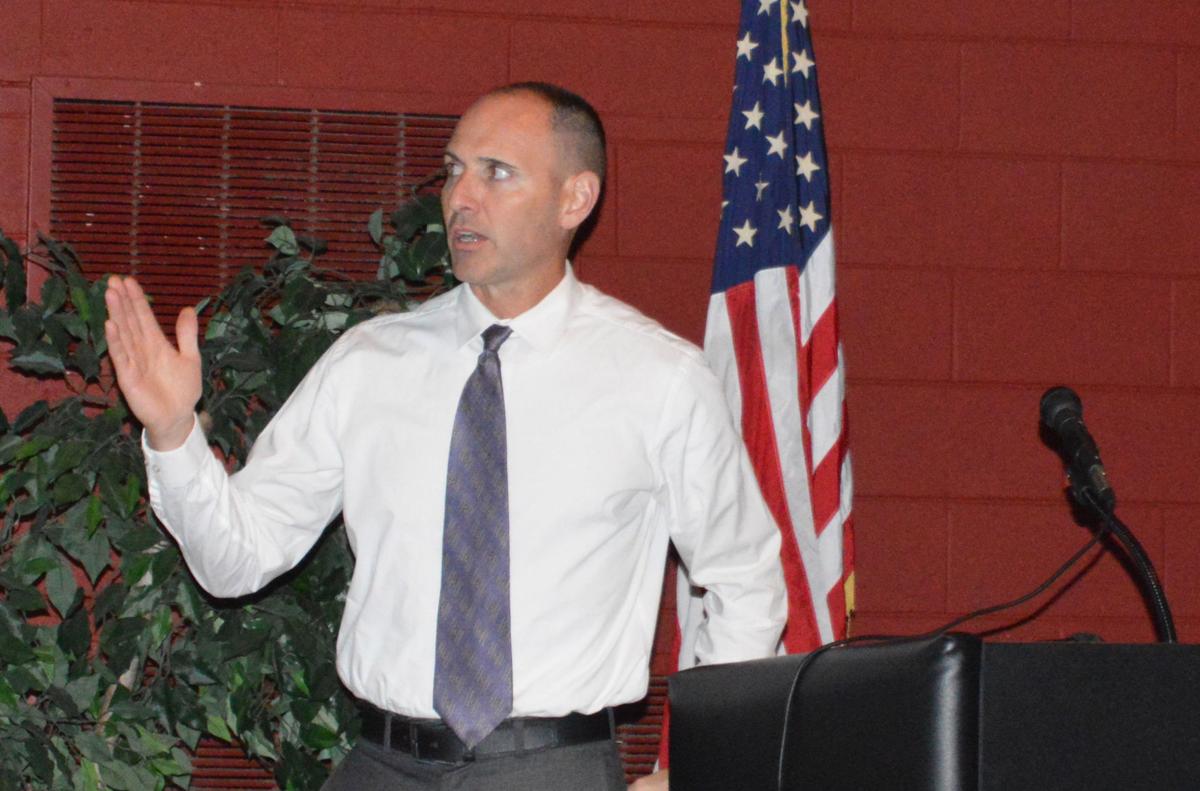 According to an investigation by the Wisconsin Department of Public Instruction, former Fall River Superintendent Michael Garrow allegedly inappropriately touched a student in the Jefferson School District multiple times and engaged in other misconduct in 2018.
The DPI released records to the Columbus Journal detailing its findings in the investigation Wednesday. In late August, the Fall River School District dismissed Garrow from the superintendent position. He had served for four years.
The DPI alleges Garrow, while licensed as an educator, "engaged in grooming behavior of a pupil that was contrary to commonly accepted moral or ethical standards and endangered the health, safety, welfare or education of (the student)," which constitutes grounds for educator license revocation under a Wisconsin statute. Garrow was also found to have inappropriate conduct and communication with a pupil. Based on a search through the Wisconsin Circuit Court website, no criminal charges have been filed.
Garrow has denied the accusations, according to the DPI. On Jan. 8, however, Garrow relinquished his educator license in an agreement with the DPI.
According to the DPI report, Garrow served as a volunteer coach in Jefferson during the 2017-18 school year. The report states Garrow exchanged Snapchat messages with the alleged victim on an almost daily basis. It also reports Garrow allegedly sat next to the student, a senior in 2017-18, at team dinners and "very close" to her on the couch.
According to the report, Garrow put the back of his hand against the student's thigh on multiple occasions. He also allegedly grabbed her waist after a team dinner. On one occasion, he commented on the size of her thighs and wrapped his fingers around her thighs, about six inches from her groin. On Jan. 27, 2018, during a bus trip, Garrow, allegedly asked to see a photo of the student wearing a swimsuit. When she said no, he reportedly grabbed the phone from her hands and looked at the photo.
During practices, the report states, Garrow would pick up the student, lift her above his shoulders, and not let her down until she insisted. Another incident alleges Garrow grabbed the student around her torso and pulled her down in a bear hug saying it was a good way to crack her back. He allegedly rubbed his arms across her chest while pulling her down.
The investigation also found that Garrow told the student she should travel with him to coach a summer camp and that his wife wouldn't be there. In April of 2018, Garrow, according to the report, comforted the student while she was crying by placing her head on his chest and rubbing her back.
You have free articles remaining.
In another alleged incident in February of 2018, Garrow moved his hand under the student's shirt, touching bare skin and also placed a finger under the waistband of her pants. Garrow stopped touching when he heard a noise, based on the report.
One day, according to the report, team members complemented the abdominal muscles of members of the Jefferson wrestling team. Garrow claimed he could beat them in a flex-off. The following day, Garrow allegedly sent a photo to the student through SnapChat showing his bare chest and abs while lying in bed. The caption read "good night." He later asked the student to delete the photo.
DPI and school districts' response
According to the report, on May 2, 2018, Jefferson Superintendent Mark Rollefson dismissed Garrow of his volunteer coaching position after hearing about the allegations. Rollefson told Garrow, through a phone conversation, the allegations would be investigated.
Rollefson also informed Garrow that he was to have no contact with Jefferson students, other than his step-daughter. The report states Garrow understood and said he would no longer coach Jefferson teams.
On April 11, 2019, the DPI reports Garrow applied for an administrator's license. Garrow had already been serving as Fall River's superintendent for almost four years.
As part of the application, (Garrow) submitted a conduct and competency response to the department to which he answered no to a question asking if he ever resigned, retired, been disciplined, dismissed or had his contract non-renewed for alleged "immoral conduct." In 2012, Garrow resigned from the Milton School District while under investigation for inappropriate conduct.
Since Garrow made a false statement on his application, that constitutes grounds for license revocation, according to the DPI. The department discovered Garrow's false statements Aug. 19, 2019. A few days later, during a special school board meeting, the Fall River Board terminated Garrow's contract.
At the time, Fall River Board President Keith Miller wouldn't say much, only Garrow's dismissal was for an incident outside the Fall River district. Miller did not respond to a request for comment Wednesday.
According to the report, Garrow cannot apply to seek reinstatement as a licensed educator in Wisconsin.
Follow Kevin Damask on Twitter @kdamask or contact him at 608-963-7323.