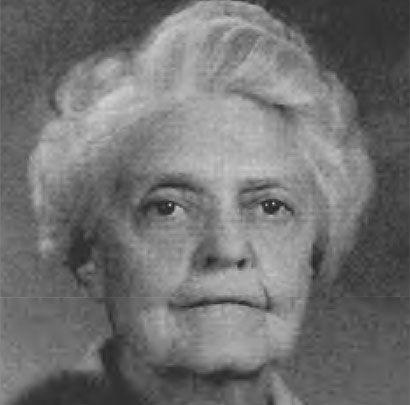 It seems fitting that she passed away in her law office. The law, after all, had been her whole life. At the age of 84, prominent Portage attorney, Dorothy Walker, died on August 1, 1983.
She was the first female to ever hold the title of district attorney in the state of Wisconsin. It was 1923. It was only the year before that she received her Juris Doctorate and became a member of the Bar Association.
Funeral services were held a few days after she died, at the Pflanz Funeral Home. The Rev. Donald McLeod officiated the service. Her casket was later put in a hearse and she was buried in the town she was born in, at the Hillside Cemetery in Columbus.
For not having traveled far in her life (born in Columbus and dying in Portage), Dorothy Walker trailblazed. She was the only woman in her law school class. She was elected district attorney for Columbia County at the age of 23. She was the first woman to receive the Distinguished Alumni Faculty Award from the University of Wisconsin Law School Alumni Association.
She practiced law right up until her death.
She was born in Columbus on March 21, 1899. She grew up there. She succeeded there in high school. College called to her. She went to UW-Madison and to Los Angeles' University of Southern California for a time. She returned to Wisconsin to receive her Juris Doctorate.
Upon graduation, it took her no time to find work. In 1922, she was employed as a junior partner of Grady, Farnsworth, and Walker in downtown Portage.
It took her no time to break a glass ceiling. In 1923 she became a district attorney. A December 2, 1922 issue of the Capital Times has a headline that reads, 'Former U.W. Coed Elected Dist. Attorney." The short article reads, "Miss Dorothy Walker, Portage, a Wisconsin university graduate, has been elected district attorney of Columbia county. She is the first woman to be elected to a county prosecutor's position in Wisconsin." It continued, "She defeated Perry Stroud, son of Judge W.S. Stroud."
Her first state meeting of Wisconsin district attorneys was held in Chippewa Falls in August of that year. The Eau Claire Leader-Telegram made note of her attendance. "Among the speakers will be Dorothy Walker, Portage district attorney." Her address was titled, "The District Attorney in its Quasi-judicial Capacity."
It took her no time to break another glass ceiling. She was re-elected as district attorney. A Sept. 5, 1924, Baraboo News Republic article notes that "Miss Dorothy Walker, present Columbia county district attorney was renominated over Atty. Herman Brill of Columbia by a narrow margin of 166 votes."
After her stint as district attorney, she went into private practice. In 1938 she opened her own office in Portage; a practice she held until she died. That same year, 1938, she was elected president of the Wisconsin Women's Bar Association.
She earned a reputation in the legal community for the care in which she prepared cases on behalf of her clients.
She was very much part of the Portage community, as well. She was a member of the Junior League. She participated in the Women's Civic League. She was active in the Columbia County Republican Committee. She was a good friend to Portage author Zona Gale. She spoke about Gale for the Wisconsin Regional Writers Association and Walker also wrote Gale's obituary when she died in 1938.
Walker's grave is a simple one. It simply states "Dorothy Walker 1899-1983," but her life was far from simple. She gave the state her legal expertise with her every living breath.