Wisconsin Archaeological Society President Kurt Sampson's fascination with Native American Mound Culture began when he was in third grade.
"On a class trip we went to see a mound in Lizard Mound County Park in West Bend that had been excavated," Sampson said. "A window had been installed so that you could see the remains of an Indian woman who had been buried there. I thought it was really cool and wanted to know more about what the mounds were and how they got there."
The mound, he noted, was filled in after the bones were stolen, recovered and replaced. The window to the space was removed.
Ever since he has worked to create another kind of window into the mound building culture and what the mounds meant to the people who never recorded their history apart from oral tradition.
Sampson also serves as curator of the Dodge County Historical Society Museum. He and co-author Mark Olson, a former aviation equipment specialist who has a special gift for identifying the meaning and orientation of the mounds, are working on a book examining the purposes of the ancient artifacts they hope to publish in coming months.
The numerous mounds dotting southern Wisconsin draw interest to the past and an ancient native civilization that often is misunderstood.
The ancient site is easy to overlook — sitting, as it does, next to a busy state road — but …
Many of the region's mounds were destroyed over time, but others still remain. Burial mounds go back thousands of years, appearing around 500 BC, in the Early Woodland period of Wisconsin prehistory.
"There is about a 2,000-year period of mound construction in Wisconsin that lasts all the way up through about 1350 AD, give or take a couple hundred years," Sampson said.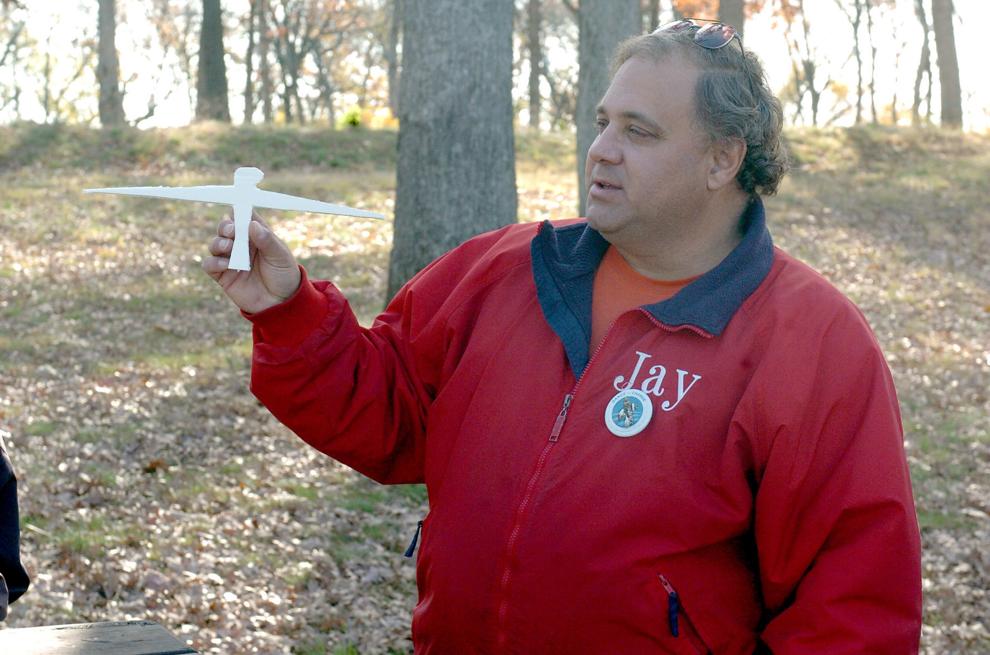 Evolution
Burials initially were shallow and grew into mounds as remains accumulated at what became communal sites. Early mounds were conical.
Effigy mounds followed in the shapes of birds, animals and mythical creatures. Both types have been added to over time, with layers of soil transported from other camps or sites of spiritual significance. That ritual reflected the cyclical pattern of existence, something like reincarnation, according to Sampson. The goal of life, in basic terms, is to move from the lower world to a higher one; from the soil to the skies; from the underworld to the heavens.
Mounds depict creatures from both worlds, and from the surrounding environment. Serpent mounds depict the lower world, with mammals such as bears and panthers representing the surface world. Birds connote the upper world and a higher level of existence.
The only known human-shaped mound stands near Baraboo, minus the lower portion of its legs, which were destroyed by the installation of a road and leveling caused by farming.
Rob Nurre hears a lot of interesting theories about what the Man Mound could represent and how it came to be. As a longtime volunteer caretaker of the site, he's heard speculation that the 214-foot effigy mound could depict a man wearing a traditional Native American headdress, while others say it represents some kind of ancient deity. More radical theories even have suggested the possibility of extraterrestrial influence.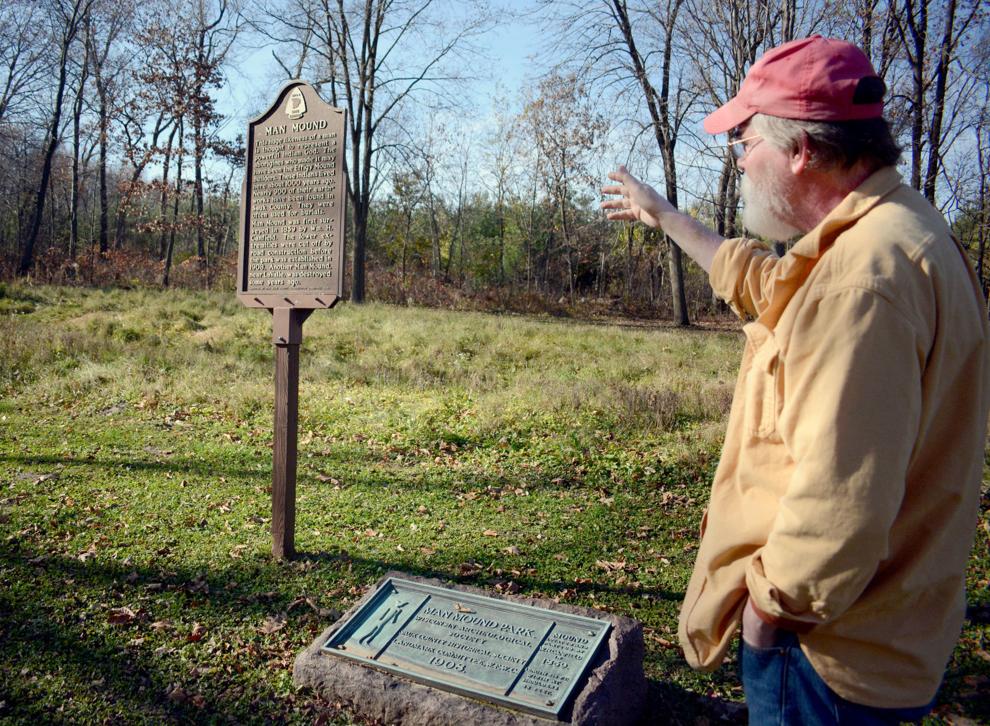 Man Mound was purchased in 1907 through the combined efforts of the Sauk County Historical Society, the Wisconsin Archeological Society and the Wisconsin Federation of Women's Clubs with the intent to preserve the site. It was the first effigy mound ever to be purchased with preservation in mind, Nurre said.
Nurre believes the mound's status as a historic landmark will allow for its continued preservation, which he said is important because it represents a belief system held by indigenous people thousands of years ago.
"They created these images here just as other cultures have created images like the Buddha or Catholic saints," he said. "It's a similar thing."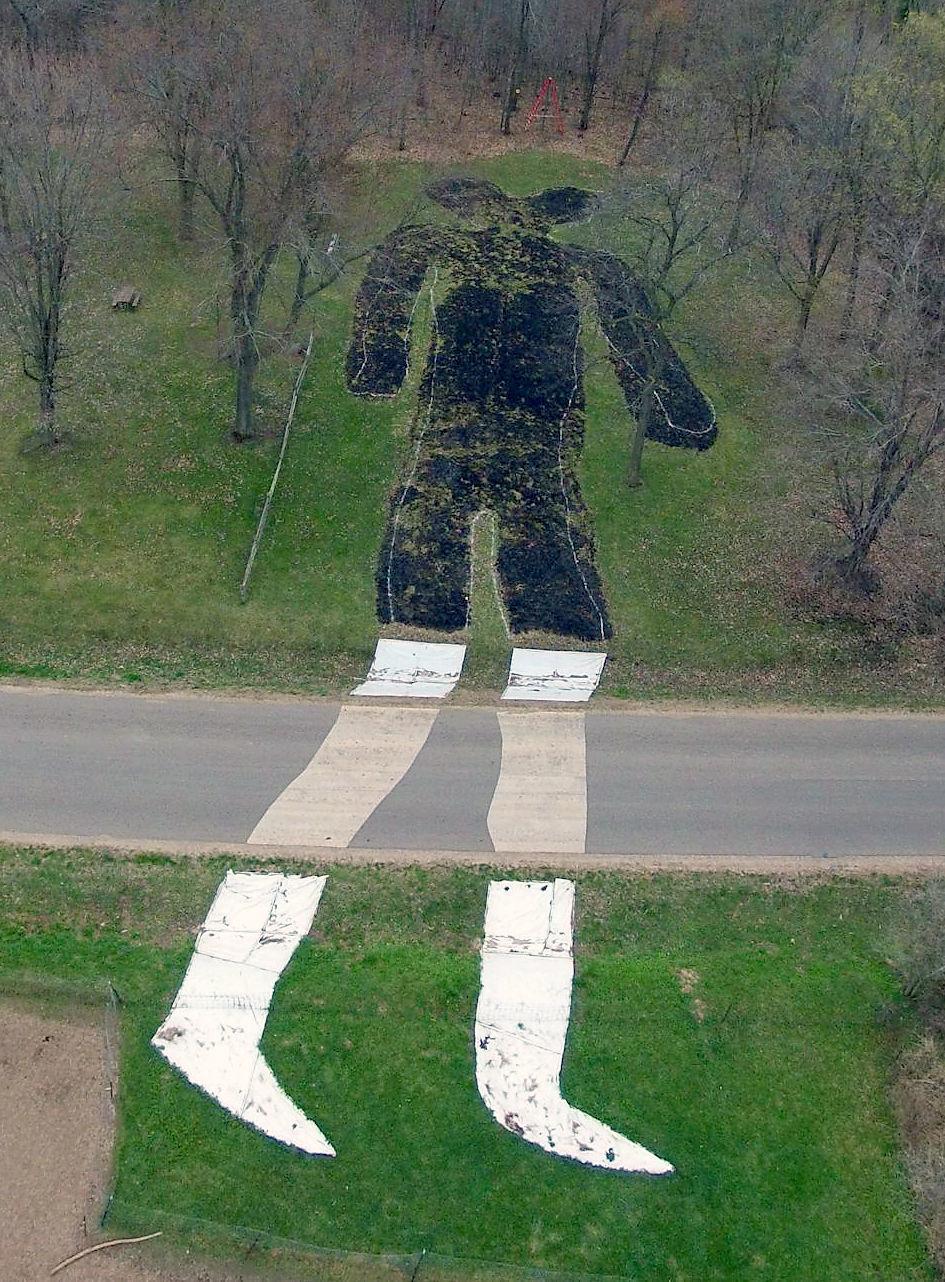 Art, history
Whatever their purpose, the mounds signified meaning and helped their builders better understand and relate to the world they inhabited — and that is no different from the monuments and places of worship built by modern humans, said George Christiansen, a senior lecturer in anthropology and sociology at the University of Wisconsin-Platteville Baraboo Sauk County and director of the Center for Wisconsin Archaeology based there.
"The thing about monuments of any kind — whether it's Stonehenge or the Cathedral of Notre Dame — all of these places were integrating concepts of how people viewed the world," Christiansen said. "Whether you are talking about returning a loved one's body to the womb of the Earth, the connectedness of the people who buried that person with the natural world around them, the geography of how people conceived the world they lived in and the symbolic world they existed in, it keeps getting bigger and bigger and it recasts itself on a regular basis."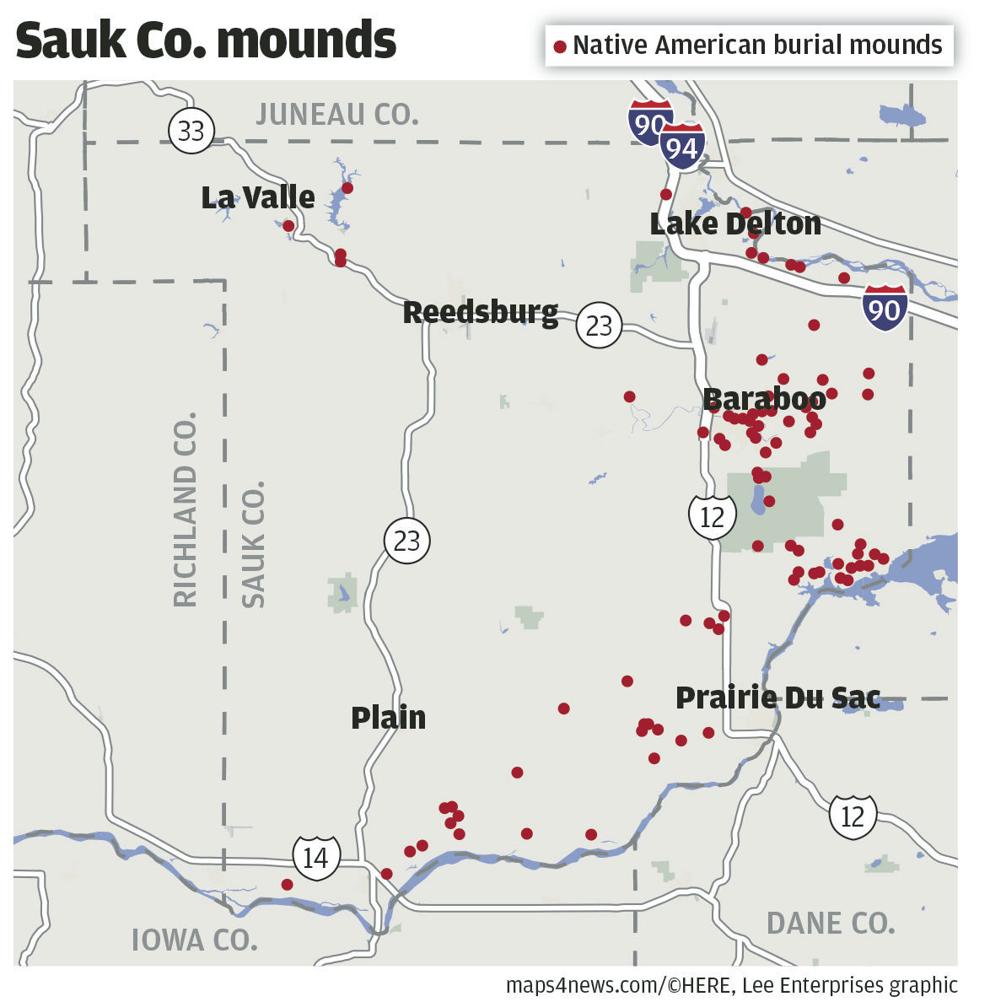 Over centuries mounds reached heights that set them apart from the surrounding landscape, and served a literally higher purpose.
"It's their art. It's their history," Sampson said. "They're using them for territorial markings. They're using them for ritual and gathering purposes, and to delineate their calendar."
He said the mounds also can mark seasons, make comments about the environment and serve as religious symbols.
"These things are tied to their belief system and why they built certain types of mounds," Sampson said.
Preservation
Mounds along Highway 16, about 15 miles west of Portage in the Columbia County town of Newport, are especially revered by members of the Ho-Chunk Nation. The area, a former wayside, had been a native encampment for more than 1,000 years before Europeans settled in Wisconsin, according to Jay Toth, formerly of Black River Falls and now residing in the Jamestown, New York, area. The site includes two mounds in the shape of bears.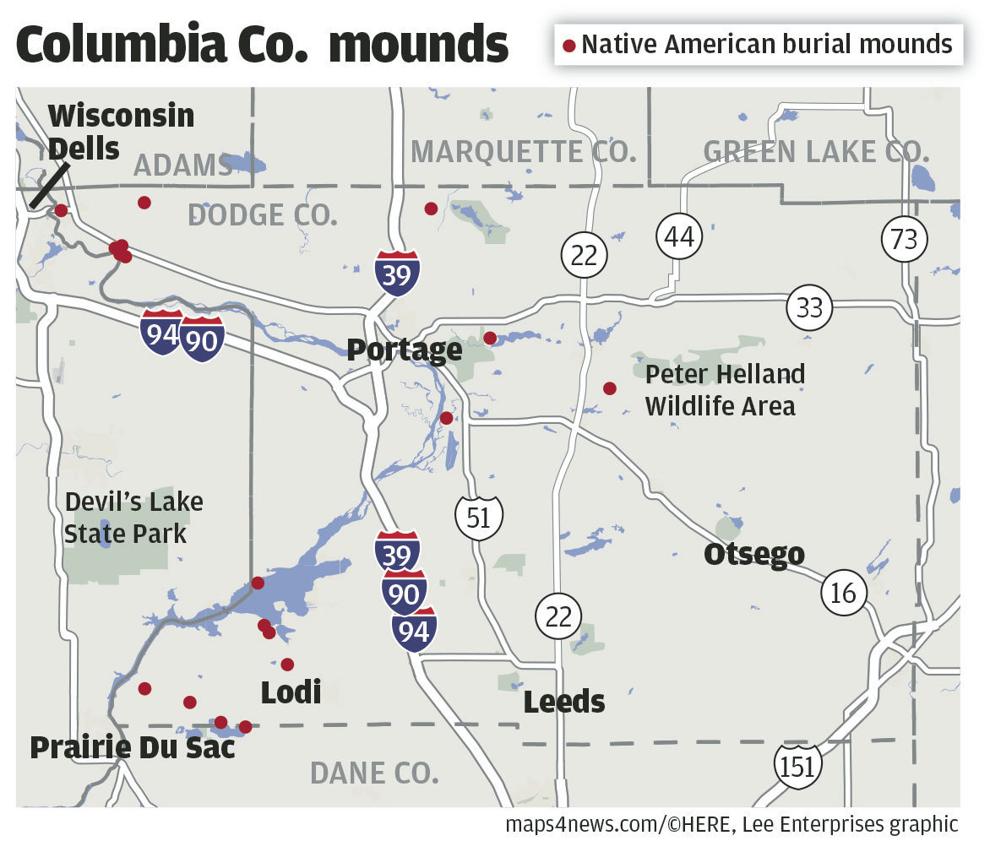 The tribe has worked to preserve the sites, removing invasive trees and brush, and bringing back the prairie oak savanna that would have been familiar to native people when the mounds were built.
Toth said the sites, while they may have served as burial grounds, most importantly served as way markers for people who migrated according to the seasons.
He said preservation of the sites is important.
"How would you like it if someone planted trees on the graves in your cemetery?" he said.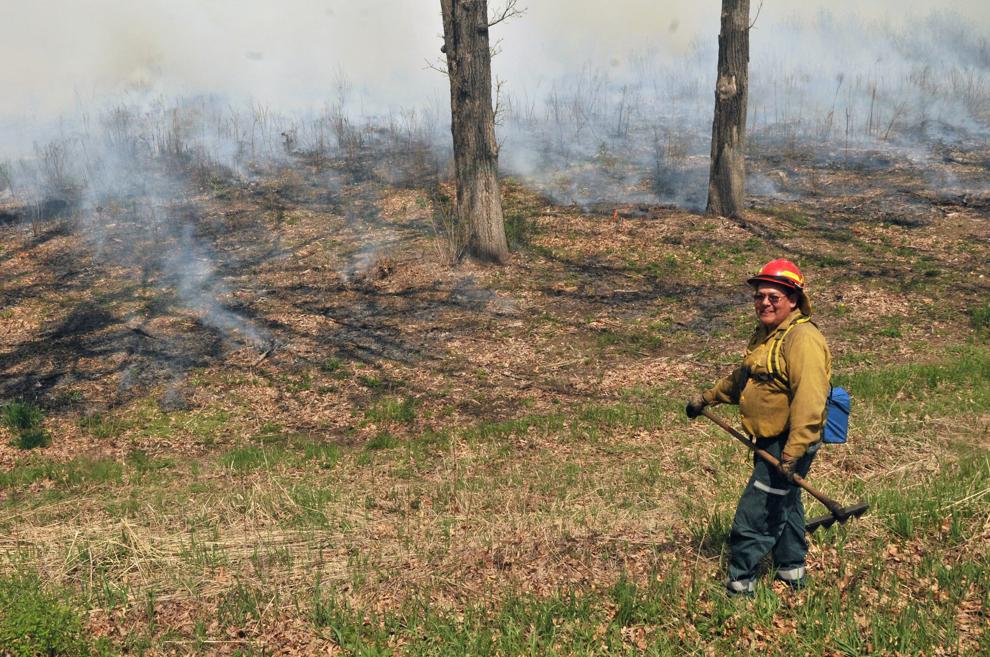 Sampson and Olson are especially active in preserving the mounds at Nitschke Mounds County Park near Horicon, off Highway E east of Highway 28. The property contains about 39 preserved animal effigy, conical and linear mounds believed to have been constructed around 800 and 1100 AD.
The mounds represent one of the best surviving examples of the Mound Builders culture that once occupied the Dodge County area. A one-mile wood chipped trail with interpretive signs is available around the mounds and through the park.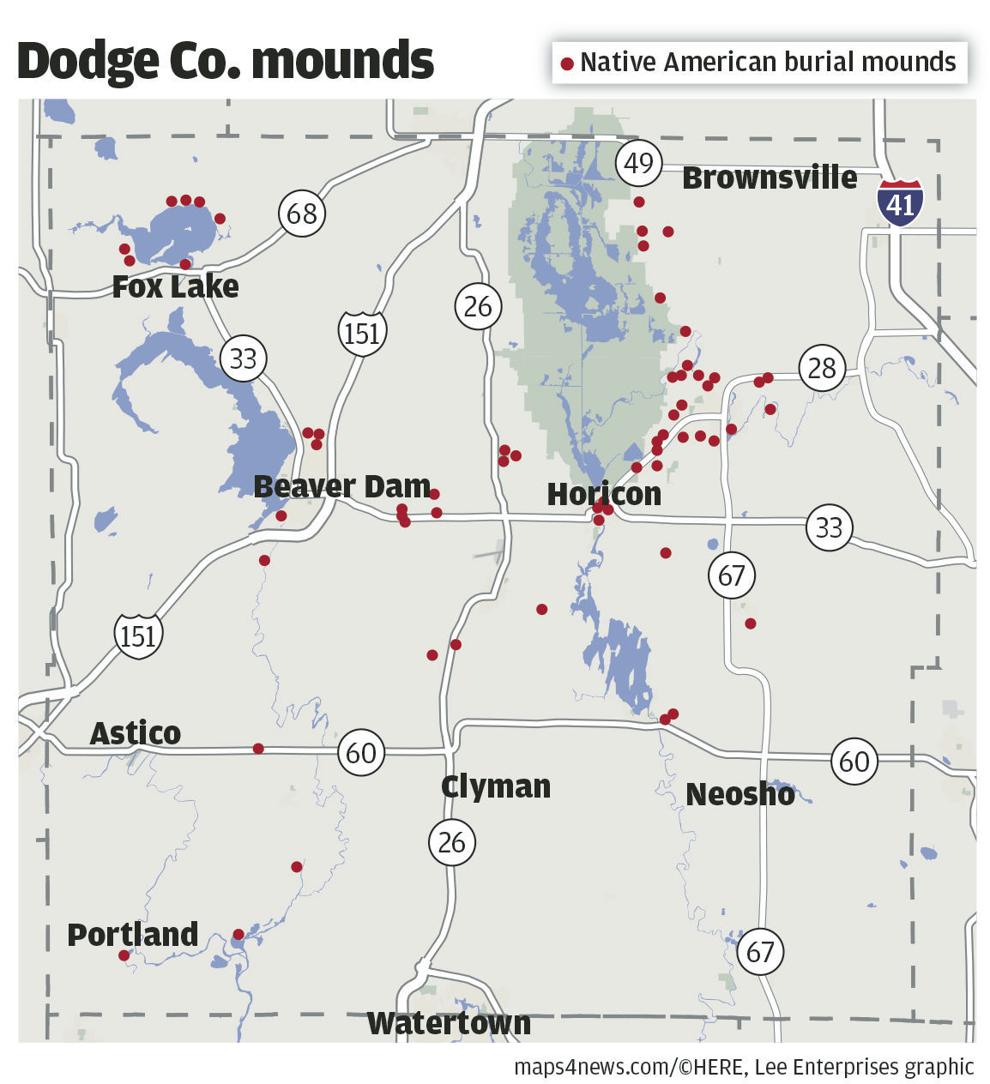 Fact finding
To better understand the motivations behind the mounds, Sampson and Olson examined every scholarly document on mound culture that they could find — almost exclusively written by white men.
"In a lot of cases there is a real lack of true native voices in these writings," Sampson said. "One of our tasks was to compile as many ethnographies of myths and legends for Native American cultures that have any record of mound construction in their past."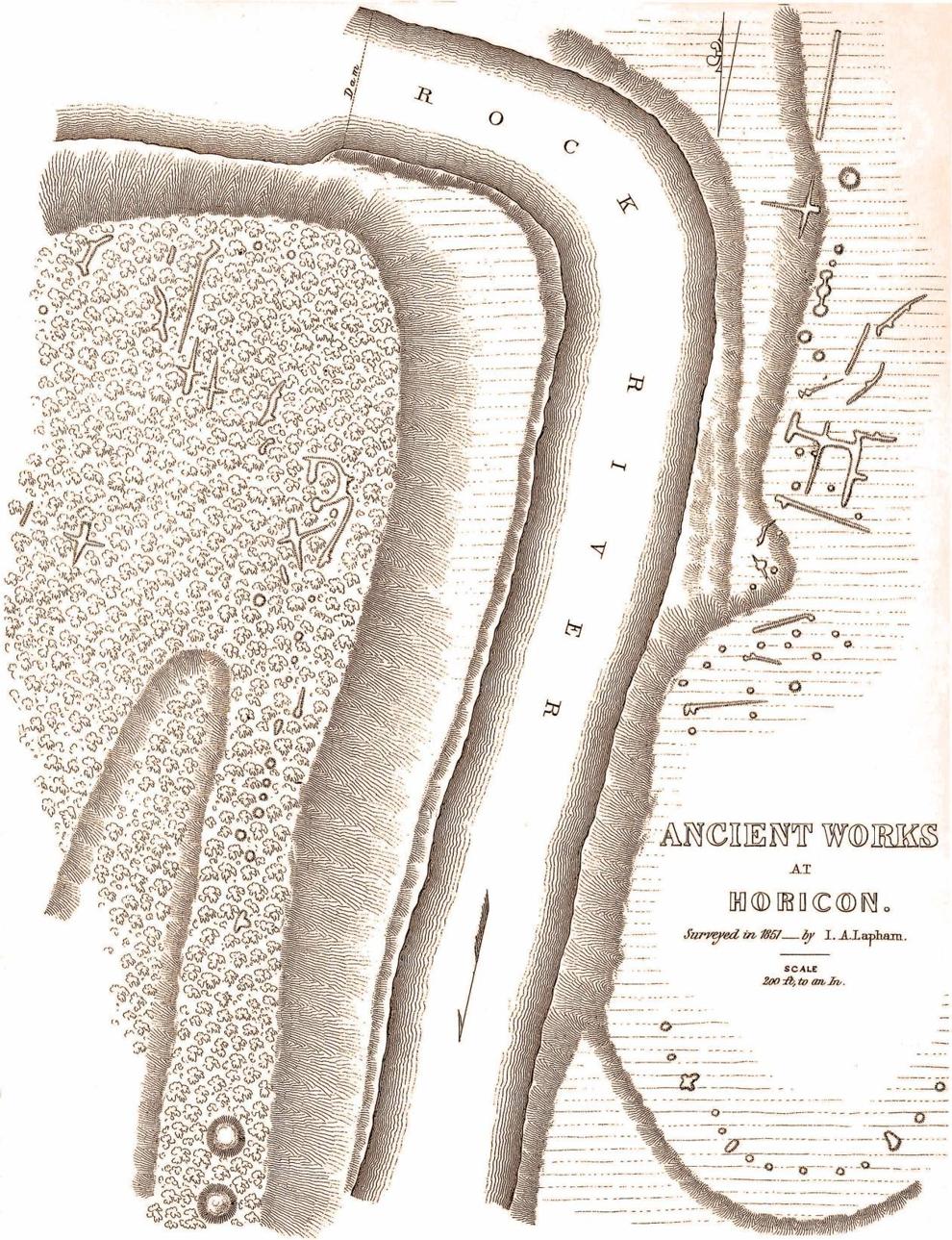 He said the estimated survival rate for all mound groups in Wisconsin is 28 percent. Of the surviving groups, few are fully intact. As far as effigies, roughly 3,200 of the original 25,000 to 30,000 still exist.
"I have no idea how many are still around, nor how that number compares to totals for other mound types," Sampson said.
Sampson and Olson's results are are expected to dramatically change modern understanding of why mounds were built, the purposes they served and what their religious and cosmological significance is.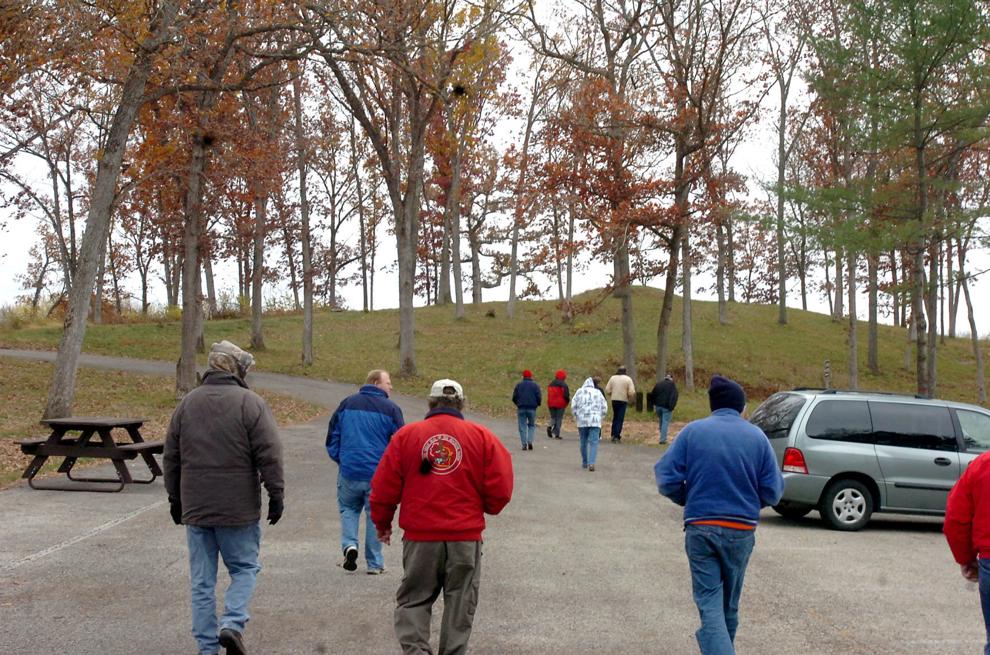 More importantly, their work will provide a springboard to examine assumptions that have developed over time about the ancient artifacts.
"Mark and I have reconstructed an ancient belief system to the point where we can understand why mound builders were doing what they were doing," Sampson said. "It's really, really exciting. When we publish this in early January or February, we think this is really going to shake up what a lot of people thought and believed about these sites."