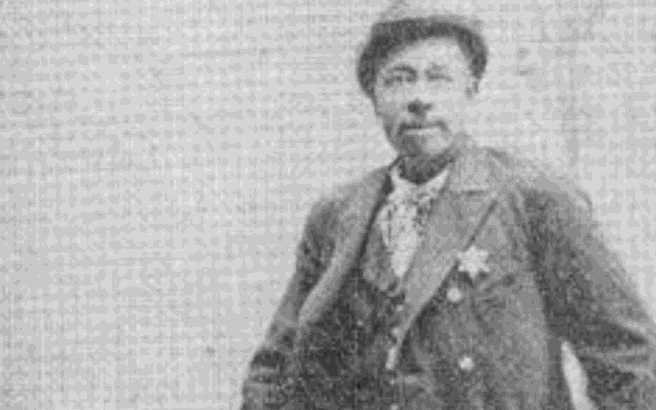 The April 19, 1932 issue of the Portage Register-Democrat had a story that began, "Ansel Clark, nonagenarian, everybody's friend and respected by every man, woman, and child in Portage, died Monday night, April 18, following several years of declining health."
It continued with a tribute to his memory by Portage's noted author, Zona Gale Breese, the first woman to ever win the Pulitzer Prize for Drama. It began, "There is hardly anyone in Portage whose first recollections of the town do not include Ansel Clark. In his death last night at St. Savior's Hospital, Portage lost a friend — lost, too, its most unique citizen."
Ansel Clark was born into slavery. He was in the Civil War, on both sides. He served, in Portage, as the county's deputy sheriff and then, for 30 years, as constable. He held the office of humane officer for nearly that long. Dorothy McCarthy, a Portage Daily Register writer, who penned a series titled "Tales of Old Portage," wrote that "He was also a member of the Volunteer Fire Department in the days when the old steam 'Silsby' fire engine was rushed to a fire." He was also a mess chief. A fine cook, Ansel Clark. "He was a devoted and attentive friend and guardian of children and the young people," McCarthy's article continued, "often acting in the capacity of chaperone."
Ansel Clark called Portage his home for some 70 years.
Clark was born enslaved on a Mississippi plantation. It might have been around April 1839, but Clark was never too sure.
As a boy he was taken from his family and sold to a slaver to work the Tennessee cotton fields. He never saw or heard from his family again.
When he was on an auction block in Memphis, a man by the name of Fletcher Clark, on impulse, saved the boy. He took him home to Arkansas. The boy's name would become Ansel Clark.
The Civil War broke out. He joined the southern army. Zona Gale Breese wrote, "When the war came, he was forced to take part against the hopes of his people, and to throw up earth works from plantation to plantation along the Mississippi river, from Greenville to Natchez."
Within days of joining the Confederate army he was taken prisoner by Union forces. He soon escaped. He later rejoined in the war efforts, this time on the Union side.
He worked as a nurse during the siege of Vicksburg. It was a turning point in the war. The siege, taking place during the spring of 1863, gave General Ulysses S. Grant the last major Confederate stronghold on the Mississippi River. It heavily crippled the Confederates.
The siege cost lives. The casualties for the Confederate army totaled 32,697. The Union side's casualties totaled 4,835. One of those Union wounded was Lieutenant Eli Mix of the 11th Wisconsin Volunteer Infantry.
"I sit down this fine afternoon to let you know that I am alive and the best of all to let you know that Vicksburg is ours," wrote Samuel Cotter Kilpatrick, an officer in Mix's regiment, to his family back home in Wisconsin."
After the war, Ansel Clark came north near Adams, Wisconsin, to provide care for Mix and to work Mix's farm. He stayed and worked there for a time before settling in Portage, working at the home of merchant W.W. Corning. "For years he drove the Corning carriage," noted Zona Gale Breese, "early memories of Portage folk revive the picture of a young Ansel, back of a fine team, the barouche filled with young people."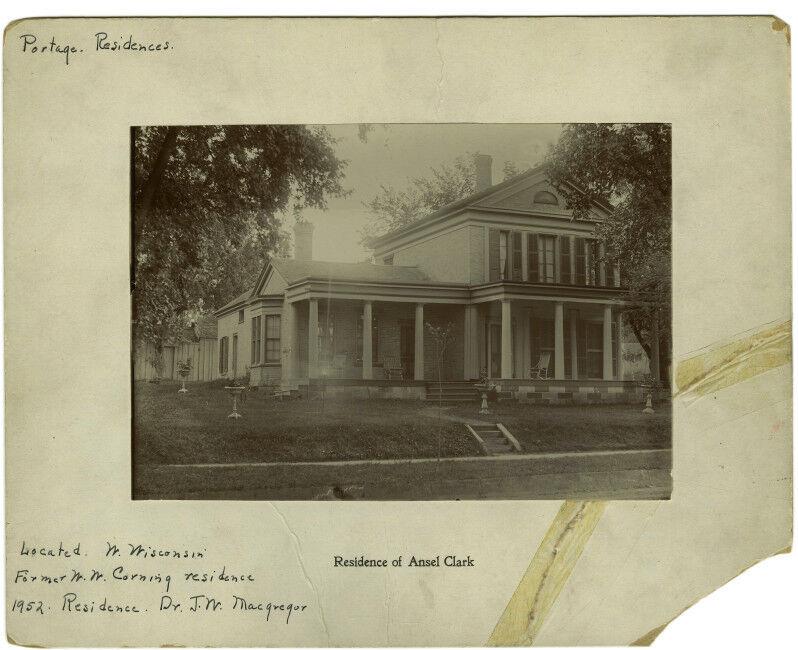 Clark volunteered for the fire department. He became constable. Zona Gale Breese wrote, "His bearing and his presence were such that those themselves upheld the law." He had, she wrote, an innate dignity and poise which everyone felt. "A severity and a kindness too—he was made humane officer, and his love for animals and sympathy with their lot expressed itself toward them and his relentless following-up of any case of their suffering."
Ansel Clark grew older. His ties to Portage grew deeper. His relationships with the community were made stronger. Following the death of Corning, he purchased the house for himself. There, he lived.
He went, Zona Gale Breese wrote, "into old age with the dignity of a citizen of substance."
At his death, the city mourned. Flowers and fruits were delivered. Sermons were given. Services were held. Zona Gale Breese wrote, "His was a triumphant life."
Flags flew at half mast along Portage's business district at his passing.
His grave, surrounded by long gone Portage residents — those that he called associates, neighbors, friends — is in Block 18 at the Silver Lake Cemetery. Portage was made richer for him having lived.