If you ask anyone to tell you the signature drink of Wisconsin, answers will split pretty evenly down the middle on two options: beer and the old fashioned. After all, we have a baseball team named after the former.
A simple mix of brandy, bitters, sugar, fruit and soda — the old fashioned — has captured the minds of a state since its early origins.
The history of the signature brandy old fashioned dates back to 1893 and the Chicago World's Fair. According to Laura Schulte of the Wausau Daily Herald, brandy first made its way to Wisconsin when the Korbel brothers brought the sweet liquor home. Many Wisconsinites were European immigrants, and the taste of the California brandy for sale at the fair reminded them of the liquor back in their homeland.
According to Schulte, the old fashioned came into its own in the Prohibition era, when brandy was brewed illegally across the state, and backroom bartenders had to come up with ways to disguise the foul taste of the bathtub brandy they served. They came up with a mix of sugar and fruits, giving Wisconsinites a taste for the fruity, aromatic bouquet of flavors that would become what we recognize today.
However, the origins of the drink go back well before Prohibition-era workarounds for homemade brandy. According to Dy Godsey of Edible Milwaukee, the old fashioned has its roots in one of the first official "cocktails" in recorded history.
"Spirit and bitters, sugar and water: in the 1800s this simple formula produced a drink called the whiskey cocktail," Godsey said in an article about the old fashioned. "It was the drink of choice for the sporting set. These mostly young men were racing and hunting enthusiasts who liked to drink a whiskey cocktail in the morning."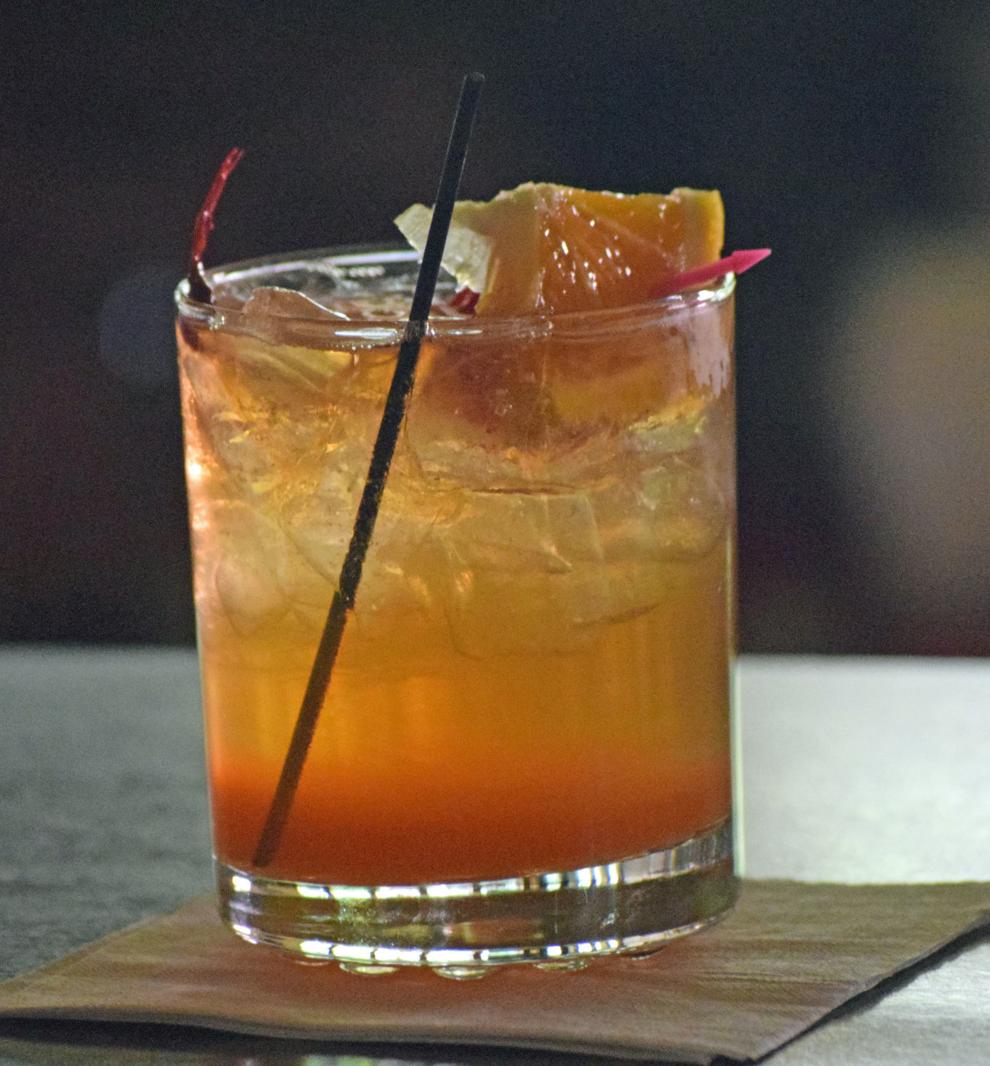 The drink continued to grow from there, incorporating a wide range of customizations, until Josef, Antone and Francis Korbel brought brandy home to Wisconsin in the 1890s. From there, a Wisconsin staple was born.
Top spots
More than a century later, the drink still is a recognized staple across the state. Any bar or restaurant worth its salt has its own recipe, but supper clubs are the most common home for the Wisconsin classic. And if you're looking for one in the Dells, look no further than Lake Delton's Ishnala Supper Club.
Opened in 1953 overlooking Mirror Lake, Ishnala offers a classic Wisconsin supper club experience. According to owner Robert Prosser, the old fashioned and Ishnala go hand in hand.
"It's our no. 1 drink," Prosser said. "Forty percent of the people that come on this property have an old fashioned. Mostly brandy old fashioned sweet is the no. 1, but bourbon is coming on as an old fashioned sour… It's become a thing that's so traditional in our world. Go outside the state of Wisconsin, people don't even know how to make an old fashioned."
Ishnala's ambience screams retro supper club. To even reach the property, you have to drive down nearly a mile of winding back road just off Interstate 90, past several signs made by Prosser himself touting the many accolades bestowed on Ishnala. Fifties and 60s-era crooners and big band music is piped throughout the property by speakers throughout the buildings and outdoor seating.
And Ishnala cleans up. Even as early at 6:30 on a Wednesday, there's an-hour long wait to get a table. However, according to Prosser, that is a feature, not a bug.
"You anticipate having a drink at the bar while you're waiting for dinner, and not being in a hurry," Prosser said. "Most of the people that come here probably wait an hour for dinner, either by choice or we're on a wait… You're anticipating that you're going to the bar. An old fashioned is not a high booze drink, so you can have a couple of them and be responsible."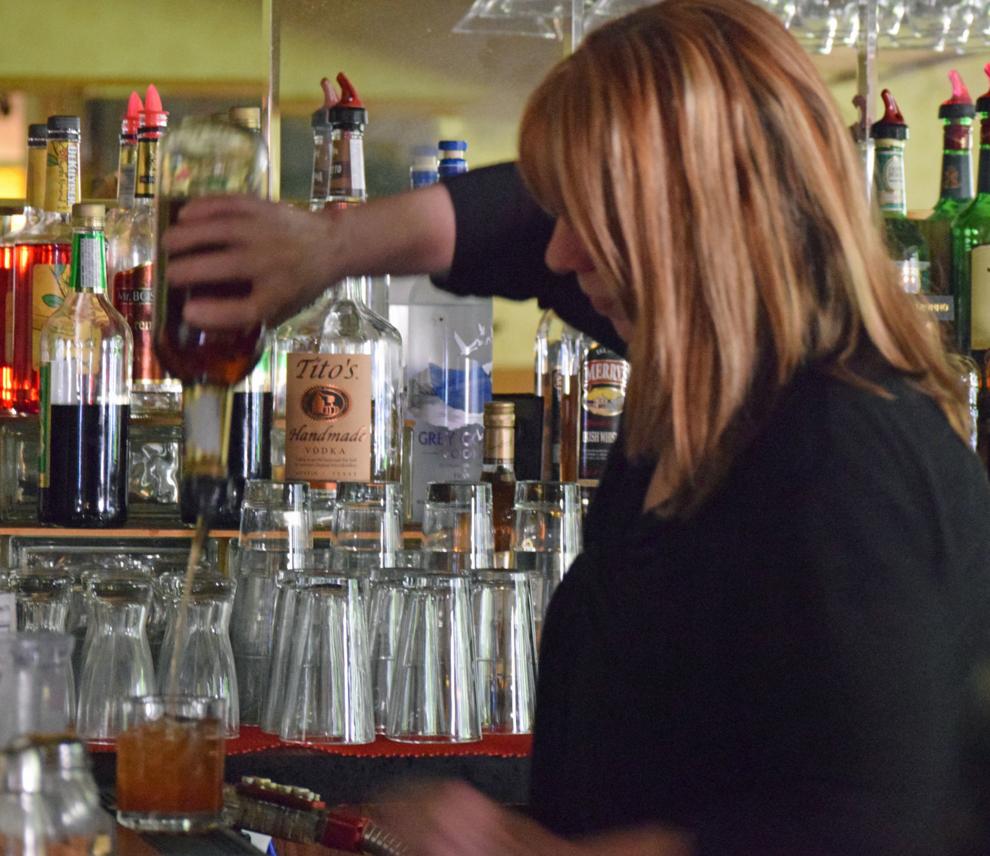 Ishnala takes its old fashioneds seriously. One of the signs Prosser posted on the road leading up to the property touts Ishnala's as "The no. 1 old fashioned in Wisconsin." Indeed, Discover Wisconsin did name Ishnala the top choice for an old fashioned in the state.
To Prosser, it is a fundamental aspect of his business model, along with the culture of supper clubs across Wisconsin.
"Everybody knows that you can get an old fashioned at a supper club," Prosser said. "You just know that in Wisconsin."
Popular choice
A mere 10 miles south of Ishnala, Discover Wisconsin's no. 3 old fashioned on its statewide list is served at Driftless Glen Distillery in Baraboo. Using its own spirits for both brandy and whiskey old fashioneds, a Driftless Glen manager said the drinks account for 75 percent of cocktail sales at its restaurant bar.
Farther north, Shipwreck Bay in Mauston offers a wide range of old fashioneds, served up with a smile by bartender Justine Kay Marshall.
Marshall comes at the Wisconsin tradition from a different perspective than many of the others in the area; she is not a Wisconsin native. Marshall was born and raised in rural Nebraska, and moved to Mauston to be closer to her daughter. From her perspective, it's just an intrinsic part of Wisconsin life.
"I had never heard of an old fashioned before I moved up here, and that's the drink of choice here," Marshall said. "It pairs really well with our Friday fish frys, which is also a Wisconsin tradition. They go together so nicely."
The Friday fish fry is another common Wisconsin tradition often referenced when discussing how the old fashioned took hold in the Badger State. Marshall also credits the drink's versatility for its staying power. Shipwreck Bay alone offers more ways to make an old fashioned than you might imagine, many of which are made with their special "Bada Bing" cherries.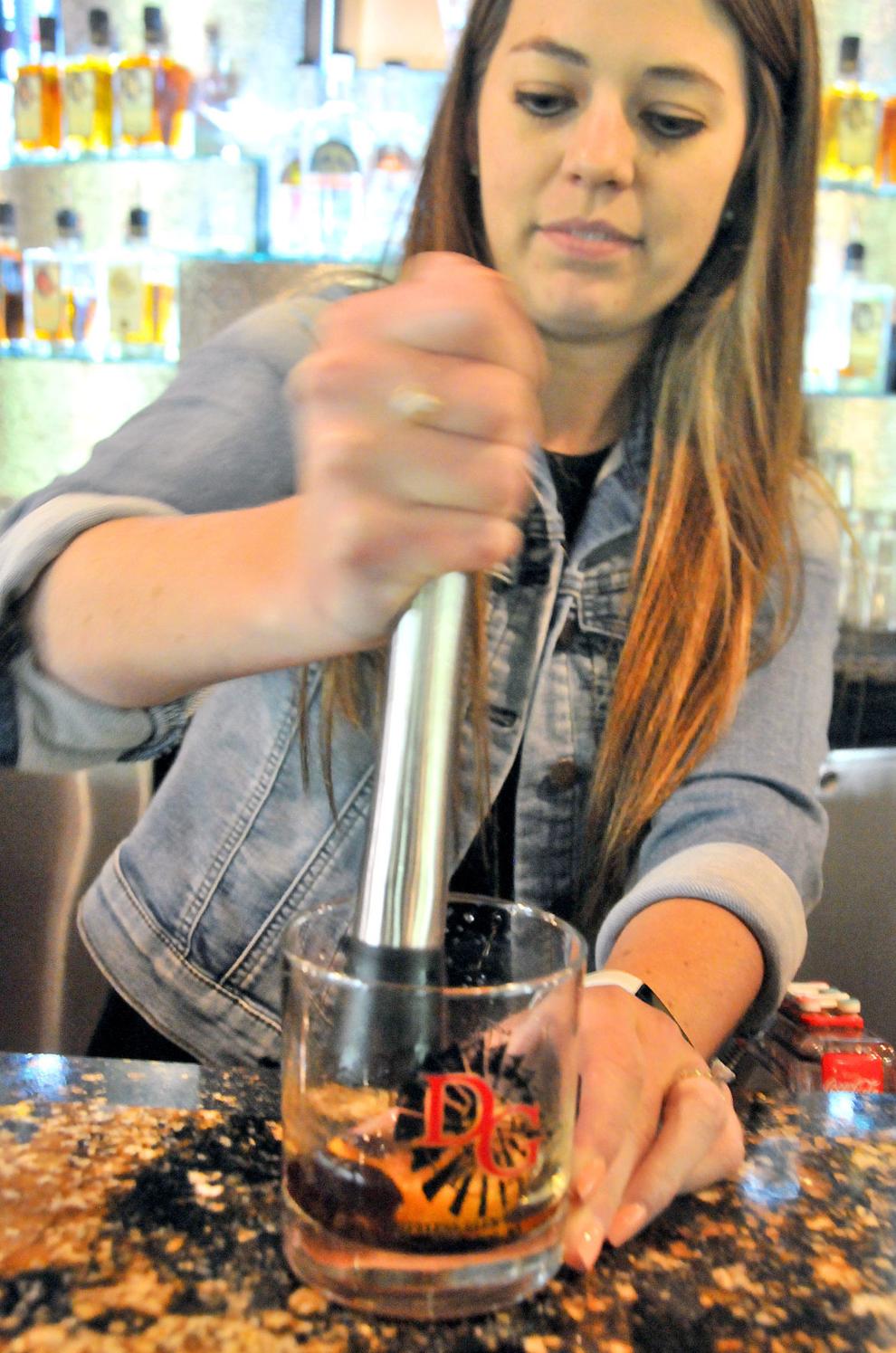 The cherries are soaked in whiskey, then paired with Wollersheim brandy. Distilled in Prairie du Sac, Wollersheim Distillery's namesake brandy is a common liquor choice in an old fashioned across southern Wisconsin. However, Marshall's personal old fashioned uses Korbel brandy and what she calls a "press," a mix of soda and mist from the bar tap. It creates a lighter, more bubbly texture that gives a fresher feeling than a typical Korbel old fashioned sweet.
"Not very many people order it that way," Marshall said. "We get a lot of people from Chicago, and they'll get upset, because they want their old fashioneds their way. People who order it from Chicago, they don't muddle the fruit. They just want the whiskey and the cinnamon stick."
Regional preferences
Monte Maier, owner of Dorf Haus supper club in Roxbury, east of Sauk City, credited Wisconsin's love of brandy as a major reason behind the extreme localization of such a popular drink.
"Between Wisconsin and California, we're probably the only two states that really drink brandy," Maier said. "If you go to different states and you want an old fashioned, they'll be like, 'What is that?'"
Maier and his family have owned and operated Dorf Haus since 1961, running it as a supper club since day one. Ever since they opened, the old fashioned has been a big chunk of their business.
Maier, like Marshall, credits that famous Friday fish fry as a driving force behind the popularity of the old fashioned. To him, it's all part of the same image: a fish fry and a brandy old fashioned sweet.
Supper clubs are universal across the state, whether on ornate lakefront properties like Ishnala, or more understated locations like Marty's Steakhouse in Reedsburg. Located near downtown, Marty's restaurant and cocktail lounge has served up old fashioneds for 25 years now.
Bartender Holly Falk has been there for 20 of them. In that time, she has seen the drink fade and begin to die out, before meeting a resurgence in recent years.
Return to prominence
"Years ago, that was our no. 1 drink," Falk said. "It was so sad, as I got older and all the young kids didn't know what an old fashioned was. And I've introduced a few of them in here, and it's so nice to know it's back."
Marty's looks virtually untouched from when it was first opened by Marty Koenecke in 1994. Soft classical music, carpeted floors and a massive analog TV adorn the restaurant. Falk looks up at that TV and laughs, wondering how it hasn't died yet after all these years.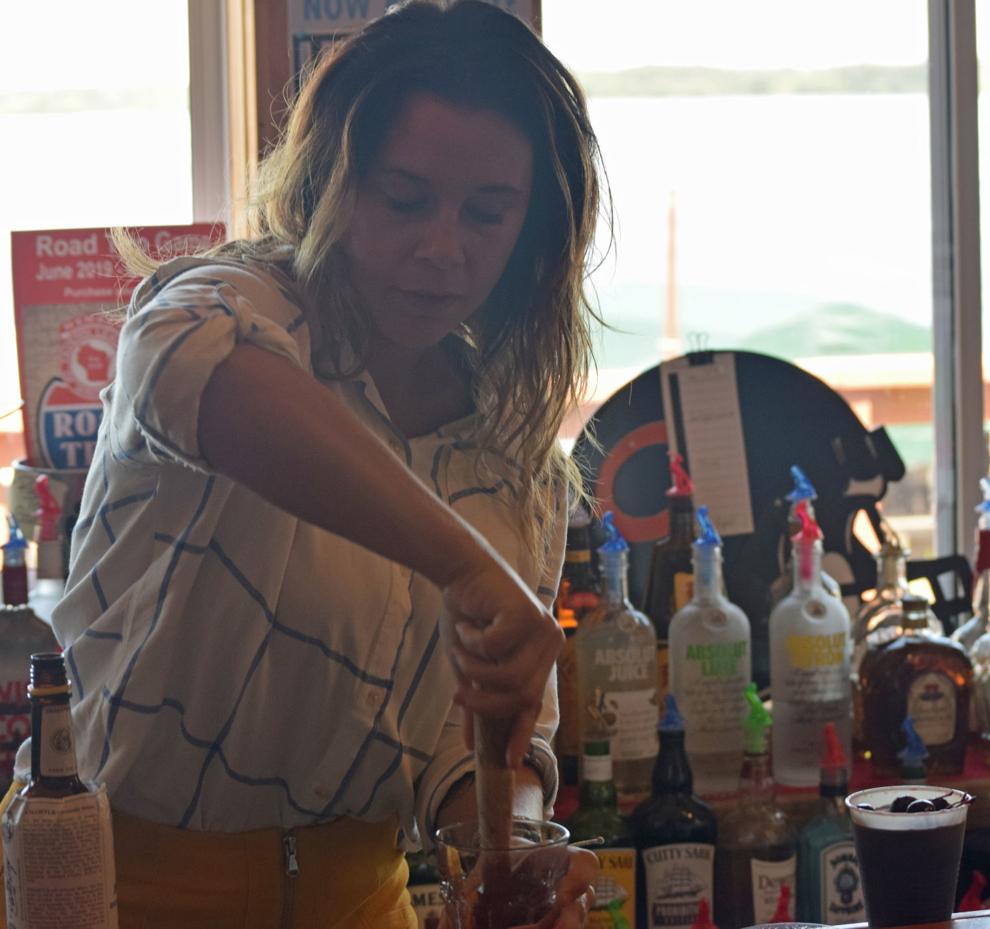 Manager Carolynn Kindschi laughs when she's asked to give her take on the significance of the drink, as Falk quips "she likes to drink them." But Kindschi said she thinks the drink defies its given stereotype as a relic.
"It's definitely an older drink, so people tend to think it's for older people," Kindschi said. "But I don't think that's true. I think anybody can enjoy an old fashioned. It's nice that you can use different kinds of alcohol in it, you can use different kinds of bitters to change the flavor. It's kind of a nice all-around drink."
Of everyone, Falk and Kindschi were the only people to mention the idea of different flavored bitters. Most people picture bitters and see the classic Angostura, but they like to mix in different flavors, everything from chocolate to cherry bark.
"It is definitely something from this part of the country," Kindschi said. "It seems like everyone goes to Wisconsin and they have to have an old fashioned they don't know what it is but they're going to order one, no matter what it is."