The veteran Baraboo High School football team is going through a familiar week of preparation.
For the fifth straight week, the Thunderbirds are undefeated and cruising as the weekend approaches. However, for the first time in three years, there is uncertainty about who will be taking the snaps when Baraboo hosts Mount Horeb/Barneveld at 4 p.m. Saturday, in a Badger Small Conference game at Beryl Newman Stadium.
The T-Birds (4-0, 2-0 Badger Small) played without three-year starting quarterback Luna Larson for a majority of a 17-0 win at Stoughton in Week 4. The senior left the game in the first quarter with an apparent knee injury, leading Baraboo head coach Steve Turkington to say Monday, "I don't have an update on Luna but it is possible he plays on Saturday, we haven't ruled it out."
Larson's presence would certainly by a boost for the T-Birds, as he has accounted for 941 yards and 11 touchdowns this season while also being an all-state utility player and Division I recruit at linebacker. However, the T-Birds showed against Stoughton that they can hold their own without him.
The offensive line still paved the way Friday, almost exclusively carving paths for Kane Mahoney, who took over as the primary ballcarrier and ran for 284 yards and one touchdown on 43 attempts. Mahoney will likely have another huge workload Saturday. The senior has shown he can handle it, running for at least 100 yards in three of the four games this season en route to 600 yards and three touchdowns on 104 carries.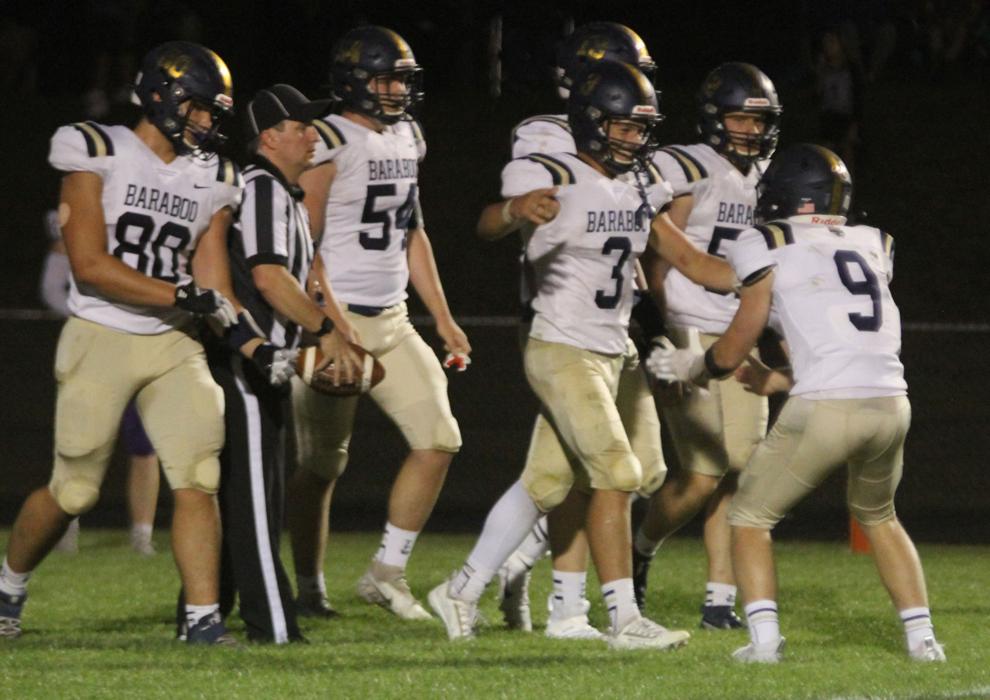 If Mahoney's not taking handoffs from Larson, it'll be from Luke Vittengl. The sophomore quarterback played for three-plus quarters at Stoughton, completing 1 of 6 passes for 11 yards and two interceptions.
"You've got a young sophomore quarterback that stepped up and does a really good job managing the game in his first varsity experience," Turkington said. "He's a sophomore, so he's going to be a little rattled, but he settled down and did a really good job and we got things going."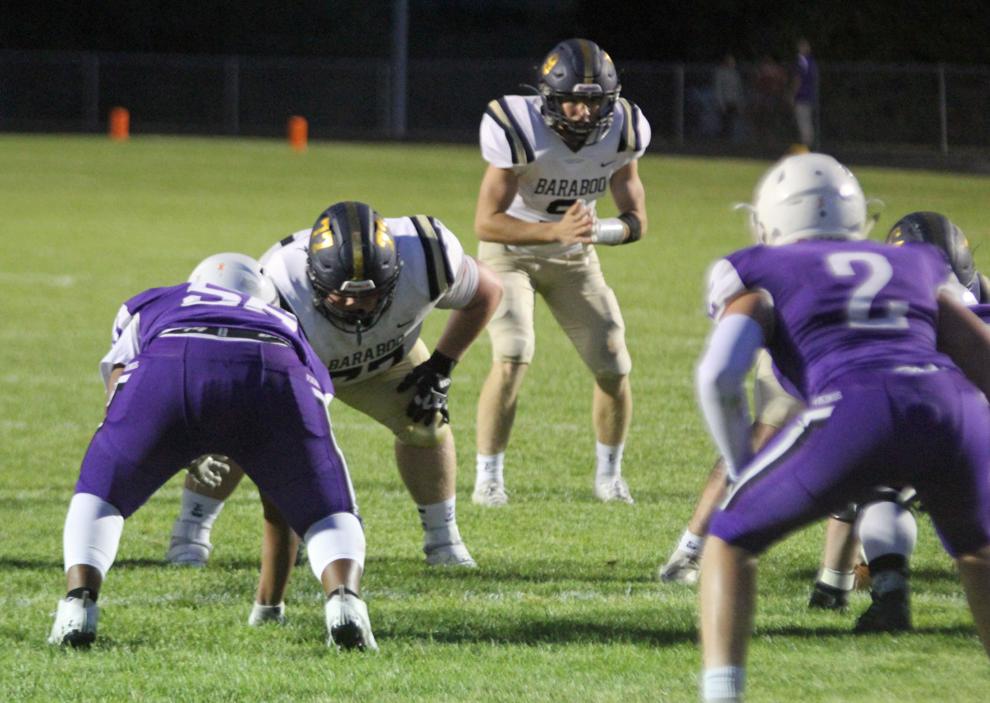 The T-Birds will have to do a better job finishing drives, as the offense scored just one touchdown — on a 45-yard Mahoney run — in Stoughton. But Baraboo didn't need any more trips into the end zone, as the defense was dominant for 48 minutes.
"That was probably the best defensive performance I've seen in 23 years of coaching high school football," Turkington said after the win. "It was incredible... Just unbelievable defense."
It came from a number of different sources. The run defense stayed dominant, allowing just 16 yards on 30 carries as Baraboo's four opponents have been held to 120 rushing yards on 101 attempts this season. The secondary also did its part in Week 4, holding Stoughton quarterback Isaac Knutson to 8 of 15 passing for 95 yards and an interception as the Vikings were shut out for the first time since they suffered a 35-0 playoff loss at Waukesha West on Oct. 27, 2017.
The Baraboo defense didn't just slow the Vikings. It also came up with big plays. The T-Birds recorded two second-quarter safeties — one from Ryan Liegel and one from the combination of Gabe Fitzwilliams and Nic Orozco — before Caden Agnew returned an interception for a fourth-quarter touchdown that stretched the lead to 17-0.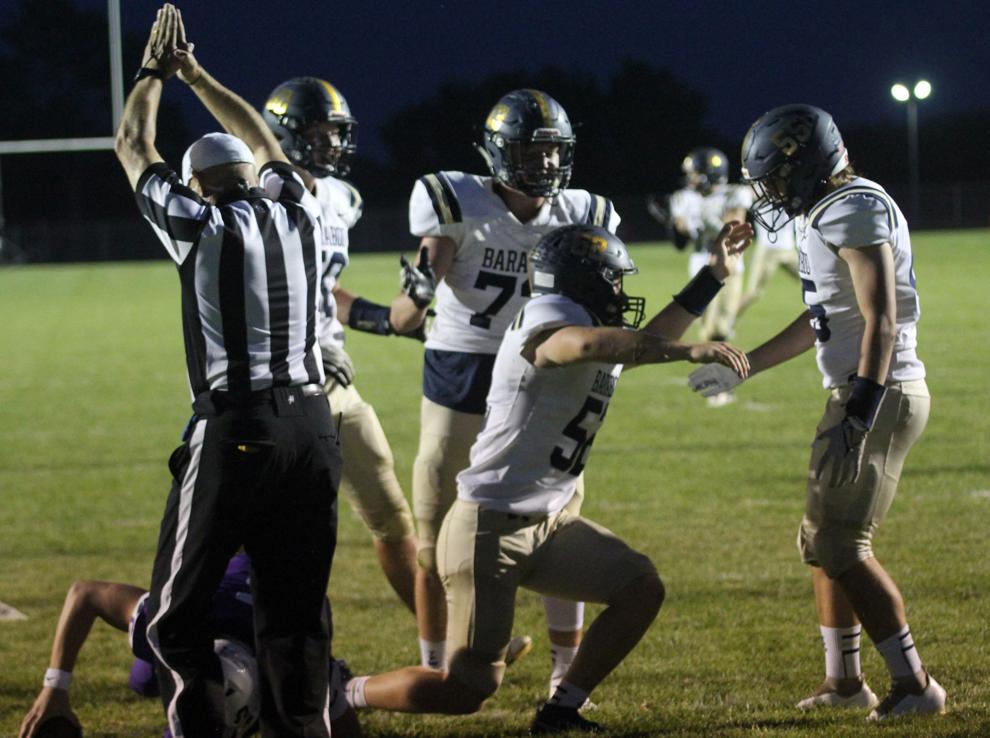 The T-Birds also recovered two second-half fumbles on a day that saw Fitzwilliams and Mahoney each make a team-high seven tackles, according to WisSports. It was the first shutout of the season for the T-Birds, who are holding opponents to 10.3 points per game a year after notching four shutout wins.
The defense was needed in Stoughton, and will likely be needed again Saturday. That hasn't always been the case in recent years. Baraboo had entered Week 4 scoring at least 20 points in 12 of its last 13 games, including nine straight, with the lone exception being a 20-19 loss to Sussex Hamilton in 2020.
Baraboo has started 2021 by getting through a difficult stretch that also included wins over Onalaska, Madison East and Monona Grove. It won't get any easier Saturday when undefeated Mount Horeb/Barneveld (4-0, 2-0) comes to town. Baraboo is ranked first in Division 3 in the latest WisSports.net Coaches Poll, while Mount Horeb/Barneveld is ranked eighth.
While Baraboo is winning by an average of 20.5 points per game, Mount Horeb/Barneveld has had several more close calls. The Vikings are winning by 11.0 points per game, but have won three of their four games by seven points or less. But they've won them all, claiming a 37-30 win at Racine St. Catherine's, a 29-8 win over Monroe, a 33-0 win at Sauk Prairie and a 29-26 win over Portage.
The Sept. 10 win over Portage came down to an explosive fourth quarter in which 33 points were scored. Mount Horeb/Barneveld trailed 14-8 after three quarters, then erupted for 21 straight points in a stretch that started with Trenton Owens' 1-yard touchdown run. The Vikings added a safety, Kolton Schaller ran for a 59-yard touchdown and Tyler Buechner ran for a 1-yard touchdown to stretch the lead to 29-14.
Portage closed the gap with two touchdowns in the final 2:34, but the Vikings held on on a day in which they ran for 277 yards and four touchdowns on 45 carries. Buechner finished with 110 yards and a touchdown on 19 attempts, while Owens had 88 yards and a touchdown on 13 carries, and Schaller had 79 yards and two touchdowns on 12 runs. Schaller also completed 7 of 14 passes for 155 yards and an interception, including finding Wyatt Denu four times for 111 yards.
While the defense has struggled at times, the Vikings' offense has showed balance all season en route to scoring at least 29 points every game and averaging 32.0 points per game. Schaller has completed 39 of 76 passes for 582 yards and two touchdowns, while Buechner has 74 carries for 440 yards and seven touchdowns, Owens has 46 carries for 300 yards and five touchdowns, and Schaller has 33 carries for 180 yards and two touchdowns. Four receivers have surpassed 100 yards, with Denu catching nine passes for 174 yards and two touchdowns, Paul Matthews catching eight for 112 yards, Landon Ellestad catching seven for 108 yards and a touchdown, and Gavin Bazala catching four for 101 yards.
The Vikings have had the T-Birds' number over the years, including winning 12 straight games in the series between 2007 and 2018. Baraboo won the last matchup, however, claiming a 45-14 home win over Mount Horeb/Barneveld on Oct. 18, 2019 in a game that Larson has said sparked the T-Birds' breakthrough 2020 season in which they went 7-2 and won the third playoff game in team history.
If the T-Birds manage a similar performance Friday, they will improve to 5-0 and guarantee themselves a winning regular season.