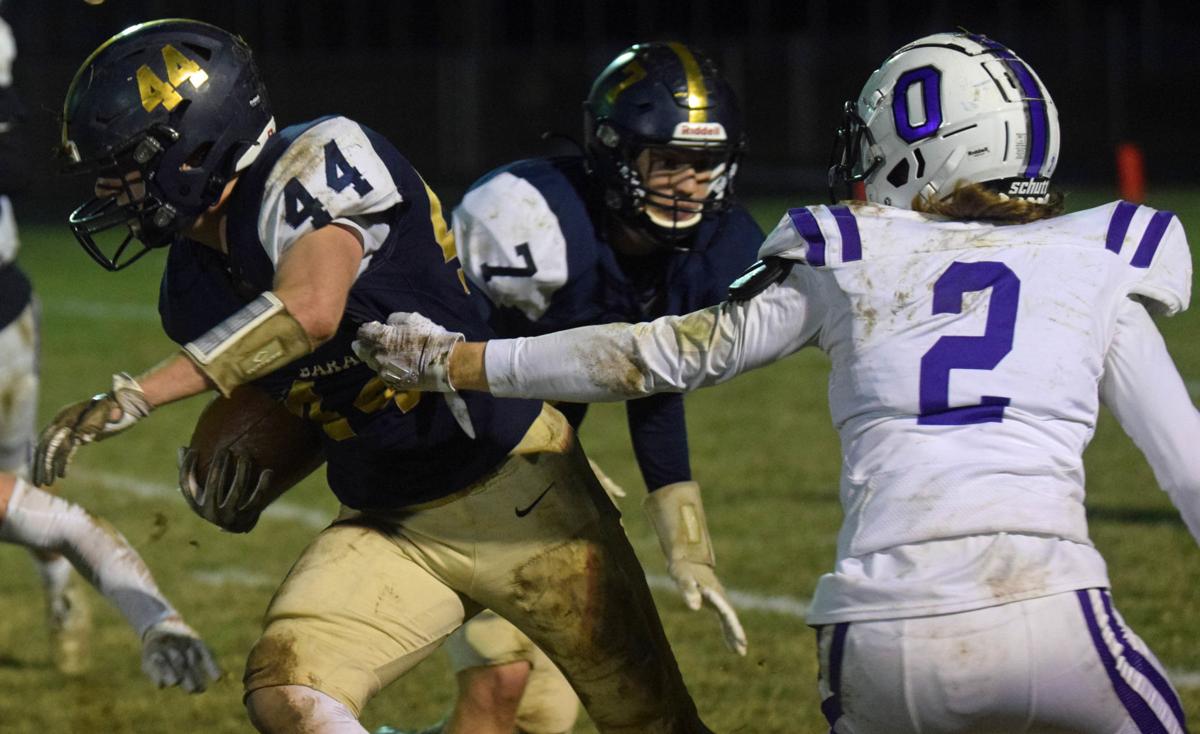 The Baraboo School Board plans to put up a fight.
The bubbling frustration stems from the Wisconsin Interscholastic Athletic Association moving closer to finalizing a plan that would immediately send the Baraboo and Reedsburg football teams to the Mississippi Valley Conference in the La Crosse area in order to clear the way for Sun Prairie East and Sun Prairie West to compete in the Badger Large.
The Baraboo School Board discussed the realignment plan for the second time during Monday's meeting, with several members stating that they would like to pursue legal action despite past precedent showing it may be difficult to force the WIAA to change course. The WIAA Board of Control is scheduled to be vote on the realignment, which is for football only, on March 5.
"I get that there might be legal precedent that doesn't allow us an easy path to victory to get what we want, but I also get that we've got a responsibility to keep our kids, our parents and other school districts like us from being bullied," board member Sean McNevin said Monday. "If somebody thinks that puts us in a negative light — that we're standing up against a bunch of bullies — I'm OK with that.
"At the end of the day, if we lose and we don't prevail, it doesn't mean we didn't win because it may cause them to reassess, change, and step back and do things better in the future so that somebody else doesn't have to go through what we're going through right now."
What Baraboo and Reedsburg are going through is a scramble since finding out in December that they were part of the WIAA Football Realignment Committee's plan. Baraboo athletic director Jim Langkamp said during the Jan. 11 school board meeting that the district was "completely blindsided" by the proposal, which would take Baraboo and Reedsburg out of the Badger Conference just as the new Badger Small and Large format is scheduled to begin.
Baraboo superintendent Lori Mueller discussed the equity concerns surrounding families having to travel too far to watch their kids compete. While the WIAA's realignment policies are intended to avoid extended travel, moving to the Mississippi Valley would change Baraboo football's shortest trip from 32 miles roundtrip to Sauk Prairie to 120 to Tomah.
"From an equity lens, to think about the impact this could have on a number of families where being able to see their child play may become near impossible," Mueller said Monday. "From a legal perspective, there's nothing. But we can make an emotional play and you would hope that the peers we have on the task force and also on the Board of Control would understand that and think about the ramifications that that would have on their own districts. So we'll make that plea."
So far, Portage and Rice Lake have been Baraboo and Reedsburg's biggest allies. The quartet has spent a month-plus working together to try to change the WIAA's mind.
After initially focusing on relaying why the proposed realignment plan is bad, the unhappy schools have been told that their best course of action is to come up with a better plan. And, more importantly, to come up with a plan that has more support than the one developed by the task force.
"Rice Lake has come up with a plan for the west side of the state that doesn't include us moving to the Mississippi Valley. Simultaneously, Portage is working on a south-side plan to reorganize the Badger Conference and the Big Eight that doesn't include us moving," Langkamp said. "Those two plans kind of have to mesh, make sense and work together for the WIAA."
Baraboo and the other displeased schools met with the WIAA on Jan. 29, hoping to get their proposals in front of the Board of Control during its Feb. 11 meeting.
"Unfortunately, at the Jan. 29 meeting, the co-chairs said no, the Feb. 11 meeting isn't for that purpose," Langkamp said. "There's not going to be any new proposals considered or options considered. That was obviously very disappointing."
Now, it's about drumming up support and finding a way to make fewer people unhappy. Mueller said that every Badger Conference superintendent has expressed support for Baraboo and Reedsburg, while Langkamp said they're surveying the Badger Conference as well as the 30 schools involved with the Rice Lake plan.
"It's upon us to show what kind of support we have," Langkamp said. "Whenever you do realignment, there's a certain percentage of people that like it and there's a certain percentage that don't. There's always going to be some. The game for the Board of Control is, 'How can we minimize? What plan is going to get the least people upset?' They don't care why, but if one plan has 10 people upset and one has 15 upset, they're going to go with the one that has 10 upset."
Along with drafting alternative plans and looking for support, the school board instructed Langkamp and Mueller to pursue legal action. The duo has discussed the issue with Mike Julka, the district's legal counsel, over the past month. Julka found similar legal cases in the past, in which the Slinger and Wauwatosa districts unsuccessfully pursued legal action to try to stop the WIAA from moving forward with realignment.
"There's just not many legal alternatives," Langkamp told the board of what Julka has said. "We voluntarily join the WIAA, so as long as they basically follow their process, their rules... legally, they haven't done anything wrong in his eyes. There's no obvious avenue to pursue legally. The term he used was there's 'no breach of reasonableness' is what the courts decided in other cases. His concern a little bit is that our district may not be viewed in a positive light — our credibility could be hurt to just pursue legal action with little chance of success."
Baraboo appears to be OK with some level of that fight, as board members said they need to express their frustrations and desires before it's too late.
"We're playing a game that don't understand," McNevin said. "They've already set the rules, they've already played, they've got the results, and then we're going, 'Wait a minute, we didn't even get a chance.' They're like, 'That doesn't matter, you don't get chances the way we play the game.' I believe we have to consider pursuing legal options, look for some type of injunction to stop this.
"This district has got a watershed moment coming up when all of the football parents realize what's happening, the youth football parents realize what's happening, and all of a sudden they're throwing their kids on the bus and this is creating longer days, more meals, more travel, and they want to know when it happened and how we ended up here. It's going to be because, in a meeting like this, we weren't more upset than somebody else. It's time to demonstrate that we are with a louder crowd, and we want this fixed. Not just, 'Oh wow, that's too bad for Baraboo.' We want it fixed now."
Board member Mike Kohlman echoed some of those sentiments, stating that the district could also make its point through parent protests, letters and other methods that could turn into a public relations "black eye" for the WIAA.