LAC DU FLAMBEAU RESERVATION | TRIBE VS. TOWN
Roadblocks put homeowners in the middle of dispute between tribe, town of Lac du Flambeau (copy)
LAC DU FLAMBEAU — Dave Miess and his wife, Sandy Schlosser, at times need to pull a sled filled with groceries across a frozen, snow-covered lake.
The construction of Sally and Joe Fermanich's dream house has turned into a nightmare as work crews no longer have access to their property.
And for Dennis Pearson, who spent more than three decades at General Motors in Janesville before moving to the North Woods, his nearly 90-mile daily commute to a Wausau manufacturing company was already arduous. Now it also includes gearing up with a helmet, tan Carhart bibs and a thick camouflage jacket for a 1-mile ride on his Ski-Doo snowmobile to get to and from his truck.
"Yeah, I'm getting pretty wore out," Pearson, 59, said. "Emotionally, it's draining. We're all paying taxes and we're trying to be good citizens, and it doesn't feel like anybody's trying to help."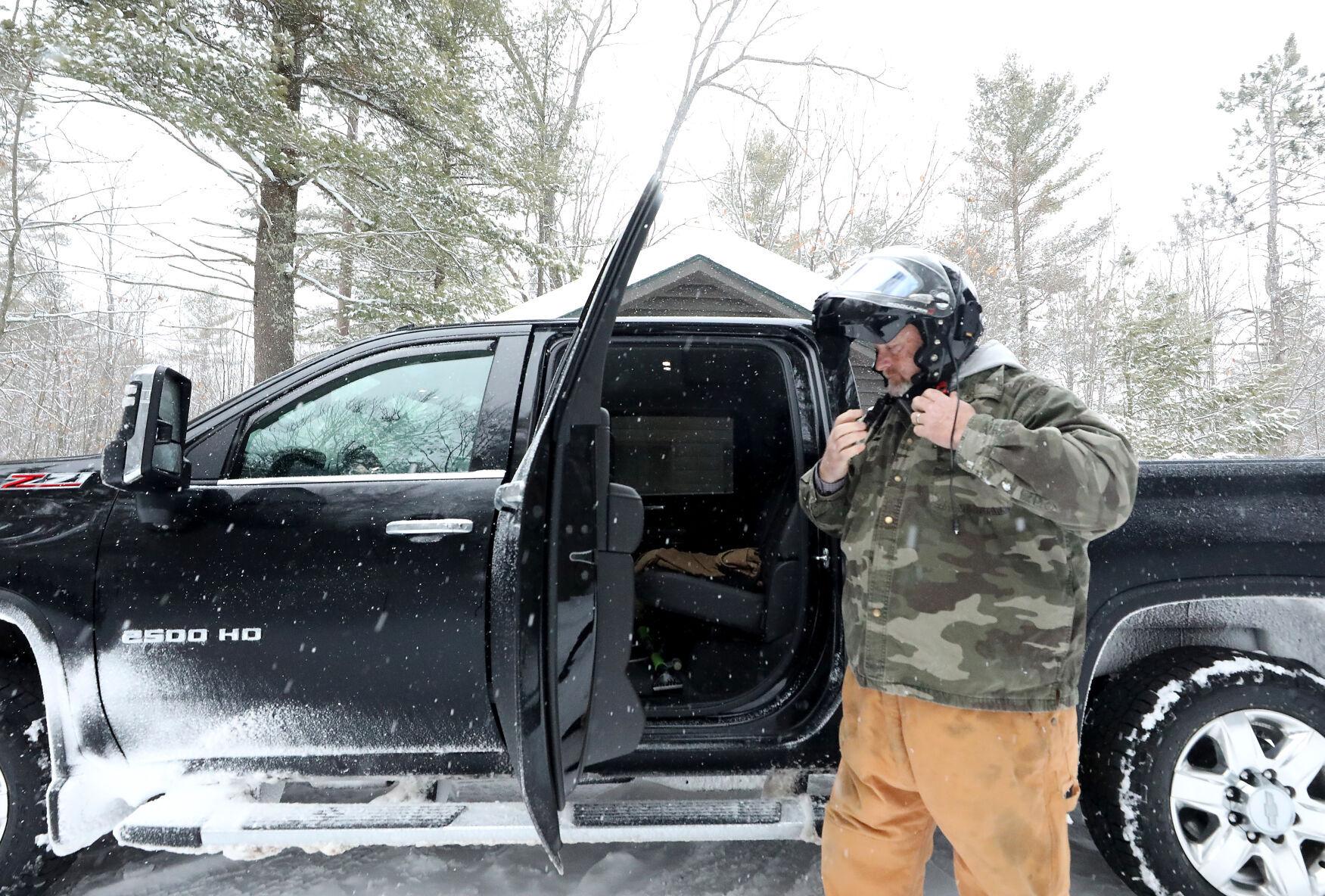 Pearson and 60 other people are blocked from driving to their own homes. They're caught in the middle of a complicated and stalled negotiation that is once again pitting members of the Lac du Flambeau Band of Lake Superior Chippewa against non-tribal members.
Barricades erected by the tribe on Jan. 31 are preventing the residents, 19 of whom live there year-round, from using portions of four roads to reach 73 non-reservation properties in the town of Lac du Flambeau, which lies largely within the historical boundaries of the 86,000-acre reservation in Vilas County.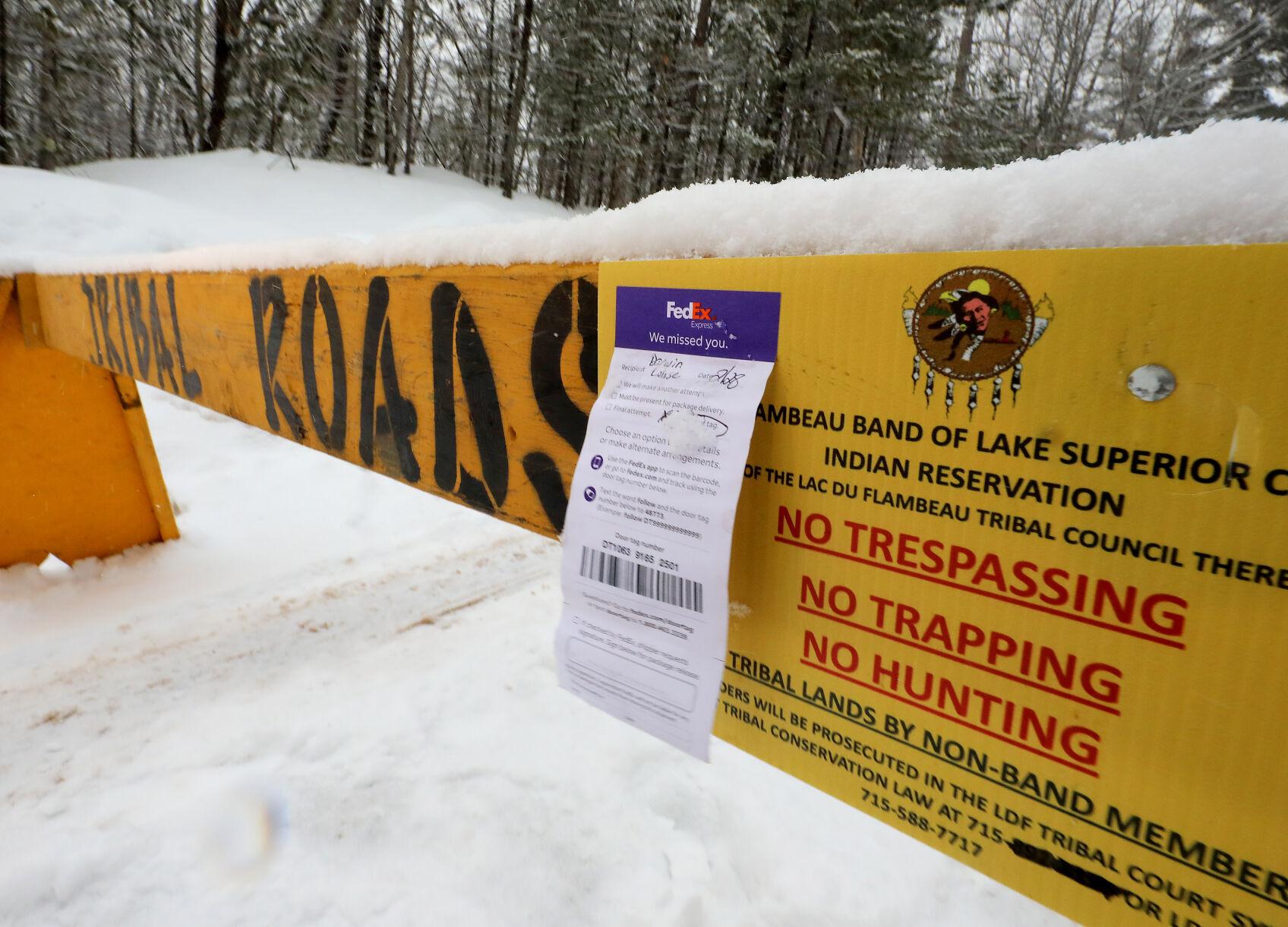 More than 30 years after the contentious debate and violent protests over spearing walleye in off-reservation waters, this latest property rights dispute centers on the tribe trying to keep land they say has been taken from them over many decades. The dispute is rekindling debate about the tribe's sovereign status and its relationship with its neighbors.
"We have given up millions of acres of land over generations," the tribe said in a statement. "We now live on a 12-by-12 square mile piece of land known as a reservation. This is all we have left."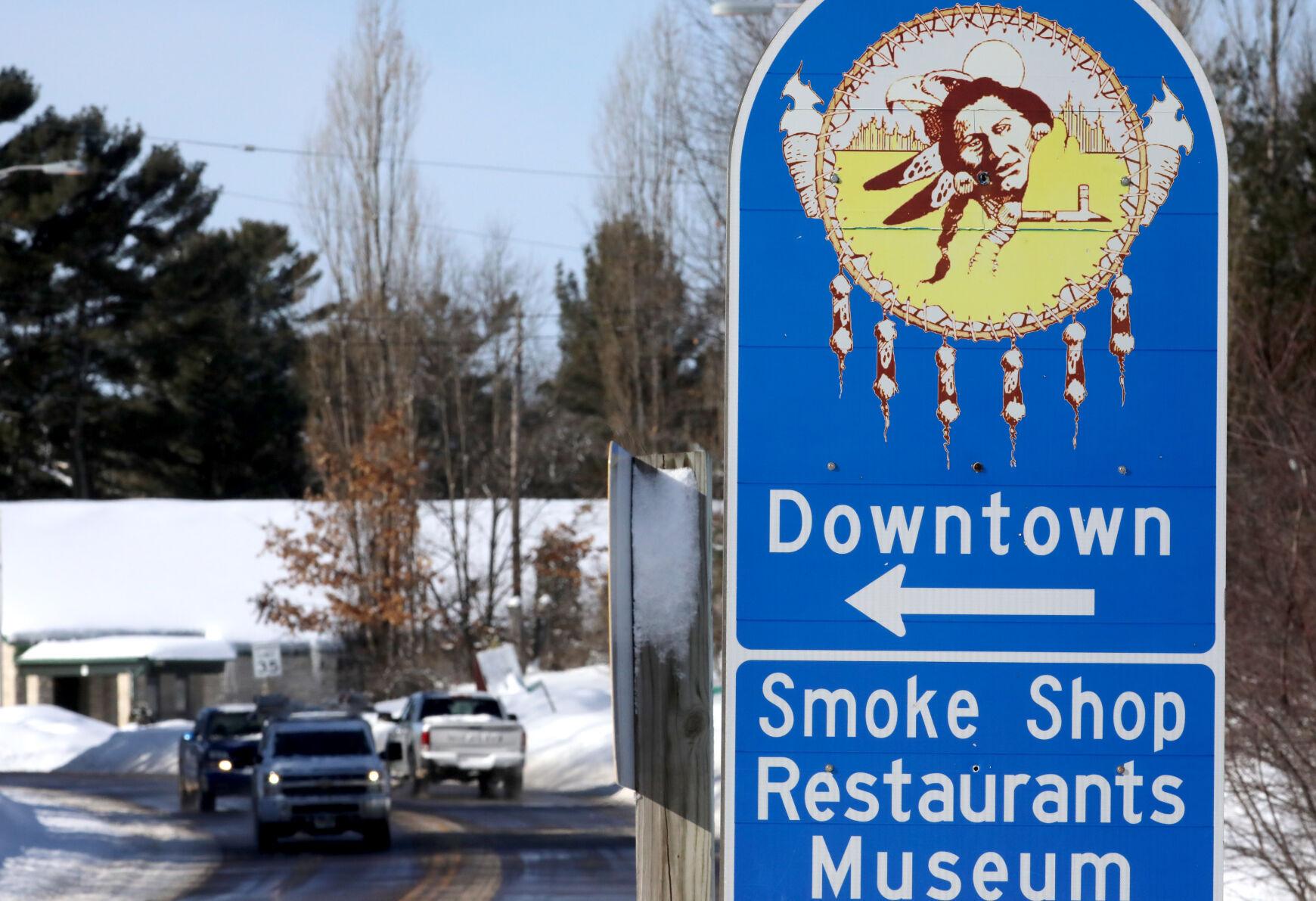 The tribe and its attorney, Andrew Adams, have issued letters and written public statements over the past few months, but attempts to reach tribal president John Johnson last week were unsuccessful. Adams, when reached on Friday, declined to comment. In early February, Adams wrote to town chair Matt Gaulke that the tribe would not remove the barricades or agree to a meeting "until the town presents in writing a good faith offer to the tribe to compensate for the ongoing trespass."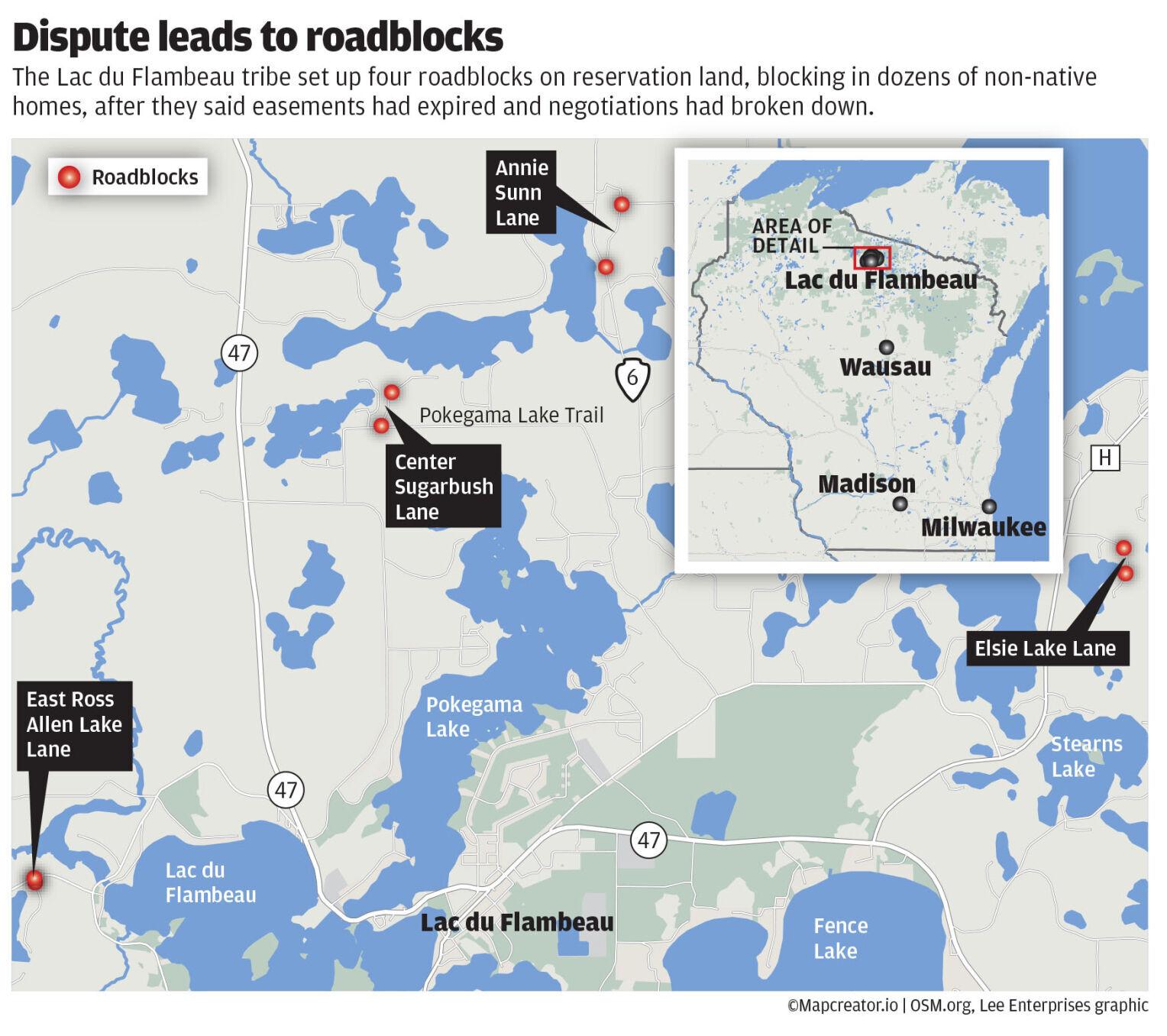 The roads in question cut through reservation land, and negotiations over the easements and compensation to the tribe for their use expired more than 10 years ago. Negotiations, which have included the town, tribe and title companies, have stalled after the tribe rejected a more than $1.05 million offer from the title companies and $64,000 from the town, in addition to the town's future gas tax revenue from the state.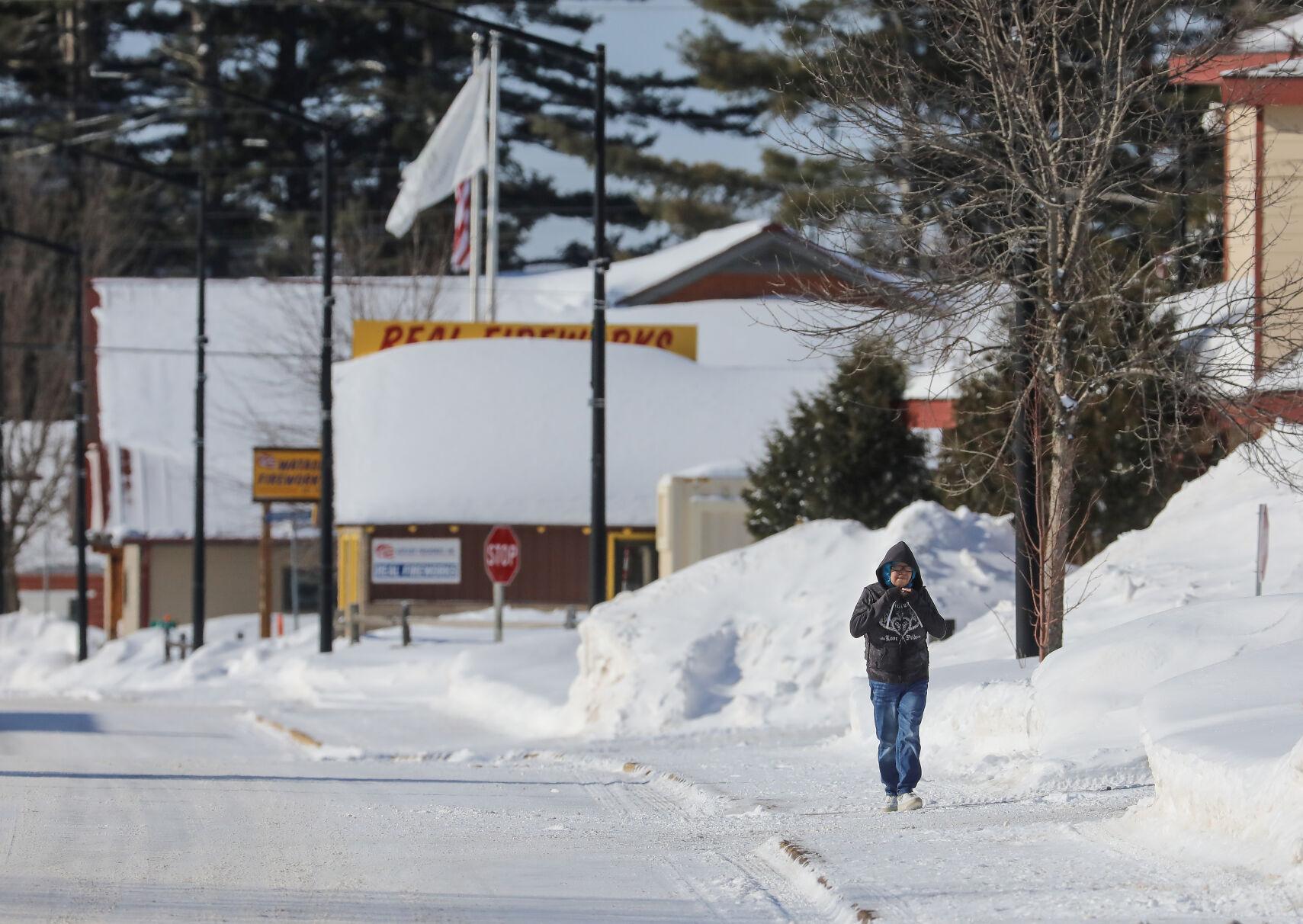 The tribe had been asking for $10 million but has since upped its demand to $20 million for a 25-year agreement, saying it would cover attorney fees and the cost of town residents "illegally using tribal lands over 10 years since the easements expired," the tribe wrote in a Feb. 9 public statement.
In essence, no one is happy. And with lake ice melting in the coming weeks, affected residents are concerned that the ice will not be safe for walking and for a time prevent boats from crossing.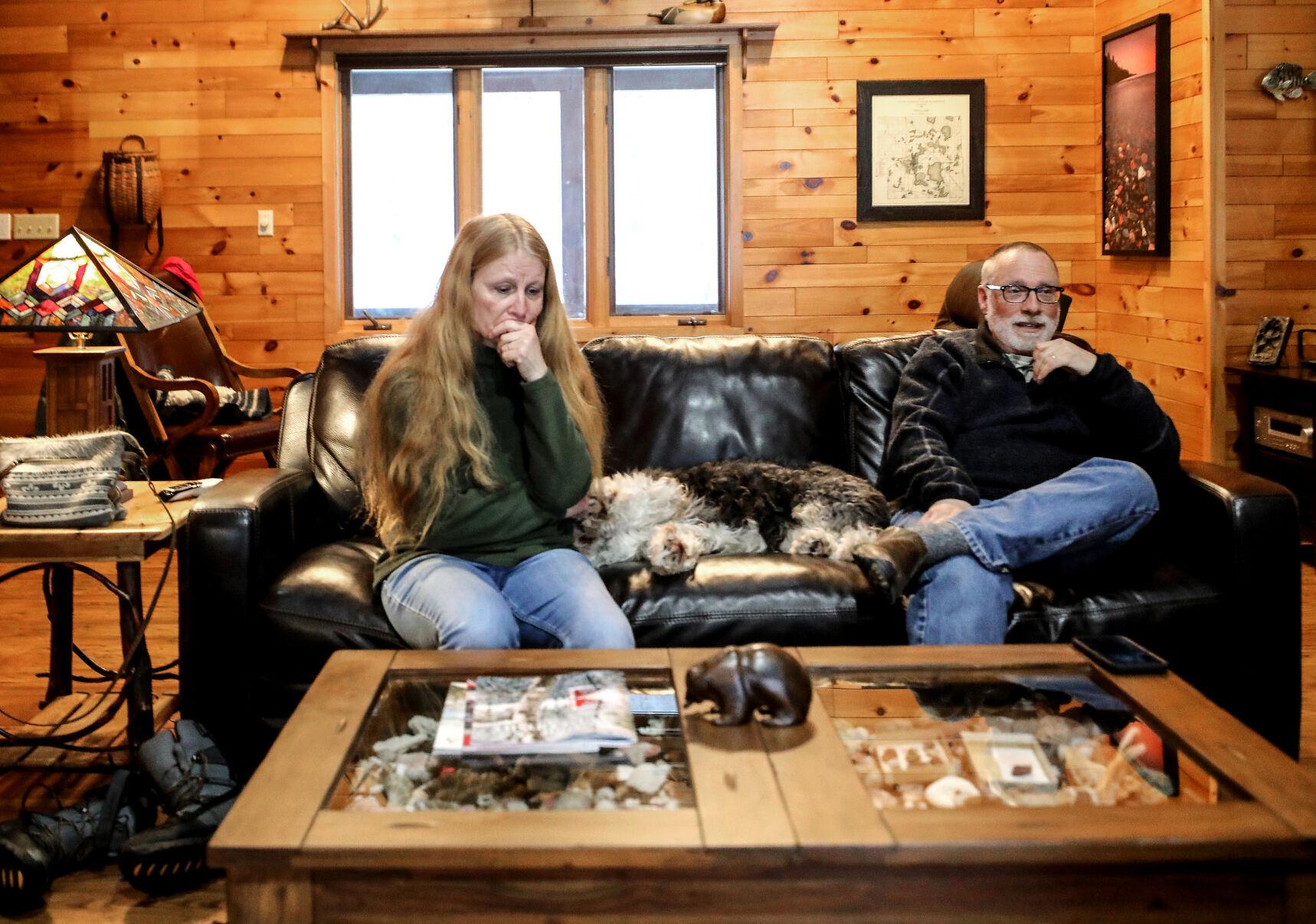 On Tuesday, 22 town of Lac du Flambeau property owners filed a lawsuit in U.S. District Court in Madison against the 12 members of the tribal council. The lawsuit asks a federal judge to order the removal of the four blockades, which each consist of two large concrete blocks connected with a chain and padlock with a wooden barricade in front. The property owners want a judge to either declare the roads public and require them to stay open or declare that the property owners have a right to cross the tribal land by necessity. The suit also says the tribe installed trail cameras to monitor the barricades and threatened criminal prosecution to anyone attempting to use the roadways.
The suit argues that the barricades endanger the safety of residents, because emergency crews would need to open the locks and remove the barricades to enter.
The tribe has done wellness checks on those behind the barriers and mail is delivered three times a week to the affected property owners. Other deliveries are typically not allowed, although emergency repairs to homes have been granted, homeowners say. Those with medical appointments are also allowed to use the roads, but must call the police ahead of time before leaving and call again when they return to be allowed back to their property.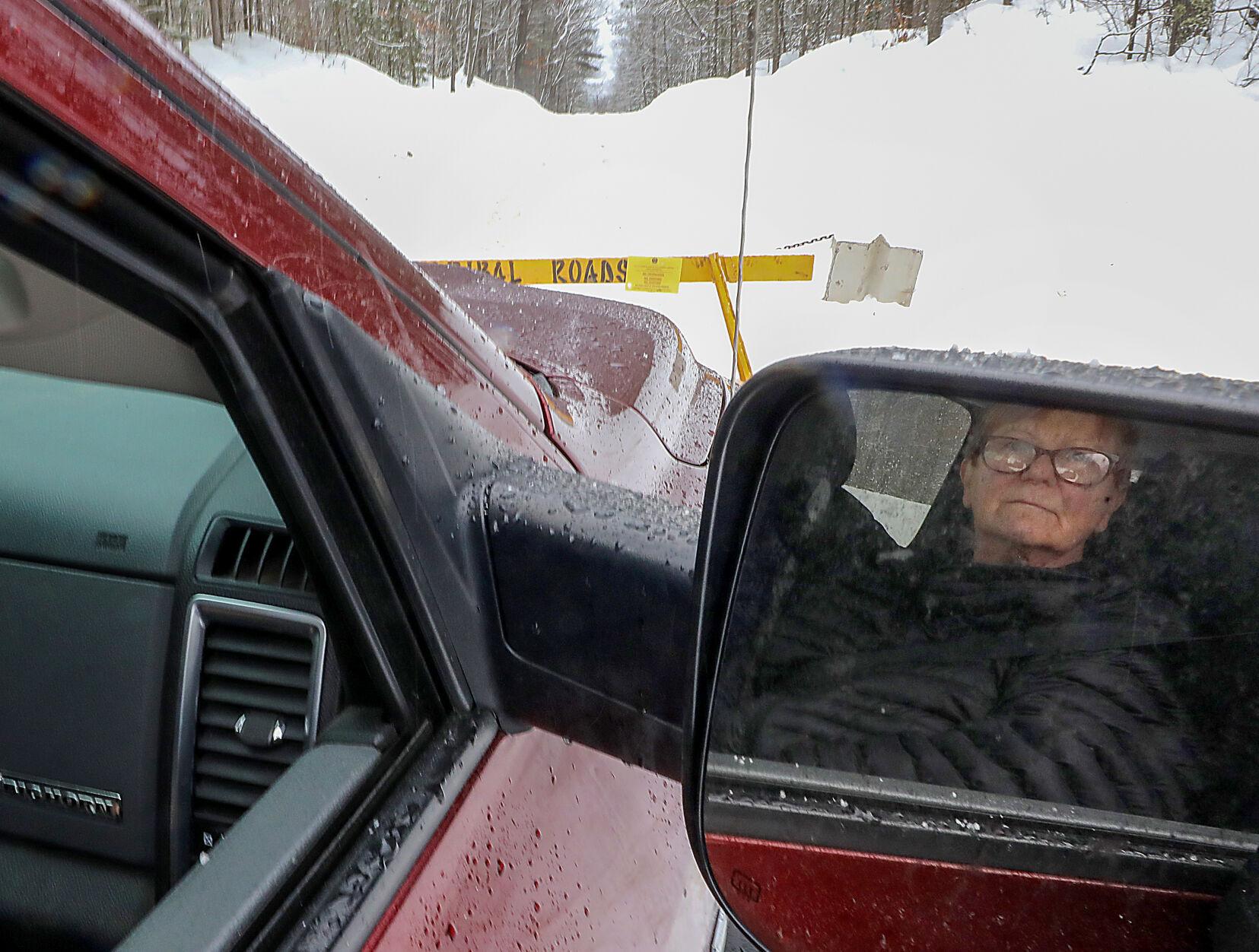 Dianne Lohse said she and her husband, Darwin, waited more than 30 minutes at the barricade Wednesday before two members of the tribe's public works department arrived. They used a blowtorch to warm the padlock before using a key to unlock it. Police had initially been summoned but had been diverted for another call, said Dianne Lohse, who had taken Darwin, a Vietnam veteran, to a physical therapy appointment after he had torn a rotator cuff in his shoulder.
"We have to commend the police department. They have been really good to us and showing us empathy," Dianne said. "But people don't realize the stress this is causing."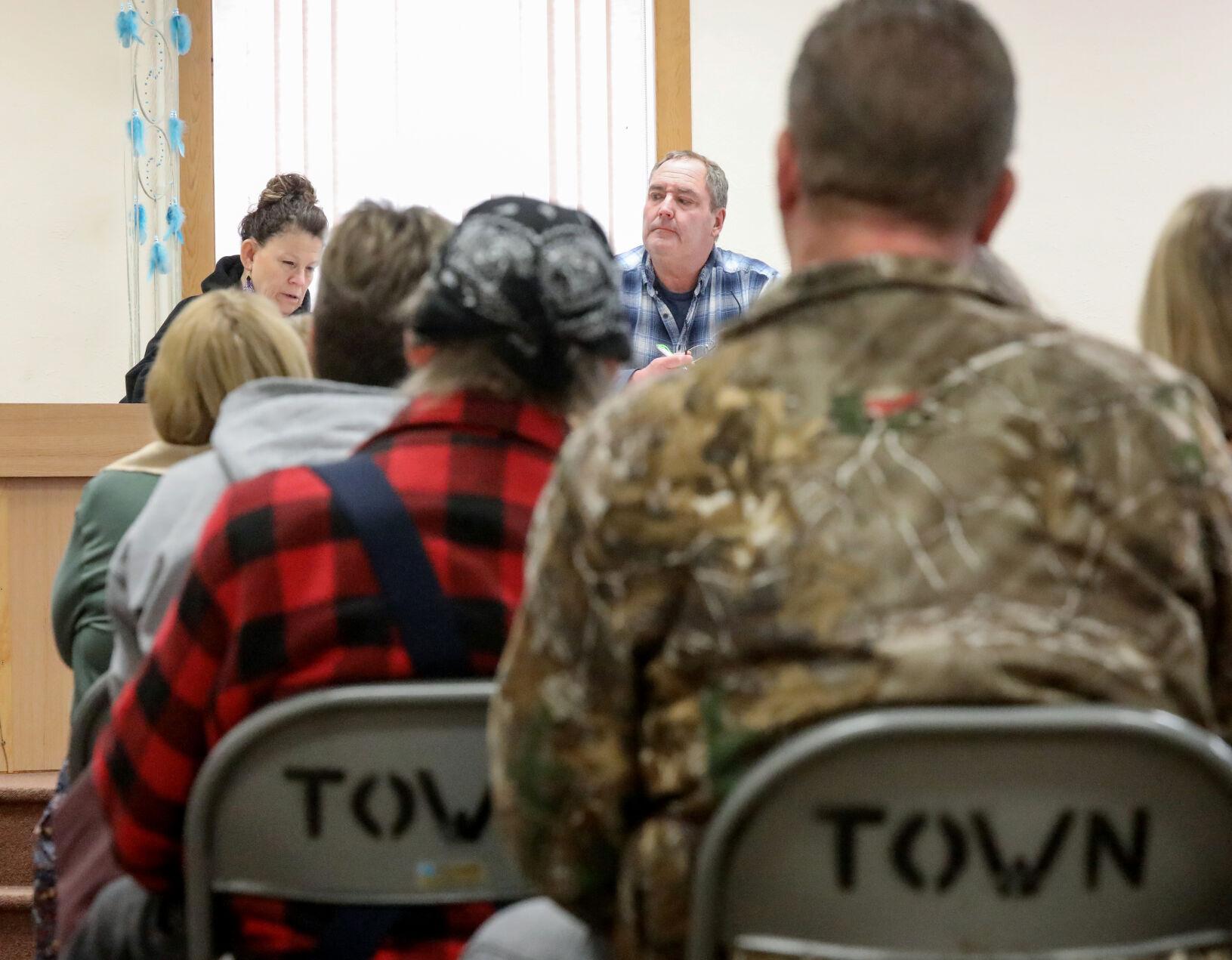 Some homeowners blame the town for not dealing with the issue sooner and plan to sue the town for its inaction and lost property value. Others lay blame on the title companies, Realtors and sellers for not disclosing easements when properties were sold. Meanwhile, the tribe has said First American Title Co. and Chicago Title Insurance Co. "have been slow to act and take responsibility to issuing defective title policy commitment letters to homeowners," according to a statement from the tribe.
"The town of Lac du Flambeau and the title companies have not always acted in good faith to resolve this issue," Johnson wrote when the barricades were erected.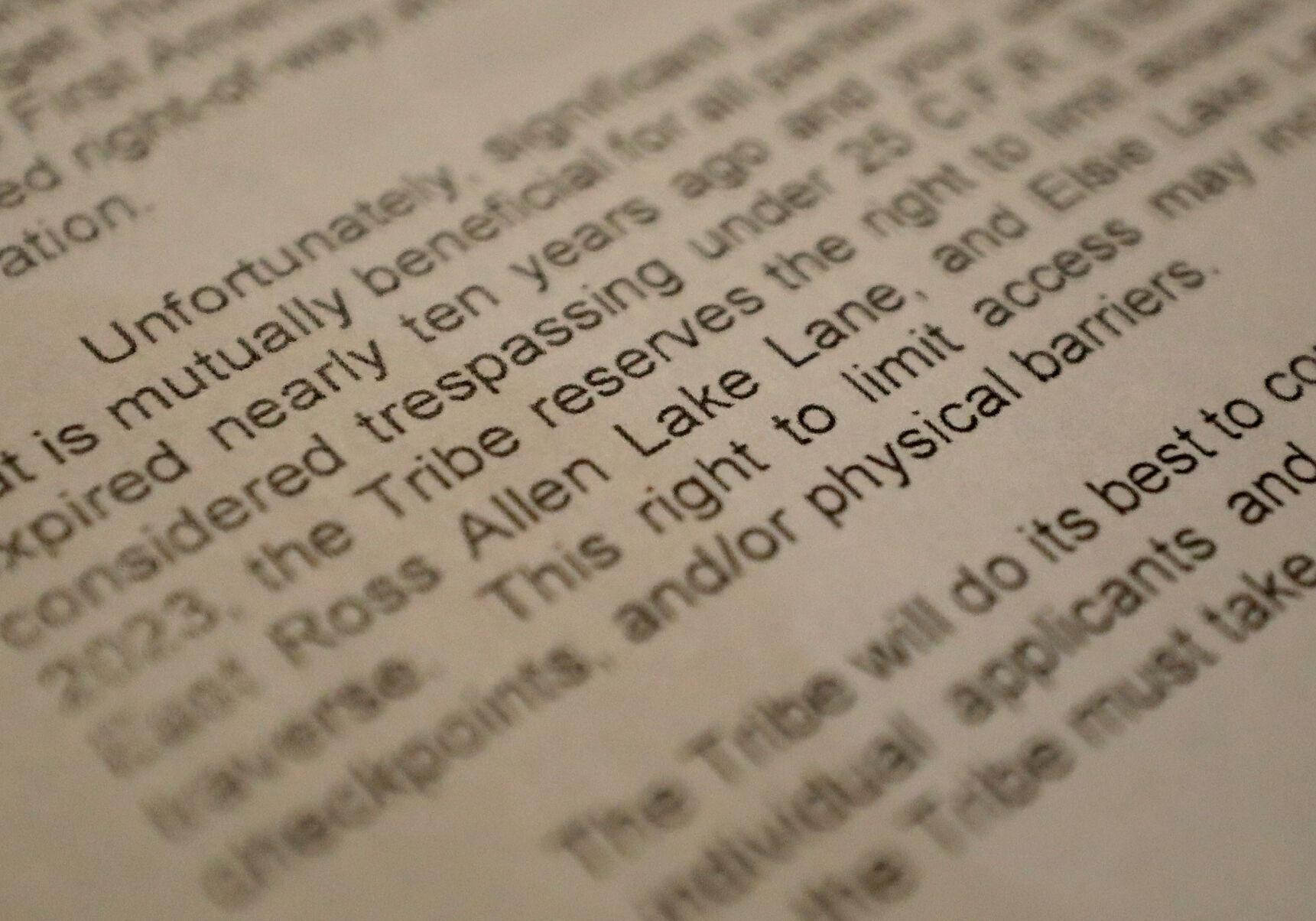 On Thursday, U.S. Sen. Ron Johnson, R-Oshkosh, and U.S. Rep. Tom Tiffany, R-Minocqua, sent a letter to U.S. Transportation Secretary Pete Buttigieg asking he provide copies of appraisals of the contested roadways submitted to the Bureau of Indian Affairs and the total amount of federal funding since 2013 the roadways have received through the Tribal Transportation Fund.
On Wednesday, about 35 people attended a town board meeting where Gaulke said he is hoping the town, tribe, title companies and Gov. Tony Evers can meet and come to a resolution. Gaulke, who says the town has an attorney working on legal options, has not yet met face-to-face with tribal president John Johnson, even though the two have known each other for decades.
"I want to have a sit-down with the title companies so we're all on the same page and have an understanding going forward," said Gloria Cobb, one of the three members of the town board. "We can't rewrite history, but we can have an understanding of the past moving forward."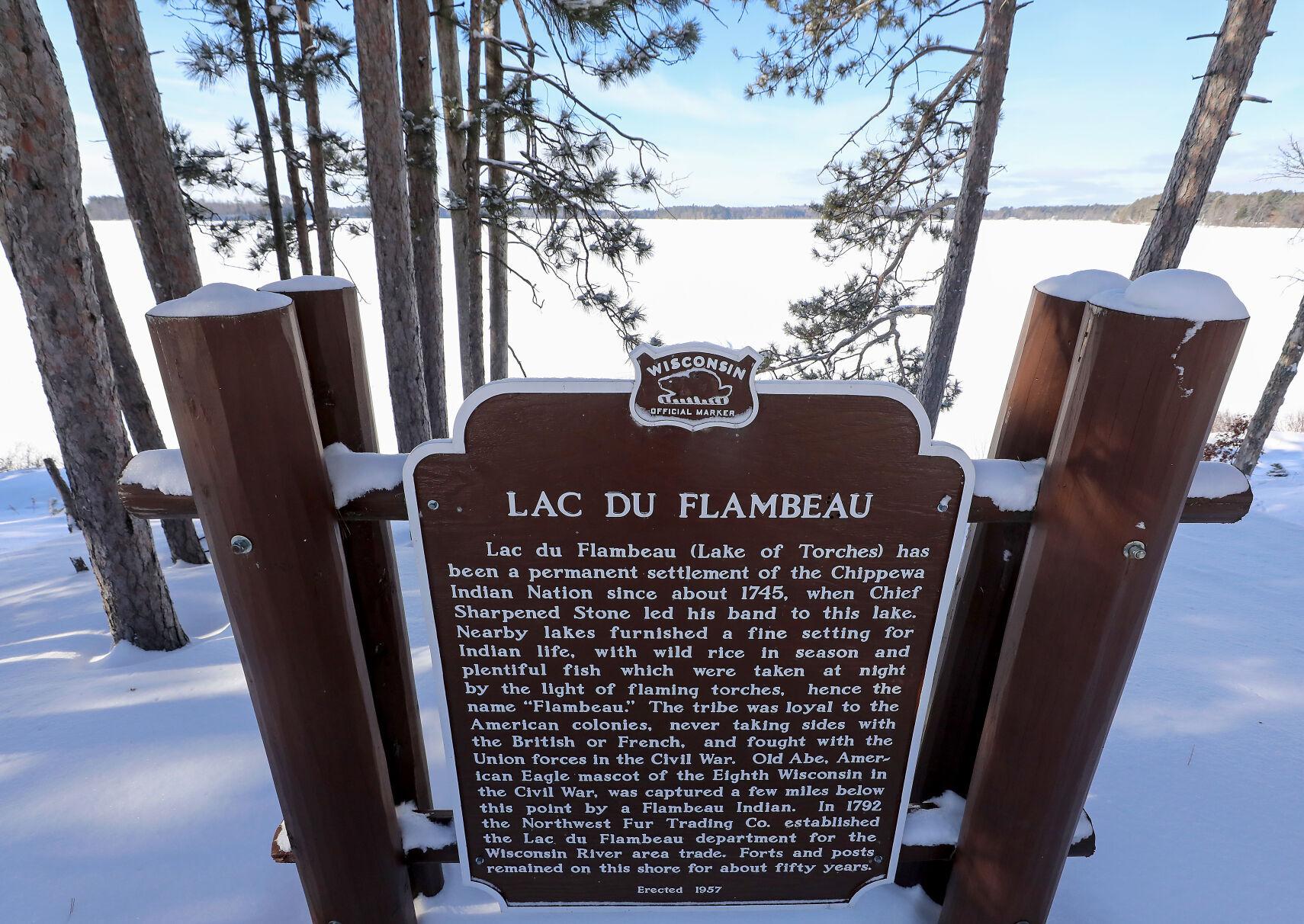 A checkerboard
The Lac du Flambeau have inhabited this area since 1745 with the reservation established by treaties in the mid-1800s after the U.S. government attempted but failed to remove the tribe from the land. The reservation is home to 260 lakes, 65 miles of streams, lakes and rivers, and about 1,420 tribal members, according to the Great Lakes Inter-Tribal website.
But within the reservation are private properties that are part of the town of Lac du Flambeau, not the reservation. These properties were created following the 1887 passage of the Dawes Act by Congress. The act, according to the Milwaukee Public Museum, was an attempt to assimilate Native Americans into the concept of western living by dividing up the reservations so each family could own its own farm rather than the whole reservation being owned communally. But with the land too poor to support agriculture, many Native Americans sold their plots to lumber companies or non-tribal members, including developers.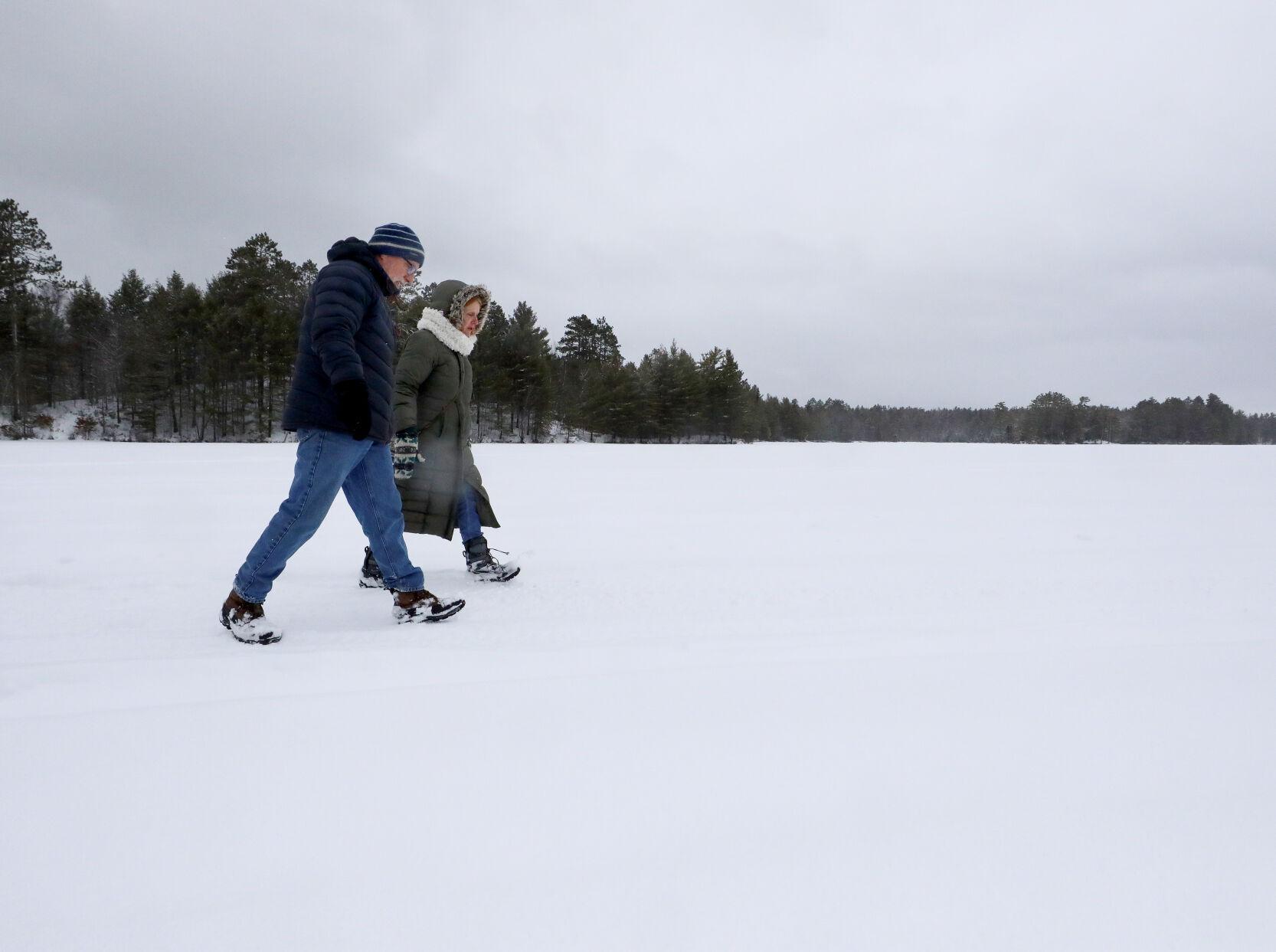 Miess, a landscape photographer, and Schlosser, a retired biotech scientist, lived for 25 years in the village of Oregon, south of Madison, and purchased their home on Ross Allen Lake in 2020. A section of their roadway crosses 153 feet of tribal land. They now park their car across the lake at a friend's house and hike about a quarter-mile across the lake to their home.
"We were never told about this," Schlosser said. "I mean, aren't there laws?"
The roads leading to the properties were at some point transferred to the town, without any notice of the existence of the easements, which were 25-year terms and renewed once, said Bob Hanson, a member of the town board who is also an attorney. The easements for Annie Sunn Lane, Center Sugarbush Lane and East Ross Allen Lake Lane were established in 1964 and expired in 2014, according to town records.
Feeling betrayed
Mike Hornbostel and Marsha Panfil said they were unaware of an easement when they purchased their home on Ross Allen Lake in 2019.
For the past year, they have owned and operated Hornwinkels Bear Stube on Lower Gresham Lake. The bar, established in the 1950s, is not within the reservation, but this is one of the busiest times of the year for the business due to snowmobile traffic. Concerned about threats and the time it takes to access their home, Hornbostel is now living in a cottage next door to the bar, and Panfil is living with a friend.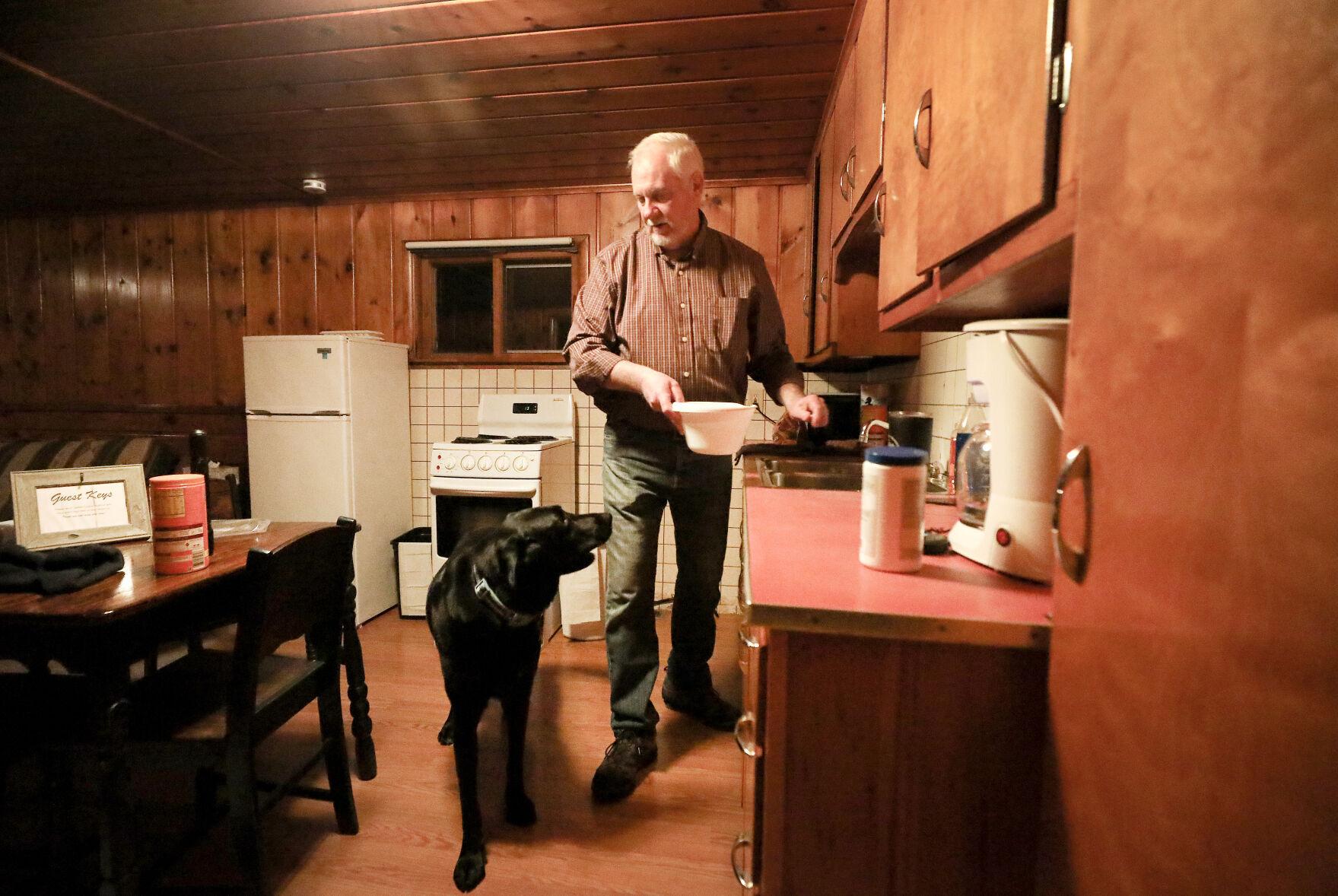 "All of the players are guilty. The town, it's their responsibility to keep public access to our homes. And they have failed to do that," said Hornbostel, who is also upset with the title companies, Realtors and the previous owner of his house for not disclosing the easement, which is required under law.
He is no longer getting propane for his home from a tribal member's company and has stopped sourcing pork and beef from the Ojibwe Market, which is owned by the tribe and located across from the Lake of the Torches Casino.
"We've been trying to support the community," Hornbostel said. "But if the tribe is going to extort us, we're not going to support them either."
Stops and starts
Negotiations between the town, the title companies and the tribe began as early as 2013 with several stops and starts, appraisals of the roads and last fall the tribe announcing it was asking for $10 million. In January, they doubled the proposed fee before erecting the barricades. A few weeks later, the tribe began closing boat landings at some reservation lakes, limiting access for snowmobilers and ice anglers.
"The tribe feels for the property owners impacted by the town and the title companies. In fact, we share in their frustration and can relate," the tribe wrote. "How much longer should the tribe allow the town of Lac du Flambeau elected officials, town attorney Greg Harrold and title company lawyers to string us along, saying one thing and doing another, before saying 'enough using our property without a formal agreement.'"
Mary Possin and her husband, John Disch, purchased their property on 47-acre Elsie Lake in 2017 with no knowledge of the easement established in 1961 for Elsie Lake Lane. That easement expired in 2011.
Possin is a former school board member in the Monona Grove School District and spent 20 years as an academic adviser at UW-Madison. Disch owned Monona Motors. The couple is preparing to sell their home in Monona as their retirement plan is to watch the loons on their northern Wisconsin lake, chosen because Possin had spent summers as a child on nearby Crawling Stone Lake.
"I remember it was always the happiest times in our life," Possin said last week. "The town should have taken care of this with the tribe years ago. But there's not a functional relationship there and there hasn't been for a long time. The hardest part for us is not knowing. We don't know if it's going to be this week or next week or next month or next year. We just don't know how long this could go on."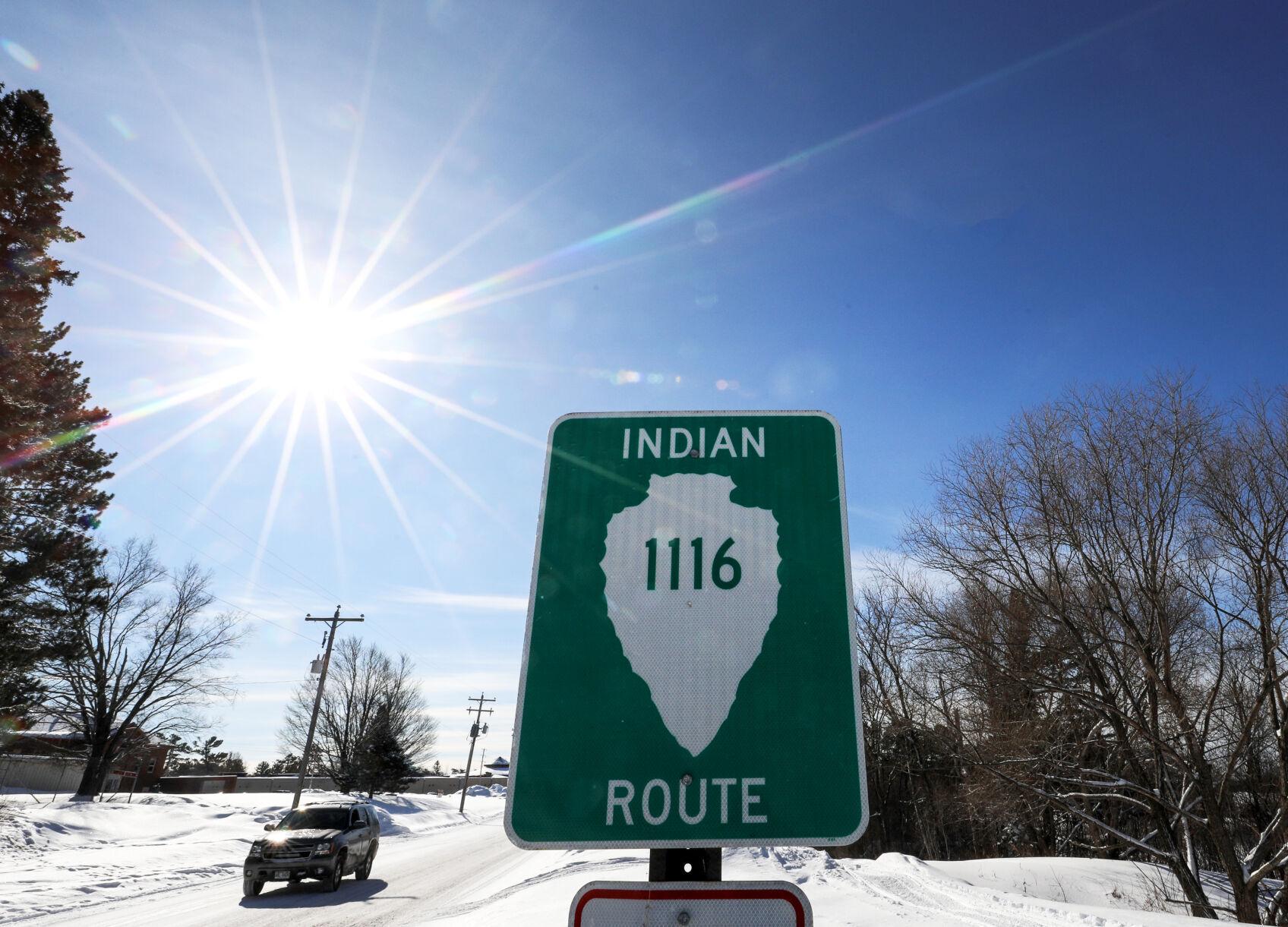 'A real mess'
Richard Monette, an expert on Native American issues and director of the Great Lakes Indian Law Center at UW-Madison, said easement issues are not uncommon. In late January, a federal appellate court ruled that a lawsuit filed by the Seneca Nation of Indians against New York state may proceed over the tribe's longstanding claims that a 1954 land deal permitting a highway to cut through part of its Cattaraugus Reservation was illegal.
Monette believes many are to blame for the Lac du Flambeau issue. They include the Bureau of Indian Affairs, which should do more to monitor and provide guidance with easement situations, and the title companies that failed to use due diligence when issuing titles to the property owners. The tribe should have also created a recording system that better documents the easements for those looking to buy a property where a road crosses tribal land.
"So we have a whole lot of moving parts creating a real mess," Monette said. "It's real unfortunate. It wasn't that long ago that the treaty mess erupted the way it did with ugly racism and violence. That stuff is finally getting put to rest. But make no mistake, you now have property owners on other reservations, I'm quite certain, going through their property records and title companies going through their records."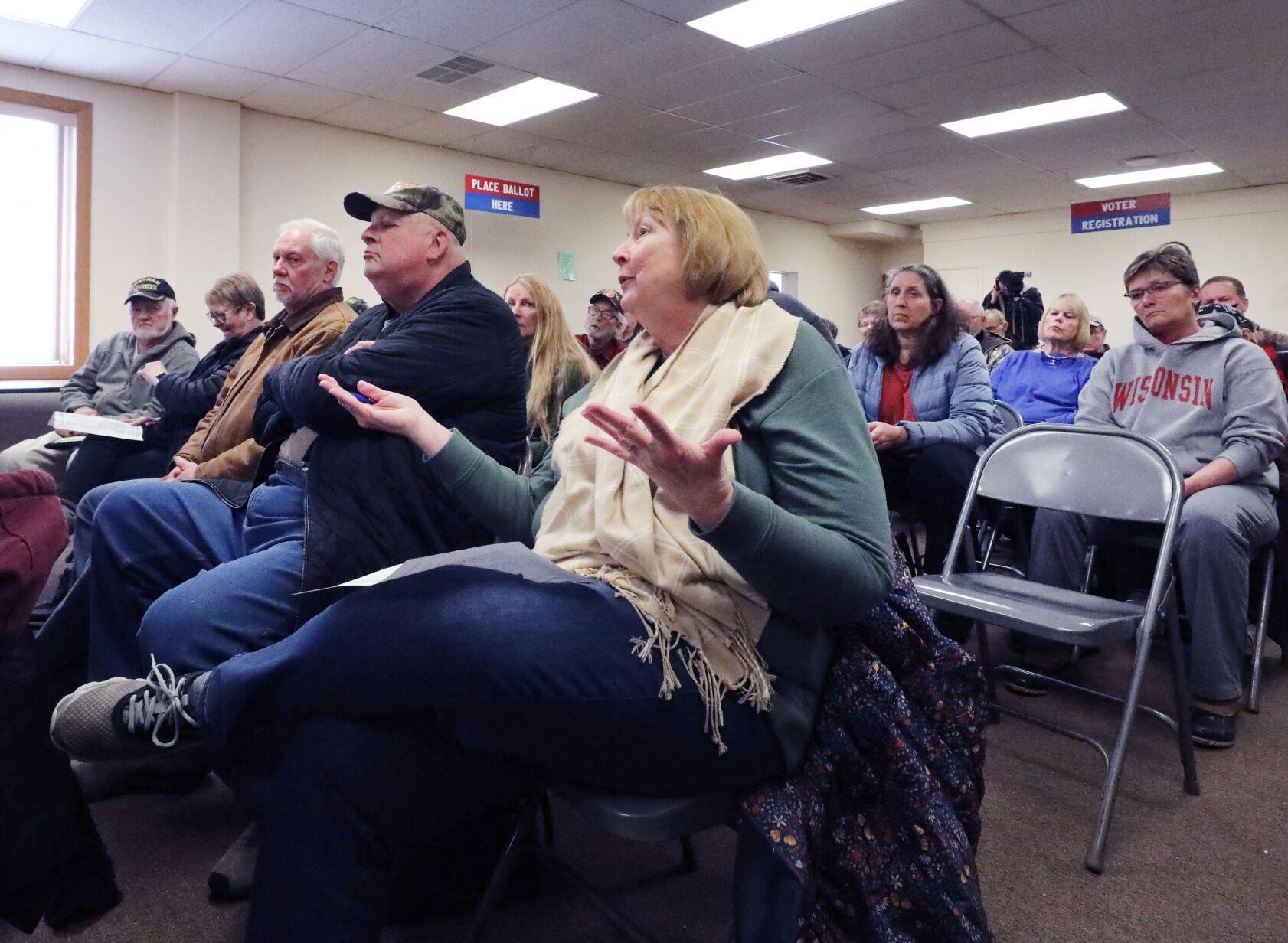 Sally Fermanich was among those who attended Wednesday's town board meeting and continues to be miffed at the town, tribe and title companies. She and her husband live in Neenah but purchased a lot about 20 years ago off East Ross Allen Lake Lane. Like others, the couple was unaware of the easement. They had a camper trailer on the property for years and last year began building a home. Work has been halted with the house about halfway done as construction crews are unable to get to the property.
"Do I even finish the house," Fermanich, a retired critical care nurse said. "It's cost us a fortune. We've lost tons of money on bids. It's very sad and it's causing a lot of angst."
The Associated Press and The Buffalo News contributed to this report.