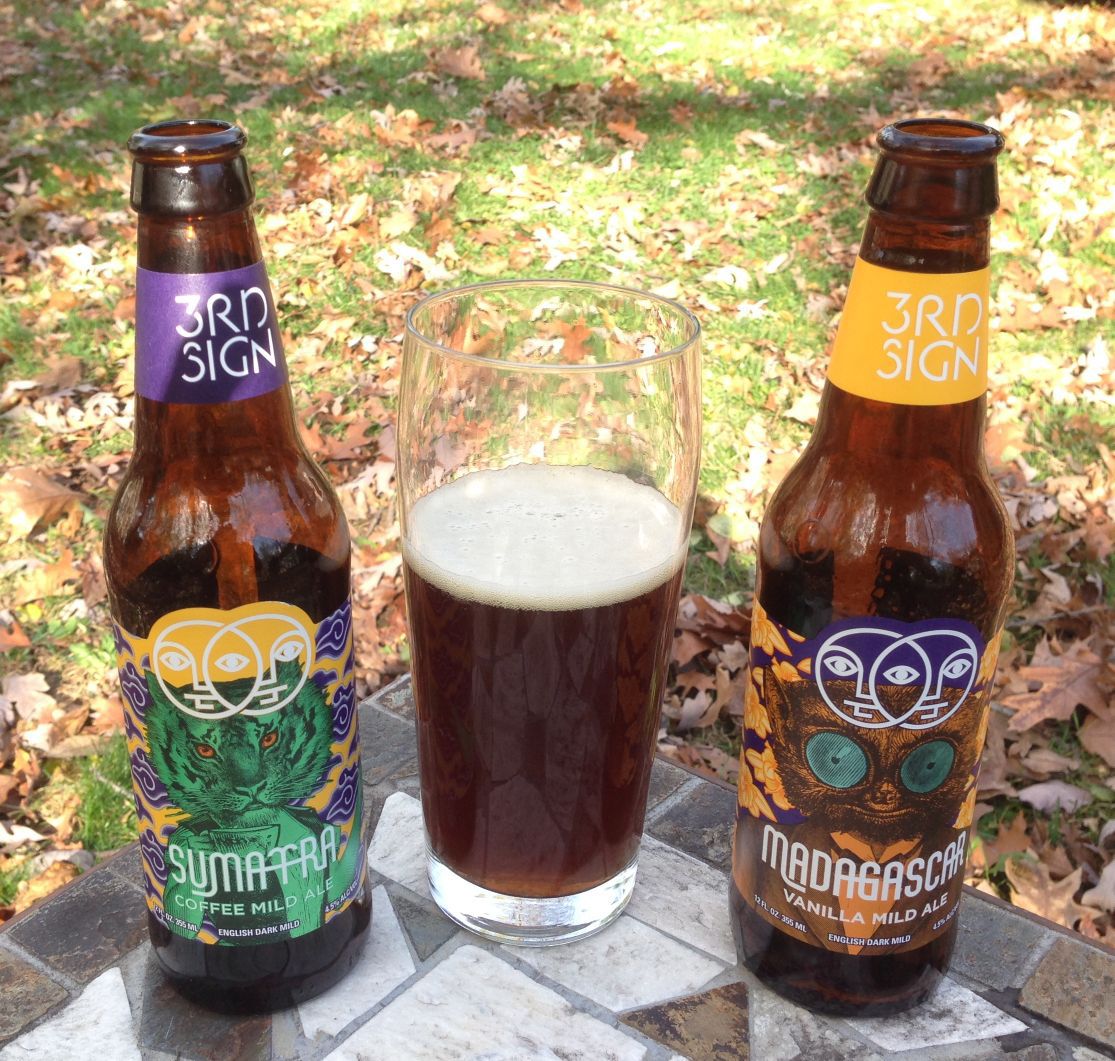 This is an obituary for 3rd Sign Brewery, a brewery that died an ugly, unnatural and early death.
Unfortunately, because of its short life — 3rd Sign was born along with its parent just a year and a half ago — this obit will be less about its accomplishments on this earth than about how it met its demise.
First, what 3rd Sign was.
It was the house brand of Octopi Brewing, the Waunakee brewery opened by Isaac Showaki in October 2015. Octopi's new $5 million brewery focusing on contract brewing, making beer for other brewing companies without facilities or in need of a boost in production, was a unique addition to the Madison-area beer scene. That fall, Showaki described 3rd Sign to me as a showcase for what businesses that partnered with Octopi could achieve: high-concept beer with few limitations on ingredients, in a cool package.
The novel twist to 3rd Sign was that each beer it produced would have a pair that took the beer in a different direction. IPA, one focusing on piney, resinous hops, one on fruity, tropical hops. Porters, one with chocolate cherry porter, one with coconut and hot peppers. My favorite of these "dually brewed" pairs was the mild ale twins with vanilla and coffee, though I chose them at the bottle shop only occasionally.
Showaki said 3rd Sign was performing well for Octopi, moving 1,400 barrels in 2016 and on track for 2,500 barrels this year, a strong start for a relative startup.
But it was Showaki himself who pulled the plug on 3rd Sign — his hand forced, he says, by a dispute with his distributor.
Octopi signed an agreement in 2016 with River City Distributing of Watertown for it to market, sell and deliver 3rd Sign beer in a territory including Dane County and all or parts of 15 other counties. Showaki said River City was doing an "OK to mediocre" job on behalf of 3rd Sign. As many breweries do in key markets, Octopi had its own sales reps working to further the 3rd Sign brand as well.
This is the part where this obituary becomes a civil litigation story. Bear with me, and know at this point that reps from both River City and Wisconsin Distributors declined multiple requests for comment on this story.
State law does not allow a distributor to transfer a contract with a brewery without the brewery's consent. Instead, Showaki said, Wisconsin Distributors pitched each of River City's craft breweries, including New Glarus, O'so, Potosi, MobCraft, Tyranena and 3rd Sign, on joining its fold in all or part of River City's former territory.
Showaki said he was underwhelmed by the presentation, and his concern about 3rd Sign getting lost in Wisconsin Distributors' larger portfolio led him to decide self-distribution would be the better bet.
According to court documents, River City balked, saying Octopi must pay it three times the annual gross profit from the 3rd Sign distribution deal to get out of it, or go to arbitration. Showaki countered that the contract had no language prescribing arbitration and sued River City in Dane County Circuit Court to be released from the contract.
Around late March or early April, Showaki decided to forgo the once promising future of 3rd Sign and kill his house brand. The four-packs and bombers began drying up later that spring.
Showaki says that River City, a distributor that is no longer distributing, is holding his brand hostage for $93,000 — a net figure of the market value of the 3rd Sign distribution rights, minus the value of unsold beer and other materials at the time of the dispute.
But to River City, I suppose, 3rd Sign's business was an asset that Wisconsin Distributors reasonably assumed it would acquire along with River City's other assets. If Octopi could elect to self-distribute 3rd Sign, that asset's value would be zero instead of the market value another distributor would be required to pay River City if Octopi chose a new distribution partner.
This case will be decided in the nitty gritty of the state's laws governing the manufacture, distribution and retailing of alcoholic beverage industry — the "three-tier" system that some of those tiers continue to lobby lawmakers to change.
The suit is continuing to be litigated by a distributor that's no longer distributing and the owner of a brand that no longer exists because, Showaki said, River City is maintaining that its contract pertains to all future house brands 3rd Sign might choose to create in perpetuity.
He estimates he's spent more than $20,000 in legal fees on the case, but describes the $93,000 he says River City is seeking as an expense very few small breweries could come up with unexpectedly and in short order.
Still, killing 3rd Sign is a drastic step. As I see it, Showaki had two alternatives: going along with Wisconsin Distributors, which would have rendered the market value payment moot, or paying it himself. If the brand was as healthy as Showaki says it was, either option seems to me more logical than walking away. But there are principles, legal and otherwise, involved here, and Showaki's beliefs in those may have changed his calculus in ways I don't understand from the outside.
Another clear factor in the decision was that Octopi was never really about 3rd Sign anyway.
Showaki said 3rd Sign accounted for about 8 percent of Octopi's business last year, which totaled about 12,000 barrels of production.
"It really hurts us that we had to kill 3rd Sign, but at the end of the day we're a contract brewery first and foremost," he said. "Our brand was just the icing on the cake."
Octopi has 12 current contract clients, and Showaki said he expects to have two to three more by the end of this year. They include Madison's One Barrel Brewing, which has seen rapid growth across the state; Ahnapee Brewing of Algoma, which is using Octopi to augment production at its small farmstead brewery in northeastern Wisconsin; and Hop Haus Brewing, whose launch in bottles has gone so well in its first three months, Showaki said, that the Verona brewery has filled the requirements of its full-year contract.
Showaki said that's allowed investments in the brewery that by the end of the year will include a canning line, additional fermenters and some 10 new employees. The new equipment will raise the brewery's capacity to 40,000 barrels a year, though he said he expects to brew about 20,000 barrels this year.
Another feather in Showaki's cap right now is the emergence of a younger cousin of the dearly departed 3rd Sign: Untitled Art, the brand Showaki developed with Levi Funk of Madison's Funk Factory Geuzeria.
Last week's debut of Coffee Stout brought to four the number of (good to outstanding) beers released by Untitled Art this year — which is, it's worth noting, self-distributed by Octopi. "Untitled Art is doing phenomenal, much better than we ever expected," Showaki said.
During our conversation, Showaki also hinted at things to come from Octopi, but declined to provide detail.
So, regardless of the outcome of the legal dispute, weep not for Octopi — though you may choose to pour one out for 3rd Sign.