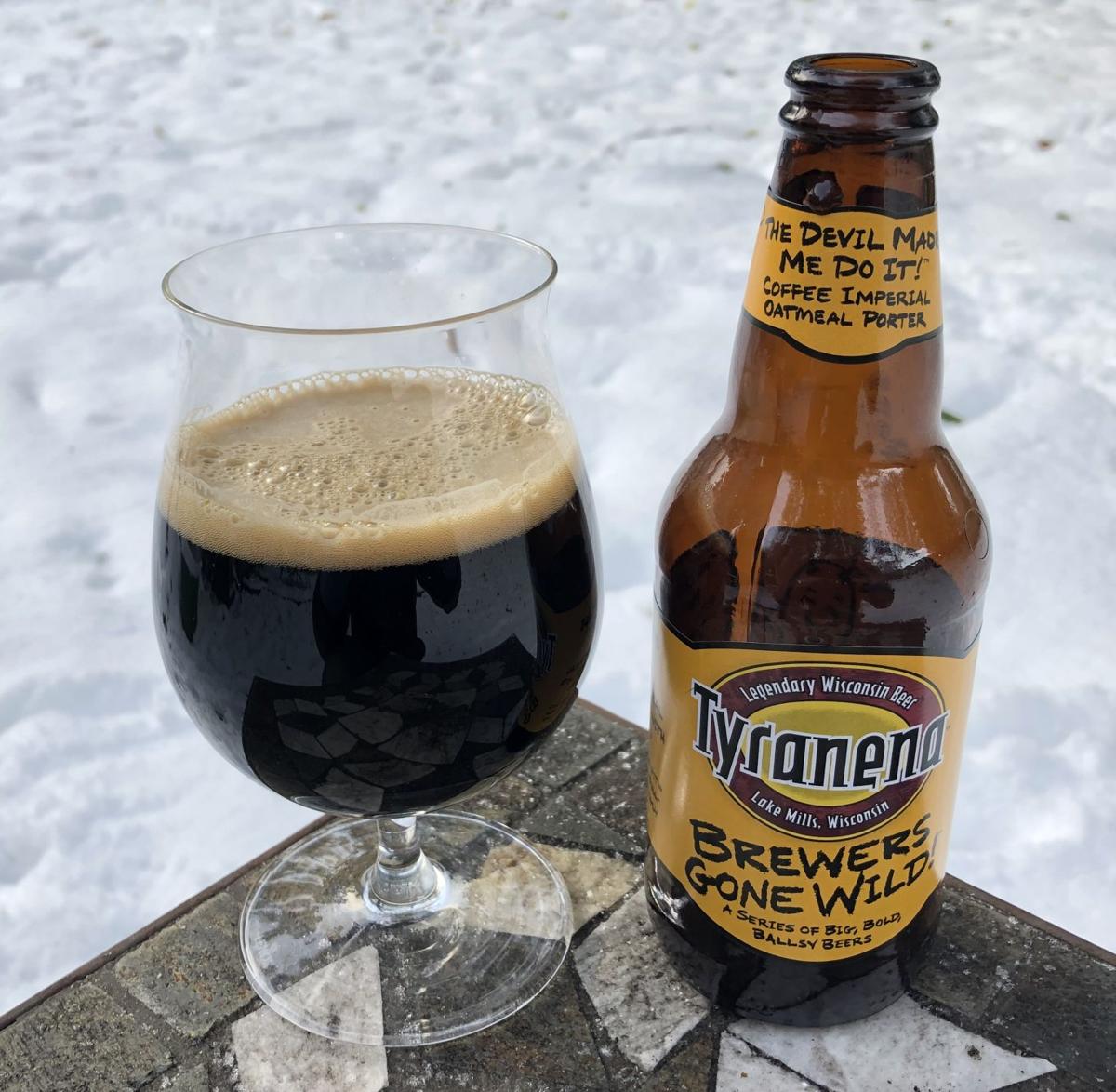 Sorry to rush you out the door, autumn, but it's stout season.
And that has me thinking about the best Wisconsin breweries for the style.
The smart money is probably on Amherst's Central Waters, mavens of malts and barons of barrels. Central Waters' roster of barrel-aged stouts seems to grow every year, with rarely a stinker in the bunch.
Untitled Art of Waunakee takes a different tack, teaming with buzzy breweries from coast to coast and loading its stouts up with lots of lactose and adjuncts — almost always as one-offs and often to great effect.
Sheboygan's 3 Sheeps Brewing makes some of my favorites, the dearly departed (this year) coffee-chocolate Uber Joe, the fantastic cocoa-coconut Paid Time Off, the rye-spiked nitro Cashmere Hammer and the solid new chocolate milk stout Bon Bon.
But the best Wisconsin program of black beers you're probably not paying enough attention to comes from Tyranena Brewing in Lake Mills.
This brewery that turns 20 years old this month has a couple of solid black beers in its regular lineup of year-round (Chief BlackHawk Porter) and seasonal (Down 'n' Dirty Chocolate Oatmeal Stout) six-packs.
But Tyranena's best efforts with these dark malt beers come when its brewers go imperial with them. These limited releases include Carnal Knowledge double oatmeal stout and The Devil Made Me Do It, an imperial oatmeal coffee porter. (A note about the oatmeal: it's largely flavorless in beer but adds a silky-smooth texture to beers, especially styles like these.)
You have free articles remaining.
Both the ante and the payoff go up further with barrel-aging, a technique Tyranena has excelled at with its landmark brown ale, Rocky's Revenge. Carnal Knowledge sits in rye whiskey barrels and comes out as Carnal Knowledge in the Wood, while The Devil Made Me Do It becomes Devil Over a Barrel after its bourbon barrel slumber. An exceptional bourbon barrel stout, Kissers Monday Night Special, is named for the Madison-based band. These are even more limited releases, roughly once a year.
Saturday, Nov. 16, Tyranena is releasing a souped-up new entry to its barrel-aged portfolio as part of its anniversary celebration: Twenty, an imperial stout aged first in bourbon barrels, then a portion aged in Madeira barrels.
In total, it's a porter-and-stout resume that stacks up to just about any Wisconsin peer, though you'll have to pay close attention at the bottle shop. Most of these beers are tucked into Tyranena's Brewers Gone Wild packaging, with generic yellow bottle labels and four-pack cartons. Between that and the thematically similar names — the theme being juvenile sex jokes — they're hard to keep sorted.
The good news is you don't really need to keep them sorted; they're all worth picking up if you appreciate the style. And this week's beer is one of the best.
The Devil Made Me Do It
Style: Imperial oatmeal coffee porter
Brewed by: Tyranena Brewing, which has a friendly and cozy taproom at the brewery just a few minutes off of Interstate 94 at 1025 Owen St. in Lake Mills.
What it's like: A lot of people and businesses have been swearing off of Michigan's Founders Brewing over the way the company handled allegations of racism by a fired African American employee. (Founders and the employee, Tracy Evans, announced a settlement on Oct. 31.) If you're looking to move on from Founders' excellent Breakfast Stout imperial coffee oatmeal porter, The Devil Made Me Do It is a comparable (though only seasonal) stand-in.
Up close: There aren't many beers prettier in a glass than a stout or imperial porter, and this one holds serve: inky black with chestnut highlights and a thin, tan head. A lot of coffee beers really pack the java into the aroma, but the nose on The Devil Made Me Do It plays it subtly, with pretty standard black-beer notes of dark chocolate, roast and a touch of cereal.
With a sip, though, the coffee comes up big. I'm no coffee expert, but this strikes me as a dark-roasted, fairly bitter blend with some subtle berry notes. Of course, this isn't coffee; it's a coffee beer, and it's hard to separate what's coming from the malt and what's coming from the coffee. The total package, though, is a full-bodied, nicely balanced mocha delight. If the kids have any Hershey's bars left over from Halloween, that milk chocolate makes a great pairing with this beer if you're in the snitching mood.
Bottom line: 4½ stars (out of five)