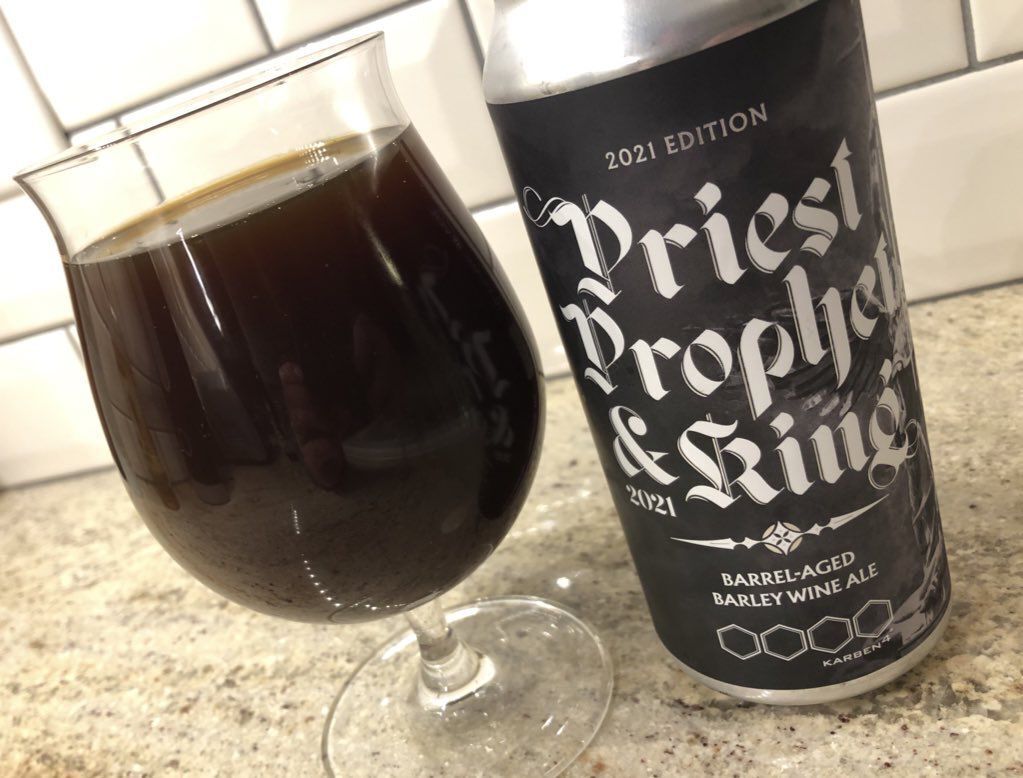 In the beer industry these days, the only constant is change. And at Karben4, the only constant is change and Fantasy Factory.
To ring in 2022, the Madison brewery began its 10th year by bidding adieu to most of its regular beers that don't carry a gun-toting, unicorn-riding ninja cat on its label and putting just two new year-round beers beside Fantasy Factory.
And its seasonal lineup will mostly be replaced by two new rotating-monthly series of beers aimed at very different audiences.
Happy Fun Times is focusing on what owner and brewmaster Ryan Koga calls "hype beers" — contemporary styles like hazy IPAs and fruited sours. The series, which drops monthly on the third week of each month, opens with a cold IPA — a trendy style that actually made its Karben4 debut as a Fantasy Factory variety in the most recent mixed pack.
The other monthly series, World Beer Tour, will drop a more traditional beer style from around the world on the first week of the month. This month is a wee heavy from Scotland, and Koga mentioned Finnish sahti, Irish dry stout, New Zealand pale ale, Belgian styles and lots of lagers, among others, as coming down that international turnpike.
Each of the quickly rotating series will be brewed in 15-barrel batches, meaning most bottle shops will only get three or fewer cases of each beer, unless preorders justify doubling or tripling the batch, Koga said.
"The whole point is going to be turn and burn," he said. "We want to keep it exclusive and fresh. And we definitely want it to be cleared out before the next month's ideas come through."
The steady backdrop against which all that turning and burning will happen are three really solid beers. You know about Fantasy Factory, probably the most distinctive IPA in Wisconsin and one that Koga hopes to position as a Wisconsin bar staple along the lines of Spotted Cow and Riverwest Stein.
Joining it as a K4 year-rounder is the new Midwesty, an American lager brewed with pilsner malt and flaked rice — an adjunct that is not out of place at all in this beer but precludes it from being the pilsner its label claims it to be. But it is a classic and very good American lager — light in body but relatively malty with just a light kiss of hops. The label has supper club vibes, and this clean and easy drinking would feel right at home in that setting.
The other year-rounder is Hawk Jones, a session IPA that debuted last fall as a tribute to Maj. Durwood "Hawk" Jones of the Wisconsin Air National Guard's Madison-based 115th Fighter Wing. Jones died in December 2020 when his F-16 crashed in the Upper Peninsula of Michigan during a training exercise. The beer is a worthy tribute — a bright, crisp and slightly hazy take on the style that succeeds where many session IPAs fail because of an unexpected crackerlike flourish in the malt profile.
All of this is important, but the purpose of this column is not to just lay out the ins and outs of Karben4's lineup for 2022. I'm here to tell you about Priest Prophet & King.
This barleywine aged in a motley assortment of wine and spirit barrels was introduced as Karben4's anniversary beer last year, though it was not originally brewed for that honor, Koga said. The idea to use it for an anniversary release came in the grips of a pandemic that will cloud this year's release as well.
After its success last year, Koga decided to make it the first beer Karben4 brews each year; the 2023 version was brewed Monday. The beer then goes into a range of barrels selected by lead brewer and "barrelmaster" Sam Koelling for the rest of the year. The casks used in the first two iterations of PPK have aged bourbon, scotch, rum, wine, brandy and more, and some of them subsequently held coffee beans or maple syrup. This year's batch is a blend of eight to 10 barrels, Koga said, all or nearly all different.
There's something fitting about barleywine — a beer intertwined with time — resting in those barrels in the brewery and maturing and growing, one might say, while the calendar pages turn.
"All the ups and downs and all the joys and the sadness or whatever from the whole year — it's kind of like our storybook, that this beer is sitting there aging throughout the whole year," he said.
Priest Prophet & King
Style: Barrel-aged barleywine
Brewed by: Karben4, 3698 Kinsman Blvd.
What it's like: Due to their complexity and, usually, scarcity, barrel-aged barleywines are among the most sought-after beers in some beer geek circles. Some might call it life. One b-wizzle we see regularly around here is Central Waters' Bourbon Barrel Barleywine Ale, though the mix of barrels used in Priest Prophet & King makes it far more complex.
Where, how much: PPK is releasing exclusively at the Karben4 taproom on Jan. 18, both in four-packs priced at $25 and on draft, including a keg of the 2021 edition reviewed below. For reasons I can only assume relate more to the pandemic than to the beer itself, four-packs of last year's PPK remained available in the taproom cooler into spring. That will not happen this year.
Booze factor: A big beer to begin with, it absorbs even more alcohol during its barrel slumber. The 2021 edition came in at 10.5% ABV, though the 2022 recipe (and subsequent ones) will be tweaked slightly.
Up close: OK, buckle up. The 2021 PPK — samples of which were provided by Karben4 — pours a somewhat murky chestnut brown with a tan head that lasts longer than most barrel-aged beers do. And you know you're dealing with something wild right off the bat, because the aroma comes out of the glass to meet you instead of the other way around. It's intensely boozy, with caramel, golden raisin and red wine notes most prominent. Hold your nose to your glass long enough and you can jot down a dozen other notes that emerge from the melange.
A sip is a dive into layers of spirits; a vinous, sherry-like note leads the charge on my palate, but you should be able to pick out bourbon, rye and even rum notes, too. It is a sipper, no doubt, and the 16-ounce can is best shared with at least one other person. The barrels overwhelm the base beer some — you do get some malty caramel, but I do wonder if this year's (or … I guess the 2024 version?) would be better served by a stiffer canvas to paint all these barrels onto. But this is a quibble; PPK is a tremendous beer that should inspire an annual winter visit to Karben4 for any Madison — or even Wisconsin — beer geek.
Bottom line: 5 stars (out of 5)
The Beer Baron's 10 favorite columns from 10 years of Beer Baronry
If this, my 341st column, were a year, it would be Dec. 7. And by Dec. 7, you probably know what kind of a year it has been. Here are some of the best days