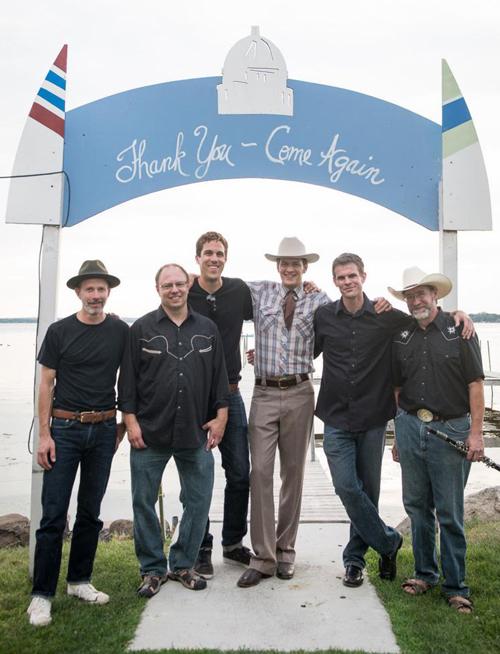 The North Country Drifters won't be confused with mainstream country artists when the band performs at Portage Center for the Arts on Saturday.
The group wouldn't have it any other way.
"I think country of the '40s, '50s, '60s, what people think of as classic country, it's just not mainstream anymore," said front man and guitarist Dan O'Brien. The Madison group comprised of six members plays Western swing selections from artists like Bob Wills and Jimmie Rodgers, music from the same era as big band swing and a hybrid of jazz and country, O'Brien explained.
Fans of classic country still exist, the members understand. The music they all love is still being made and is readily available.
Their tastes just aren't satisfied on the radio. "Earlier country music is totally different from contemporary country," O'Brien said, "which is basically pop with a little bit of fiddle and steel guitars."
"It's a really controversial topic," he said of the state of country music. "For me I just think of all of what you'd hear on typical country station, and I don't even think of it as country music. It's pop music. I personally think it is very poor quality.
"Fortunately there are still many good country artists around, and I love that stuff. They're out there writing music, traveling, touring — so it's not like it's dead or that it's necessarily a dire, awful thing."
Classic country appeals to audiences and to the North Country Drifters for its "simplicity and purity and rawness." The group, which formed 10 years ago, appeals to those who want a "very playful, upbeat" music experience, O'Brien said. They're true to the experience, enough so that it surprises many people, he added, that they're not from Texas.
Saturday's performance is the group's first in Portage. O'Brien played at PCA about 10 years ago with the Nob Hill Boys.
Upbeat, yet dark
The mood of old country music is twofold. On the one hand it's upbeat. But if you read the lyrics like you'd read a poem, it can feel rather dark, O'Brien said. "Lost love, tragedy — you have plenty of that in the lyrics, but it's dance music."
"It's World War II, Depression-era escapism, music where people went out to escape the hard times and have a blast."
The culture of country is about that "raw simplicity," the same thing that's so attractive about early blues music. That's a far cry from what's on the radio today, and if you ask O'Brien, he'll tell you that won't change.
"Bands like us, bands in places like Austin, like Dale Watson, they're the torch bearers," O'Brien said, "but I don't see them ever getting to the size of audience that the contemporary artists do.
"The earlier artists had huge audiences and radio play, but I don't see that happening. And that's what people are upset about, that these people who are really great and out there producing, they're struggling but won't ever have the pop-star success."