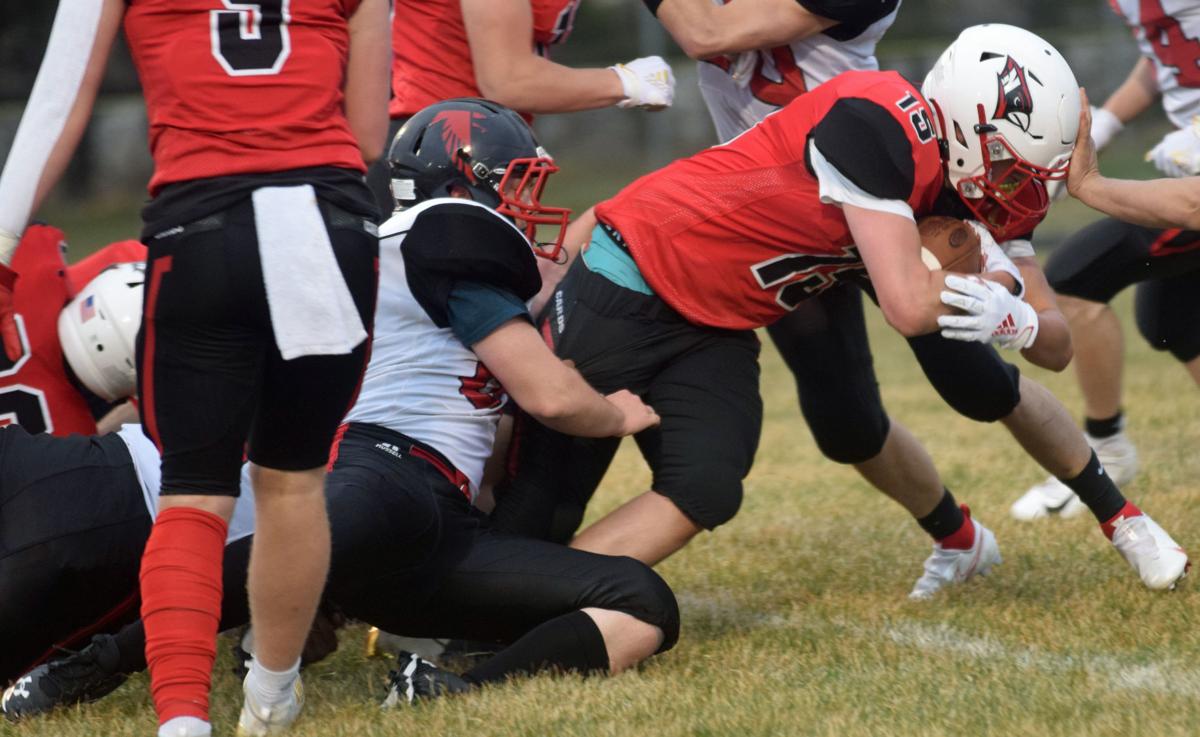 Necedah's high-powered offense didn't slow down Friday, but the Cardinals suffered their first loss of the season at the hands of Bangor.
The Scenic Bluffs Conference rivals were tied at 14 before Bangor turned it on late in the first half. The fifth-ranked Small Division team in The Associated Press poll went on a 35-8 run to pull away for a 49-30 win at Necedah.
Bangor (3-0, 2-0 Scenic Bluffs) — which won its 43rd straight conference game — dominated on the ground, with 502 of its 509 total yards coming on runs. Senior Mathieu Oesterle carried the ball 29 times for 282 yards and four touchdowns, while junior Tanner Jones ran for 174 yards and two touchdowns on 22 attempts.
Oesterle scored the first two touchdowns of the night, using runs off 11 yards and 4 yards to give Bangor a 14-0 lead.
Necedah (3-1, 1-1), which is averaging 43.0 points per game this season, got on the board with Stephen Daley's 6-yard touchdown run in the second quarter. Noah Blum ran in the two-point conversion, then Domanic Bohn recovered a fumble and returned it 60 yards to tie the game at 14.
But Bangor took a 21-14 lead into the locker room thanks to Jones' 36-yard touchdown run. Oesterle added a 29-yard touchdown run early in the third quarter, but Necedah's Mekhi Baradji caught a 23-yard touchdown pass from Landen Murphy to keep Necedah close. Josiah Hansen ran in the two-point conversion to cut the deficit to 28-22. 
Bangor took over from there. Jones closed the third quarter with an 11-yard touchdown run, then Oesterle opened the fourth with a 2-yard touchdown run, and Dawson Daines added a 24-yard touchdown run to stretch the lead to 49-22 before Murphy found Hansen for an 18-yard touchdown down the stretch.
Murphy completed 10 of 14 passes for 201 yards, two touchdowns and two interceptions for a Necedah offense that had a good night against a Bangor team that allowed just 6.5 points per game in its 2-0 start.
Baradji ran for 133 yards on 17 carries while also leading the Cardinals with four catches for 100 yards and a touchdown. Hansen caught three passes for 56 yards and a touchdown.
Bangor quarterback Ashton Michek completed his only pass for a 7-yard gain. Michek and Dustin McDonald had interceptions
Bohn had 10 total tackles, including two tackles for loss and a sack, to go along with his defensive touchdown. Baradji had 14 tackles, including six solo, while Daley had a team-high seven solo tackles.
Necedah will host Brookwood (2-2, 0-2) on Friday.
Rockets spoil Panthers' homecoming
New Lisbon is giving up just 4.0 points per game in its three wins this season.
The defensive dominance was on display Friday, as the Rockets bounced back from a 28-20 loss to Onalaska Luther in Week 3 with a convincing 31-6 win at Royall.
The Rockets rode the impressive rushing attack of Nikita Shankle as the junior chewed up 202 yards and found the endzone three times on 27 carries. After trading first quarter scores with a two-point conversion giving New Lisbon an 8-6 lead at the break, Shankle took over in the third quarter.
He ripped off touchdown runs of 29 and 27 yards, and behind a pair of successful two-point tries, helped give the Rockets a 24-6 lead and they never looked back. Bryce Gruen, who had a team-high 20 tackles, rushed for 75 yards on 13 carries and Ethan Palamaruk added 43 yards on 12 touches to pace the Panthers.
Chris Hart led the New Lisbon defense with 14 tackles, including five solo, while Ashton Pfaff threw for 14 yards with a touchdown and an interception on 3-of-7 passing, but was 3-for-3 on two-point conversions.
The Rockets, who are scoring 29.8 points per game this season, improved to 3-1, including 1-1 in Scenic Bluffs Conference play. They will look to end Bangor's 43-game conference streak when they visit the Cardinals on Sept. 17.
Royall fell to 0-2 in Scenic Bluffs action after starting the year with a pair of non-conference wins, will look to get back on track Sept. 17 at Onalaska Luther.
Braves roll over Silver Wolves
A strong start quickly dissipated for Wonewoc-Center/Weston last Friday as it quickly faded in a 44-7 loss to Belmont.
The Silver Wolves combined for just 125 total yards and had no answer for the Braves' balanced offensive attack. At least a sustained answer that is.
After Belmont broke through with an opening 38-yard touchdown pass from Waylon Palzkill to Noah Fritz for a 6-0 lead. Wonewoc-Center/Weston answered back immediately. Danny Roehling returned the ensuing kickoff 66 yards to the house, helping give the Silver Wolves a 7-6 lead.
It didn't last long as the Braves scored just before the end of the quarter, sparking a 38-0 run to end the game as Belmont held WCW out of the endzone on offense. Braeden Skrabel rushed for 73 yards on six carries to lead the Silver Wolves, while Palzkill had 217 total yards and four scores.
Wonewoc-Center/Weston (0-3) will try to break into the win column this week when it heads to St. Mary Catholic/Valley Christian.