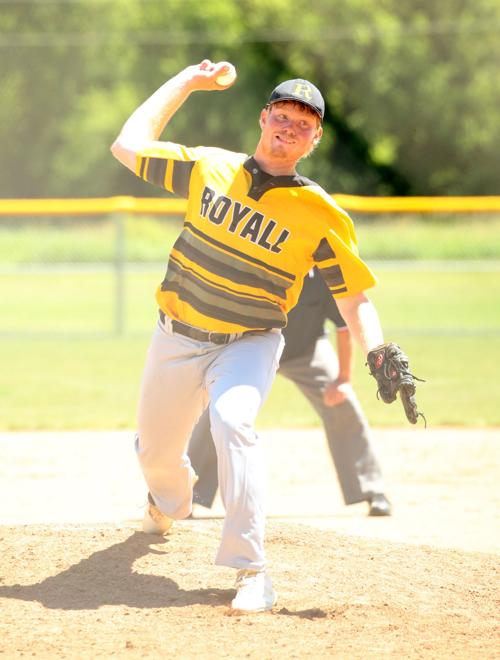 The Royall baseball team produced another memorable season this spring, reaching a third WIAA Div. 4 sectional in four seasons and finishing tied atop the Scenic Bluffs Conference with Bangor at 9-2.
Helping fuel the Panthers' run to another regional title were senior Jameson Bender and junior Nate Vieth, who both garnered first-team All-Scenic Bluffs Conference honors to lead four area players to make the league's top team.
Along with Vieth and Bender, Necedah junior Mekhi Baradji and New Lisbon senior Jon Olson both garnered first-team honors among 14 total area honorees. Cashton junior Bowdy Dempsey earned league Player of the Year honors, while Bangor junior Ashton Michek was named the SBC's top pitcher.
The Panthers' pair helped pace Royall to an 11-6 overall record, one which concluded with a 1-0 loss to Bangor in a Div. 5 sectional semifinal. Meanwhile, Baradji and the Cardinals finished the league season at 4-6, while Olson helped the Rockets to a 4-7 mark in league play.
Olson did a little bit of everything for the Rockets, but he truly shined on the mound, earning a 2-0 record in four starts and six total appearances. He delivered a team-high 24 innings in which he compiled a 1.75 earned run average after allowing 12 runs (six earned) on 18 hits and nine walks to 40 strikeouts.
At the plate, Olson finished the year with nine hits, including a double, and scored eight runs while ending the season with a .300 batting average. The Cardinals ended their season suffering a 13-3 loss to Neillsville in a WIAA Div. 3 regional quarterfinal, while the sun set on the Rockets in a 6-5 Div. 4 regional quarterfinals loss to Hillsboro.
Along with first-team picks, New Lisbon sophomore Ashton Pfaff, Necedah senior Isaiah Herried, Royall senior Max Benish and Wonewoc-Center senior Caleb Biley each earned second-team recognition. Pfaff led the Rockets lineup with 14 hits, including three doubles, while tallying seven RBIs and eight runs scored. He struck out just twice and drew five walks to finish the year with a .519 batting average and a 1.236 OPS.
In the field, Pfaff committed just one error in 72 total chanced, closing out the campaign with a .986 fielding percentage.
Rounding out the area honorees are eight honorable mention picks including, New Lisbon's Carson Friske and Garrison Cowan; Royall's Bryce Gruen and Bryce Olson, and Wonewoc-Center's Brett Mildbrand and Ashton Spencer. Mildbrand and Spencer helped the Wolves to a 3-9 overall mark, including 3-8 in league play, finished off with a 10-0 loss to Ithaca in a Div. 4 regional quarterfinal.