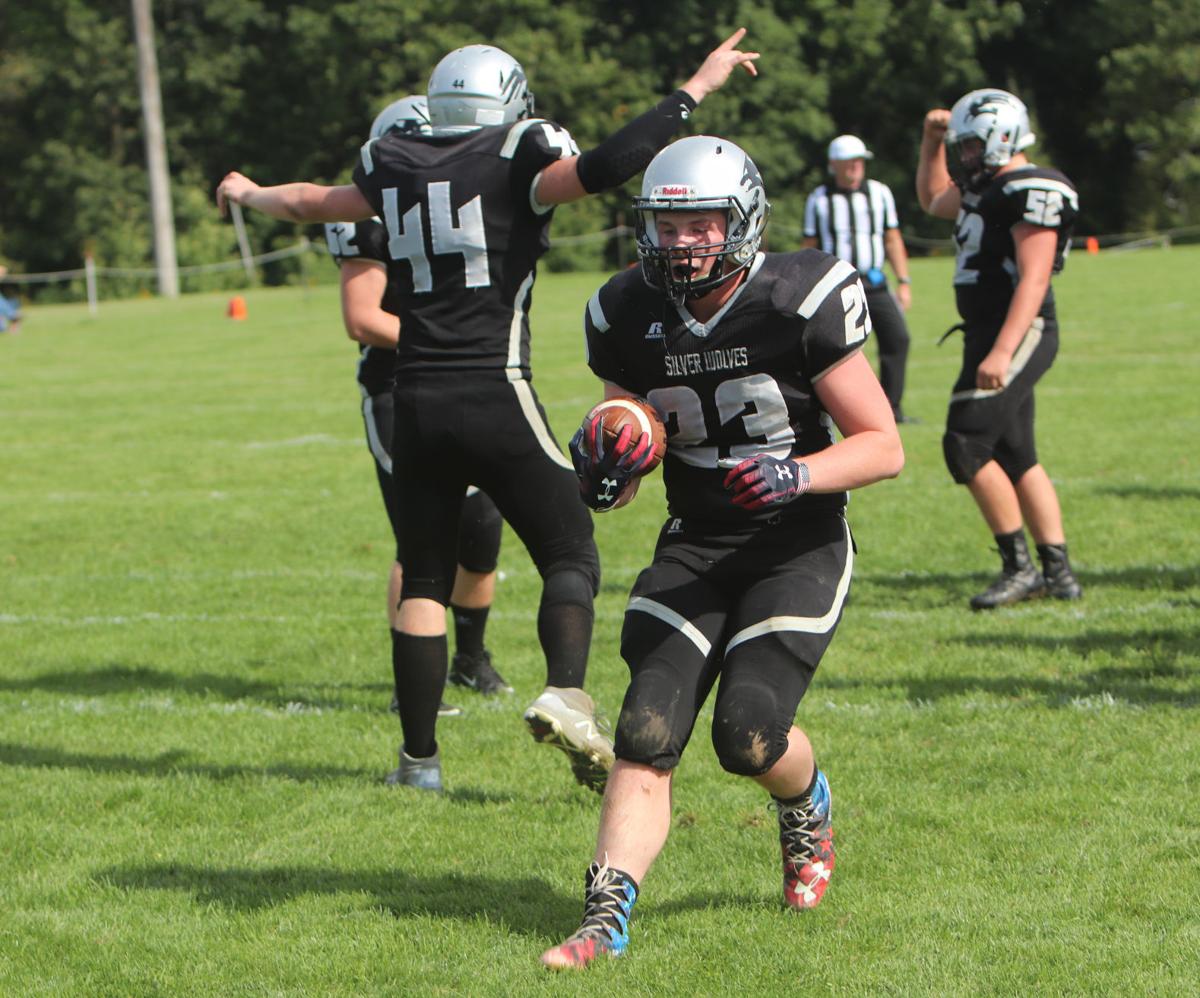 The final two weeks of the 2019 high school football regular season are in the books. For four out of the five Juneau County teams, that also means the end of their respective seasons, period.
In Week 8, losses by New Lisbon and Royall eliminated them from playoff contention and Necedah saw its losing streak extended to seven. However, it wasn't all bad news throughout the county, as Wonewoc-Center/Weston notched its second win of the season.
Royall's slide continued with another agonizingly close loss in Week 9, with Wonewoc-Center/Weston suffering a defeat as well. Mauston, the lone Juneau County team to qualify for the postseason this year, did not play during the final week of the regular season due to a forfeit win over Westfield.
Hillsboro 34, Royall 28A season that began with the hopes of a fourth consecutive postseason appearance for Royall ended with a sixth straight loss — and third by a one-possession margin — to close out the campaign.
The Tigers (5-4 overall, 4-2 Scenic Bluffs) outlasted the Panthers (1-8, 1-5) in a 34-28 thriller Friday, October 18 in Hillsboro.
Hillsboro struck first with a pair of first-quarter touchdowns to take a 12-0 lead. In the second quarter, the Panthers got on the board with a four-yard touchdown run by senior quarterback Keith Schnurr to cut the deficit to 12-7 at halftime.
Royall took its first lead of the night, 14-12, on Jameson Bender's three-yard touchdown run in the third quarter. After the Tigers took the lead right back, the Panthers scored again on Schnurr's five-yard touchdown run. A missed extra point left the score tied at 20-20.
Hillsboro scored another touchdown in the third quarter and tacked on a two-point conversion to take a 28-20 lead into the fourth.
In the fourth quarter, Bender found the end zone again on a nine-yard touchdown run and then punched in the two-point conversion to knot the score at 28-28. However, the Tigers answered with a seven-yard touchdown run courtesy of Bronson Borchardt to go ahead 34-28. It would prove to be the game-winning score.
For the Panthers, Schnurr completed 7 of 17 passes for 108 yards and two interceptions while also running for 98 yards and two touchdowns on 10 carries. Bender led the way out of the backfield with a game-high 124 yards and two touchdowns on 22 rushes. Bryce Gruen notched 50 receiving yards on two catches and Brenden Ziems added 47 yards on three receptions.
As for Hillsboro, Trent Thorson ran for 94 yards and two touchdowns on 11 carries, Noah Feala finished with 71 yards and a touchdown on 11 rushes and Borchardt added 64 yards and a touchdown on 18 attempts.
The Tigers drew a No. 7 seed and will face the second-seeded and undefeated Lourdes Academy Knights (9-0) in Level 1 of the Division 7 playoffs Friday, October 25 at 7 p.m. at Titan Stadium in Oshkosh.
Wonewoc-Center/Weston 7 The Silver Wolves proved to be no match for the Bulldogs in a season-ending loss.
Ithaca (7-2 overall, 6-1 Ridge & Valley) closed out the regular season in Week 9 with a 38-7 win over Wonewoc-Center/Weston Friday, October 18 at Weston High School in Cazenovia.
Jed Scallon scored three first-quarter touchdowns, John Honer added another on the ground early in the second and Parker Hisel found Chase Keller for a lengthy touchdown pass a few minutes later to give the Bulldogs a 38-0 halftime lead.
The Silver Wolves finally got on the board on Jake Wagner's 13-yard touchdown run midway through the fourth quarter. Wonewoc-Center/Weston was held to 85 yards on the ground and 37 yards through the air on the night.
Ithaca's win grabbed the Bulldogs a share of the Ridge & Valley Conference championship alongside Wauzeka-Steuben/Seneca (6-3, 6-1). Those two teams will square off in Level 1 of the Division 7 playoffs with Ithaca as the host Friday, October 25 at 7 p.m. in Richland Center.
Their regular-season meeting back in Week 5 resulted in the Bulldogs winning 24-14 at Seneca High School.
Wonewoc-Center/Weston 33, North Crawford 7The Silver Wolves (2-6 overall, 2-4 Ridge & Valley) snapped a three-game losing streak and notched their second win of the season with a convincing 33-7 win over the Trojans (0-7, 0-6) Friday, October 11 in Soldiers Grove.
After holding a slim 14-7 lead at halftime, Wonewoc-Center/Weston outscored North Crawford 19-0 in the second half for a comfortable win.
For the Silver Wolves, Mike Severson gashed through the North Crawford defense to the tune of 200 yards and one touchdown on 22 carries. Hunter Schmitt completed 1 of 2 passes for 23 yards, one touchdown and one interception while also adding 48 yards and two touchdowns on seven carries.
Brady McGlynn had the team's sole reception for 23 yards and a touchdown and Riley Astle added Wonewoc-Center/Weston's other touchdown on the ground.
Cashton 14, Royall 13The Panthers' bid for a fourth straight playoff trip came to an end by the thinnest of margins with a Week 8 loss to Cashton.
The Eagles (4-4 overall, 4-1 Scenic Bluffs) escaped with a 14-13 victory over Royall (1-7, 1-4) Friday, October 11 in Cashton. The defeat ensured a losing conference record for the Panthers and, thus, eliminated them from postseason contention.
Royall senior quarterback Keith Schnurr completed 8 of 16 passes for 145 yards, but was picked off three times. He also ran for 22 yards and a touchdown on four carries. Zephyr Turner finished with 143 yards and a touchdown on 19 rushes and Max Benish had 120 yards on five receptions. A missed extra point proved to be the difference in the final score.
Kickapoo/La Farge 28, Necedah 14The Cardinals wrapped up the non-conference portion of their schedule with a Week 8 loss to the Panthers.
Kickapoo/La Farge (2-5) rode a 22-0 halftime lead to a 28-14 victory over Necedah (1-7) Friday, October 11 at Kickapoo High School in Viola. The loss was the Cardinals' seventh in a row.
Necedah senior Jaron Murphy led the way for the Cardinals with 170 yards and a touchdown on 11 rushes to go along with 60 receiving yards on three catches. Sophomore quarterback Landen Murphy completed 4 of 8 passes for 72 yards and two interceptions while also adding a touchdown on the ground.
Hillsboro 22, New Lisbon 0Hillsboro's shutout win ensured that New Lisbon's quest for its first playoff appearance since 2016 will have to wait for another year.
The Tigers (4-4 overall, 3-2 Scenic Bluffs) secured their 16th postseason trip in the last 18 years with a 22-0 victory over the Rockets (3-5, 1-4) Friday, October 11 in Necedah (the location of New Lisbon's home games for the 2019 season). Since 2002, Hillsboro has only missed the playoffs in 2016 and 2018.
The Tigers scored three touchdowns on the night: a one-yard Noah Feala run, a 25-yard Rey Mora run and a 30-yard pass from Trent Thorson to Eli Stokes.
New Lisbon's passing game struggled in its limited use, with Gunnar Pedersen having more interceptions (2) than completions (1) in his five passing attempts. Pedersen did finish with a team-high 58 yards on the ground on 10 carries. Ashton Pfaff and Stephen Daley added 30 and 28 yards, respectively, on seven rushes each.
Follow Zach Rastall on Twitter @zrastall17 or contact him at 608-697-7943.
Be the first to know
Get local news delivered to your inbox!