Local artists keep music scene humming
From a budding young artist making waves in Los Angeles to a musician who helped kick start the career of a Rock and Roll Hall-of-Famer, the local area has a rich, wide-ranging musical background.
While local artists want more venues to express their talents, the proximity to Madison, a burgeoning music hot spot, provides promise to aspiring acts. Local musicians often juggle full-time jobs, families, and other activities, but also find time for the music. From classic country to hard rock, the local music scene has something for everyone.
Beebe rocks with hall-of-famer
If it wasn't for Brian Beebe, a magical connection that formed Rock and Roll Hall-of-Famers Cheap Trick may never have happened.
After finishing high school in the early 1970s, Beebe, an Illinois native, took a chance when he came to Wisconsin Dells to play gigs with childhood buddy, Robin Zander. Every summer from 1971-74, Beebe and Zander performed as a duo, rocking the local bar scene in the Dells. In the fall of 1974, Beebe introduced Zander, a budding lead singer and front man, to Bun E. Carlos, the band's original drummer. Zander replaced Randy "Xeno" Hogan who left the group for other pursuits.
Cheap Trick went on to enjoy a legendary career with major hits such as "I Want You to Want Me," "Surrender," "Dream Police" and "The Flame." In the spring of 2016, the Rockford-based hard rockers were inducted into the Rock and Roll Hall of Fame. During Cheap Trick's acceptance speech, Carlos thanked Beebe for helping bring Zander to the band.
"That was pretty cool," Beebe said. "I guess I'm responsible for those guys getting started."
While it's been more than 40 years since Beebe and Zander played the Dells, he still has fond memories. Beebe fell in love with the area and after Zander embarked on his rock and roll dreams, Beebe stayed in the Dells.
"The Dells was great in the summertime; coming up here every summer, playing for beautiful college girls and the waitresses …" Beebe said. "For a couple of young guys, it was a great time."
As kids, Beebe and Zander enjoyed The Beatles, The Rolling Stones, Bee Gees and other British Invasion acts. Beebe and Zander met in the high school choir and formed a tight bond.
The duo played six hours a night, six nights a week and Beebe said the young rockers "sounded good." While Beebe could hear Zander's immense vocal talent at a young age, neither could predict Zander would front one of the Midwest's most famous rock bands.
"We knew he was a fabulous singer so we didn't have to talk very much about who was going to sing lead and I sang most of the harmonies," Beebe said. "But he was way better than me. We didn't talk about it, but we both knew that. Neither one of us thought we would front bands. Cheap Trick taught him how to be a front man."
Despite Zander enjoying fame and success, Beebe said he never harbored jealously toward his former rock and roll running mate and the childhood friends still remain close.
"I really didn't think I could do what those guys had to do to get where they got," Beebe said. "They were playing 300 nights a year in the mid-1970s; trying to have families and they just couldn't. Even our friendship at that time suffered because he was always gone. And he was always swept up in whatever was in front of him."
After the duo broke up, Beebe opened the Ace of Clubs bar in the Dells and invited local bands to perform. He kept playing music locally and had stints in Florida in the early 1980s. Beebe performs four nights a week in the Dells and has no plans to quit making music. While the former guitarist plays mostly piano and keyboards now, he still entertains crowds with the same Beatles tunes he played with Zander more than 40 years ago.
"The crowd has grown old with me so they still want to hear those same classics," Beebe said.
In the past year, Beebe gained some newfound popularity after Cheap Trick mentioned him at its Rock and Roll Hall of Fame induction. He leveraged it to start a podcast through Madisontalkers.com, secured a few sponsors, and currently hosts the show every Tuesday afternoon through a live Facebook stream. Through the podcast, Beebe discusses all aspects of music.
"I tell jokes and talk to callers," Beebe said. "It's really a fun hour."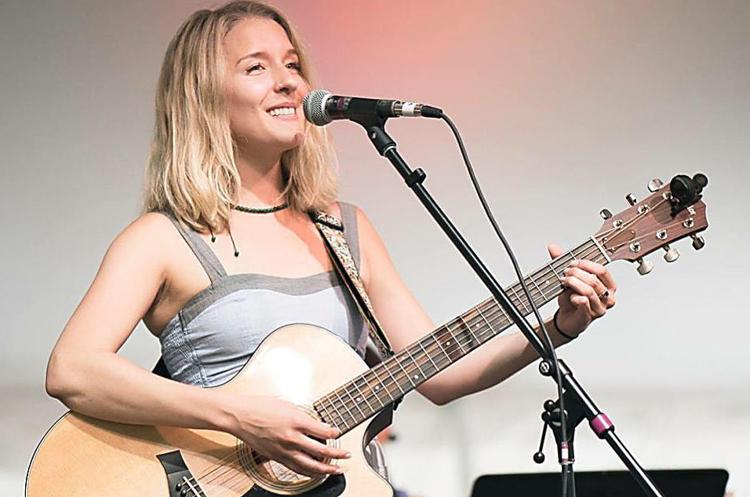 Portage native searches for success in L.A.
While Beebe decided to forego his rock dreams more than four decades ago, Madison Malone is just starting her path toward potential fame.
Malone, a 2012 Portage High School graduate, moved to Los Angeles last fall and has already gained exposure in Southern California's crowded music scene. A student at UW-Madison, Malone felt the urge to take a break from finishing school to pursue her passion.
"When music opportunities are there and available, I believe you should run for them because the doors can close quickly," Malone said. "It's always been a dream of mine and this is where the industry is."
The glitz and glamour of L.A. is appealing to a Wisconsin girl, but Malone doesn't want to stray far from her roots. She's returning home for a show at the Crescendo Café in Madison June 24 and will perform at Milwaukee's SummerFest July 5. Shawndell Marks, a Reedsburg-based artist, is joining Malone for both gigs.
Malone credits her parents and grandmother for ignited her obsession with music. She grew up listening to Aretha Franklin, The Beatles, The Monkees, Bruce Springsteen and others. Her grandmother, Francis Malone, helped start the Portage Center for the Arts. While in college, Malone joined Redefined, an a cappella group, which helped her gain experience and confidence as a solo artist.
Malone's eclectic background helped shape the artist she would become. The singer-songwriter incorporates blends of pop, soul, mellow soft rock and other genres into her music. To break it down further, it's similar to the sounds of Adele and Sara Bareilles. She's currently working on some new material and is excited to showcase it at SummerFest.
"It will be completely new music, so if people want to see what I've been working on since I moved out to L.A., they'll have to come to SummerFest," Malone said.
Reached by phone from her home in Hollywood, Malone was still beaming from selling out the famous Hotel Café in L.A. She's been touring since 2014 and always seeks an opportunity to play live shows. In the studio, she's been collaborating with Rebecca Peters as a duo called Love, Love. When she's not doing solo gigs, Malone sings harmonies and background vocals for other artists. Since moving to L.A., Malone formed a friendship with American Idol finalist Anthony Fedorov and has recorded background vocals for the artist.
"That's kind of a funny thing that just happens when you're out in L.A., a lot of my friends were on American Idol or The Voice or are in T.V. shows," Malone said.
Malone has also been writing and pitching songs to other artists and making music for an advertising company.
"Not only is my music welcomed, I have fans out here already that are supportive," Malone said. "They're fighting for me and eager to listen to my music. L.A. has really reminded me a lot of home, more than I ever expected."
Malone has been nominated for five Madison Area Music Association Awards (MAMAs) for her album "Bloom" and she earned three MAMAs last year. Despite being busy as a full-time musician, Malone has found time to pass along her love for music to future generations. She spent the past three summers working for Madison's Girls Rock Camp and plans to work for L.A.'s Rock and Roll Camp for Girls this summer.
Malone hopes to have more opportunities to spread positive messages through her music and touch lives throughout the world.
"I want to go on a world tour at some point soon," Malone said. "I want to show people we're in this together. No matter what darkness comes, there is a light and we just need to be the light."
Tragedy inspires Reedsburg's Marks
Shawndell Marks has played music since childhood, but her path changed forever after her father, David Marks, died of suicide when she was 23.
But through tragedy came something beautiful. Marks transformed her pain into art, turning to music and songwriting to help cope with her father's loss.
"As a result of that, I released my first album, 'Remnants of Crazy' in 2005," Marks said.
Marks, a Portage native, grew up in a musical family, listening to gospels and various harmonies. In high school, choir teacher Mike Powers influenced Marks to join the Wisconsin Opry.
"When I was 15, my first professional job was singing Dolly Parton and Patsy Cline songs almost every night of the summer in the Dells," Marks said.
At 18, Marks met her husband Chris Mittlesteadt and joined a cover band called Thunder Road, playing local festivals. The band opened for country acts like George Jones and The Nitty Gritty Dirt Band.
"We started off very country and then we morphed into a classic rock band," Marks said. "We started playing more clubs and it seemed the audiences wanted to hear more classic rock. That was a fun time, but then it got old. I didn't want to play in bars anymore."
For the past 10 years, Marks has produced original material and gained critical acclaim, especially in the Madison area. She released her third album, "Broken Dam," last November and was nominated for five MAMAs, including Pop/R&B Album of the Year. Her favorite song on the album, "Wishbone," was written by Dan Kennedy and Baraboo-based artist Derek Ramnarace.
Marks has also collaborated with Malone and Peters and has spent time recording with Malone in L.A. In addition, she's involved in the punk rock trio Gin, Chocolate and Bottle Rockets and performs in the Fleetwood Mac tribute band Gold Dust Women. Like Malone, Marks also spends time with the Madison Girls Rock Camp, which she said is very rewarding.
"That's a wonderful non-profit organization that helps girls find their voices and have music in their lives," Marks said. "We teach them how to write music, play an instrument and how to write a song. We put them in bands, they record the original song they wrote and perform it at the end of the week."
While she's been performing for 25 years, Marks' music continues to evolve. She said each album is it's "own beast" and she believes heavily in working with other talent to create the sound she wants.
Marks admits it's difficult to juggle her career with family life and other obligations and leans on her husband for support.
"I would like to see some awareness, for people to know really how much work goes into being a full-time musician," Marks said. "I put off my music when my kids were small, but now that they're a little older I've put more emphasis on my career goals."
She believes the local music scene is vibrant, but wants to see more music-friendly venues In Reedsburg.
"I think there could be more opportunities for musicians in these small towns if the patrons would help support it," Marks said.
Baraboo's Ramnarace brings Ragged Roots
To help showcase musicians at one event, Ramnarace helped bring the annual Ragged Roots Music & Arts Festival to the Edge O' Dells Resort. This year's festival runs July 13-16.
"I started it about 10 years ago and it went from a one-evening show to a four-day event," Ramnarace said. "When I started it, I was touring so much I couldn't see my friends' bands. The only way to do that was to be on the same bill."
The event has grown every year and Ramnarace promises to bring some national acts this summer, but his main goal is to feature Midwestern, original acts.
Ramnarace left the Baraboo area for several years, but along his musical path, he connected with other artists from the city. He believes it's a hidden gem for local musicians. Ramnarace grew up listening to his parents' Billy Joel records, but wasn't really moved by a band until listening to his stepfather's Grateful Dead tapes.
"That was pretty amazing to me because it was different than anything I was hearing on the radio," Ramnarace said. "I started looking deeper into music and finding more than what was just played around me."
Ramnarace gained popularity touring with his first band, Hooch, opening for Maroon 5 just before that band made its big splash in the mid-2000s.
"We had a lot of crazy success playing different music festivals," Ramnarace said. "I remember when Maroon 5 first broke out; we were backstage eating dinner with them and just hanging out."
At another concert, Ramnarace was watching Primus founder Les Claypool on stage when Phish front man Trey Anastasio came out to watch the show and chat.
"Times like that really put things into perspective for me in that we're all just doing this thing and if you're authentic to it, it works and it resonates with people and it becomes something more," Ramnarace said. "It took me just sitting around with these people doing normal things to realize that. I realize I didn't have to do something crazy to pursue my dreams, like be some kind of superhero."
After Hooch broke up, Ramnarace started the reggae-blues outfit The SoapBox Project. It wasn't until starting Old Soul Society, however, when Ramnarace really found his groove.
"The fact that I had so many different styles of music, (record companies) didn't really know how to label me," Ramnarace said. "Old Soul Society was born out of that. I was writing more folksy, Americana rock-type stuff. It's kind of like having multiple personalities."
Looking forward, Ramnarace wants to book other acts, produce and write songs, and continue to promote local music. Short-term, he would like to open a studio and create a record label. He said the area has some "incredible" talent and believes Madison is on the bubble of breaking out as the next great American music city.
"We saw it in Seattle at one point, Athens, Georgia before that and Motown," Ramnarace said. "I think Wisconsin is ready for that now."
Sauk educators, bar ignite music scene
In Sauk Prairie, a connection at the school district and a bar dedicated to local bands has revised the area's music scene.
Owen Murphy serves at the guidance counselor at Sauk Prairie High School. In his free time, Murphy pours into his music, playing for three different acts: Old Farm Dog, The Jacks, and New City Cat. In Old Farm Dog, Murphy's oldest band, Murphy teams with childhood friend Josh Grube to play bluegrass.
"We were actually big band kids when we were in high school," Murphy said. "When we got out of college and were into the working world for awhile, we thought we should start a bluegrass band so I learned how to play the mandolin."
Armed with three members in the late 2000s, Old Farm Dog began playing in Madison. Old Farm Dog eventually found its way to the Woodshed Ale House, which sparked other musical collaborations in Sauk City.
"There really wasn't a music scene in Sauk Prairie until the Woodshed started playing music," Murphy said.
Years of hard work paid off and Old Farm Dog was honored with a MAMA for Country Bluegrass Performer of the Year in 2015.
Around this time, Murphy joined his fellow Sauk Prairie colleagues in The Jacks, which consists of a middle school principal, physical education teacher, and the high school vocal director. In the past couple years, The Jacks, an alt-folk country rock act, have secured more bookings. To add to his musical experiences, Murphy started New City Cat, a trio with guitarist Chris Byers and vocalist Jodie Boldon.
"I joked with Chris that since I was playing so much with Old Farm Dog that if I ever do a side project, it's going to be the exact opposite of Old Farm Dog, so we called it New City Cat," Murphy said. "New City Cat is more of a mellow, vocal-driven act. Jodie has this big, powerful voice and it's more of us accompanying her."
On June 3, all of Murphy's musical experiments collided when The Vines hosted "Owen Fest" in rural Prairie du Sac. Murphy jammed with all three bands in a low-key, intimate setting overlooking a lush vineyard.
"They printed shirts and posters with my name on it, which was a little more than I had bargained for," Murphy joked.
Since the birth of his daughter, Murphy has scaled back his touring, choosing to stay in the Sauk-Baraboo-Dells area. With The Jacks, Murphy is intrigued with what the future holds. Drummer Hans Fester played in punk and rock bands in Milwaukee in the late 1980s and has some exciting plans for the four-piece unit.
"We're definitely looking to record an album with The Jacks in the next three years or so," Murphy said.
Keeping it local
While artists like Malone are pursuing international success, some artists would rather stay close to home and entertain local fans in small venues.
In 2006, husband and wife tandem Sandy and Gary Magnuson formed Shitz & Giggles in rural Mauston. Gary plays bass and Sandy strums an acoustic guitar and sings. The duo started performing classic country songs and expanded to a mix of old and new in recent years.
In its early days, the duo was performing almost every weekend at small bars in Juneau, Sauk and Adams counties. Shitz & Giggles has scaled back the past couple years, playing only about 10 shows a year. The Magnusons said the bar scene grew stale, so they pick and chose where to play these days, consisting mostly of small festivals. Shitz & Giggles only plays shows in a 30-mile radius of Mauston.
The duo's unique name began with a joke before Shitz & Giggles' booked its first show in 2007.
"After that we just took off and we played all these places just in 2007," Sandy Magnuson said. "We charge $250 for a show and we have never raised it or lowered it in 10 years."
As their popularity grew, they had some unfriendly competition from local musicians around Mauston, but Sandy Magnuson said they're the only act still going after 10 years. Looking ahead, the couple plans to keep playing music and bringing joy to fans near Juneau County.
In New Lisbon, country artist Robbie Bever still plays select shows at the diner he co-owns, Tom's Diner and Doo-Little's. As a teenager, Bever left his home in Oklahoma to chase dreams in Nashville more than 30 years ago. He played with several notable artists and was the backup drummer in Mark Chesnutt's band in the late 1980s.
Bever recorded an album, "Country That Way" in 2010 with original songs. Bever's style is a throwback to classic artists Merle Haggard, Keith Whitley and George Jones. He said he learned both good and bad aspects of the music industry touring with Chesnutt.
"I enjoyed being a drummer, but I would never want to do what Mark does," Bever said. "When you're a front man there are too many demands and people wanting your attention all the time."
In the Dells area, guitarist Kurt Quickel has rocked with The Retro Specz for several years, playing classic rock tunes. The Retro Specz replicate songs from Journey, Stix, Cheap Trick, AC/DC and others as close to the original records as possible.
Quickel enjoyed signature riffs at an early age, listening to classics like "Bang a Gong (Get It On)" by T-Rex and other unforgettable hits.
"The first thing I ever learned on the guitar was 'Bring It On Home' by Led Zeppelin, which has a killer guitar intro," Quickel said. "I started learning lots of Cream, The Yardbirds, a lot of British Rock. I just kept listening to the records over and over and just learned how to play by ear and got to be pretty good."
After more than 30 years of rocking audiences, Quickel still feels a rush from being on stage.
"Just seeing people out there dancing and having fun is one of the biggest highlights," Quickel said.
Contact Kevin Damask at 608-963-7323 or on Twitter @kdamask