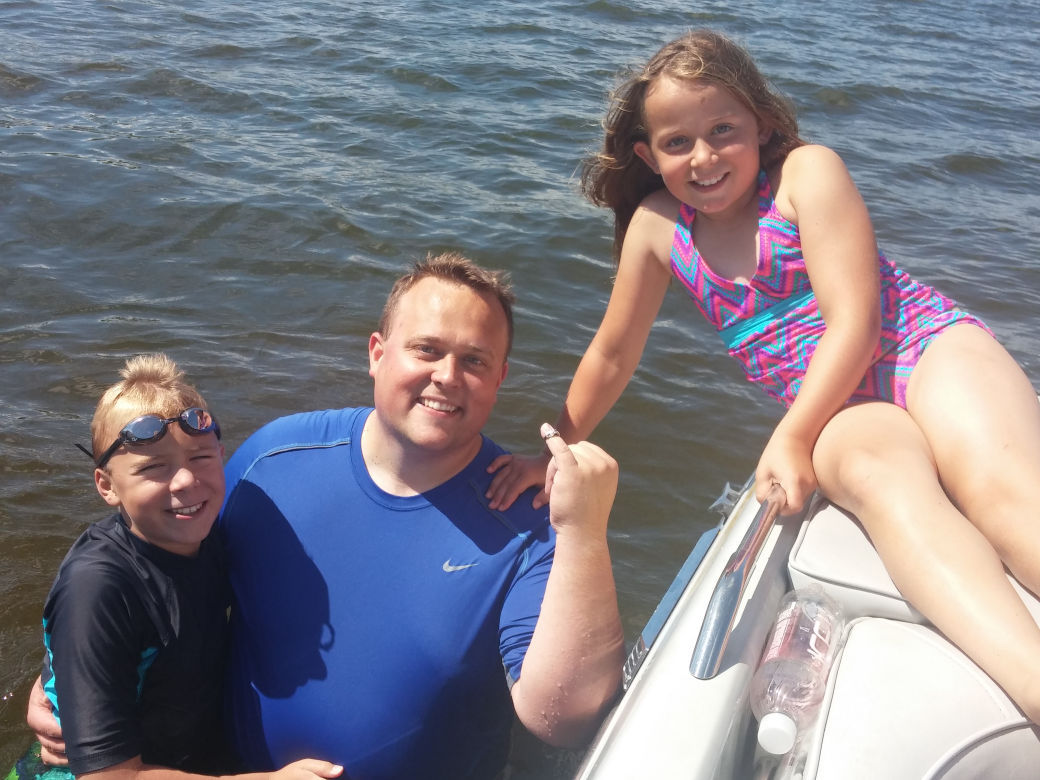 What appears to be a disaster can turn into a happy reunion.
Emily Klafka and her husband Jesse have visited Castle Rock Lake each of the past few summers. A few weeks ago, the Milwaukee area resident was bouncing a ball on a boat out in the lake, and her wedding ring flew off.
"I set the ball, and my hands were kind of spread open and my ring went flying off into the water," Klafka said. "I was horrified. I knew as soon as it hit the water I was never going to find it again."
As unlikely as it may seem, Klafka was wearing her ring as usual when she celebrated her wedding anniversary Aug. 5. The ring was returned with the help of ring finder Dan Roekle.
Distraught at losing the ring, Klafka did what many people would do and turned to Google to see if anything could be done. She discovered the site www.TheRingFinders.com – a directory of people who find lost metal objects in areas around the country. Roekle was listed as the finder in the Madison and Wisconsin Dells area, so Klafka decided to make contact.
"He was very interested in helping me and then he sent me a link to a story similar to mine form last summer where someone lost a ring in the same area," she said.
She started to have a little more faith in the return of her ring. "Strangely I had a really good feeling," Klafka said. "My heart was telling me they would (find the ring), but my brain was saying they wouldn't. I tried not to get my hopes up because I knew it was a long shot."
According to Roekle, it's not as much of a long shot as many people think.
"If you think about it, if I drop my ring in water, it's not going to disintegrate," he said. "It's going to drop down about two inches and stay right there… The only thing that's going to prevent me from finding it is someone else finding it first."
Roekle said he tries to stay positive when finding a ring. Klafka's ring was recently lost, and sheknew where, which was a good start. Though Roekle said he does enjoy going on hunts for long lost items, and has found rings that have been lost for as long as seven years.
Klafka's sister-in-law and her fiancé agreed to meet Roekle at Castle Rock Lake and take him out in their boat. All the pair could remember was the landmark of two rocks on each side of the boat when it was anchored.
"In my head I'm like, 'This is going to be a long day,'" Roekle said. It turned out to not be so bad.
During the boat trip Klafka's family had taken a picture when the boat was anchored. Using the tree line as a reference, the boat was soon in the area where the ring was lost.
"That picture was our treasure map," Roekle said. "Fifteen minutes and we had it and were able to give Emily a call and share that we had found it."
He said that's the best part of his ring searches.
"I was ecstatic," Klafka said. "I couldn't believe it… I think Dan (Roekle) and his family are amazing. It's very cool to know there are people like him and his family that do things like that from the bottom their heart that are good for other people."
Roekle was turned on to the idea of finding jewelry and other objects on a trip to Florida three years ago. He spotted a few men combing the beach with metal detectors and asked them about the hobby.
He started going out and checking areas like playgrounds and the hobby grew.
He searches for items with his son Carter, 12, and his daughter Kylie, 9. The family has been able to return 24 rings from their searches so far. He asks for $25 in the Madison area or $50 if he has to drive to cover gas and food.
If the ring is found, the recovering party can donate whatever they think is fair.
He uses the money to purchase updated equipment – like his sand scooper, and donates 25% to Westside Christian School in Middleton where his children attend school.
Roekle hosts his own personal website at www.LostandFoundRing.com, which contains contact information and stories and videos from past ring finds.