An Illinois man pulled over for a traffic stop in Mauston allegedly fled once the officer approached, leading to a chase that reached speeds of up to 127 mph before crashing and police finding drugs and a firearm.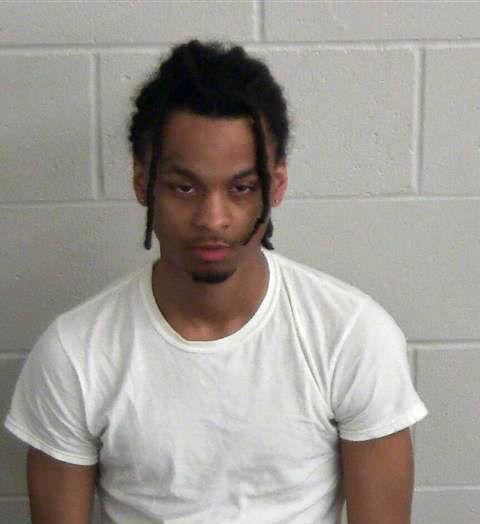 Jamel Ross, 22, of Hazel Crest, Illinois is charged with felony possession of a firearm by an out of state felon, felony attempting to flee or elude an officer, felony possession with intent to deliver tetrahydrocannabinols less than 200 mg, felony possession of narcotic drugs, misdemeanor obstructing an officer and misdemeanor possession of drug paraphernalia.
If convicted he faces up to 10 years in prison or a fine of up to $25,000, or both, on the firearm charge, and up to three years and six months in prison or a fine of up to $10,000, or both, on each of the remaining felony charges.
According to the criminal complaint:
At about 3:22 a.m. May 12 Officer Adam Noe observed and attempted to initiate a traffic stop on a vehicle with Illinois registration running with no running lights. The vehicle pulled over to the side of the roadway and Noe approached, at which time the driver shifted the vehicle into drive and drove away at a high rate of speed.
Noe activated his emergency lights and siren and pursued the vehicle. During the chase the vehicle consistently drove at speeds in excess of 100 mph with the vehicle reaching a max speed of 127 mph. A supervisor instructed Noe to terminate pursuit on Interstate 90/94 near mile marker 62.4 headed towards Camp Douglas.
Deputy Jay Helixon responded to the Camp Douglas area to search for the vehicle. At about 3:39 a.m. the Juneau County Communication Center received a call of a vehicle matching the description exiting the interstate and entering a parking lot with major front end damage. Helixon entered the parking lot and found the vehicle parked on the backside of the building with its lights off.
Upon arrival Helixon attempted to make contact with the vehicle, but the tint on the windows was too dark to see the entirety of the vehicle. In the front seat Helixon observed an unlabeled pill bottle. Helixon requested Noe and his K9 unit to respond to the scene.
While searching the area waiting for backup Helixon observed a male about 10-15 feet from the vehicle standing behind an enclosed trailer. The male verbally identified as Jamel Ross.
Ross stated "I have no idea" when asked who was driving the vehicle, and again responded "I have no idea" when asked to whom the suspect vehicle belonged. Asked why he was behind a closed business at the late time of night, Ross stated he was "coolin." Ross said he did not know where the driver of the vehicle was, that he knew nothing about the vehicle and that he was not driving the vehicle.
According to Ross he walked to the location Helixon found him at after his "girl threw him out the car" on the interstate while traveling from Chicago to Minneapolis. Asked if anyone else was inside the vehicle, Ross said "I have no idea what you're talking about."
Noe arrived and found a handgun under the enclosed trailer about three feet from Ross, and a key fob for the vehicle in the grass about 10 feet from where Ross was found. Noe's K9 gave a positive alert on the vehicle, and a search of the vehicle revealed six identical, individual packages with a THC warning on them of a green, leafy substance. Also found in the vehicle was an unlabeled pill bottle containing 30 round blue pills. Bills and insurance cards found in the vehicle had Ross' name on them.
Ross was placed under arrest. A search of his person revealed $935 in cash and two cell phones. Dispatch informed Helixon that Ross was a convicted felon from out of state.
A test of the leafy green substance came back positive for marijuana and weighed 35 grams. The pills were identified as oxycodone. While logging evidence Helixon was informed of a video from Volk Field showing footage of the vehicle crashing into a sign causing major front end damage and then entering a ditch.
Ross is scheduled for a plea hearing Sept. 14 at the Juneau County Justice Center.
Reach Christopher Jardine on Twitter @ChrisJJardine or contact him at 608-432-6591.